Jump To Recipe
There's no better party appetizer than bruschetta. Sorry not sorry, but it's a fact. It's fresh, delicious, easy to eat with your hands, and looks as fancy as it tastes (without the hassle!). Bruschetta recipe ingredients are so simple, it's a dish that can't really go wrong. Win-win! The best part about making bruschetta (other [...]
There's no better party appetizer than bruschetta. Sorry not sorry, but it's a fact. It's fresh, delicious, easy to eat with your hands, and looks as fancy as it tastes (without the hassle!). Bruschetta recipe ingredients are so simple, it's a dish that can't really go wrong. Win-win!
The best part about making bruschetta (other than it being so tasty) is that it's quick to throw together and looks beautiful when plated. You can turn a few simple ingredients into a gorgeous appetizer that looks like it was picked up from a fancy restaurant in a matter of minutes. The second best part about bruschetta is that it's super versatile! The easy bruschetta recipe I'll be sharing today is a strawberry bruschetta recipe. It's a summery, delightful take on a classic bruschetta, and I know you're going to love it!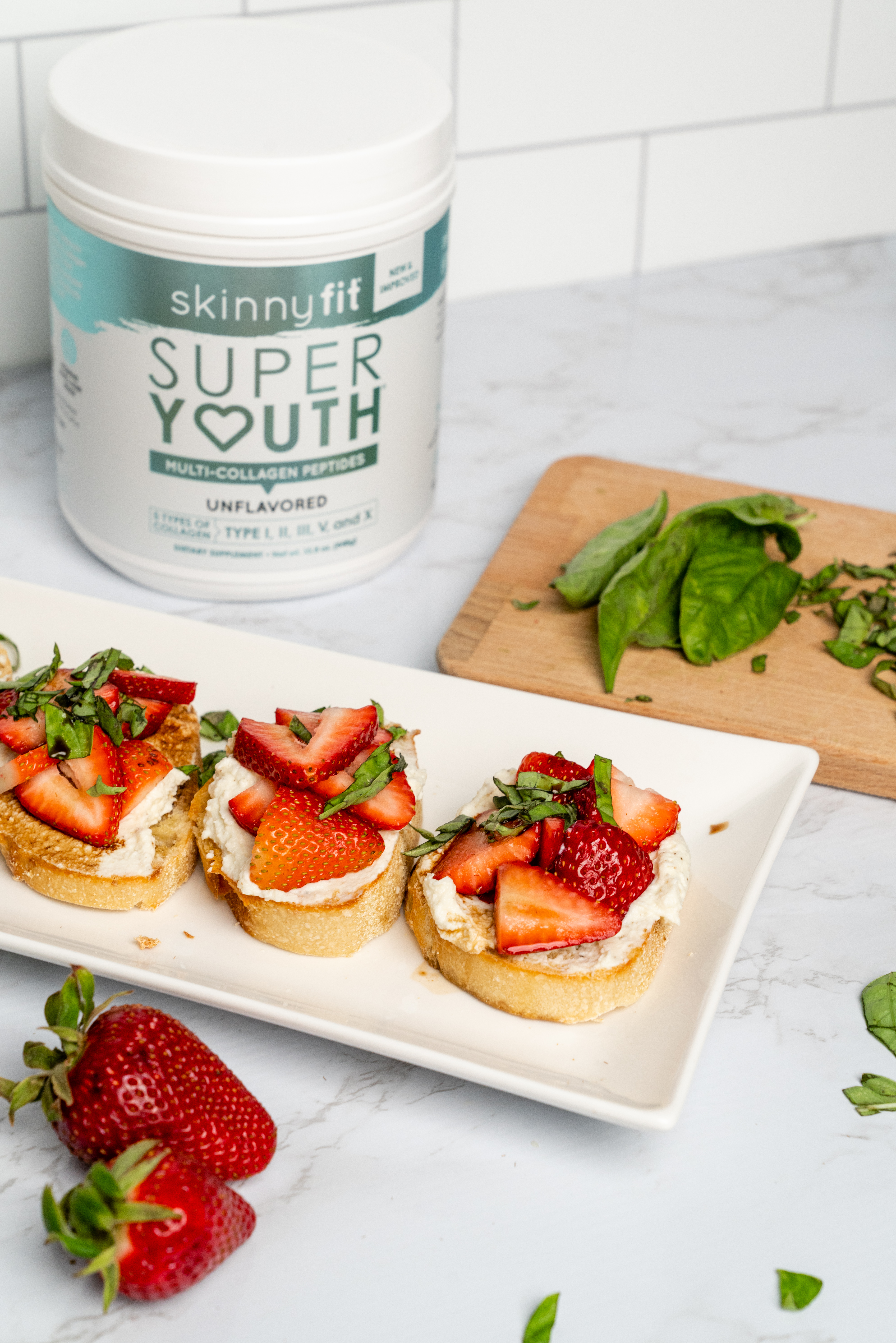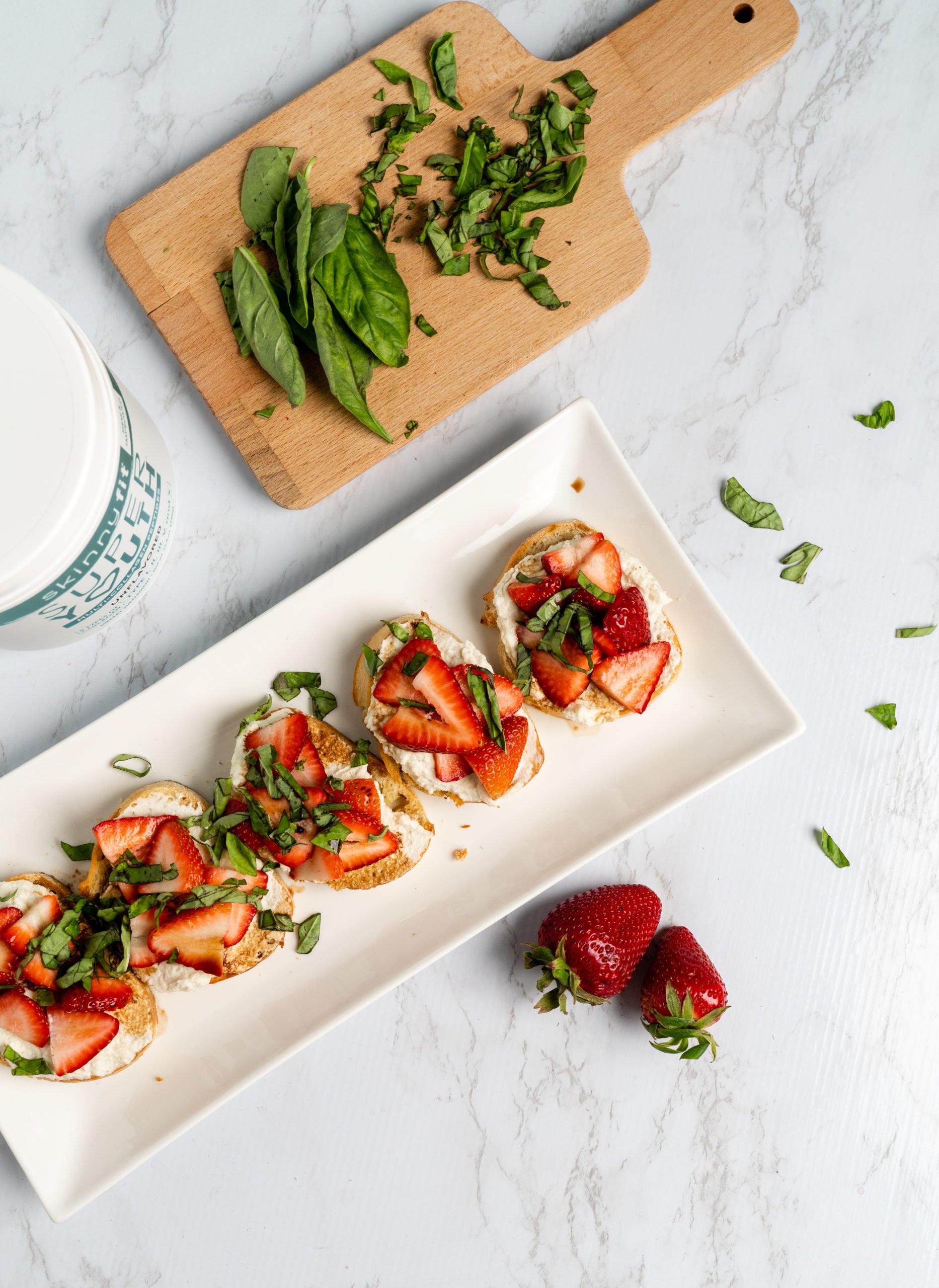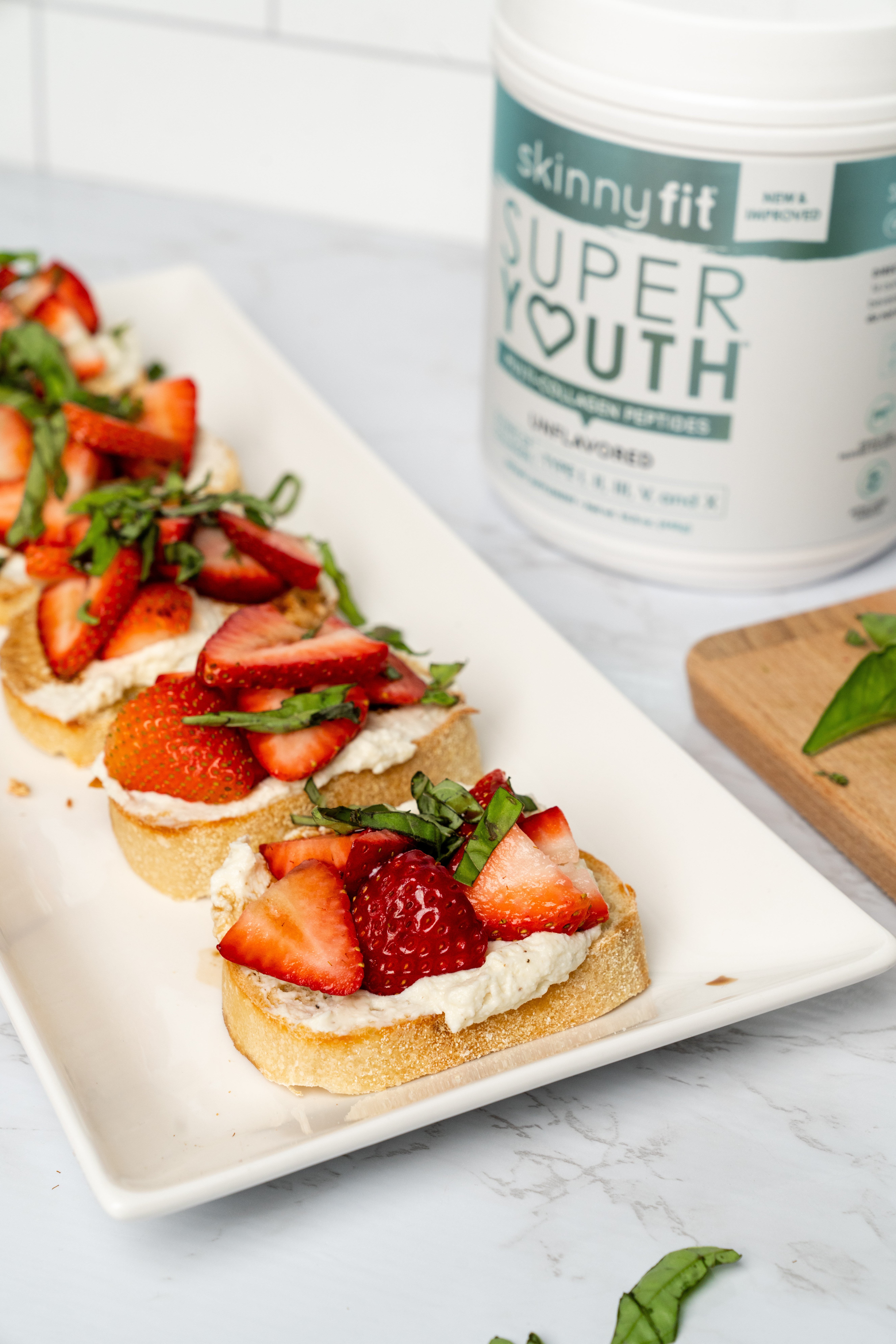 What Is Strawberry Balsamic Bruschetta?
Strawberry balsamic bruschetta is a delicious, summery take on a classic easy bruschetta recipe. The best bruschetta recipe is one where you can interchange the ingredients with in-season herbs and spices—which is exactly what this is! A strawberry bruschetta recipe uses the same main ingredients as you would for a classic bruschetta, just with strawberries and ricotta added!
Is Strawberry Balsamic Bruschetta Healthy?
The best bruschetta recipe is one that's also healthy! I love this bruschetta recipe because of the secret ingredient, collagen. It gets whipped into the ricotta, and you'd never know it was there! Unflavored Super Youth is the best collagen to use regularly in recipes because it's easy to digest, and completely unflavored. It's my go-to supplement for anti-aging, clear skin, reducing inflammation, and all-around feeling great. There's just something about taking a supplement that you know is going to make your skin glow, am I right?! This strawberry balsamic bruschetta is the best bruschetta recipe thanks to Super Youth! 
Enjoy this healthy, delicious recipe on repeat all summer (or year!) long!
Strawberry Balsamic Bruschetta
For the most delicious, healthy, bruschetta recipe of the summer.
Prep Time: 10 min
Cook Time: 10 min
Total Time: 20 min
Serving Size: 5-8 pieces (depending on size of baguette)
Ingredients
1 baguette, cut into 1" slices
1/4 c. plus 2 tsp. extra-virgin olive oil, divided
2 c. ricotta
2 tsp. kosher salt
1 tsp. Freshly ground black pepper
1 scoop Super Youth Unflavored
2 c. strawberries, chopped
2 tbsp. fresh basil, thinly sliced
Balsamic glaze, for serving
Steps
Preheat oven to 400°.
Place baguette slices on a medium sheet tray and drizzle or brush with 1/4 cup olive oil. Bake until bread is toasted, about 10 minutes.
In a medium bowl, mix ricotta with salt, pepper, Unflavored Super Youth, and two teaspoons oil. Spread each toast generously with ricotta mixture then top with strawberries.
Garnish with basil and drizzle with balsamic glaze. Serve and enjoy!