Jump To Recipe
Have you ever made an amazing mistake? Most of mine happen in the kitchen, and these banana sushi rolls are one of them! I love making my 4-year-old niece healthy snacks, but she makes huge messes. One day, I was making her some nut-butter covered banana slices. I jokingly thought to myself if only there was an edible blanket I could wrap these in so the nut-butter didn't get all over her hands. Aha! I realized edible blanks are called tortillas. 
They came out so cute and delicious, I realized I could make some really easy recipes for lunch with this method. For the next week all I did was wrap and chop sushi-style tortilla rolls. They're so good, and so versatile!
Today I'm sharing one of my go-to healthy snacks – banana sushi rolls that are perfect for snacks, kids, and appetizers!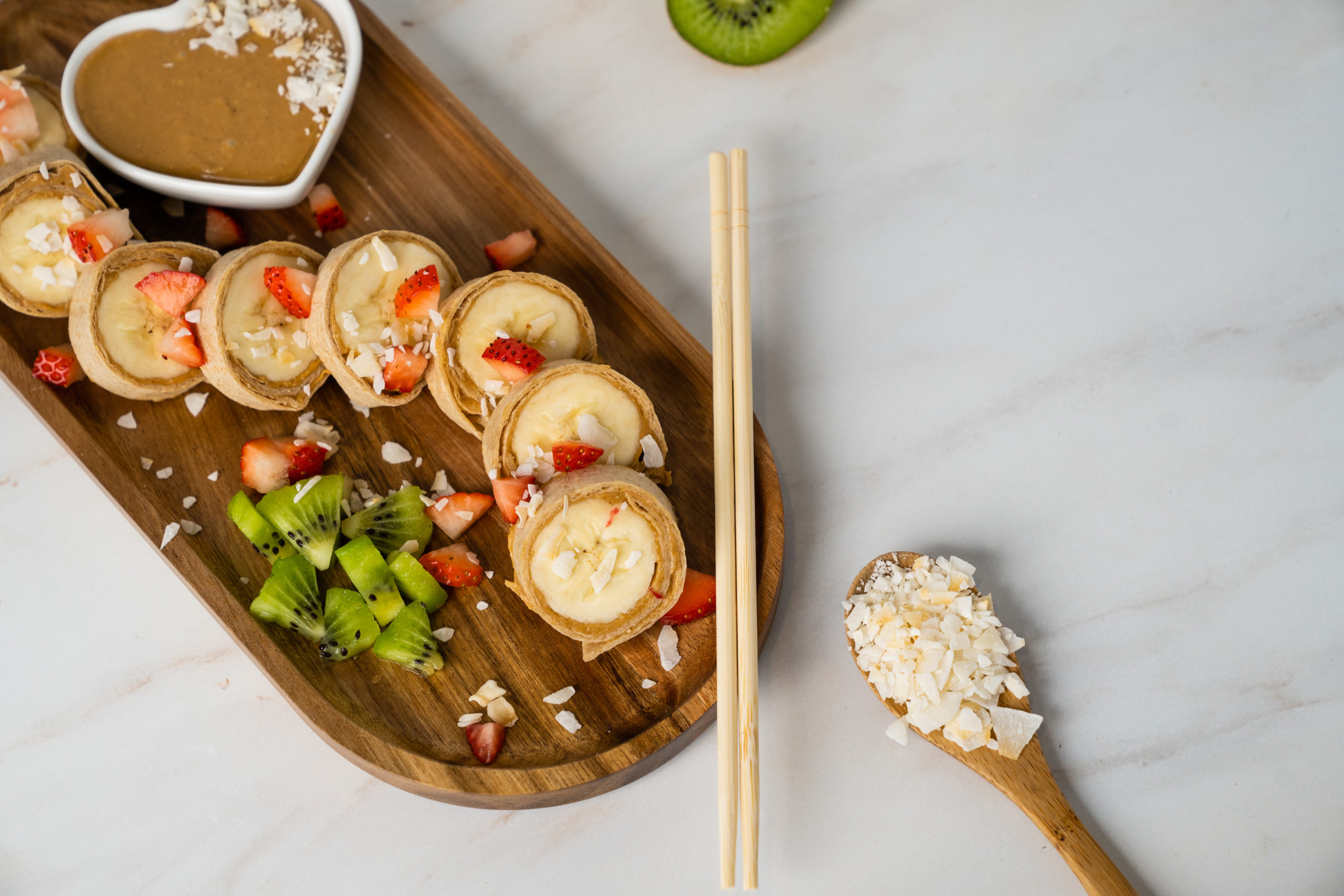 Why You Should Try This Unique Snack (+ The Health Benefits!)
Not all healthy snacks are created equal. I've made plenty of recipes in the past that left me unsatisfied. These sushi rolls are perfect for helping you feel full, happy, and in line with your goals! It's made with seven wholesome ingredients and it takes just a few minutes to throw together. You can even modify it and add it to your list of easy recipes for lunch on the go.
The first ingredient is a whole wheat tortilla, which is a healthy alternative to white flour tortillas thanks to the whole grains. The next healthy ingredient is Super Youth collagen – full of bone-strengthening, joint healthy, and hair and nail strengthening amino acids. It's my favorite add-in for all of my recipes. Of course, the fruit makes this treat healthy as well. Bananas, strawberries, and kiwis are all great for boosting immune function and increasing antioxidants.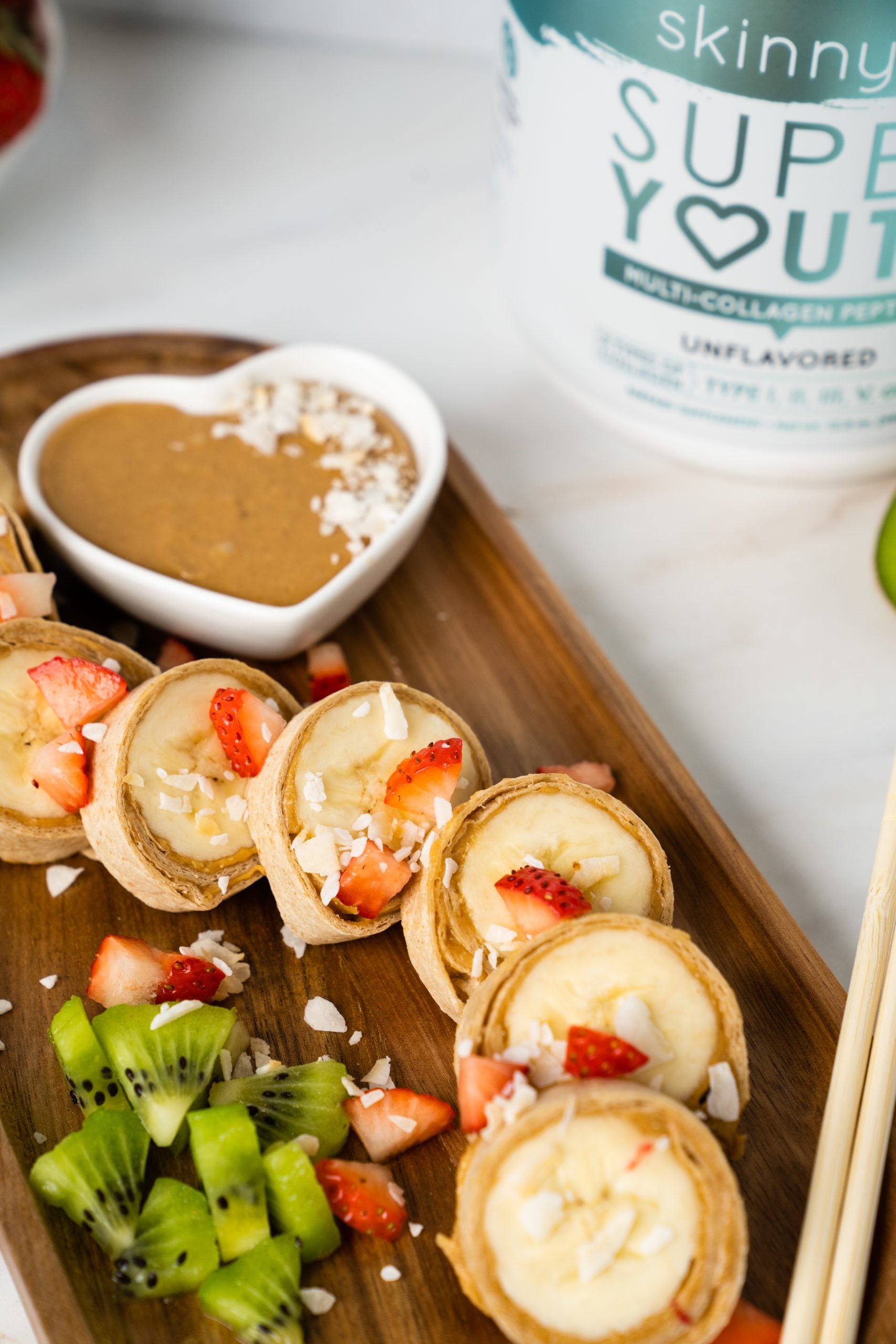 Mentioned In This Post
SkinnyFit Unflavored Collagen
Look and feel younger with Super Youth Multi-Collagen Peptides! This versatile collagen powder includes 5 collagen types from 4 natural sources to restore youthfulness from the inside out.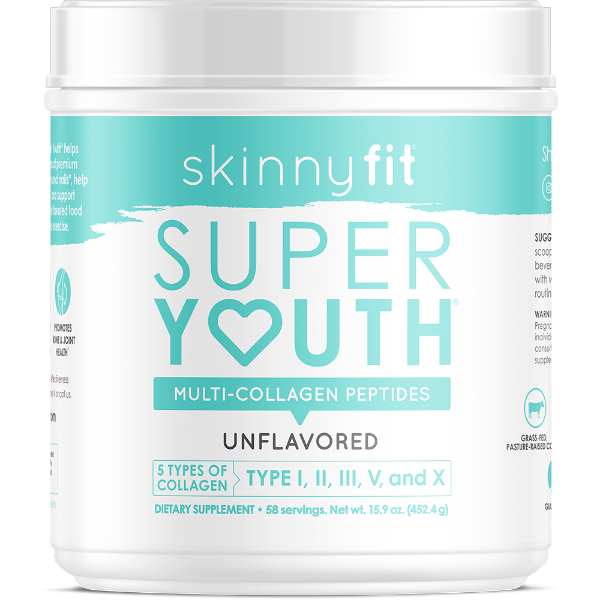 Banana Sushi Rolls
No matter when you enjoy this snack, it's sure to satisfy your belly and your goals.
Prep Time: 5 minutes
Cook Time: 0 minutes
Total Time: 5 minutes
Serving Size: 2 servings
Ingredients
1 large 6-inch whole wheat tortilla
1 cup peanut butter
1 scoop SY Unflavored
1 banana peeled
2 strawberries sliced
½ kiwi fruit sliced
1 tbsp unsweetened shredded coconut
Steps
Microwave 1 cup of peanut butter for 30 seconds, or until melted. Mix 1 scoop of SY Unflavored into melted peanut butter, and mix until fully combined.
Lay tortilla on a flat surface, then spread with half of the peanut butter.
Place banana on one end of the tortilla and roll up.
After cutting into even slices, place strawberries and kiwi on top.
Drizzle your preferred amount of peanut butter mixture over banana sushi, then put the rest in a saucer dish to dip.
Top with shredded coconut or other garnishes, serve and enjoy!