Jump To Recipe
Can't wait for Mardi Gras!? Well you're going to love this bananas Foster oatmeal recipe, inspired by the famous New Orleans dessert!
Venture down New Orleans way and you're bound to get a full helping of po boys, gumbo, praline, and of course bananas Foster. Who knows, a jazz band may go marching through while you're feasting! That's N'awlins for ya. Today I'm going to be sharing a healthy remix of one of my favorite Big Easy dishes, bananas Foster oatmeal. It's a delicious, sweet and savory twist on the famous dessert, and a more slimming way to start Fat Tuesday, or any other day for that matter. So put on some marching music (lots of horns now!) and get ready for my all-time favorite banana oatmeal recipe!
What Is Bananas Foster?
Banana Foster is an original American dessert, born in the cultural and culinary hub New Orleans in the early 1950. It's base is bananas and vanilla ice cream, floating in a sauce of butter, brown sugar, cinnamon, dark rum, and banana liqueur. The bananas are caramelized in butter and brown sugar, then alcohol is ignited and the whole dessert is served in a cast iron skillet. 
Since the '50s, an entire menu's worth of bananas Foster this and that have emerged, including bananas Foster oatmeal. 
If your first thought was, "Yum! Need now!" 🤤 Your second though may be, "There's no way that's healthy."
In regards to traditional Banana Foster, you're absolutely right. It's a dessert of extravagance and excess (particularly excess calories). 
This banana oatmeal recipe, on the other hand, keeps the best of Bananas Foster, scratches the waist-expanding ingredients, and weaves in nutrition and flavor so seamlessly you'll think this Bananas Foster oatmeal was a N'awlins original. 
How To Make Bananas Foster Oatmeal
Relax, making bananas Foster oatmeal is a lot simpler than its flaming, boozy predecessor. It's also way healthier, not to mention safer (this is a fire-free banana oatmeal recipe). Part of the health benefits is that we swap vanilla ice cream for vanilla extract. This gives us that exotic flavor—insuperable to bananas Foster oatmeal, without the sugar, additives, and calories of vanilla ice cream. We'll also be leaving the hard stuff in the liquor cabinet. 
Oh, quit your moaning—there's still plenty of fun and flavor to be had. 😜
First, you'll want to cook your oatmeal per the package directions or recipe you're following. We'll then add a scoop of unflavored Super Youth Collagen for loads of youthful benefits (more on that below). 
While that sits, grab a small pan heat 1-1/2 tablespoons of butter in it over medium heat. Brown sugar, maybe, syrup, cinnamon, and the vanilla extract will follow. When the mixture bubbles for about 30 seconds, you'll want to pull it off, leaving it foamy and bubbly. 
This is when the magic happens! You'll add your bananas and pecans, letting them simmer until soft and plump. This caramelizing process takes a few minutes, and can vary depending on your heat and stove top. The best thing to do is monitor the appearance and texture. 
Immediately before serving, stir half the caramelized bananas and pecans into your oatmeal, saving the other half for topping. Grab your fork, spoon, or preferred utensil and dig in!

Benefits Of Banana Oatmeal
While traditional bananas Foster may not have benefits outside of flavor, bananas Foster oatmeal can have benefits ranging from heart health to joint health, at least if you follow this particular banana oatmeal recipe. 
Antioxidants—This banana oatmeal recipe is packed with protective antioxidants. In fact, nearly all the main ingredients have a good amount of them. For instance, vanillin, the key compound making vanilla vanilla, is recognized as a free radical scavenger, protecting against degenerative diseases brought on by damage from oxidative stress. [1] Oats also have significant antioxidant properties. In fact, avenanthramides are a unique group of antioxidants found nowhere else but in oats! [2]
Dietary fiber is crucial to maintaining balanced weight and reducing the risk of chronic diseases. [3] A single banana contains nearly six grams of fiber, equivalent to nearly 25% of your daily recommended value. [4] Combine that with the 2.6g from pecans and the roughly 7g from oats found in this banana oatmeal recipe! [5, 6]
Youthful skin—This may be the only bananas foster oatmeal recipe that actually helps you slow, even reverse, the most common sign of aging—wrinkling, sagging skin! That's because it uses SkinnyFit's Super Youth Collagen, a premium collagen blend with five different types of collagen peptides.Take a look at your skin. Did you know collagen peptides are proven to increase skin elasticity, hydration and dermal collagen density? [7] These are crucial factors in preserving a younger look. This is particularly true with women 35-55 and older. [8]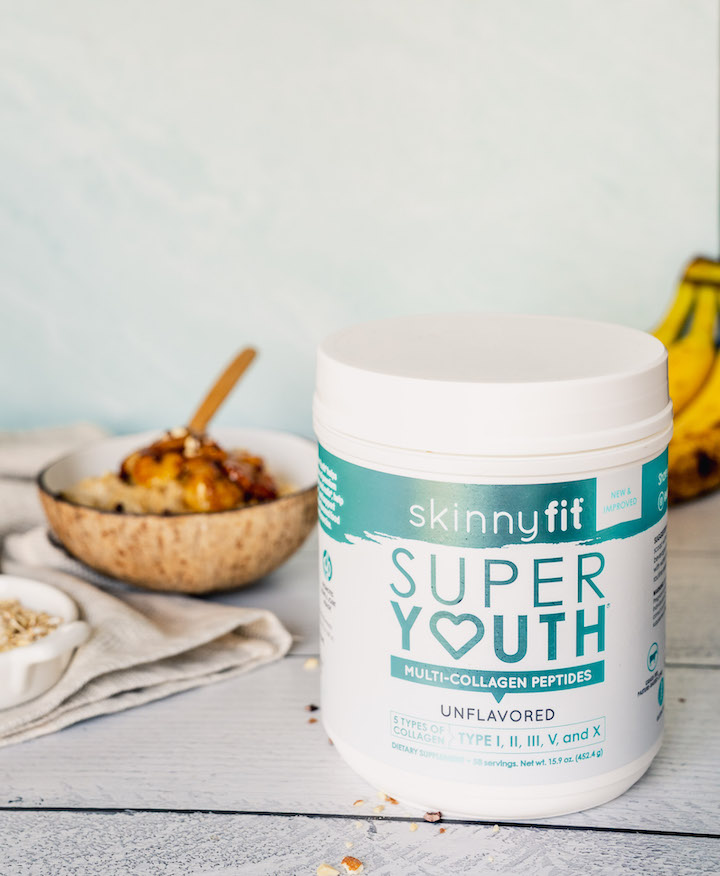 Every time I make this New Orleans-inspired banana oatmeal recipe, it reminds me that, when it comes to cooking, you can have your cake and eat it too—or at least a few bites. By that, I mean you can create your own healthy adaptations to even the guiltiest of good foods. Bananas Foster oatmeal is a great way to get a little of the sin and a lot of the win, when it comes to this sweet and savory cajun favorite. 
Enjoy!
Bananas Foster Oatmeal Recipe
Enjoy this healthy bananas Foster oatmeal recipe for a breakfast treat or a sweat & healthy brunch with friends!
Prep Time: 5 minutes
Cook Time: 10 minutes
Total Time: 15 minutes
Serving Size: 2 servings
Ingredients
1 cup rolled oats
2 scoops SkinnyFit Super Youth Collagen (unflavored)
3 bananas, sliced
3-4 tbsp butter
1 ½ tbsp brown sugar
2 tbsp real maple syrup
¼ cup chopped pecans
1 tsp cinnamon
½ tsp vanilla extract
Steps
Cook the oatmeal according to package directions. Once cooked, add Super Youth collagen and mix. 
In a small pan, heat the butter over medium heat. Add the brown sugar, maple syrup, cinnamon, and vanilla, and let it bubble for about 30 seconds. It should be slightly foamy and bubbly.
Add bananas and pecans and simmer for a few minutes on each side until soft and plump.
Remove from heat. Stir half of bananas and pecans into oatmeal, and reserve the other half for topping. Add additional toppings if desired.
Total Calories: 500
Carbs: 70g
Fats: 19g
Protein: 14g
Sugar: -
Fiber: 8g