Jump To Recipe
Is there anything better than enjoying a delicious muffin and a hot cup of coffee in the morning? There's something satisfying about the warm, brown-sugary flavors of a hot muffin swirling together with a creamy roast with subtle hints of toasted nuts. Ahhh, pure bliss.  😌
If you can't already tell, I'm a pretty big fan of morning pastries, but I tend to avoid them because of their carb- and sugar-heavy reputation. So, what's a girl to do when she's #GotGoals and a serious morning sweet tooth? 🤔 Let me tell you…
Healthy blueberry lemon poppyseed muffins.
Yes, these flavorful breakfast oat muffins are heart-healthy and packed with soluble fiber and protein, and they even have a sweet surprise—juicy blueberries, poppyseeds, and a burst of lemon zing! 🤤 So today, I'm revealing all my secrets on how to whip up super moist and fluffy blueberry lemon poppyseed muffins you'll want to make over and over again.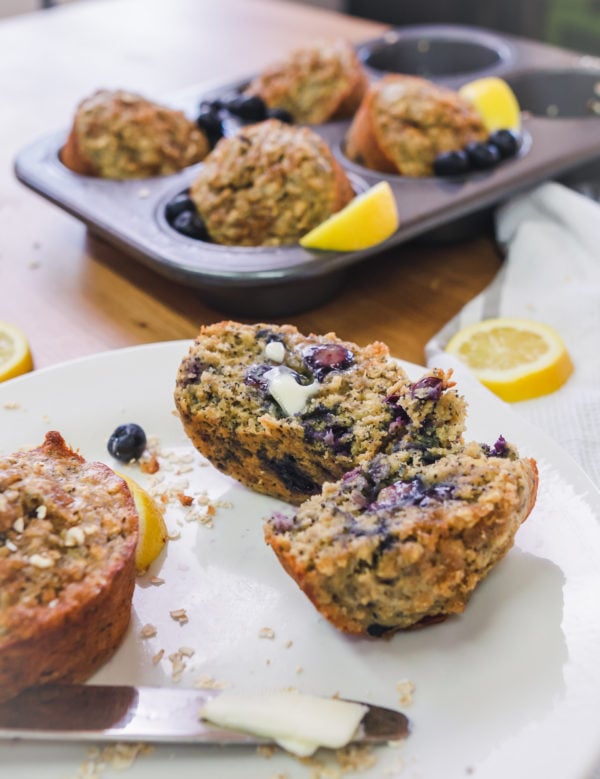 So, What's The Secret To This Poppyseed Muffin Recipe?

By now, I'm sure you're wondering what makes this lemon poppyseed muffin recipe so dang delicious. Well, here it is… 
Believe it or not, these little muffins get their moist texture from Greek yogurt and mashed bananas! A little unconventional for baking, but these are considered to be healthy and delicious cooking alternatives to reduce calories and added sugar in baked goods. 
I've also added a secret ingredient into the mix to boost the protein in order to prevent a blood sugar spike and to neutralize carbohydrate digestion so early in the morning. So, what's the secret? It's collagen. (Not protein powder!  😱)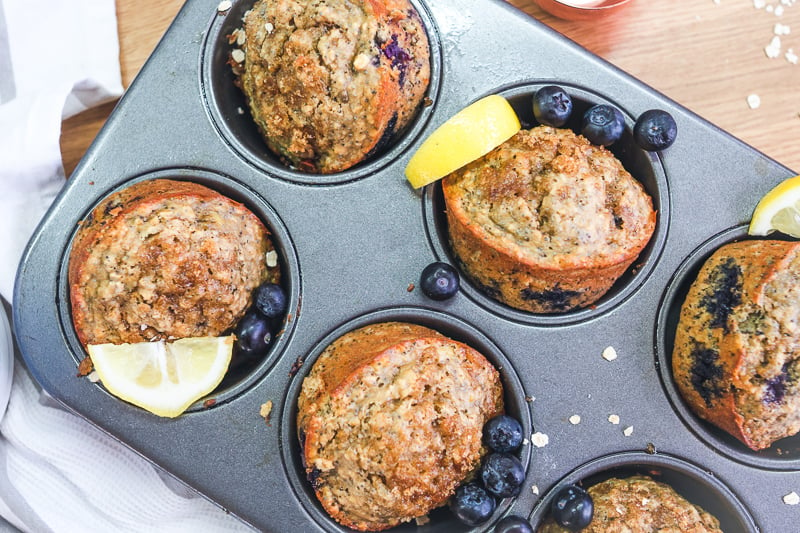 A lot of people assume that adding whey protein to their baked goods is the best way to make them "healthy" and to boost the protein. While this will certainly get the job done, whey protein has a tendency to sour when it's cooked because it contains artificial flavors—leaving your delicious pastry tasting a little… funky. Instead, use a hydrolyzed collagen peptide powder, like Super Youth. 
Super Youth is a blend of naturally occurring proteins and has virtually no taste or flavor which is why it's a great option for baking. Similarly, the collagen peptides are hydrolyzed, which means the amino acids have been broken down into smaller pieces, making it easier to mix with other ingredients and faster for your body to digest. Super Youth is available in a few different flavors, but for this recipe, I recommend using the original, unflavored formula.
How To Make Blueberry Lemon Poppyseed Muffins

This poppyseed muffin recipe is surprisingly simple to make, despite their extravagant appearance. In fact, all you need to get started are your ingredients, a zester, a few measuring cups, and two bowls. 
Before you get started, here are a few baking tips to ensure your muffins turn out perfectly:
Mix the wet and dry ingredients separately before mixing them together.
Before adding the blueberries, toss them in 1 tbsp of flour to prevent them from bleeding or sinking to the bottom of your muffins.
Gently fold the blueberries into your completed batter (you don't want to squish them!)
Spray your muffin tin with a non-stick cooking spray or use tin liners.
After the muffins are done cooking, use a fork to gently release the muffins from the cavities in the pan. Let them cool on their side for a few minutes before transferring them to a wire rack to cool completely. 
This recipe pairs perfectly with our gut-healing coconut latte! Give it a try, you won't be disappointed!
Now, let's get cookin'! ‍👩🏽‍🍳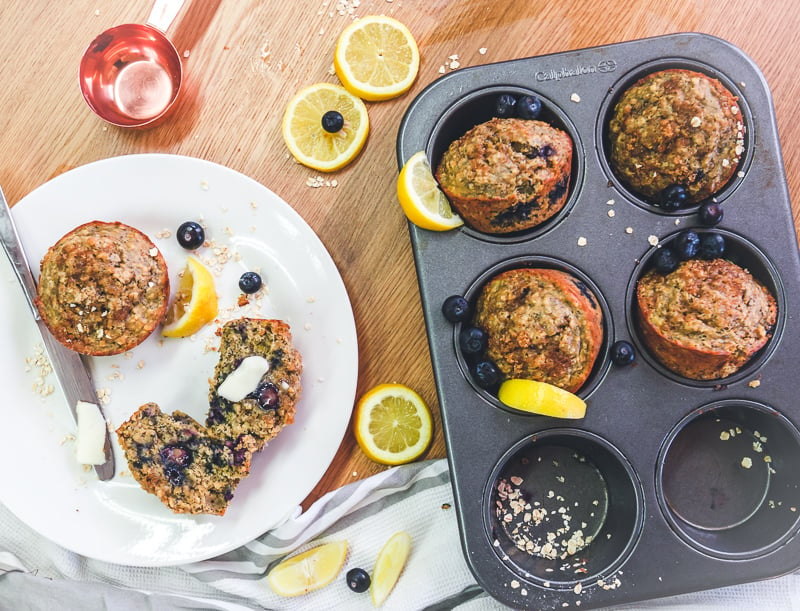 Blueberry Lemon Poppyseed Muffins
These healthy blueberry lemon poppyseed muffins are the perfect breakfast food to fuel your morning! Packed with soluble fiber, protein, and our secret age-defying ingredient!
Prep Time: 10 minutes
Cook Time: 20 minutes
Total Time: 30 minutes
Serving Size: 12 small muffins or 6 large muffins
Ingredients
2 large eggs
½ cup plain 2% Greek yogurt
2 medium-size, ripe bananas, mashed (approx. 1 cup)
½ cup coconut palm sugar OR brown sugar (whichever is easiest)
1 tsp vanilla extract
1 tsp baking soda
½ tsp ground cinnamon
¾ cup quick oats
1 cup oat flour
2 scoops Super Youth
1 cup blueberries, frozen or fresh
1-2 tbsp lemon zest (depending on how much of a lemon zing you want)
3 tbsp poppyseeds
Steps
Preheat your oven to 350ºF and prepare a muffin pan by spraying the cavities with cooking spray or lining them with parchment paper liners. Set aside.
In a large mixing bowl, lightly beat the eggs until the yolks break apart. Whisk in the yogurt, bananas, lemon zest, and vanilla mixing until smooth. Add sugar and mix well.
In a separate bowl, combine the Super Youth, flour, oats, cinnamon, and baking soda and mix well.
Spoon in the flour mixture and gently stir in the poppyseeds until all combined. Toss the blueberries in 1 Tbsp of flour to prevent them from bleeding or sinking to the bottom of the muffins, and fold them into the batter.
Divide the batter evenly among the 12 muffin cups, filling almost to the top. Add a sprinkle of coconut sugar, if desired.
Bake for 20-22 minutes, or until the tops of the muffins begin to turn golden brown and a toothpick inserted into the center comes out clean. Allow the muffins to cool in the pan for ~5 minutes before transferring them to a wire rack to cool completely. Store them in an airtight container at room temperature for up to 5 days, or freeze for up to 3 months.