Jump To Recipe
How many 4th of July parties, Labor Day BBQs, Super Bowl gatherings, or mid-summer birthdays have you been to where buffalo chicken—or buffalo ANYTHING—didn't make an appearance? A conservative guess would be: not a single one. But, while chicken, sliders, and dip tend to get all the buffalo glory, a surprise delight at any function (or even just a Tuesday at home) is buffalo cauliflower. 
Hear me out. 
Easy and addicting, you simply can't go wrong with buffalo cauliflower. Even my ardently carnivorous friends beg me to bring these slightly spicy veggie bites to shindigs and dinner parties. Doused in buffalo sauce and cooked into stackable chunks and you've got a game-day winner in this buffalo cauliflower recipe.
Skip ahead to the recipe if you're in a rush. But if you've got four or five minutes, it's worth sticking around to learn about why this buffalo cauliflower recipe in particular sets the bar for both flavor and nutrition.

Here's a bit of what we'll cover:

Why I prefer buffalo cauliflower to chicken
The many benefits of buffalo cauliflower bites
Pro tips for a restaurant-quality recipe
And finally, my famous recipe itself (with secret ingredient)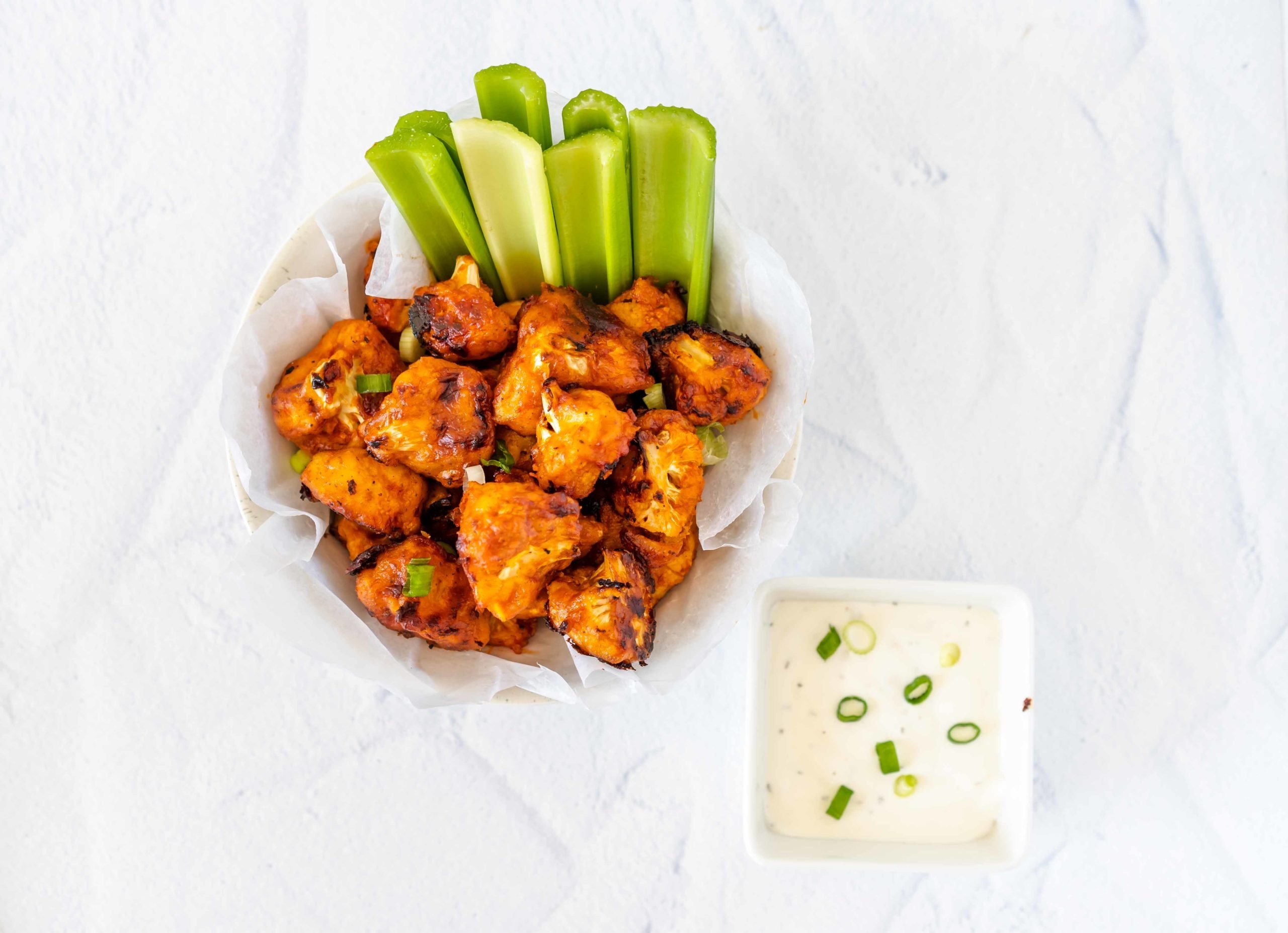 Buffalo Cauliflower vs Chicken

Traditional buffalo sauce devotees may find it hard to fathom dousing buffalo sauce on anything other than meat, but I promise you this buffalo cauliflower recipe will do nothing less than send your tastebuds to flavor heaven and back. 
Here's why cauliflower makes a great substitute for chicken:
1. Nutrition

Cauliflower and chicken both have some great benefits to short- and long-term health, so it's important to note that nutritionally, one isn't necessarily better than the other. Remember, we're talking about diet—balance is essential. 
Chicken is rich in protein, B vitamins, and important minerals including phosphorus and selenium, which is a key mineral in thyroid activity, antioxidation, and immune function. [1] But researchers point out that the health benefits of chicken rely on it being combined with a vegetable-rich diet. Only with ample vegetables is it associated with lower risk of obesity, cardiovascular disease, and type 2 diabetes. [2] 
But cauliflower is a zero-guilt powerhouse of important vitamins, like K and vitamin C (which plays a key role in everything from supporting our connective tissues, to balancing our metabolism to protection from free radicals [3]). It's also much lower in calories than chicken, much higher in fiber, and even contains choline, an essential nutrient for mood, memory, and even intelligence. [4] In this regard, cauliflower is not just a superfood, it's a smart food. And for those worried about the lack of protein? Relax, this recipe's secret ingredient brings it right back!
2. Taste & texture: Same-same, but different

If we were in an early 90s sitcom right now, you could expect me to say, with a practiced look of innocent bewilderment, "Cauliflower?! Huh… Tastes like chicken!" And I could expect you to chuckle along with some pre-recorded laughter. 
And it's largely true—about the bites. Baking these buffalo cauliflower bites gives them a texture that, much like buffalo wings, is crunchy on the outside, tender on the inside. In fact, their cruciferous crunch is a big part of their appeal. 
But while buffalo sauce is a cuisine all it's own, I wouldn't recommend trying to guise them as something like, "vegetarian buffalo chicken bites." Let cauliflower own its title as a delicious alternative dish.
3. Transitioning diets

But while you won't have anyone fooled, you will have them surprised and delighted that something so healthy pairs so well with something so… buffalo-y!

That's why this healthy buffalo cauliflower recipe is the perfect way to smuggle a lot of nutrition into your diet, without feeling like you're eating a salad. In fact, because my recipe recommends Frank's Red Hot sauce, practically anyone with tastebuds will find it crave-worthy. 
It's also a great culinary segue for those transitioning to more plant-based diets or just trying to eat healthier. Around my household, it's become a Meatless Monday favorite.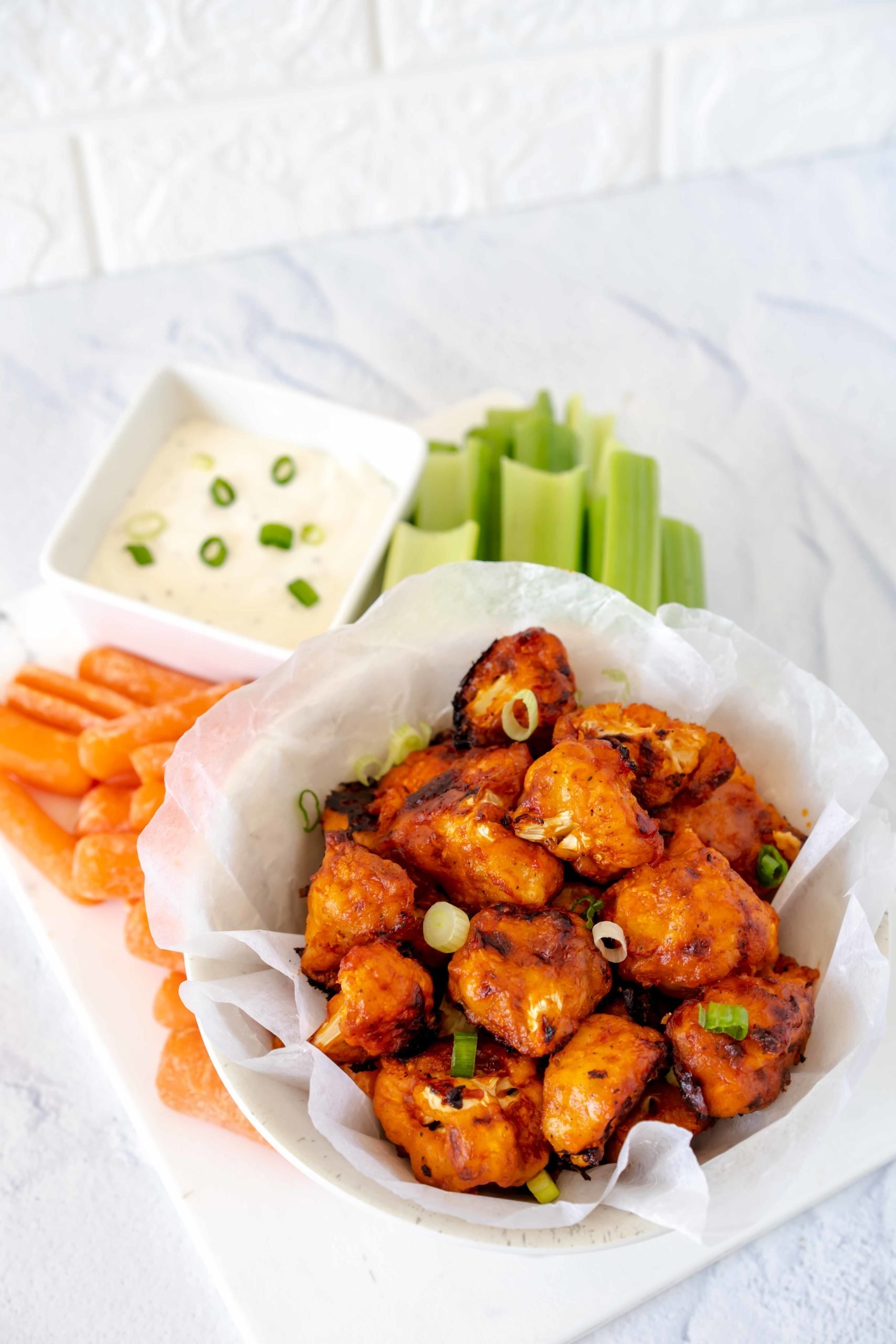 Buffalo Cauliflower Bites (With Benefits)

Like every buffalo cauliflower recipe, this recipe uses only a handful of ingredients. But unlike any other, it features one that sets it apart in terms of benefits. 
I add SkinnyFit Super Youth collagen to provide a boost of protein and age-defying health benefits to these little bites. 
Why collagen peptides? Because collagen is the building block of our connective tissue. It's what makes our skin tight and elastic, our joint cartilage capable of handling a lifetime of motion, our hair full and lush, and our nails durable and bright. It's even in the lining of many organs, including our digestive tract. 
But our collagen supply starts declining rapidly by the time we leave our 20s. [5] Supplementing your diet with collagen can help increase collagen in our body. When it comes to our skin, for instance, collagen supplementation helps increase elasticity, hydration, and density. [6] In our joints, collagen has been shown in studies to decrease activity-related joint pain as well as risk of degeneration. [7] 
Let that all sink in as you're following this simple buffalo cauliflower recipe. It's a low-carb, protein-rich, collagen-restoring, youth-preserving, unbelievably delicious way to get an abundance of nutrients without the guilt that follows a dozen chicken wings!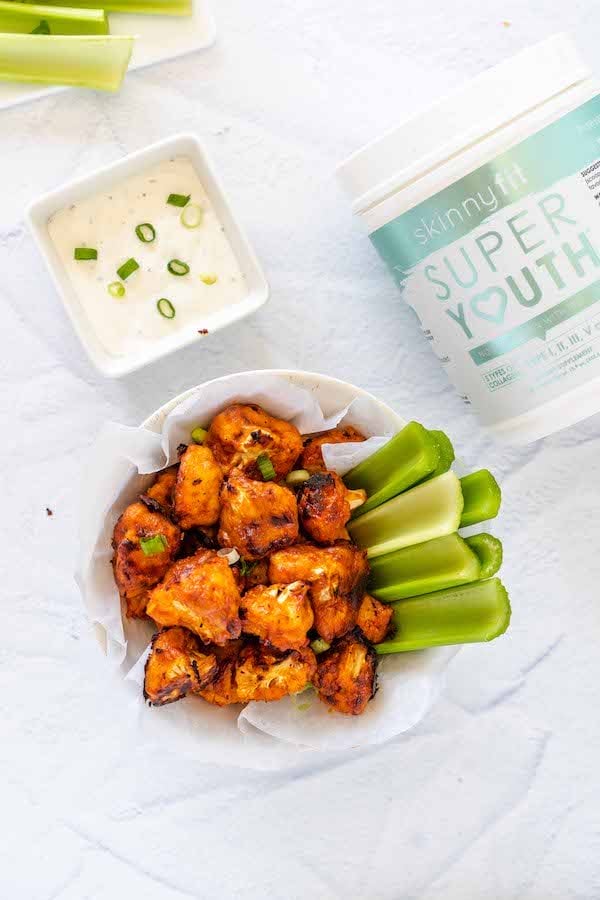 How To Make Buffalo Cauliflower Bites

Making buffalo cauliflower is easy! Just whisk the flour and seasoning together and cover the cauliflower bites. Prebake them for a few minutes and drizzle a mouthwatering mixture of butter, Franks Red Hot sauce, and Super Youth unflavored collagen atop the bites. Another half-hour or so of baking and these treats are ready for the feast. 
You can serve them alongside your favorite wing dip for added flavor. 
Pro tip: Try topping your buffalo cauliflower with fresh chives or green onion for restaurant-quality flavor and appetite-stirring presentation.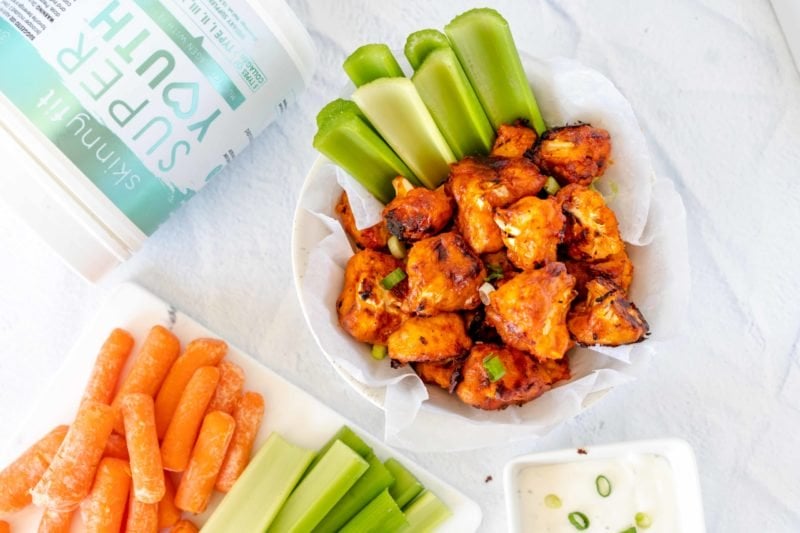 Cauliflower Buffalo Bites Recipe
These healthy baked buffalo cauliflower bites are a tasty and nutritious alternative to chicken and guaranteed to be the hit of any summer barbeque or game day feast!
Prep Time: 5 minutes
Cook Time: 45 minutes
Total Time: 50 minutes
Serving Size: 4 servings
Ingredients
1 head cauliflower, cut into bite-sized pieces
½ cup flour
½ cup water
1 tsp garlic powder
½ tsp salt
¼ tsp black pepper
1 scoop Super Youth Unflavored collagen
2 tbsp unsalted butter, melted
⅔ cup buffalo hot sauce (Frank's Red Hot Sauce is vegan!)
Steps
Preheat the oven to 450 degrees F. Spray a large baking sheet with non-stick cooking spray and set aside.
In a large bowl whisk together flour, water, garlic powder, salt, and pepper. Add cauliflower florets and toss to coat.
Spread cauliflower evenly onto your prepared baking sheet and place in the oven. Bake for 15 minutes, flipping once. Remove from the oven and leave the oven on.
In a separate bowl stir together melted butter, buffalo sauce, and Super Youth Unflavored. Add baked cauliflower and toss to coat.
Spread evenly onto the baking sheet. Place back in the oven and bake for an additional 25-30 minutes or until crispy, flipping once.
Remove from the oven and let sit 10 minutes before serving warm or at room temperature. Serve with your favorite dressing for dipping.