Jump To Recipe
I know what you're thinking. Carrot bacon? No thanks. As a proud and quite happy meat eater, I gotta say this carrot bacon recipe is freaking delicious. The first time I made air fryer carrot bacon, I was skeptical. It was my vegetarian sister's idea, and she was adamant about trying it. She swore she came up with the most epic simple carrot bacon recipe, and that it was going to change my mind about bacon forever. Now, she was a bit ambitious with that, because I'm still a huge real bacon fan, but this carrot bacon recipe will for sure be a staple in my home as well!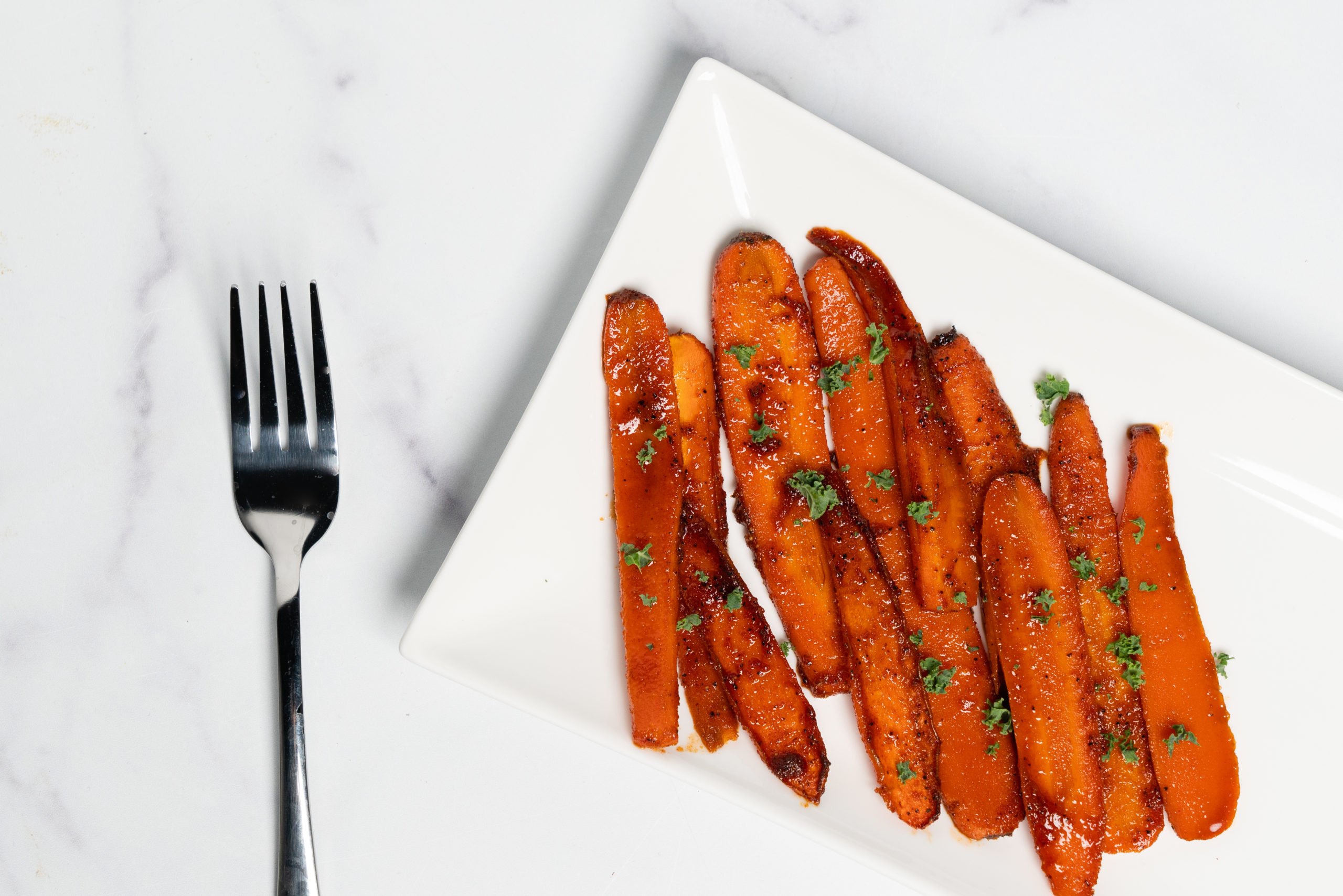 What Is Carrot Bacon?
Carrot bacon is a new take on vegetarian fare that spices up carrots to make them taste like bacon. If you haven't seen or heard of it, just scroll Instagram or TikTok for a few hours and it's bound to show up on your feed! Especially if you usually browse foodie content like I do. Guilty as charged!
Carrot bacon is a delicious alternative to animal meat bacon. Is it AS delicious? In my opinion, no. Is it a very delicious option to have, especially if you're hosting vegans or vegetarians? Absolutely! Not all carrot bacon recipe directions are created equal, though. Some totally flop, as my sister shared. She said that there are great ones, and awful ones, and she swears hers is the best. 
Is Carrot Bacon Healthy?
You can't hear "carrot bacon recipe" and not think it sounds healthy! Especially since this is specifically an air fryer carrot bacon recipe, it's even healthier than pan fried bacon. This simple carrot bacon recipe is healthy not only for its use of carrots as the base, but also the variety of spices and its secret ingredient–Super Youth! Super Youth collagen is my favorite way to boost any recipe, without altering the flavor. It adds 14 grams of protein, zero sugar, and tons of benefits! I like to use collagen for the anti-aging benefits, like smoother, clearer skin, and less wrinkles, but it's also great for recovery! If you workout regularly, your muscles need support repairing. Collagen protein is a great way to help the recovery process. 
Healthy Carrot Bacon
Prep Time: 15 min
Cook Time: 10 min
Total Time: 25 min
Serving Size: 1 pan
Ingredients
3 carrots, peeled
1/4 cup soy sauce
1 tsp paprika
1 tsp garlic powder
1 tsp black pepper
1 tsp onion powder
2 tbsp maple syrup
1 scoop Super Youth Unflavored
Steps
Preheat oven to 400F degrees. Line a large baking sheet with parchment paper.
Peel carrots into thin slices and place onto baking sheet.
In a small bowl, mix soy sauce, maple syrup, seasoning, and Super Youth Unflavored together.
Pour mixture on top of carrots and let sit for 10-15 minutes.
Bake for 10-12 minutes or until carrots are crispy. 
If you prefer, cook in Air Fryer for 10 minutes or until carrots are crispy.