Jump To Recipe
As summer comes to an end and fall approaches, there's an interesting limbo of appetites. It's not quite cool enough for all the cozy, warm roasts, but it's no longer warm enough for the crisp, chilled dishes of summer. One low calorie recipe I love that's always in season is this Carrot Ginger soup.
It's not everyday you find easy soup recipes. This recipe is simple, only requires a few core ingredients, and is so delicious. The Carrot Ginger soup recipe I'm sharing today is a go-to for me because you can enjoy it warm or cool, it's tasty either way!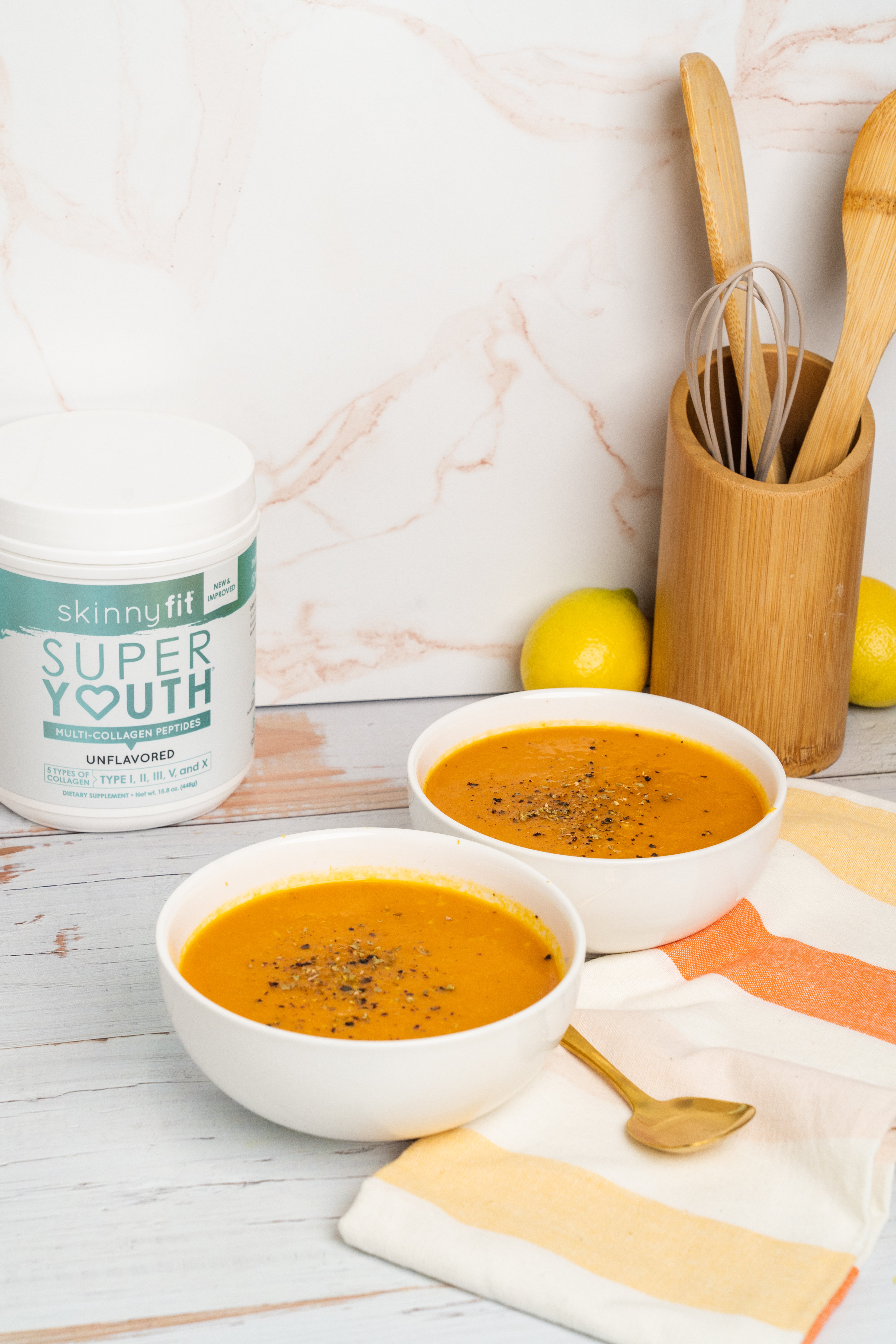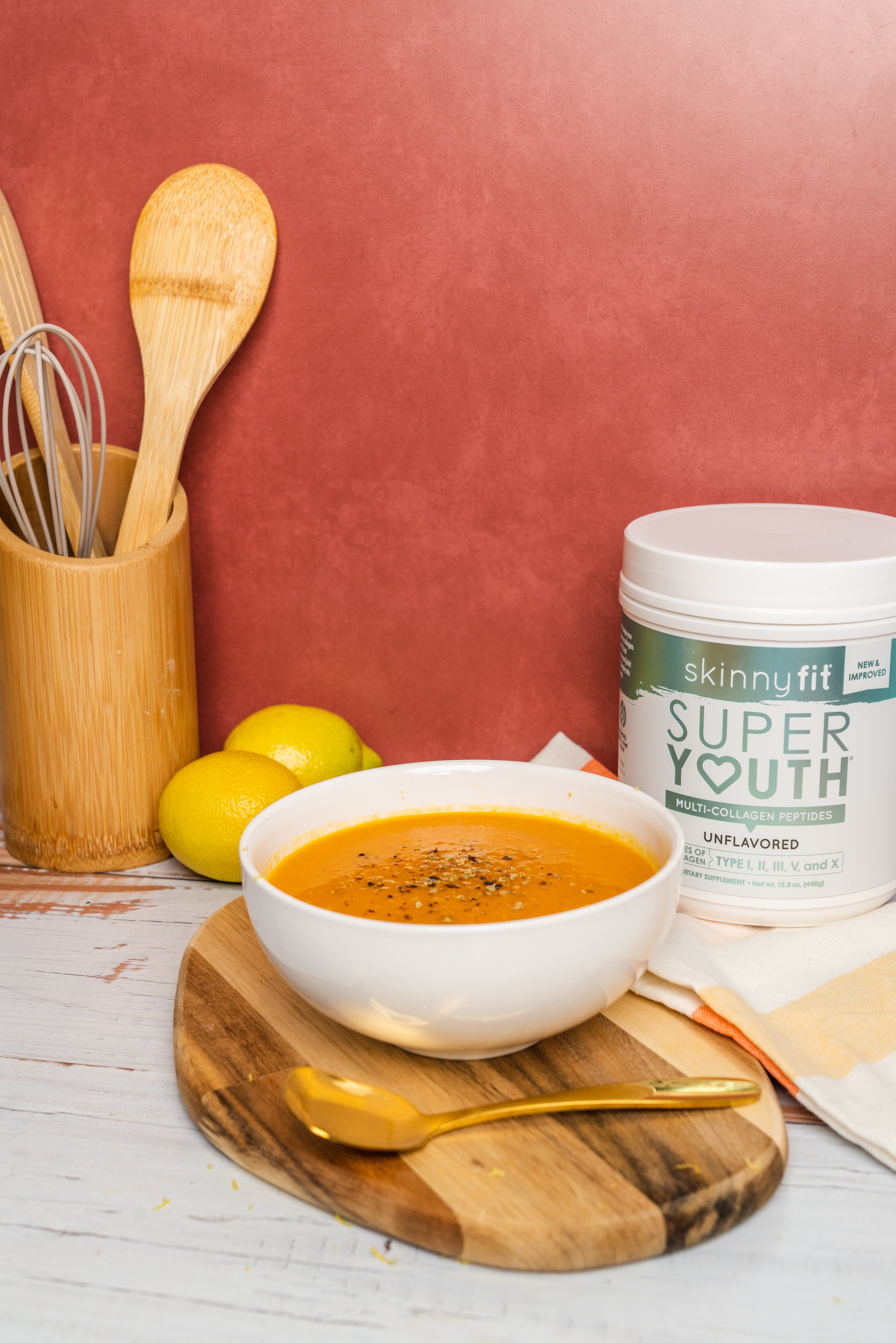 Health Benefits of This Low Calorie Soup
Most soups are loaded with calories, sodium, and unhealthy fats. My favorite low calorie recipe, this Carrot Ginger soup, is a staple in my kitchen because it's packed with herbs and veggies, contains protein, and comes together so easily.
This zesty, flavorful soup is packed with vitamins and minerals, and even a healthy amount of protein thanks to Super Youth! Not only is this low calorie recipe good for you, but it's also so easy to prepare in advance. One of the main things women complain about when trying to make healthy changes in their life is feeling like they need quick, accessible meals. This soup is great because you can simplify it in two different ways. One, you can prep all of your ingredients so that when you're ready to make the soup, you just boil and blend. Or two, you can make the soup and then freeze half for future enjoyment!
Soups are a delicious way to pack in a lot of ingredients, and this recipe is no different. It includes a healthy oil, five different herbs, veggies, and spices, and a source of protein. The broth used can either be vegetable or animal-based, which will only add to the protein. I love adding Super Youth into recipes like this because you get a whopping seven grams of protein into the mix. And not just any protein! Collagen protein can help improve skin, joint mobility, recovery time, and more.
Mentioned In This Post
SkinnyFit Unflavored Collagen
Look and feel younger with Super Youth Multi-Collagen Peptides! This versatile collagen powder includes 5 collagen types from 4 natural sources to restore youthfulness from the inside out.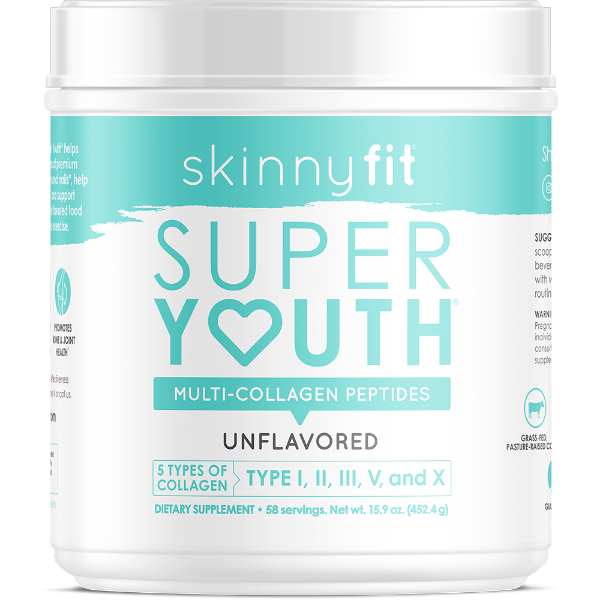 Low Calorie Carrot Ginger Soup
Next time you're at the store, grab any of the ingredients you're missing in your pantry to make this Carrot Ginger Soup and let me know what you think!
Prep Time: 10 min
Cook Time: 20 min
Total Time: 30 min
Serving Size: 4 servings
Ingredients
1 tablespoon olive oil
1 small onion, chopped
1 garlic clove, minced
3 teaspoons minced fresh ginger root
4 large carrots, peeled and chopped
3 cups vegetable broth
2 teaspoons grated lemon zest
1 scoop Unflavored Super Youth
Steps
In a large pot, heat oil over medium heat. Add onion and cook until tender, 4-5 minutes.
Add garlic and ginger, cook 1 minute longer. 
Stir in carrots, broth, lemon zest, salt and pepper to taste, and Unflavored SY. Bring to a boil. Reduce heat, cover and simmer for 10-12 minutes.
Pulse mixture in a blender to desired consistency. 
Can be served warm or cold.