Jump To Recipe
This creamy chickpea soup is a delicious, healthy addition to your weight loss diet with surprising skin-smoothing benefits!
I've had my fair share of chickpea soup. It's hard to come by at most restaurants, but when I do stumble upon it on a menu, I jump! Chickpea soup is loaded with healthy benefits, and when made right, is bursting with flavor.
But I have to admit, too many times I've been disappointed by the lack of "pizaz" in my chickpea soup—until now. I put my restaurant chickpea soup hunting on hold, because I've finally come up with the ultimate chickpea soup recipe that puts any restaurant to shame. Also, it's homemade, so you know you're only getting healthy, natural ingredients! 
Ingredients In Chickpea Soup
The superstar ingredient in chickpea stew? Why, it's chickpeas of course! I'll get into the amazing benefits of chickpeas in a little bit, but first, let's talk about some of the other ingredients you'll love in this chickpea soup recipe. 
With chicken breast and Super Youth collagen, you've got tons of healthy protein to keep you strong and feeling full. This chickpea stew also contains sweet potatoes that provide healthy, fiber-rich carbs to your diet.
There's also peanut butter in this chickpea stew. Yes, peanut butter! Adding peanut butter to chickpea soup not only gives it an oh-so-creamy texture, but also gives it a surprisingly scrumptious flavor punch.
How To Make Chickpea Stew
With so many fresh ingredients, you'll be surprised to hear that this chickpea soup recipe takes just 10 minutes to prep! And chances are, you probably have most of the ingredients at home already! This particular chickpea soup makes four servings and is ready for you in less than an hour. It's a perfect meal for a family dinner and a great addition to your meal prep menu!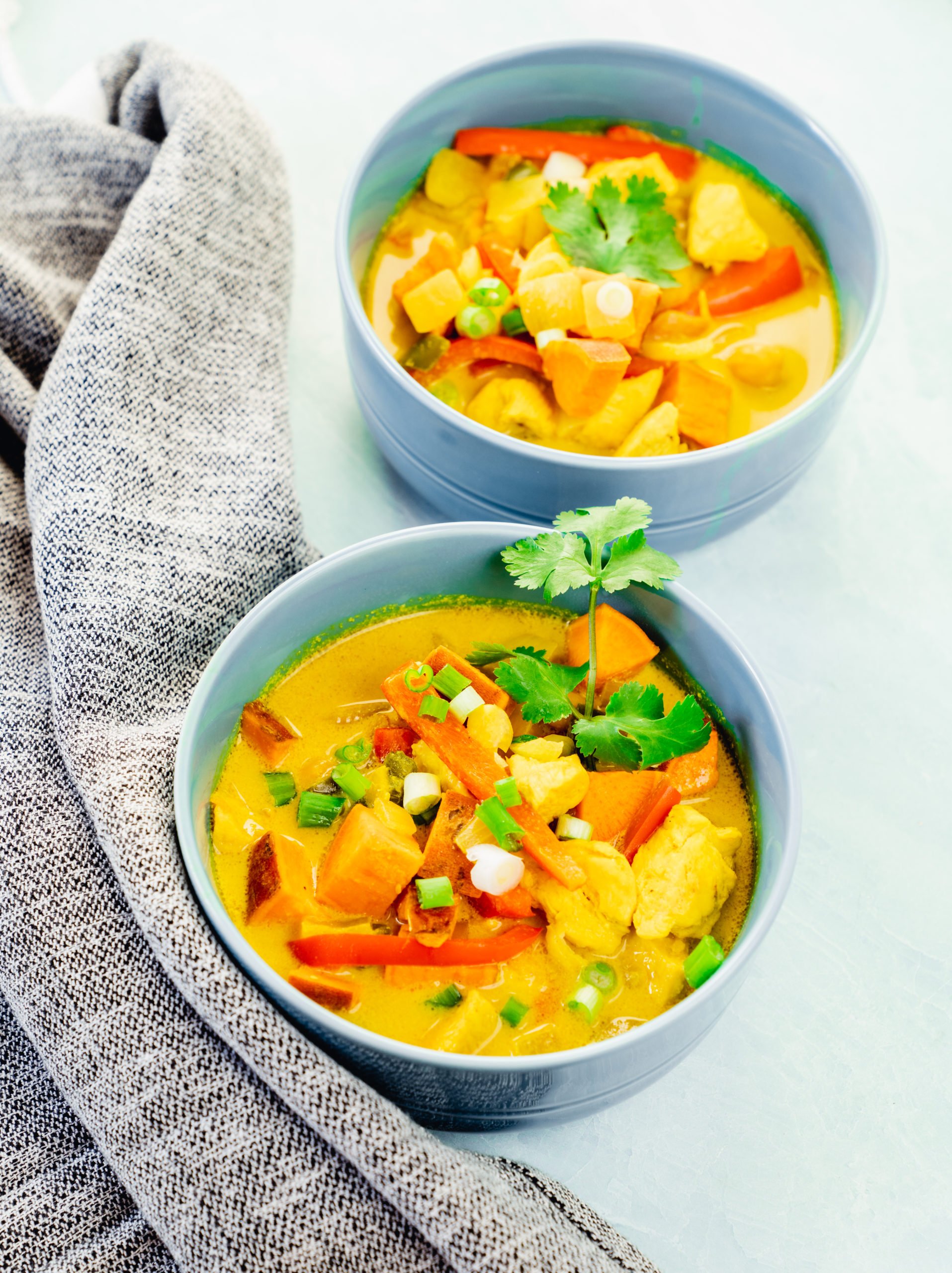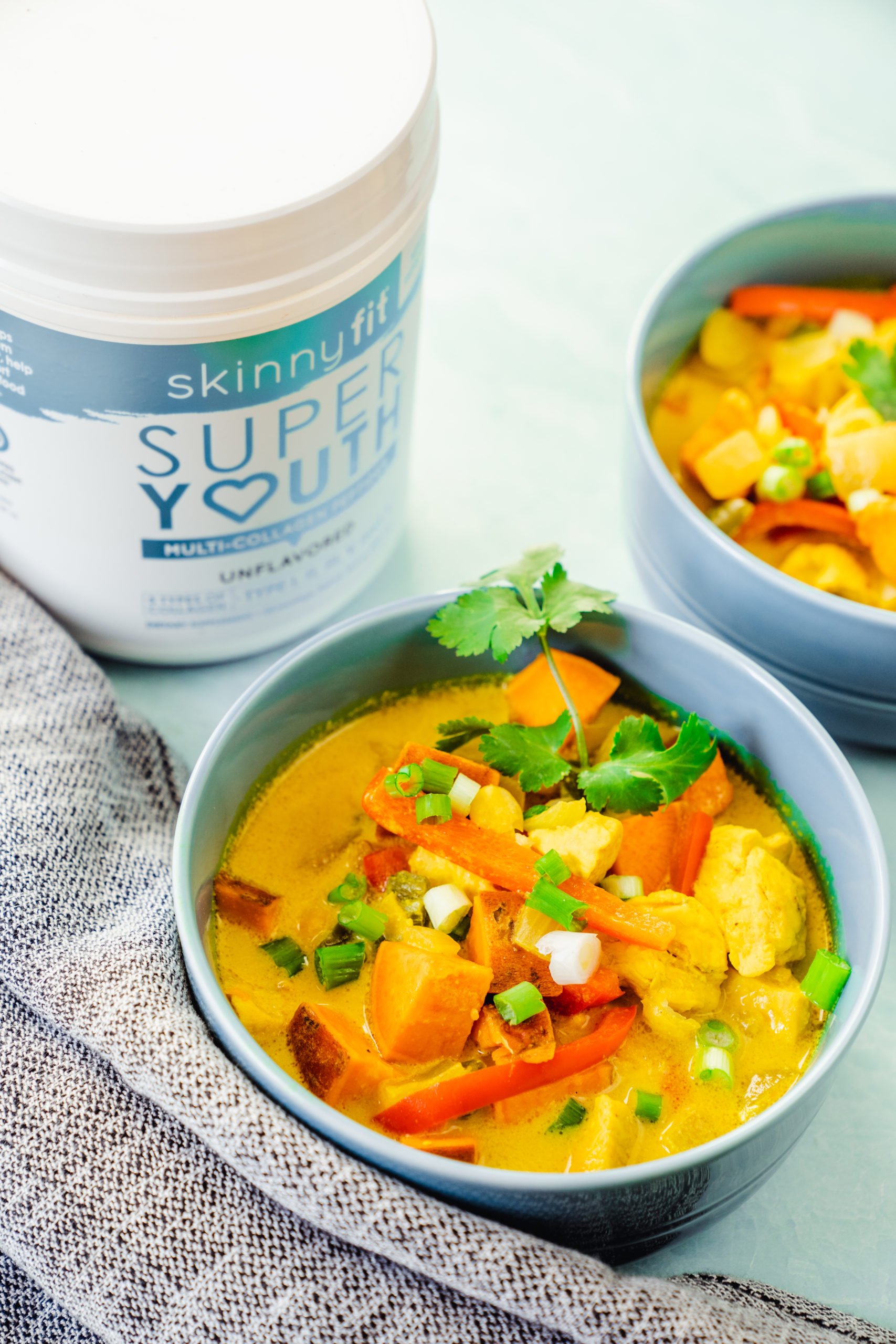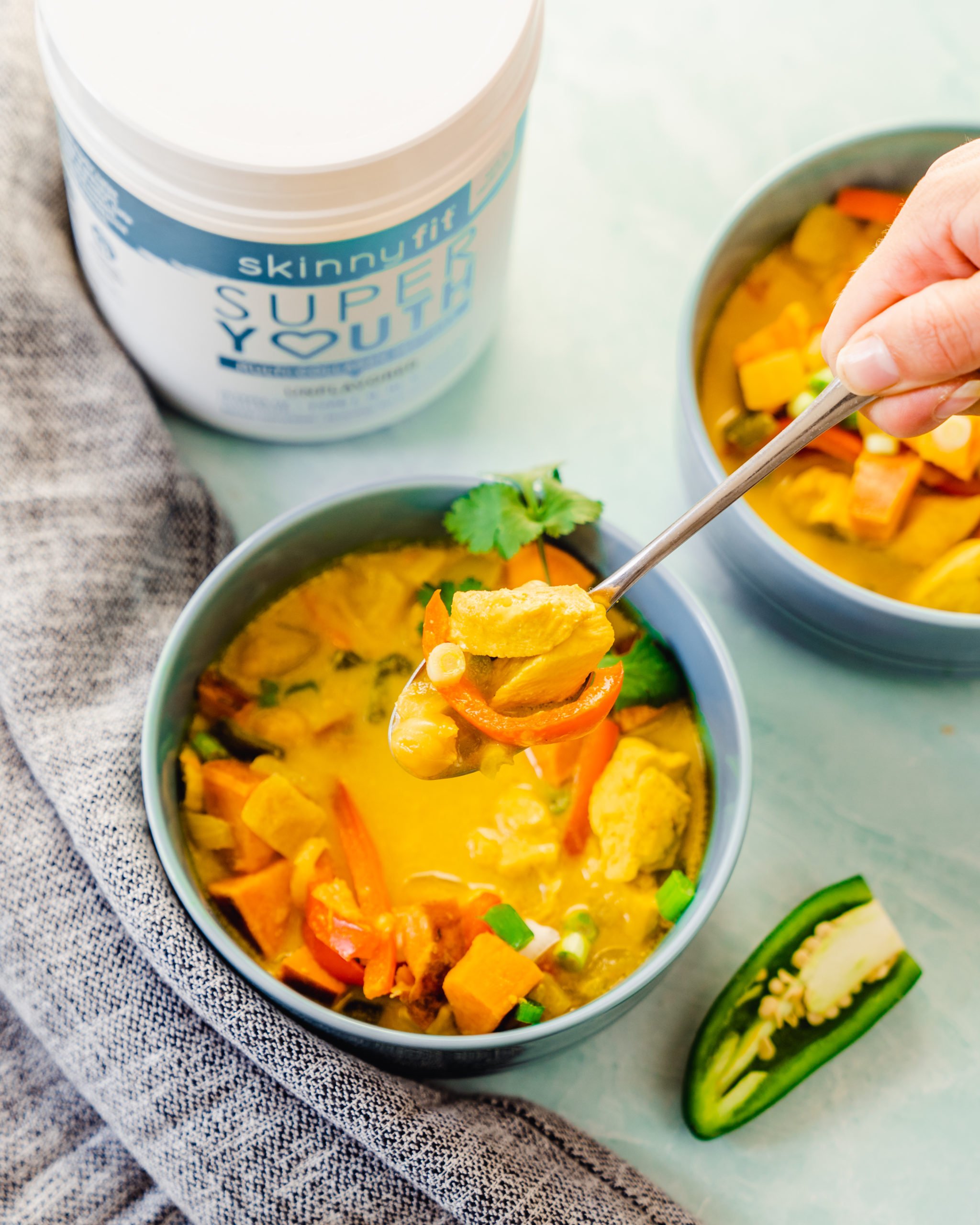 Chickpea Soup Health Benefits 
Nutrient-rich—Chickpea stew packs a ton of nutrients. Chickpeas are a rich source of vitamins, minerals, and fiber. They also contain protein, iron, copper, folate, and manganese (1). 
Protein-packed—This chickpea soup recipe is a protein triple threat. You've got chicken breast for protein power number one, chickpeas, which contains 3 grams of protein per 1-ounce serving, and Super Youth collagen with a more filling protein than most to help aid in weight loss. 
Youth-activation—This chickpea stew is not only hearty, healthy, and delicious, but it also has a secret youth-activating ingredient—Super Youth collagen! Adding collagen into your diet can help reduce stretch marks and wrinkles, smooth out cellulite, and grow thicker, stronger hair and nails. 
This chickpea soup recipe has everything you need to fuel your body and keep it looking and feeling young! You won't believe just how delicious something this healthy can be! Enjoy!
Mentioned In This Post
SkinnyFit Unflavored Collagen
Look and feel younger with Super Youth Multi-Collagen Peptides! This versatile collagen powder includes 5 collagen types from 4 natural sources to restore youthfulness from the inside out.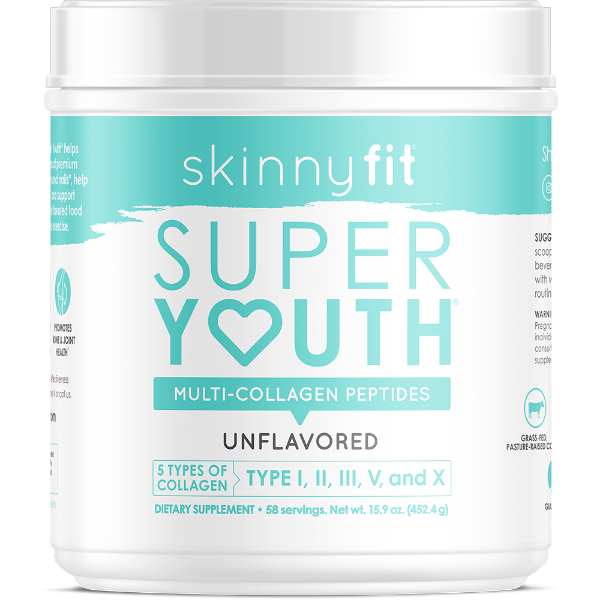 Creamy Chicken & Chickpea Chicken Soup
A creamy, healthy, & delicious soup your diet will love!
Prep Time: 10 min
Cook Time: 40 min
Total Time: 50 min
Serving Size: 4 servings
Ingredients
1 tsp coconut oil or olive oil
3 cloves garlic, minced
2 tsp fresh grated ginger
1 pound boneless, skinless chicken breast, cut into bite size pieces (Omit for vegetarian option)
1 small white onion, diced
1 medium sweet potato, peeled and diced into small cubes
4 cups low sodium chicken broth
1 (15 oz) can chickpeas, rinsed and drained
1 cup light coconut milk
2 tbsp all natural creamy peanut butter
4 scoops Super Youth unflavored collagen
½ tsp salt
Freshly ground black pepper, to taste
1 ¼ tsp ground turmeric
2 jalapenos, seeded and diced (optional)
1 red pepper, thinly sliced (optional)
To garnish: fresh cilantro and green onions
Steps
Heat coconut oil in a large pot over medium high heat. Once oil is hot, add in garlic, ginger, jalapenos and chicken breast. Brown chicken for 3-4 minutes, then stir in onion, red pepper and sweet potato cubes. 
Cook for several minutes, stirring occasionally until sweet potatoes begin to slightly soften and chicken is no longer pink; this should take no longer than 5-7 minutes. Add in turmeric; stirring to coat the chicken and veggies.
Next add in the following: chicken broth, chickpeas, peanut butter, coconut milk, salt and pepper, & Super Youth. Stir to combine, then bring soup to a boil, reduce heat to low and simmer uncovered for 20-30 minutes or until sweet potatoes are tender. 
Taste and adjust seasonings as necessary. If you want more heat, add in a few dashes of hot sauce.
Ladle into bowls and top with cilantro and green onions. Serves 4.
Total Calories: 315
Carbs: 22g
Fats: 6.5g
Protein: 41g
Sugar: 4.5g
Fiber: 5g