Jump To Recipe
Try these guilt-free chocolate covered strawberries for a classic sweet treat made healthy at home! Surprise your sweetheart with the gift of an un-guilty pleasure!
Romance is always in the air when chocolate covered strawberries are around! There's something so enchanting, and dare I say sexy, about chocolate covered strawberries, not to mention how incredibly delicious they are!
But a dozen of these bad boys doesn't come cheap, and buying them from a store or bakery tends to be less personal than making your own homemade chocolate covered strawberries. So, instead of taking the quick and easy route, why not surprise a loved one or treat your best gal pals to homemade chocolate covered strawberries for a personal, thoughtful spin on the classic "love ya" treat!
What You Need To Make Homemade Chocolate Covered Strawberries
Wondering how to make chocolate covered strawberries? Don't worry, it's super easy and only calls for just a few ingredients. They're not only easy, but they are actually fun to make as well!
Strawberries—First up on how to make chocolate covered strawberries, we've got our main contender, the strawberry! Whether you prefer the big juicy ones, or smaller bite sized ones, any red bundle of joys will do. 
Semisweet chocolate—Okay, now we're gettin' serious. Homemade chocolate covered strawberries would be nothing without their partner in crime, chocolate! You can chop the chocolate up yourself, or buy the already cut chocolate chips.
White chocolate—What, you thought these were going to be ordinary chocolate covered strawberries? Not on my watch! Combining regular chocolate and white chocolate for this recipe gives it that extra umph! 
Super Youth Collagen—Now you've really got a recipe no bakery can match! Unflavored Super Youth is completely tasteless and odorless, so you get all the benefits of collagen, without even knowing it's there! 
Food coloring—I chose red and pink to make these a sweet Valentine's Day treat, but you can pick any color you, or your partner, fancy!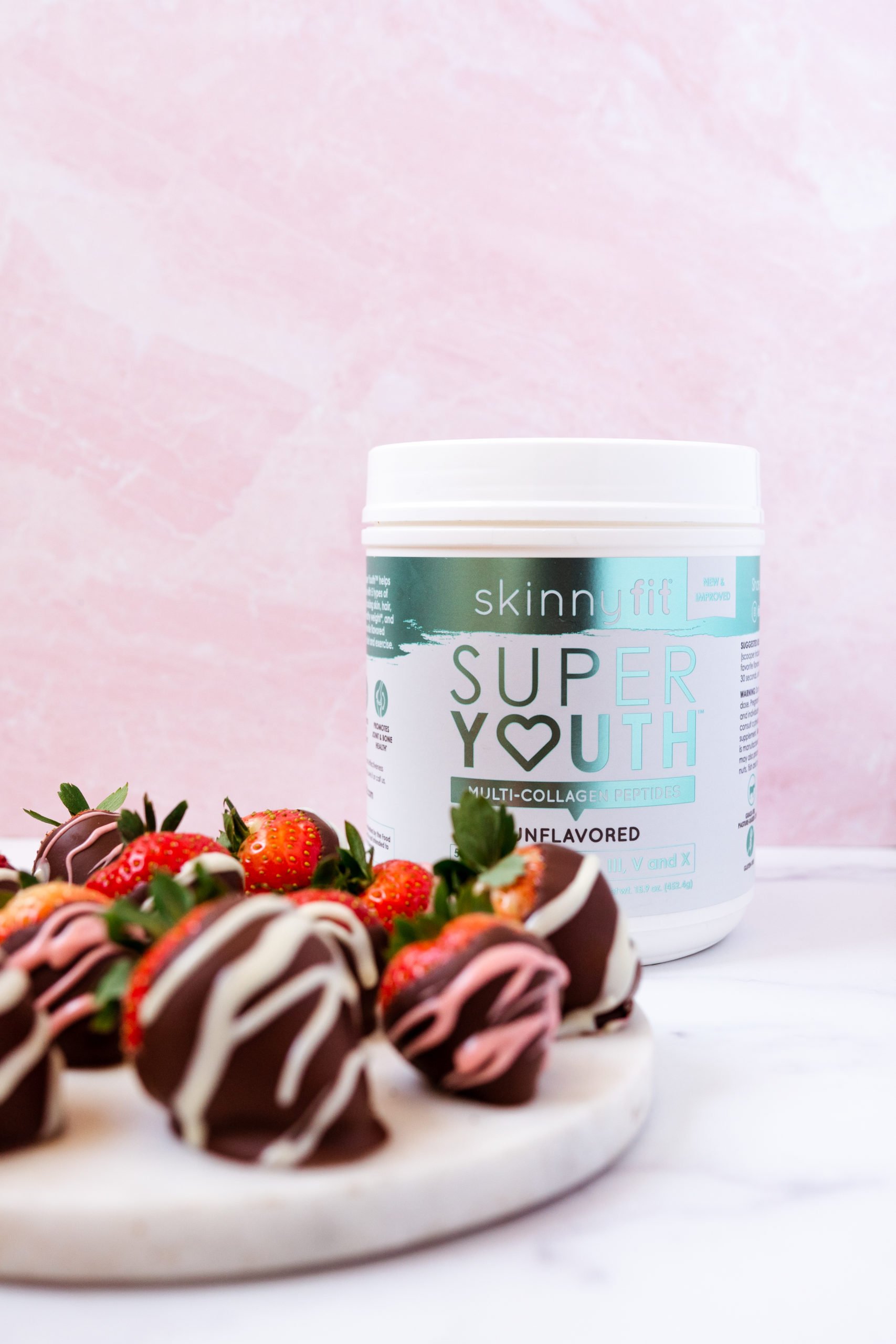 How To Melt Chocolate For Chocolate Covered Strawberries
The best part about learning how to make chocolate covered strawberries? Melting the ooey gooey chocolate! Warning: try not to lick entire spoon. 
Stovetop—This method requires you to put bowls of chocolate over a pot of boiling water to melt. If you're having trouble melting it evenly try adding a small amount of coconut oil to the chocolate. This ensures the chocolate is smooth and creates the perfect texture for dunking those strawberries!
Microwave—In a time crunch? No problem! You can also simply pop the chocolate into the microwave for faster melting. 
Both methods work perfectly fine for homemade chocolate covered strawberries, so no matter which one you choose, you'll still get the same satisfying results.
Are Chocolate Covered Strawberries Healthy?
Most chocolate covered strawberries are not the healthiest snack out there, and that's okay. Whether you're enjoying them on cheat day, or are simply getting your chocolate fix in, it's perfectly alright to treat yourself. With that being said, these homemade chocolate covered strawberries are actually some of the healthiest out there, because they contain a secret ingredient: Super Youth!
Antioxidants & fiber—Strawberries are a great source of antioxidants, vitamin C, and manganese. (1) Strawberries are also high in fiber, and fresh strawberries are very high in water, so their carb content is low.
Youth Rejuvenation—Super Youth collagen is a premium collagen blend containing all 5 types of collagen needed in order to see visible results. Supplementing collagen in your diet helps smooth out fine lines and wrinkles, reduces cellulite and stretch marks, helps grow out thinning hair, and strengthens our bones and joints.
I'm pretty sure no store-bought chocolate covered strawberry can do that! Whip up these scrumptious homemade chocolate covered strawberries for a special treat on Valentine's Day, or make them anytime to surprise your friends or a loved one! Enjoy!
Chocolate Covered Strawberries
Tantalizing chocolate covered strawberries with a healthy twist!
Prep Time: 10 min
Cook Time: 30 min
Total Time: 40 min
Serving Size: 20 strawberries
Ingredients
1 pound strawberries with stems, washed and dried
6 ounces semisweet chocolate, chopped
1 scoop Super Youth chocolate cake collagen (or unflavored collagen)
3 ounces white chocolate, chopped
Red or pink food coloring
Steps
Put the semisweet and white chocolates into 2 separate heatproof medium bowls. Fill 2 medium saucepans with a couple inches of water and bring to a simmer over medium heat. Turn off the heat; set the bowls of chocolate over the water to melt. Stir until smooth. (Alternatively, melt the chocolates in a microwave at half power, for 1 minute, stir and then heat for another minute or until melted.)
Once the chocolates are melted and smooth, remove from the heat. Add the Super Youth collagen to the semisweet chocolate and mix until blended.
Line a sheet pan with parchment or waxed paper. Holding the strawberry by the stem, dip the fruit into the dark chocolate, lift and twist slightly, letting any excess chocolate fall back into the bowl. Set strawberries on the parchment paper. Repeat with the rest of the strawberries. 
Add some food coloring to the white chocolate to create pink, red, or you can leave it white. For multiple colors, divide the white chocolate into multiple bowls and add different colored dye to each bowl. Dip a fork in the colored white chocolate and drizzle the white chocolate over the dipped strawberries.
Set the strawberries aside until the chocolate sets, about 30 minutes.