Jump To Recipe
A healthy chocolate treat in just minutes! Your microwave just got a whole lot happier with this delicious recipe to help curb your sugar cravings and satisfy that sweet tooth!
Around the holidays, my kitchen could easily be mistaken for a teenagers room. Messy, ingredients everywhere, and about 10 electronics turned on at a time. This time of year is my absolute favorite, because my creative cook comes out in all the best ways. 
Now, the cleanup can be a real drag, but it's all worth it in the end, because I get to share with you some pretty awesome healthy and delicious recipes, like this chocolate mug cake! A scrumptious chocolate lovers dream, this chocolate mug cake recipe is a healthy alternative for those needing their holiday treat fix! The best part, EASY CLEAN UP! 
What Is A Mug Cake?
Mugs aren't just for your coffee anymore, sister! Take your mug-using game to a whole new level with chocolate mug cake! A mug cake is a single-serving cake that you can make in the microwave, using your favorite coffee mug! 
How someone thought to put a cake inside a mug is beyond me, but I thank them a trillion times over! 🙏
3 Reasons To Make A Mug Cake
As if the name of the chocolate mug cake recipe wasn't reason enough, here are awesome reasons to let mug cake into your life.
Improves portion control—Because chocolate mug cake is a single serving, your portion control goals will thank you. Getting your cake fix in with any other regular cake leaves room for second helpings. Mug cake is an excellent alternative for anyone looking to eat a little less while still staying satisfied. 
Healthier alternative to regular cake—Now, I won't knock regular cake too much, because it is, unfortunately, uber delicious. But it also comes with tons of unwanted calories and loads of sugar. This chocolate mug cake recipe is the perfect substitute for staying on track with your weight loss goals, while giving your taste buds the treat they crave. Chocolate mug cake contains no added sugar, and the single serving size has less calories than your traditional slice of cake.
High in protein—Chocolate mug cake is packed with filling protein, can your cake do that? That's because I've added Chocolate Cake Super Youth collagen to this mug cake for added skin-smoothing, tummy-filling benefits. Collagen, of course, is what makes our skin smooth and wrinkle free. It also contains more filling protein than just regular protein, so you stay fuller for longer without even trying! Not to mention the incredible chocolate cake flavor is destined to be in this recipe!
How To Make A Chocolate Mug Cake
Would you believe me if I said something so delicious takes just seven minutes to make? This chocolate mug cake recipe is the perfect treat for a filling snack anytime, and can be whipped up in a matter of minutes! Seven to be exact! I hope you enjoy this healthy alternative to cake, even if it makes your coffee a little jealous! 
Mentioned In This Post
SkinnyFit Chocolate Cake Collagen
Look and feel younger with Super Youth Chocolate Cake! This scrumptious collagen powder includes 5 collagen types from 4 natural sources to restore youthfulness from the inside out.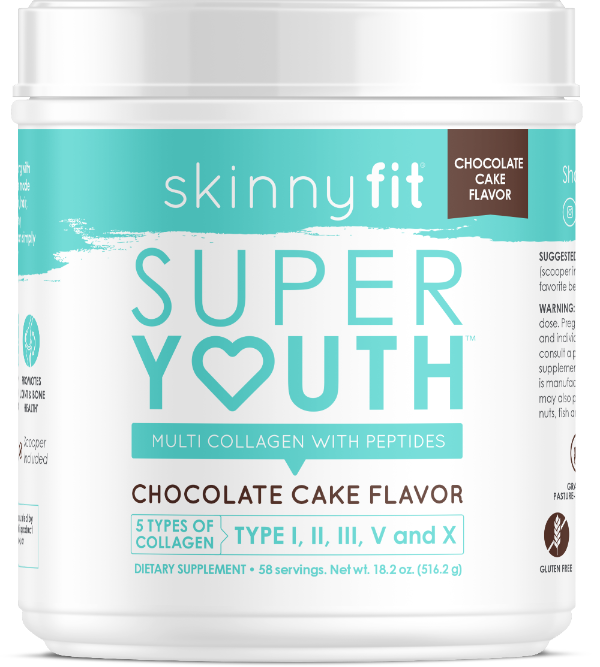 Chocolate Mug Cake
So delicious, so easy to make, you won't believe how healthy this chocolate lovers dream is!
Prep Time: <5 min
Cook Time: 2 min
Total Time: 7 min
Serving Size: 1 mug cake
Ingredients
¼ cup all-purpose flour
¼ tsp baking powder
1 tbsp unsweetened cocoa powder
1 scoop Super Youth Chocolate Cake collagen
⅛ tsp salt
¼ cup + 1 tbsp milk
2 tbsp vegetable oil
1 tbsp mini chocolate chips or hazelnut spread
Steps
Add dry ingredients to a small bowl and mix. 
Whisk in milk & vegetable oil until ingredients are combined and the batter has no clumps. Pour batter into a microwave-safe mug.
Add hazelnut spread or chocolate chips in the middle of the batter and microwave for 70 seconds on high. Please note that ALL microwaves are different and can yield different results. Cook time may vary depending on your microwave.
Carefully remove from the microwave & enjoy!
Total Calories: 400
Carbs: 27g
Fats: 29g
Protein: 11g
Sugar: 0g
Fiber: 3g