Jump To Recipe
Looking for a quick and simple breakfast recipe that's packed with flavor and age-defying benefits? This chocolate overnight oats recipe is a healthy and hearty breakfast for busy mornings.
If you've been searching for something to make you hop, skip and jump out of bed in the morning, then you've come to the right place!
It won't add additional time to your morning routine, tastes like pure heaven, and will be ready and waiting for you when you open that now treasure chest of a fridge. 
An Overnight Oats Recipe To Speed Up Your Mornings

If you haven't heard of overnight oats, we're about to change your mornings…and possibly your life. Traditionally cooked oatmeal is the ugly stepsister to overnight oats because you don't have to spend your time cooking them!  Overnight oats are simply uncooked oatmeal placed in a liquid (milk, almond milk, etc.), then, while you're getting your beauty sleep, the oats absorb the liquid and soften them up to make for a scrumptious breakfast you didn't have to work for. 
If this sounds too good to be true, just you wait…
We added a delectable chocolatey secret weapon to this overnight oats recipe that will liven up anyone's morning…whoops! Secrets out…CHOCOLATE! This chocolate overnight oats recipe has just the right amount of chocolate to leave you feeling oh-so-satisfied. The best part? It's made with our famous Super Youth Chocolate Cake collagen! So, if you got worried about sugar intake after reading that, no need! Super Youth Chocolate Cake flavor collagen is 100% sugar-free!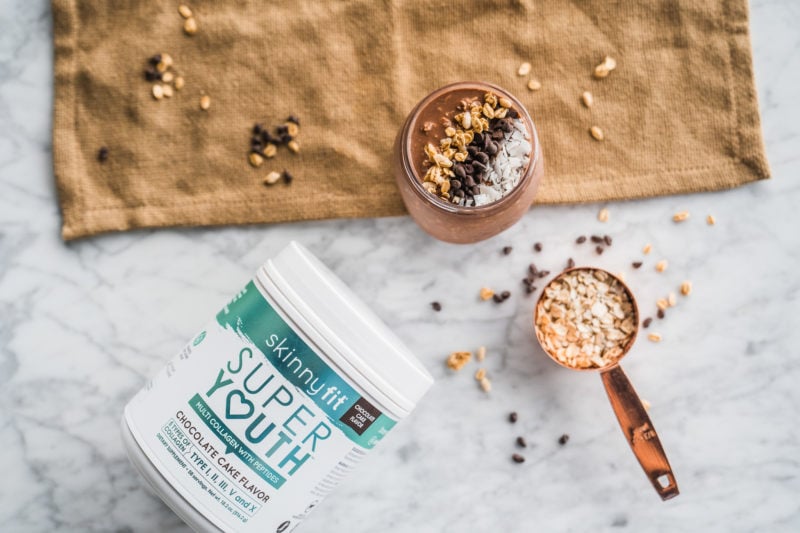 3 Reasons To Try Chocolate Overnight Oats
Saves time in the morning. There are simply not enough hours in the day to make a healthy breakfast and actually take the time to sit down and enjoy it. We totally get it, and this overnight oats recipe will NOT slow you down! This recipe is the perfect time-saving tool to have in your back pocket! It takes just 5 minutes to prep and after that, all you have to do is let it sit overnight and you'll awaken to the best overnight oats recipe to date!
Prep a week's worth of breakfasts at once. To save you even more time, should you feel so inclined, multiply the recipe by 5 and you'll have enough chocolate overnight oats to last you an entire work week! And by meal prepping, you won't have the constant worry about when you're going to have time to eat. Pack your chocolate overnight oats in a to-go container so you can snatch them on the run for even more time-saving benefits!
Contains age-defying beauty benefits. As if you needed a third reason to try this overnight oats recipe, the age-reversing benefits of Super Youth Chocolate Cake increase skin's elasticity, improves joint movement, and leaves your skin looking young and refreshed. Not to mention the delicious kick it gives this recipe…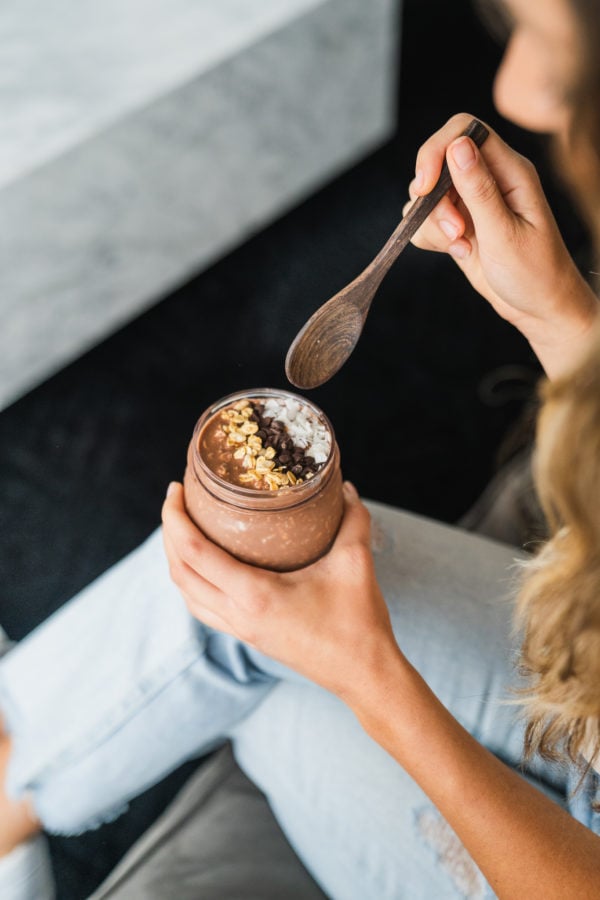 What Can I Put In Overnight Oats?

The versatility of overnight oats is unmatched. While this particular recipe has fan fav bananas in it, you can add the fruit of your choosing, the possibilities are endless! Any type of fruit, nuts, or preferred special topping can be tossed into this recipe making it your very own. Because of that, you'll also never get bored! Switch it up and add different ingredients each week to spice things up and keep you on your toes. 🙂
Can I put collagen powder in my overnight oats?

Our Super Youth Chocolate Cake is the perfect addition to this already perfect recipe. By adding collagen to your overnight oats, you can reduce wrinkles, increase your skin's elasticity, strengthen your bones and joints, and longer, strong, hair and nails. How's that for a power-packed breakfast?!
If you happen to be the one person out of a million who doesn't like chocolate, our original, unflavored Super Youth collagen works just as well, so you can still get the same incredible age-reversing benefits with your healthy breakfast.  Try this delicious maple cinnamon overnight oats recipe instead! 
How To Make Chocolate Overnight Oats

We won't keep you waiting any longer… Here's how to make the best ever chocolate overnight oats in just 5 minutes! 
Chocolate Overnight Oats Recipe
Looking for a quick and simple breakfast recipe that's packed with flavor and age-defying benefits? This chocolate overnight oats recipe is a healthy and hearty breakfast for busy mornings.
Prep Time: 5 minutes
Cook Time: Overnight
Total Time: 5 minutes
Serving Size: 2 servings
Ingredients
½ cup rolled oats
¾ cup unsweetened almond milk
1 scoop Super Youth Chocolate Cake
2 Tbsp cocoa powder or raw cacao powder
1 tsp pure vanilla extract
¼ tsp sea salt
Sliced bananas (optional topping)
Chocolate chips (optional topping)
Coconut flakes (optional topping)
Steps
Add all ingredients to a glass container or bowl and mix well with a spoon. Make sure everything is mixed in and there are no dry clumps.
Cover and place in the fridge overnight.
Serve with desired toppings and enjoy!