Jump To Recipe
Something I tell all of my nutrition coaching clients is to eat the rainbow. When shopping, try and pick out produce of all different colors. Colors indicate different nutrients, vitamins and minerals, so including a variety of colorful produce is a great way to feel great. One of my favorite healthy lunch recipes is this very colorful chopped rainbow salad. It includes five different colors from a variety of veggies, and is topped with the most delicious (and easy!) peanut dressing ever. I know you're going to love it!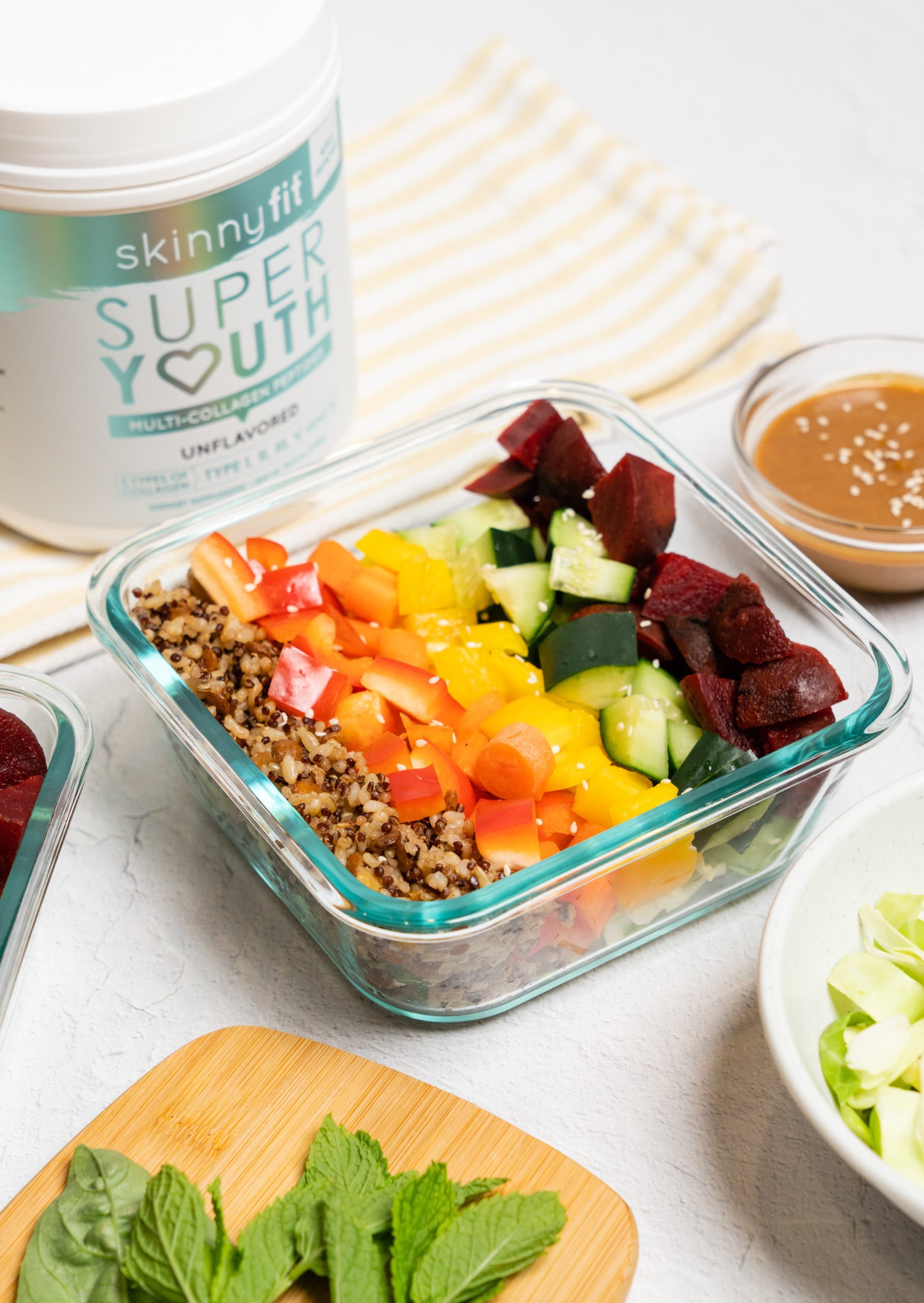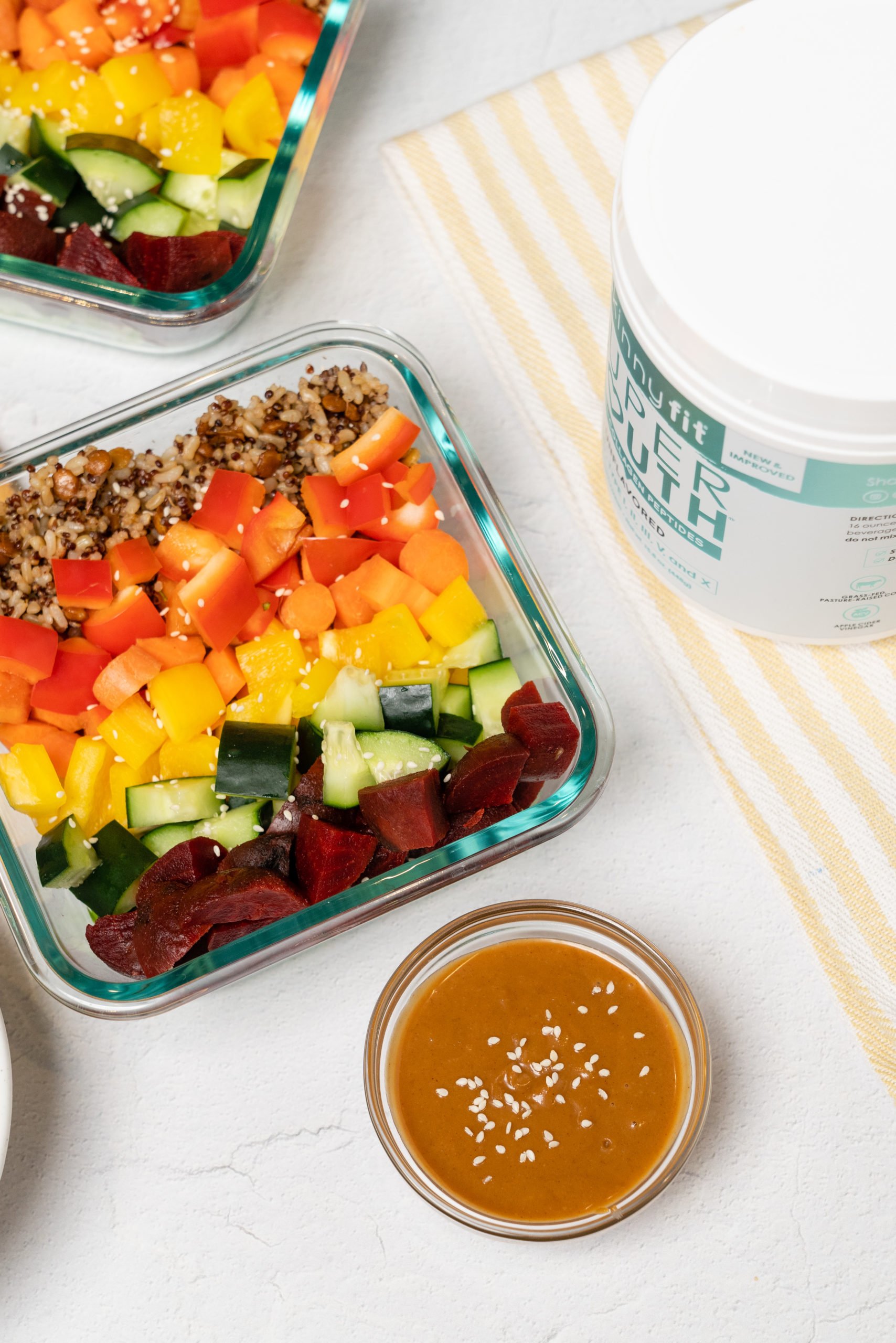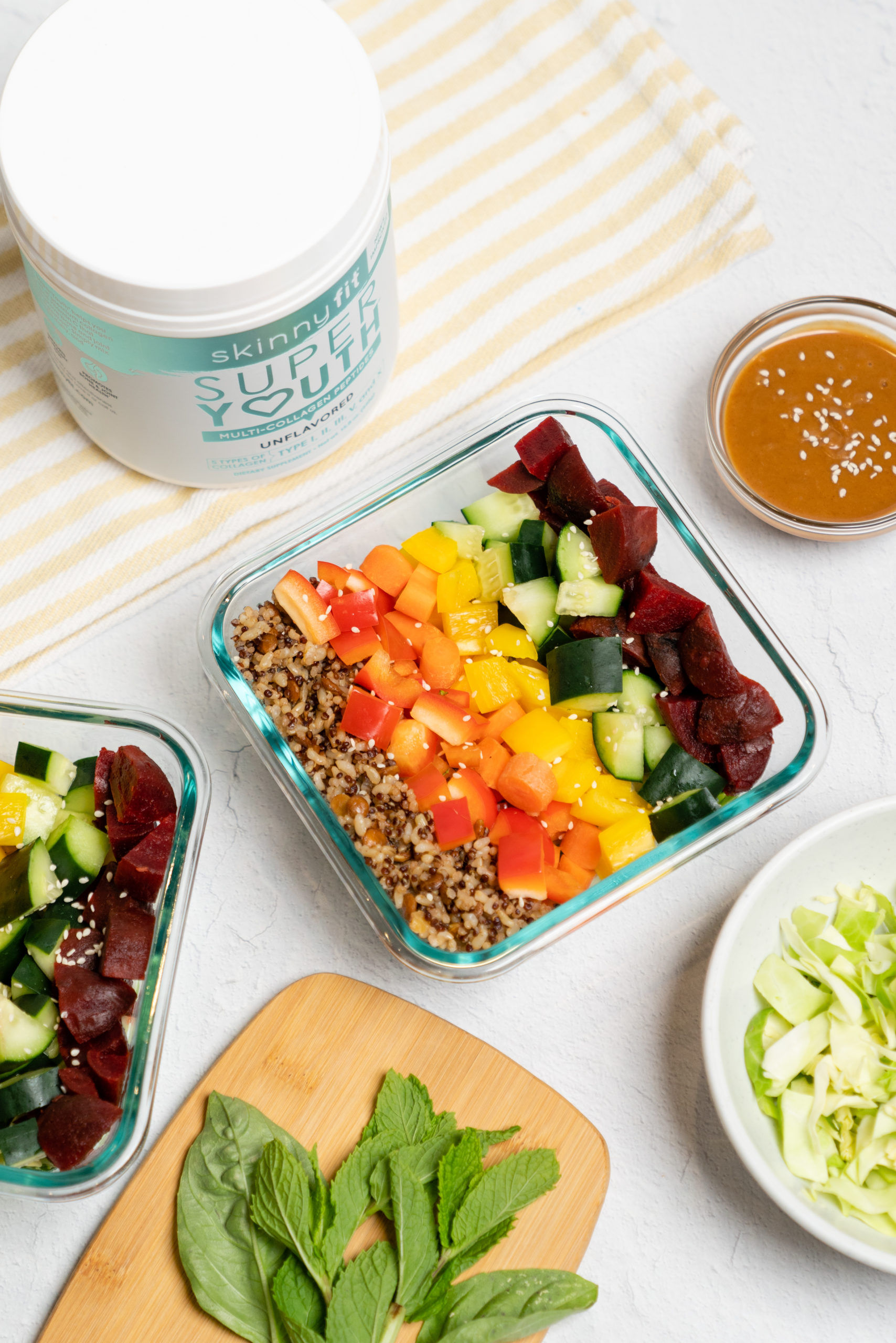 What Is A Chopped Rainbow Salad?
A chopped rainbow salad is a salad made with a bunch of different fruits or vegetables of varying colors to look like a "rainbow". All of the ingredients are chopped up for easy enjoyment, and keeps you full from all of the healthy ingredients. It's packed with vitamins, minerals, and is best when enjoyed with a source of protein for additional satiety. It's one of my favorite lunch ideas for work because it's gorgeous, filling, and never gets old!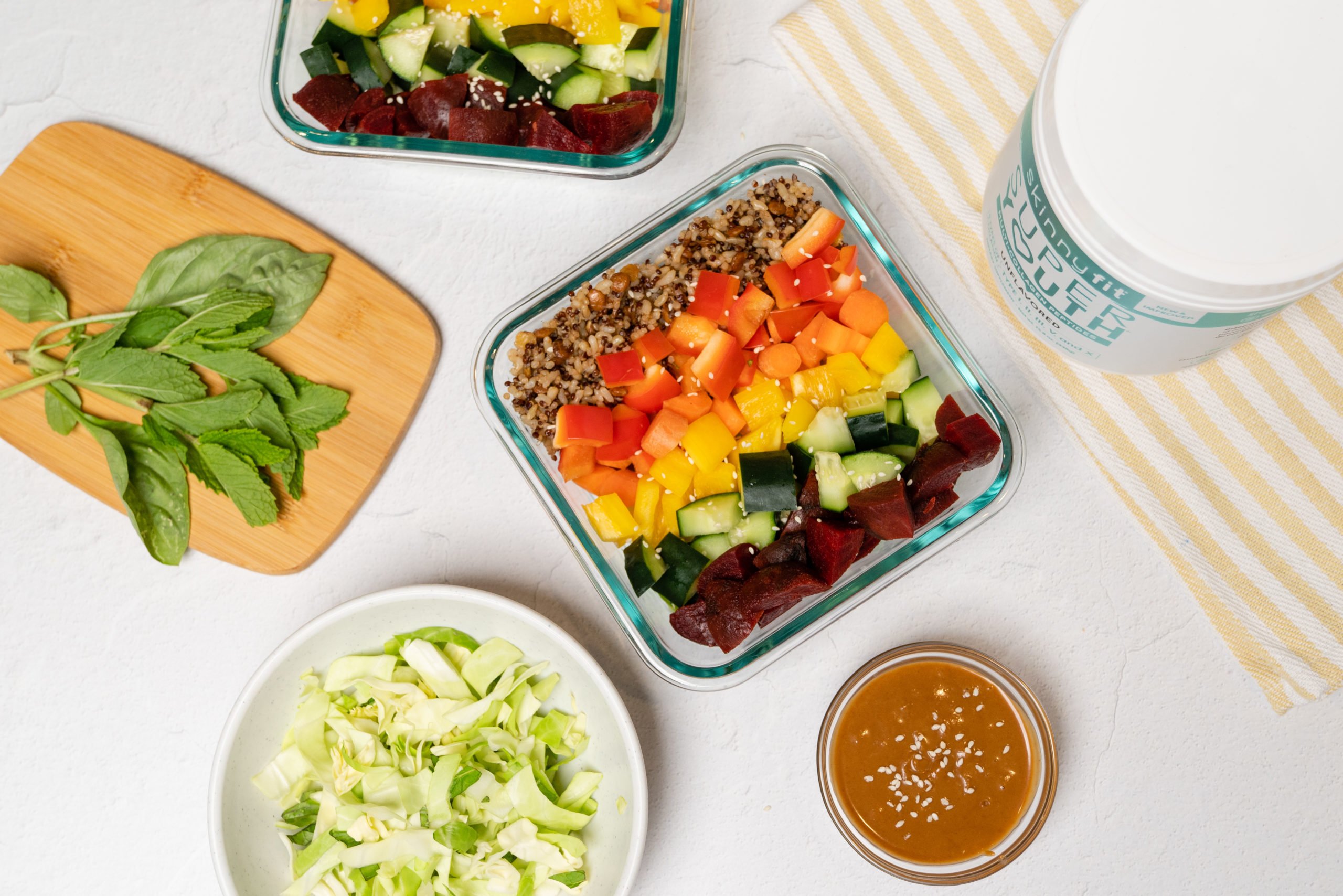 Benefits Of A Chopped Rainbow Salad
The benefits of regularly enjoying a chopped rainbow salad are amazing! Who knew how great a salad could make you feel!? Here are my top three reasons to add a chopped rainbow salad to your rotation of healthy lunch recipes:
1. Easy to Prep
My clients always say they don't have enough time to meal prep. But here's my secret. Prep once, eat a ton. What I mean by that is once you bring your groceries home, prep them. Wash your produce, chop what can be chopped in advance, and when you're cooking one thing, cook it all! This way, you have food ready to eat for the whole week from just a few additional minutes of work. This is my secret for enjoying this chopped rainbow salad so often! Because it's so pretty, it looks like it takes a lot of effort. When really, the secret is in the prep!
2. Anti-Aging Collagen
The delicious peanut sauce I use for this recipe is made with anti-aging collagen powder. Super Youth collagen contains five unique types of collagen that will make you glow from the inside out! From smoother skin and shinier hair, to less joint pain and improved recovery time, collagen is going to be your new favorite dressing ingredient. It's undetectable–you don't taste it at all! That's my favorite part, because I can add it into any dressing, not just this one!
3. Powerful Phytonutrients
When you eat a lot of different colors in the form of fruits and veggies, you increase the phytonutrient content you're consuming. Phytonutrients play a role in some incredible bodily functions like eyesight, bone strength, skin health, cardiovascular health, immune function, digestion, and so much more! [1] Like I said, it's a good idea to eat the rainbow!
Healthy Chopped Rainbow Salad Bowls
Eat the rainbow with this delicious, simple, anti-aging chopped rainbow salad.
Prep Time: 15 min
Cook Time: 20 min
Total Time: 35 min
Serving Size: 2 bowls
Ingredients
¼ cup smooth peanut butter
⅛ cup reduced-sodium soy sauce
⅛ cup water
½ tablespoon rice vinegar
½ tablespoon honey
½ clove garlic, minced
1 scoop Unflavored Super Youth
Steps
Combine cabbage, mint, and basil in a large bowl.
Divide mixture among 2 single-serving lidded containers.
Top each with ½ cup cooked quinoa and equal parts of red bell pepper, carrots, yellow bell pepper, cucumber, beets and sesame seeds.
Whisk peanut butter, soy sauce, water, Unflavored Super Youth, water, vinegar, honey and garlic in a small bowl.
Divide the peanut sauce among 2 containers and refrigerate. 
Refrigerate for up to 4 days. Dress with peanut sauce just before serving.