Jump To Recipe
'Tis the season for eggnog! Or shall I say, dairy-free eggnog? Yes, it's true. I've taken a nose dive into my New Year's resolutions a little early this year and concocted a healthy eggnog recipe. It's really hard for me to go from holiday gluttony to January diets, so I decided to ease my way into it this time around. Instead of full-fat, high-sugar eggnog, I perfected a dairy-free eggnog recipe that you and your friends will love, health-conscious and gluttonous ones alike.
I grew up on non-alcoholic eggnog around holiday time. The whole family would gather 'round with our favorite mugs, pour a glass or two each and chug, chug, chug! Like clockwork, I would end up with an agonizing stomach ache every single time. As a kid, it didn't bother me so much, but now? I avoid any bloating or aches and pains as much as possible. I don't feel my best when my digestion is all messed up. (Who does!?) I try to stay away from dairy every other month of the year, so holiday time should be no exception. My skin and body were much happier with me for this dairy-free eggnog, and I bet yours will be too.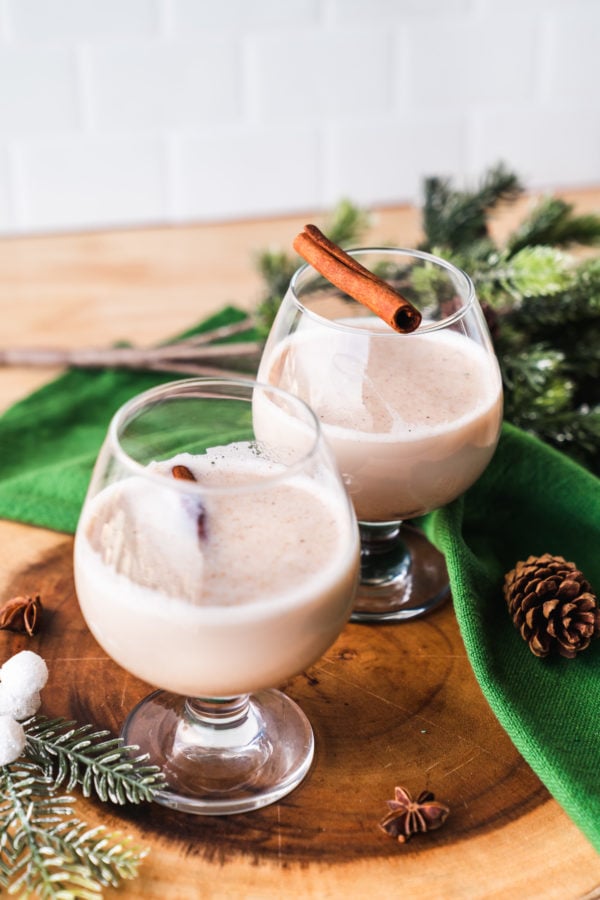 Is Eggnog Healthy?

The usual, store-bought, high-fat and sugary eggnog is not healthy. Sorry, but it's that plain and simple. Eggnog is most famously made with eggs, sugar, and cream. That's pretty much a cake without flour. And as much as we all wish we could say otherwise, we know cake is unhealthy. Still, we're not about deprivation here. We're about innovation. My family loves eggnog. It's been a holiday tradition long before I was around, and I know it will continue long after I'm gone! My goal this year was to leave my mark with some healthy alternatives to our usual holiday treats. This healthy eggnog is everything you could want from an eggnog recipe—thick, frothy, sweet, spicy. It beats the unhealthy, store-bought version any day, in my humble opinion, and is sure to leave a lasting mark on the eggnog options my family offers. 😌
Can you make eggnog without eggs?

Yes, it is possible to make eggnog without eggs. For this dairy-free eggnog recipe we utilize coconut milk in place of dairy milk and eggs to create the same thick and frothy texture everyone knows and loves about eggnog.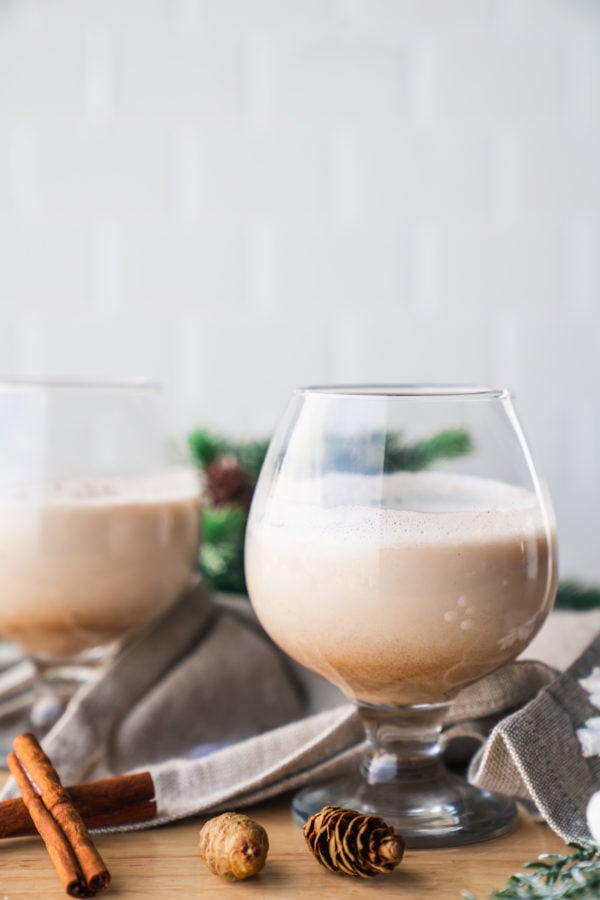 How To Make Dairy-Free Eggnog

The perfection of this dairy-free eggnog recipe took a few trials, to say the least, but I'm super proud of the result and I hope you love it! The base is full-fat coconut milk. You could try and use a low-fat version, but it won't be as frothy. I wouldn't recommend the switch, to be honest. Coconut milk is thicker than other non-dairy alternatives, so this was the best choice for making a dairy-free eggnog. Plus, it adds a delicious nuttiness that traditional eggnog also has. You know I had to healthify it as much as possible, too, so I added Unflavored Super Youth Multi-Collagen Peptides. If you're not on the collagen bandwagon yet, what are you waiting for?! This stuff is an anti-aging POWERHOUSE. I've literally gotten rid of almost all of the cellulite on my legs, and my hair and nails are longer and stronger than ever before. Plus, it's easily digested, so it's good on the gut. My mom started using Super Youth collagen a few months ago and even said her joint aches are practically nonexistent now!
Back to the healthy eggnog. To sweeten it up, I used maple syrup. It adds the classic holiday flavor and sweetness and adds a healthy dose of manganese and zinc. Plus, maple syrup has been speculated to reduce inflammation in the body, thanks to phytochemicals. I'm telling you, this recipe is bomb for so many reasons. Another being the spices! Nutmeg, ginger, and allspice give the quintessential eggnog-y flavor that everyone's taste buds get nostalgic for. To tie it all together, we add just a little bit of rum. Just 1.5 ounces does the trick. This adds the full-bodied warmth eggnog is known for. With such a small amount of rum per serving, you won't taste it nor will it get you buzzed. I wouldn't judge you for spiking it more if that floats your boat, though. 😉
READ NEXT: How To Make The Best Spiked Hot Chocolate (Delicious Boozy Hot Cocoa Recipe)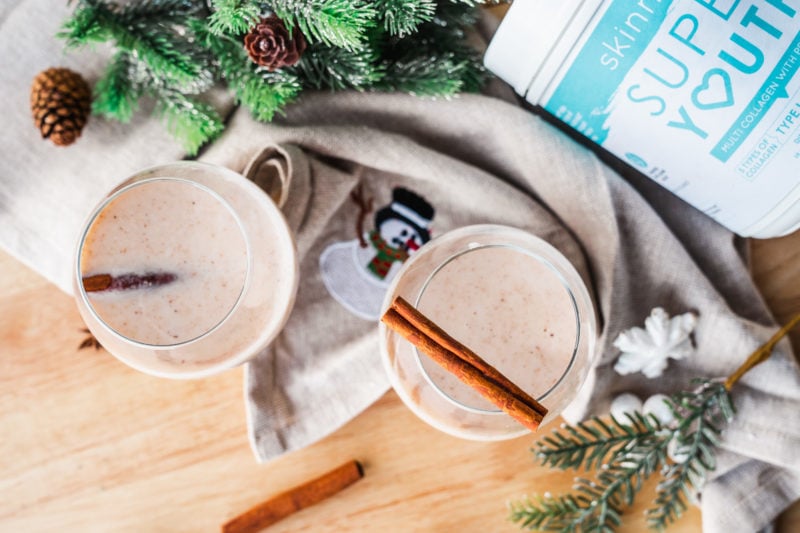 Dairy-Free Eggnog Recipe
For many people, drinking eggnog is a holiday tradition this time of year. But, if you're trying to get a head start on your New Year's resolution, it's not the healthiest option. This dairy-free eggnog recipe brings the holiday cheer, without the calories!
Prep Time: 5 minutes
Cook Time: -
Total Time: 5 minutes
Serving Size: 2 servings
Ingredients
3 cups full-fat coconut milk
2 scoops Super Youth collagen, Unflavored
2-3 tbsp maple syrup
1 tsp vanilla extract
½ tsp ground nutmeg
¼ tsp ground ginger
¼ tsp ground ginger
1 ½ oz. rum
Steps
Starting with the coconut milk, pour all of the ingredients into a blender and blend for 30 to 60 seconds.
Serve immediately and enjoy!