Jump To Recipe
I was listening to the radio on my way home from work and the radio host was asking listeners to call in and share what they look forward to the most during the colder seasons.
After a few calls, a woman called in and said: "Spiked hot chocolate!" And that caller was definitely my soul sister. Because if you know me, you know I love a good boozy hot cocoa almost as much as I love a comfy pair of PJs and socks while it's snowing outside. Better yet? Combine all three and say hello to cozy, boozy, winter bliss!
As a dedication to my favorite winter beverages (AKA alcoholic hot chocolate), I'm going to share a recipe in this article about how to take your hot chocolate drinks up a notch. Meaning, we're going to break down how to make hot cups of cocoa more adult… ahem… alcoholic. Because here's the thing: Alcoholic hot chocolate is just way more fun. Grab a pen and write down these perfectly decadent ways to turn your cold nights and dinner parties into delightful and totally responsible winter boozefests.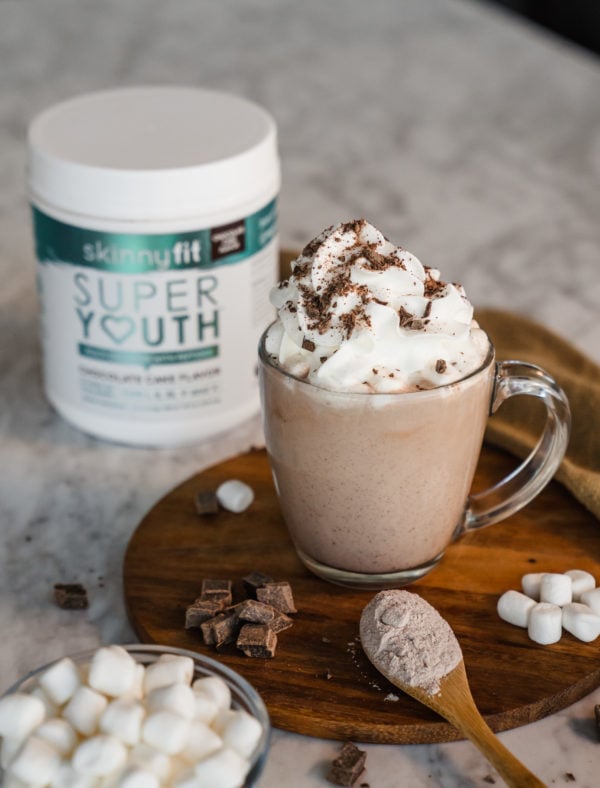 What Makes A Spiked Hot Chocolate So Delicious? 

I remember taking a sip of my first spiked hot chocolate. I was spending the day at a ski lodge with friends and someone handed me the perfectly sized glass mug full of piping hot chocolate, Kahlua, whipped cream, chocolate sprinkles—all topped off with a drizzle of homemade chocolate syrup. YUM! Hence began my love affair with creating alcoholic hot chocolate recipes for my friends during the holidays. In fact, when November rolls around, the messages asking for recipes will start. So, I thought I'd share all of the delicious ways to add a little flair to any spirited drink! 
Check this out: I made a batch of boozy hot chocolate for last year's Christmas party and it was an absolute hit! Why? Well, I'll let you in on a little secret. I added one super-special ingredient. Drum roll please… the secret ingredient was Super Youth Chocolate Cake collagen. My friends and coworkers were more than grateful to know that while they were sipping on their mugs of creamy, rich hot cocoa goodness, they were also reaping major beauty and health benefits of collagen.
Why collagen?
Super Youth Chocolate Cake collagen makes a great mix-in—not only for an extra boost of sweet chocolate flavor but for the added health benefits, including: 
Healthier, younger-looking skin: Collagen helps to rebuild aging cells so that your skin feels firmer, more hydrated, and elastic. Studies show that collagen is shown to reduce eye and face wrinkles. (1)
Improved gut health: Collagen peptides have been proven to help regulate gut bacteria, the immune system, and the gastrointestinal tract. They've also been shown to play a preventive and therapeutic role in inflammatory bowel disease (IBD). (2)
Improved joint health: Studies show that collagen is great for improving bone and joint health. Collagen is absorbed by joint tissues, which helps to reduce inflammation and pain. Studies of people with arthritis show that it can help improve mobility and decrease pain. (3)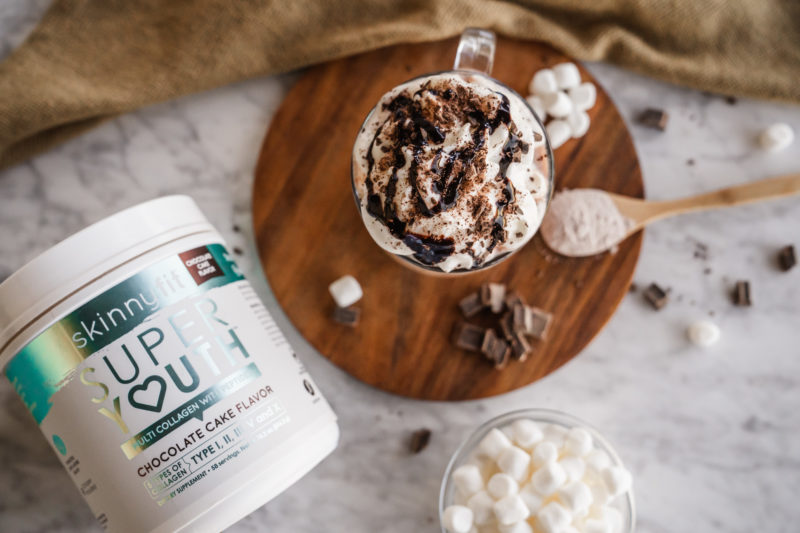 What kind of liquor is good in hot chocolate?

Who doesn't love a cup of creamy, chocolatey hot chocolate? How about taking it one step further and adding a splash of your favorite liquor? Ta-da! Now you've got a hot chocolate that will have everyone asking for another round.
What's the best liquor to add to hot chocolate? The answer is… almost anything (except for tequila, in my opinion). Go check out what you have in your cabinets and get creative! Your road to creating the best alcoholic hot chocolate starts now! 
Red wine: Calling all red wine fans. You can have your wine and chocolate and drink it too! Did you know that red wine and hot chocolate make for a surprisingly balanced drink? I know, I know. Heaven on earth does exist. For a lighter taste, experiment with fruity wines, like a raspberry or strawberry wine. If you're more of a merlot or cabernet sauvignon type of gal, go for drier hot cocoa. Top with your favorite mix-ins and dash through the snow!
Coffee liqueur: Looking for an extra kick of caffeine? Drizzle in some Kahlua or other coffee liqueur for comforting hot cocoa. 'Tis the season!
Peppermint schnapps: I'm a big fan of a peppermint and chocolate combo and this makes a fantastic happy hour special… at any hour of the day. Hey, I won't judge you if you twist this into a peppermint schnapps hot chocolate-mocha hybrid!
Best toppings for hot chocolate

If you're planning a holiday get together, don't forget the booze. Or the toppings! The worst thing is being stuck in a cabin without booze and fun toppings for cocktails. Toppings will put your drink over the top and have everyone crowding around with their phones to get the best picture of your hand warming, heartwarming cocktail.
Before we get into my best spiked hot chocolate recipe, here are some fun mix-ins that you can experiment with and give your drink some pizazz.
Mini Marshmallows
Whipped Cream
Chocolate Chips
Cinnamon
Cocoa Powder
Brown Sugar
Ice Cream
Andes Mint Chips
Coconut Shavings
Cayenne Pepper
Candy Canes
Cocoa Puff cereal
Churros
Chocolate and Rainbow Sprinkles
Hot Tamales
Peanuts
Peanut Butter
Bonus points if you use a topping not listed here. Get creative! That's what these recipes are all about. 
Sources
Proksch, E., Schunck, M., Zague, V., Segger, D., Degwert, J., & Oesser, S. (2014). Oral intake of specific bioactive collagen peptides reduces skin wrinkles and increases dermal matrix synthesis. Skin pharmacology and physiology, 27(3), 113-119.
Fernández-Tomé, S., Hernández-Ledesma, B., Chaparro, M., Indiano-Romacho, P., Bernardo, D., & Gisbert, J. P. (2019). Role of food proteins and bioactive peptides in inflammatory bowel disease. Trends in food science & technology.
Kumar, S., Sugihara, F., Suzuki, K., Inoue, N., & Venkateswarathirukumara, S. (2015). A double‐blind, placebo‐controlled, randomised, clinical study on the effectiveness of collagen peptide on osteoarthritis. Journal of the Science of Food and Agriculture, 95(4), 702-707.
Spiked Hot Chocolate Recipe
Sometimes regular hot chocolate just isn't enough—that's where spiked hot chocolate comes in! Enjoy this delicious (and healthy) spiked hot chocolate to warm your spirits!
Prep Time: 5 minutes
Cook Time: 5 minutes
Total Time: 10 minutes
Serving Size: 1 hot chocolate
Ingredients
1 cup milk of choice (dairy or non-dairy)
1 scoop Super Youth Chocolate Cake collagen peptides
1 tbsp cocoa powder
3 oz. Irish Cream Liqueur
*1 oz. Pinnacle Whipped Vodka (*optional for extra booziness. If adding, reduce Irish Cream Liqueur to 2 oz.)
*Optional toppings: Marshmallows, graham cracker crumbs, chocolate drizzle
Steps
Heat milk in a small saucepan on low-medium heat or microwave until hot.
Mix milk and Super Youth Chocolate Cake with SkinnyFit Mini Mixer (FREE with every order Super Youth order) until collagen is mixed completely.
Add liqueur and/or optional whipped cream vodka. Add optional toppings