Jump To Recipe
There's always a reason to celebrate. From birthdays to holidays, there's no shortage of excuses to party and eat good food. However, when you're committed to reaching health and fitness goals, it can feel difficult to stay on track while everyone around you is enjoying the festivities. Which, you probably know by now, is why I love to make healthy variations of all of my favorite foods. Fun meals can also be easy healthy meals, they're not mutually exclusive.
In today's blog, I'll be sharing my favorite taco bowl recipe that's perfect for bringing to your next party, especially if you're in need of Cinco de Mayo food ideas.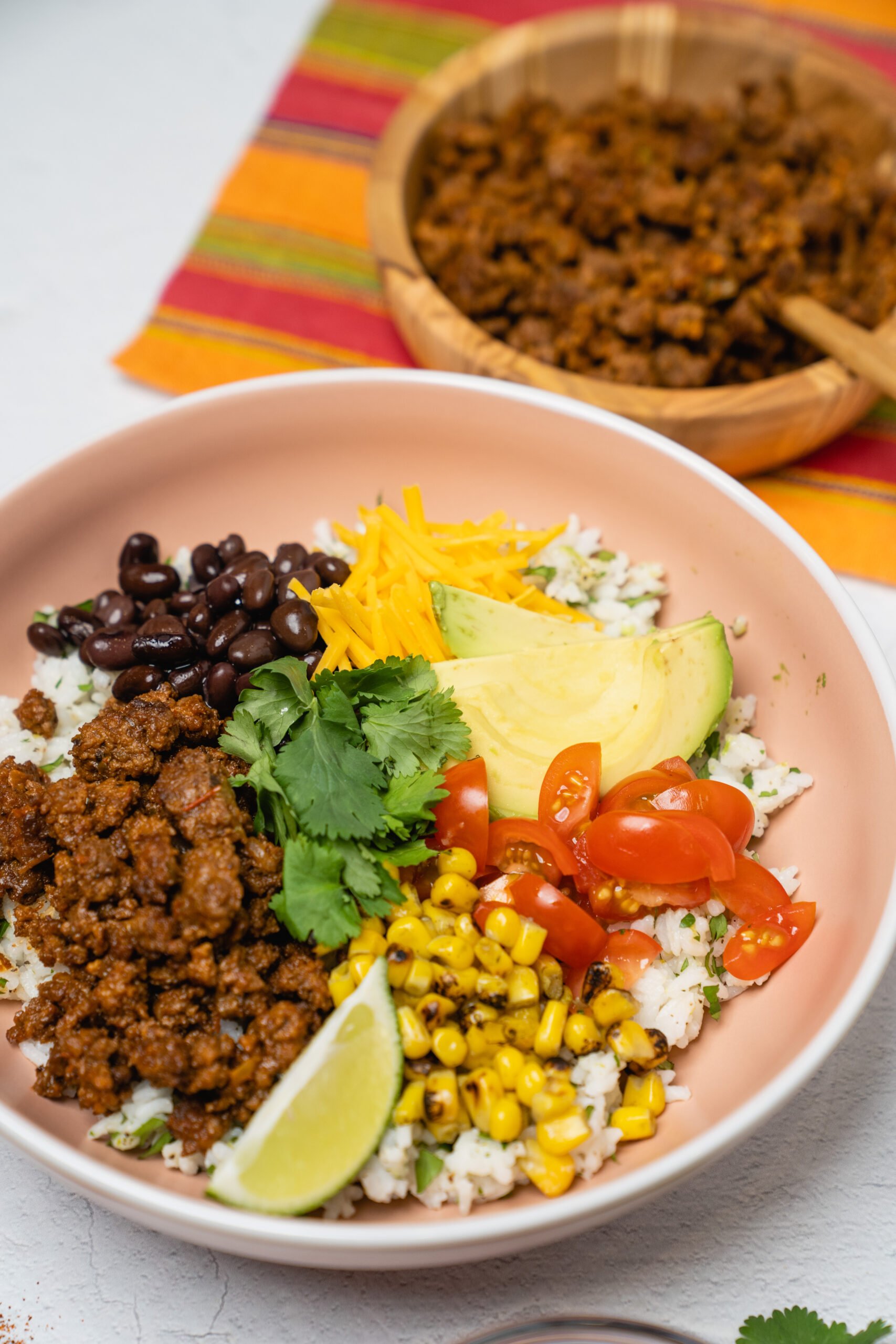 Your Favorite Taco Bowl, But Healthier
This taco bowl recipe is one of my favorite easy healthy meals. It's filling, flavorful, and so versatile. It's packed with spices and herbs that make it so delicious and easy to have for multiple meals throughout the week, and it's great for meal prepping. If you like ordering taco bowls at restaurants, this is going to wow you (because it's even better!). 
The base of this bowl is cilantro lime rice—cooked my favorite way. Instead of boiling it with water, I like to use broth for extra flavor and gut-healthy amino acids. With the addition of butter, lime, and cilantro, you could eat it by itself and be satisfied!
But the yum doesn't end there! The taco meat is what makes this dish. It's the perfect mix of savory, spicy, and salty. Plus, you get to sneak in my favorite hair, skin, and nails-strengthening powder—Super Youth. This multitasking supplement helps clear skin, strengthen hair and nails, support joint mobility, improve digestion, and more. It's perfect for adding into easy healthy meals because it dissolves into sauces and dressings so well. I love the subscription program, because I never run out!
Lastly, this delicious bowl is topped with whatever you love most. I suggest black beans, corn, cheese, and sliced avocado. I know you're going to love this recipe, so let me know if you make it! Happy Cinco de Mayo!
Mentioned In This Post
SkinnyFit Unflavored Collagen
Look and feel younger with Super Youth Multi-Collagen Peptides! This versatile collagen powder includes 5 collagen types from 4 natural sources to restore youthfulness from the inside out.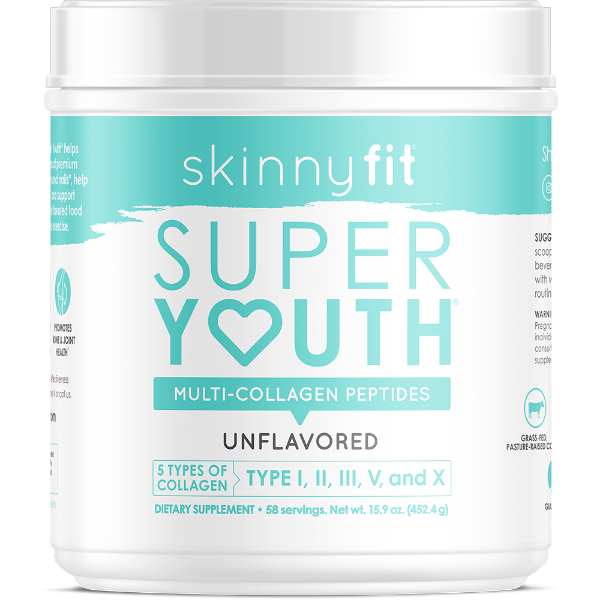 Easy & Light Zesty Taco Bowl
Prep Time: 15 minutes
Cook Time: 10 minutes
Total Time: 25 minutes
Serving Size: 4-6 servings
Ingredients
Cilantro Lime Rice: 1 cup rice, 2 cups chicken broth or water, 1 tbsp butter, 1 large lime, ⅓ cup finely chopped cilantro
Taco Meat: 1 lb extra-lean ground beef, 1 tbsp chili powder, 1 tsp paprika & cumin, ¼ tsp ground cayenne pepper, ½ tsp each: oregano, salt & pepper, ½ cup mild picante sauce, 1 scoop SY Unflavored
Toppings: 1 can black beans, 1 can fire-roasted corn, sharp cheddar cheese, sour cream, fresh cilantro, fresh lime juice, fresh avocado, fresh tomatoes, or pico
Steps
1. Cilantro lime rice: Bring 2 cups of chicken stock to boil over medium-high heat. Stir in the butter and rice and return to a boil. Reduce the heat to low, cover, simmer until cooked. Stir in the lime juice, lime zest, cilantro, salt & pepper 
2. Taco meat: Heat a large skillet and add in the ground beef then stir in Super Youth & seasonings (chili powder, paprika, cumin, cayenne, oregano, salt & pepper) before liquid evaporates – cook and crumble until browned through. Mix in the picante sauce; stir, and cook until warmed through
3. To serve: Layer the rice, taco meat, beans, and corn, and add on preferred toppings in individual bowls.