Jump To Recipe
If you regularly find yourself with a fridge full of vegetables that need to be used up and you're tired of soup recipes, allow me to introduce you to pasta salad recipes. I love pasta salads because they can be enjoyed hot or cold, with or without sauce, and as packed with ingredients or as lite as possible. 
Whenever I need to cook up some soon-to-expire food, I try to make something that doubles as healthy lunch recipes. This Easy & Nutritious Pasta Salad is my go-to recipe for a filling, healthy meal. In less than 30 minutes, you can enjoy it, too!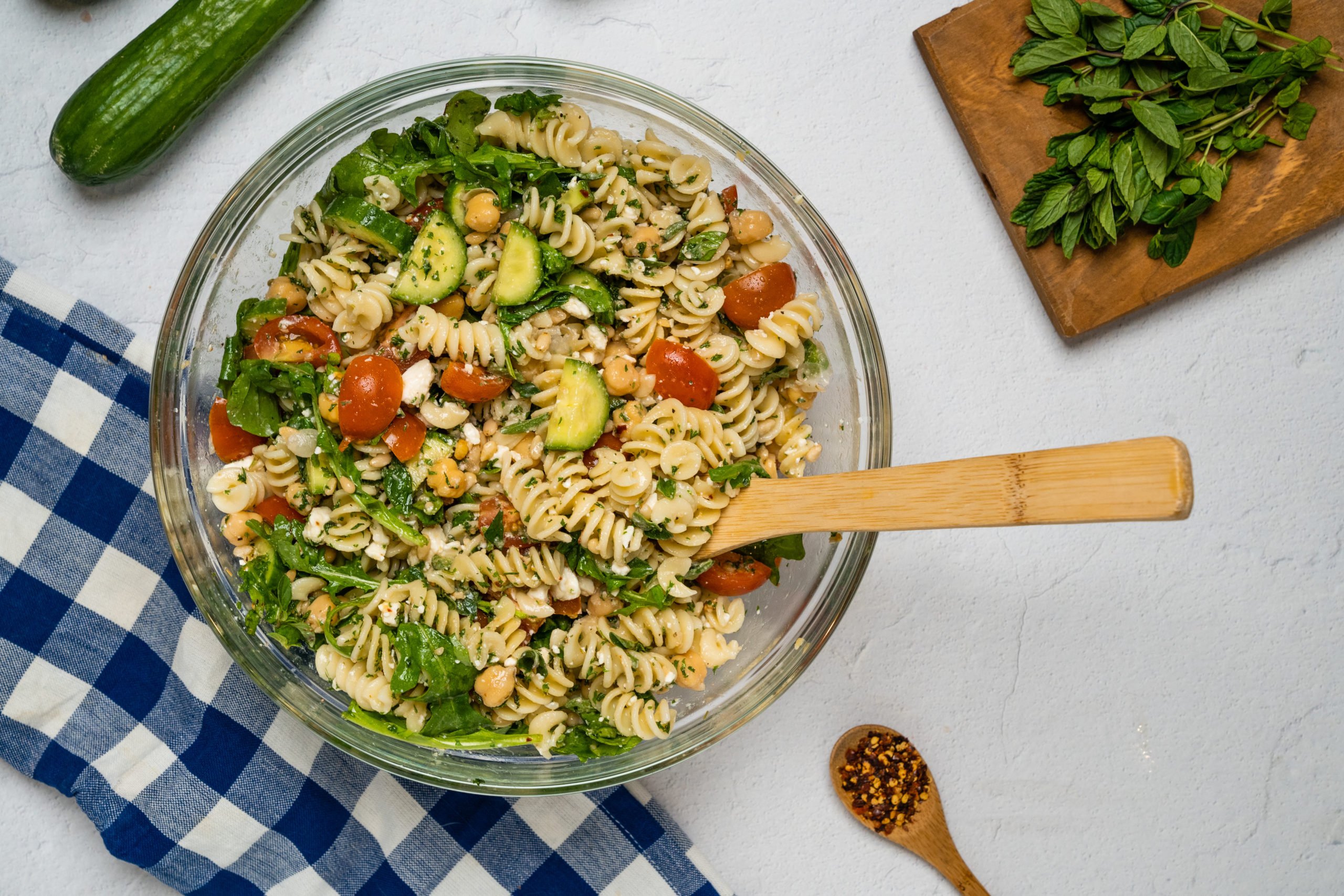 Healthy, Nutritious, and Full of Slimming Benefits!
Pasta salad recipes are fairly simple, and can be modified to whatever you have on hand. The reason I love this meal so much is because it's tasty, filling, and nutritious. With three vegetables, more than six herbs, and a variety of protein sources, it's an easy choice to make for looking and feeling your best. Not only does eating a variety of colors help contribute to a healthier gut, but various herbs and spices can also help reduce inflammation in the body. [1] The red pepper flakes and combination of herbs in the Italian seasoning used in this recipe are all shown to help promote antioxidant and mood-boosting activity. 
My favorite herb, arugula, contains powerful antibiotic properties. [2] It's a great addition to any meal for detox promotion and gut health. It adds a delicious bite of greens to this pasta salad. I also love Persian cucumbers for their gut support. Their thin skin is easier to digest than thicker-skinned cucumbers, so they don't require peeling. This means less work for you, and a delicious hydrating ingredient. 
Even without meat, this pasta salad contains protein from the chickpeas, feta cheese, pine nuts, and collagen powder. Protein helps you feel fuller for longer, so you're not craving a snack within an hour of having lunch or dinner. If you don't have all of the ingredients listed for this salad, it will be just as delicious with substitutes. Whip it up for the week and look forward to enjoying a bright, nutritious pasta salad whenever you're hungry!
Mentioned In This Post
SkinnyFit Unflavored Collagen
Look and feel younger with Super Youth Multi-Collagen Peptides! This versatile collagen powder includes 5 collagen types from 4 natural sources to restore youthfulness from the inside out.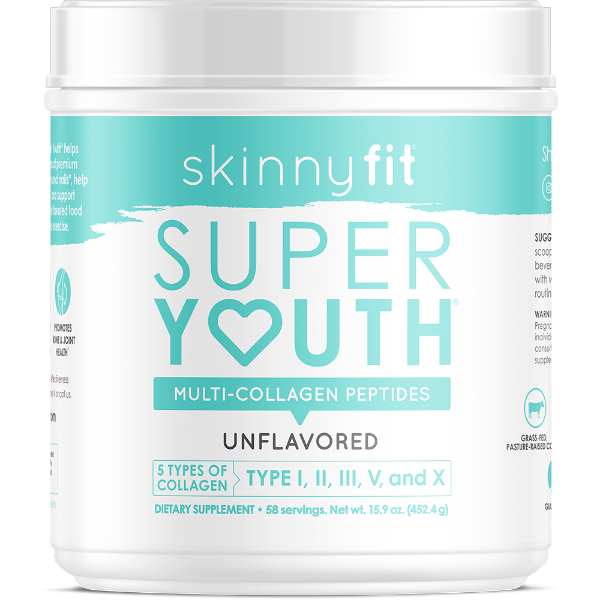 Easy & Nutritious Pasta Salad
Prep Time: 12 minutes
Cook Time: 10 minutes
Total Time: 22 minutes
Serving Size: 6 servings
Ingredients
3 cups uncooked fusilli pasta
2 cups halved cherry tomatoes
1 ½ cups cooked chickpeas
2 cups arugula
1 cup Persian cucumbers, sliced into thin halves
1 cup crumbled feta cheese
1 cup fresh oregano
½ cup minced parsley
½ cup chopped mint
¼ cup toasted pine nuts
¼ cup extra-virgin olive oil
1 scoop SY Unflavored
3 tbsp lemon juice
1 tsp dijon mustard
3 garlic cloves, minced
1 tsp dried Italian seasoning
¼ tsp red pepper flakes
¾ tsp sea salt
Steps
Bring a large pot of water to boil, and cook pasta according to package directions
Meanwhile, whisk all dressing ingredients together in a small bowl
Drain the pasta and toss with a bit of olive oil, then let it cool at room temperature
Add cooked pasta to a large bowl, mixing in the chickpeas, tomatoes, cucumbers, arugula, parsley, mint, basil, feta cheese, and pine nuts
Pour dressing over and toss to coat
Season to taste with additional olive oil, salt, pepper, lemon, or preferred spices