Jump To Recipe
Cozy up this fall with this easy vegetable soup! This healthy and delicious recipe is packed with body-loving ingredients that will stave off holiday weight gain & leave you feeling amazing!
As the summer sun dies down and fall begins to trickle in, cozy moments and warm comfort foods are at the top of my fall favorites list. And nothing screams fall, or even winter, more than a hearty and delicious easy vegetable soup recipe. 
So, my fellow soup lovers, curl up and rejoice, because you're about to embark on a wild rice soup recipe that absolutely screams comfy fall food! 

Health Benefits Of Vegetable Rice Soup 
What makes vegetable rice soup so amazing, besides its clean, hearty taste, is that it's an easy way to pack in so many healthy ingredients into a single bowl. This easy vegetable soup is packed with body-loving ingredients that you'll feel good about every time you put (or in my case shove 😂) a spoonful into your mouth!  
Here are just a few of the incredible health benefits you'll get from some of the ingredients in this easy vegetable soup!
Vitamins & minerals—It's no wonder Bugs Bunny was so smart, witty, and clever, what with all the carrots he ate! Packed with vitamins and minerals, carrots are an excellent addition to this wild rice soup! Loaded with vitamin A, carrots help promote good vision, and also help with growth, development, and strong immunity (1). The carrots in this vegetable rice soup also contain biotin, potassium, and vitamin B6, just to name a few. Carrots also contain large amounts of fiber, which helps regulate digestion. 
Antioxidants, healthy digestion, & reduced inflammation—Would you believe that you get all three of those benefits in this wild rice soup from celery alone?! Well, believe it sister, because that crunchy green stick, while mild in flavor, is anything but mild when it comes to what it can do for your health! Celery is a great source of antioxidants, which helps protect cells from damage. With vitamin C and betacarentine, celery is an excellent source of phytonutrients, which have been shown to help reduce inflammation (2). All of these antioxidants and anti-inflammatory nutrients are beneficial for your digestive system, keeping your digestive tract healthy and regular! 
Smooth skin & healthy joints—This easy vegetable soup would not be complete without youth-activating Super Youth collagen! By adding in Super Youth multi-collagen peptides to this wild rice soup, you're helping to smooth stubborn fine lines and wrinkles, reduce the appearance of cellulite, and promote strong, pain-free joint movement. Super Youth collagen consists of the five types of collagen peptides that are needed to help replenish the body of lost collagen over time. And because Super Youth is unflavored, the taste is undetectable, but its results are absolutely not! 🙌
If you want to make this vegetable rice soup a protein pick-me-up, simply add in some chicken and voila! Your protein-packed easy vegetable soup has all the powerful benefits listed above, and then some!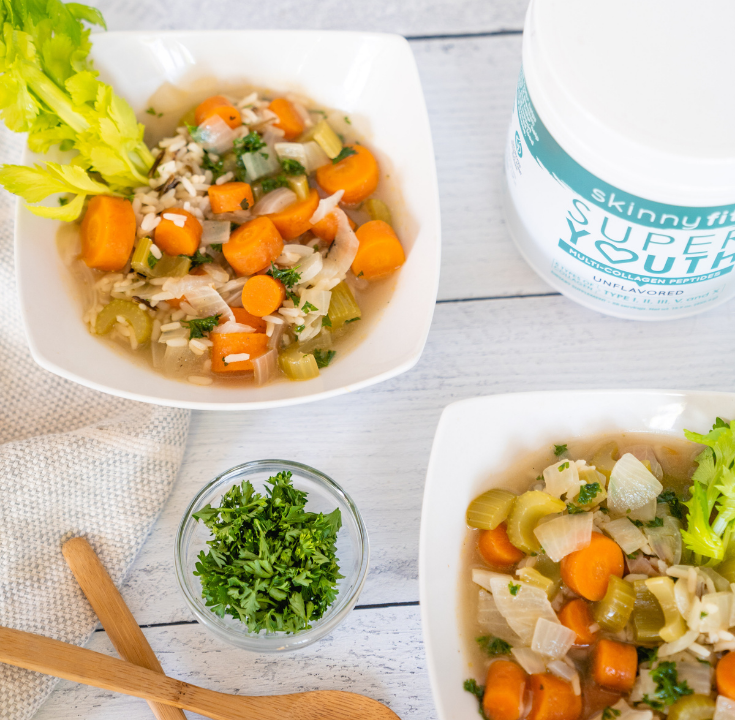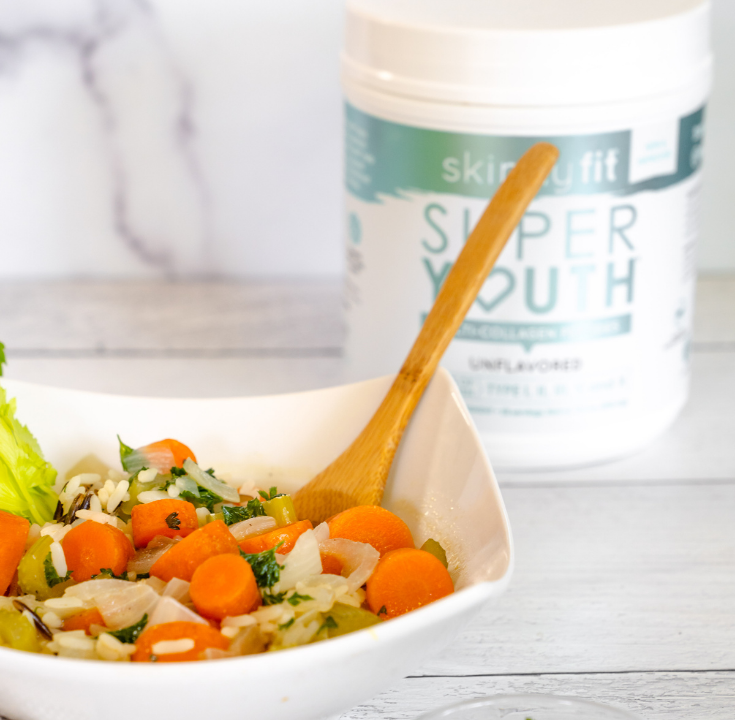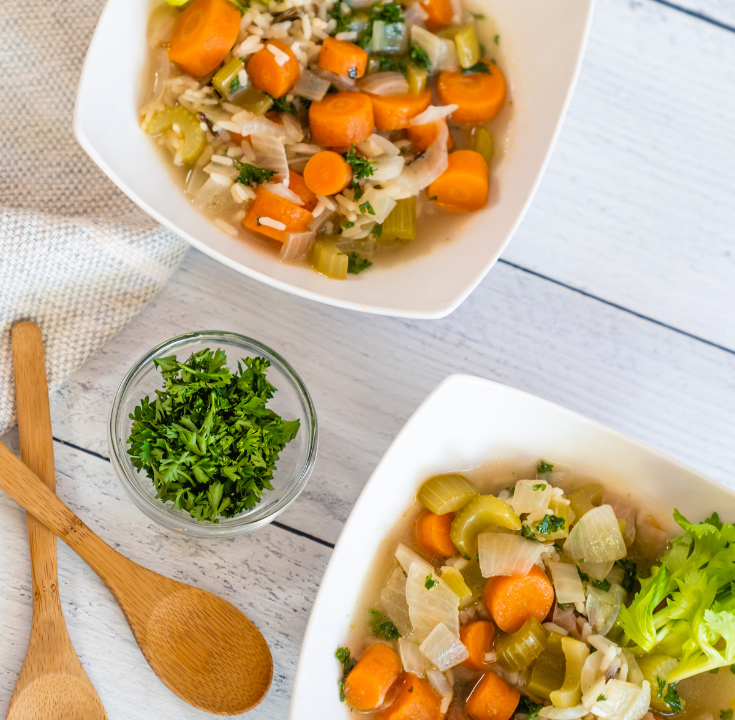 How To Make Veggie & Wild Rice Soup
There are several ways to make this wild rice soup, so feel free to pick whatever method you prefer. My specific directions for making easy vegetable soup below involve cooking it in a large pot over the stove, but if you've been dying to break out your slow cooker this fall, simply follow the same instructions and let simmer for 1-2 hours on low. 
Have an instant pot you love to cook with? Totally fine! Toss all of your ingredients into your instant pot and follow the same cooking instructions.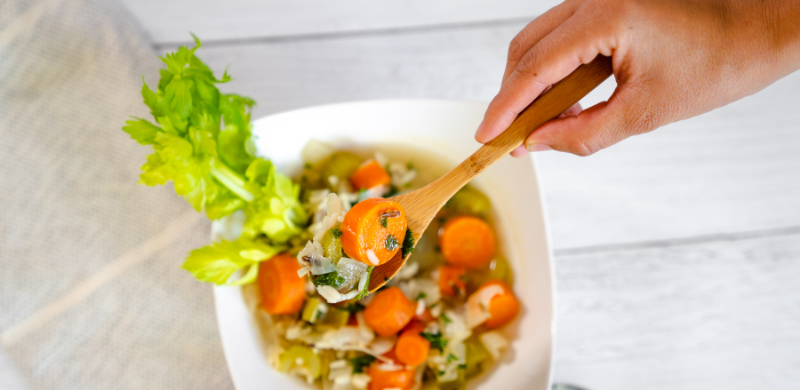 Ingredients For Easy Vegetable Soup
You'll find nothing preserved or flash-frozen in this vegetable rice soup! Loaded with fresh, healthy, ingredients, you'll love everything this recipe has to offer! 
Olive oil
Onion
Carrots
Celery
Vegetable broth
Garlic powder
Salt & pepper
Wild rice
Dried parsley
Super Youth Collagen
Mentioned In This Post
SkinnyFit Unflavored Collagen
Look and feel younger with Super Youth Multi-Collagen Peptides! This versatile collagen powder includes 5 collagen types from 4 natural sources to restore youthfulness from the inside out.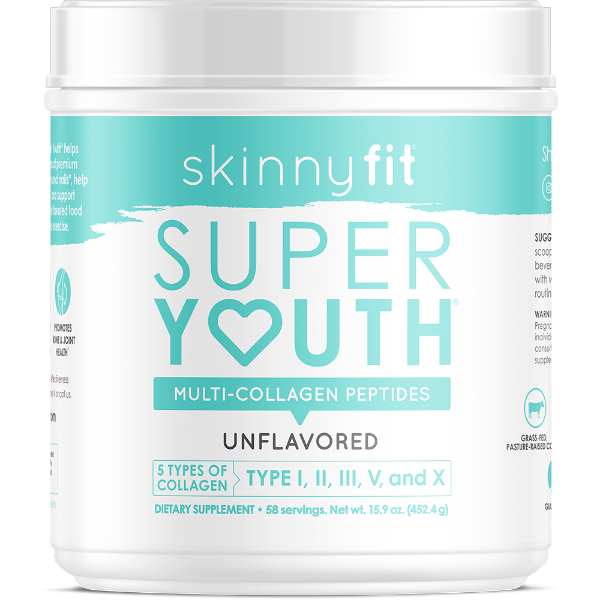 Easy Vegetable Soup Recipe With Wild Rice
Hearty, healthy, & delicious, this easy vegetable soup recipe checks off every box, so you can cozy up and eat clean this fall and winter!
Prep Time: 10 min
Cook Time: 20 min
Total Time: 30 min
Serving Size: 6 servings
Ingredients
1 tbsp olive oil
1 medium onion, diced
4 carrots, chopped
4 stalks celery, chopped
4 cups chicken or vegetable broth
1 tbsp garlic powder
Salt & pepper, to taste
4 cups water
½ cup wild rice
1 tablespoon dried parsley
2 scoops Super Youth Collagen (unflavored)
Optional, add cubed chicken breast for a boost of protein
Optional, add additional vegetables of your choice
Steps
In a large pot heat olive oil over medium-high heat until shimmering. Add onion, carrots, and celery. Season with salt & pepper. Cook 3-4 minutes stirring occasionally until tender and translucent.
Add broth and water and bring to a boil. Stir in Super Youth collagen, garlic powder, salt and pepper
At a roiling boil add the rice and parsley. Cover, reduce to medium heat and cook for 15 minutes or until the rice is tender. Serve immediately.
Optional: added cooked, shredded chicken for more protein or more vegetables for a heartier soup.