Jump To Recipe
There's nothing worse than being hungry when you're busy and on-the-go. It feels like there's no time to stop and grab a bite, there are slim to no healthy options, and it's around this time your sugar cravings start to kick in.
I used to reach for protein bars that were full of sugar, making me feel like I should've just eaten a cookie. Now, I keep protein balls on hand which are actually just easy dessert recipes with less sugar and more energy!
Today I'm sharing my go-to easy snack idea for when you're in a rush, and want to stay on track with your health and fitness goals.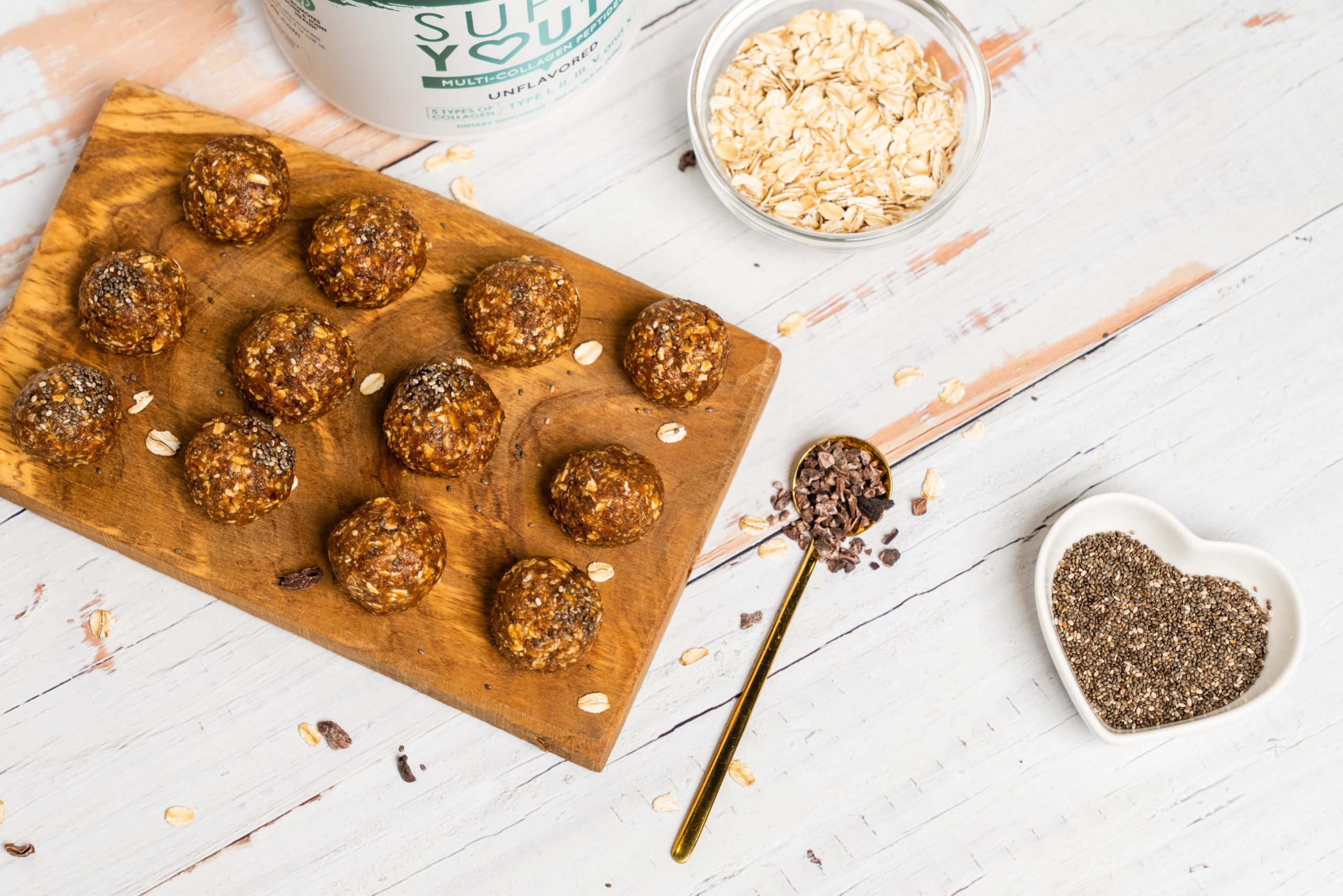 Energizing Benefits Of These No-Bake Snacks
Instead of late-night snacks or afternoon sweets, I like to have healthy and easy dessert recipes on hand. These protein-rich energy balls are my favorite for so many reasons. Here are my top three:
The protein in these energy balls will help keep you full for hours. The oats, peanut butter, chia seeds, and collagen all contain protein, which is the main source of energy our body runs on. These balls may be small, but they're mighty! 
These energy balls will naturally satisfy your sugar cravings. The medjool dates and peanut butter are both sweet without adding any extra sugar to the recipe. They're perfect for an afternoon snack, dessert replacement, or having on hand around your time of the month.
Best of all, these energy bites are so easy to make. They come together in less than 30 minutes and only require five simple ingredients. I love to make them first thing in the morning so that they're ready to enjoy later that afternoon.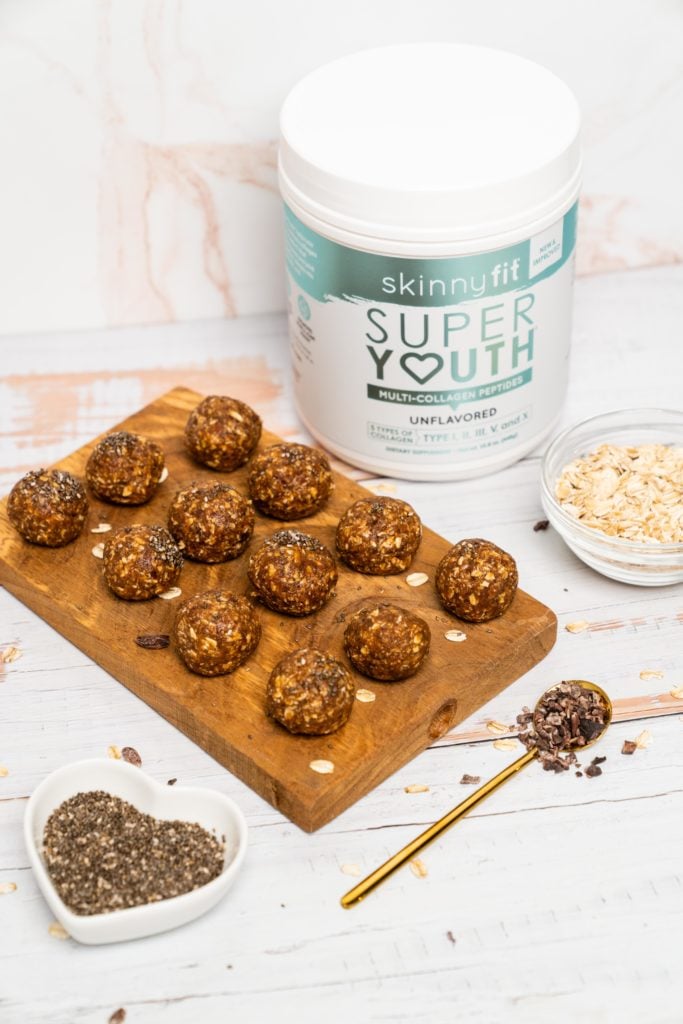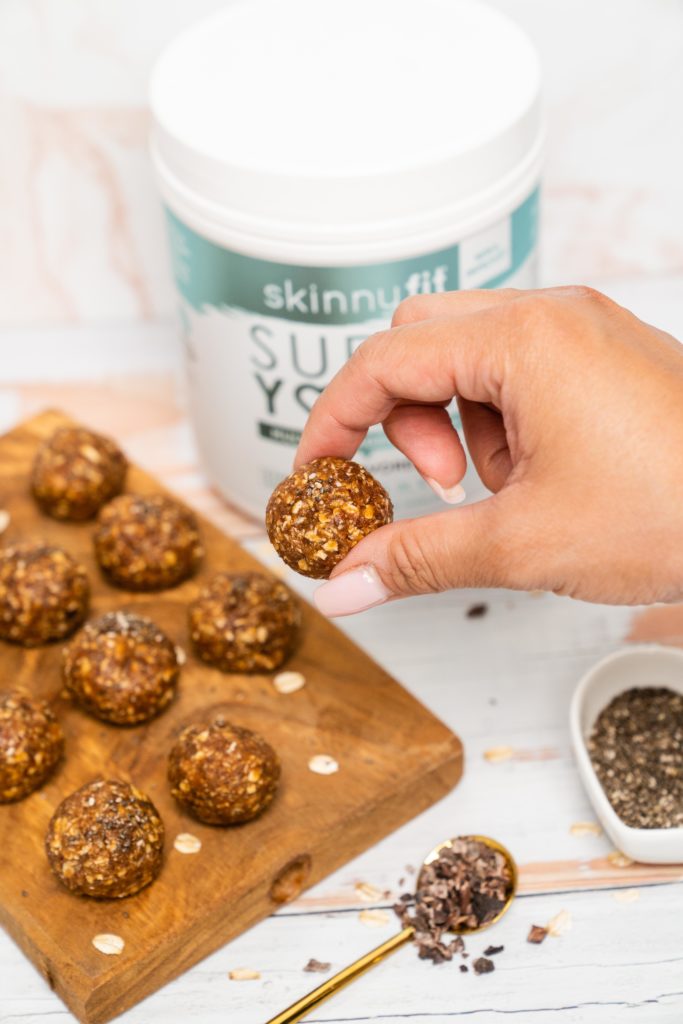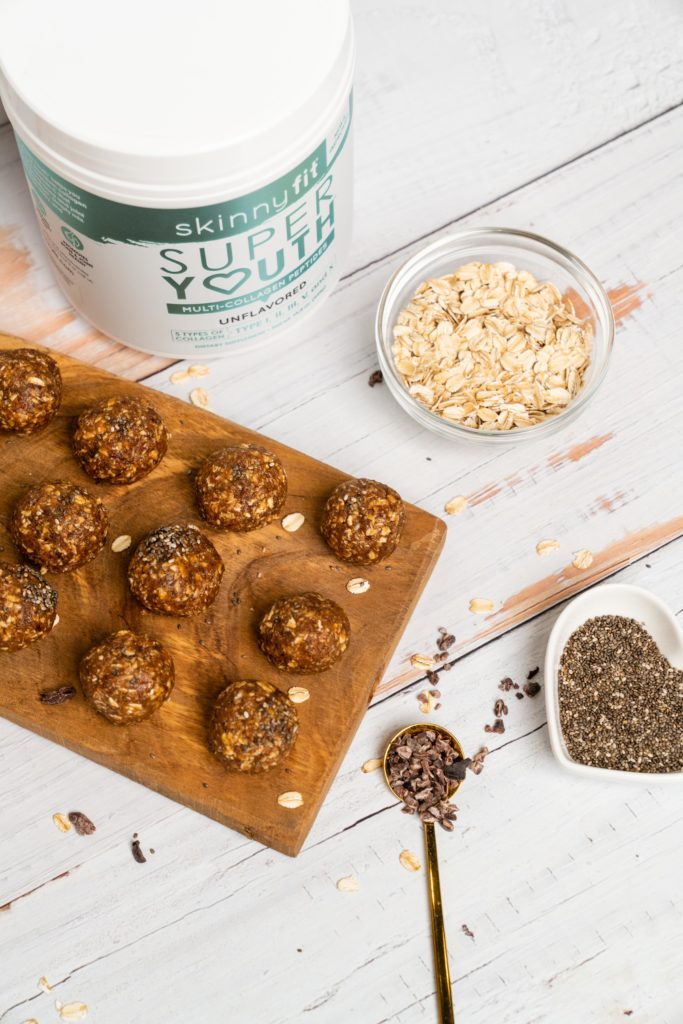 My suggestion is to make a double batch to share with the whole family. They're great for lunch boxes, taking to work, and grabbing on your way out the door for a workout. I know you're going to love these energizing peanut butter oat balls. Let me know what you think after you try them!
Mentioned In This Post
SkinnyFit Unflavored Collagen
Look and feel younger with Super Youth Multi-Collagen Peptides! This versatile collagen powder includes 5 collagen types from 4 natural sources to restore youthfulness from the inside out.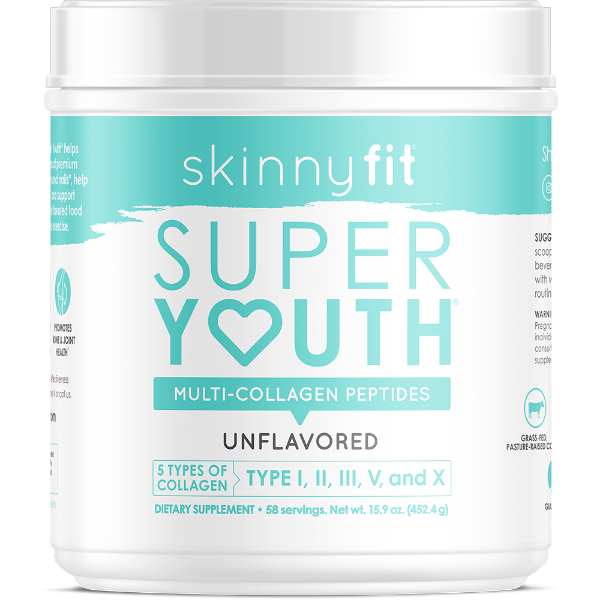 Make Your Own Energizing Peanut Butter Oat Balls!
Prep Time: 10
Cook Time: 5
Total Time: 15
Serving Size: 12
Ingredients
¾ cup chopped Medjool dates
½ cup rolled oats
¼ cup natural peanut butter
1 scoop Unflavored Super Youth
Chia seeds for garnish
Steps
Soak dates in a bowl of hot water for 5-10 minutes then drain.
Combine the soaked dates, oats, Super Youth and peanut butter in a food processor and process until chopped.
Roll into 12 balls, then garnish with chia seeds or other desired toppings.
Refrigerate for 15 minutes then enjoy!