Jump To Recipe
When I think of destressing, I think of relaxing on a beach without hearing a phone ring within miles. I'm sitting on a lounge chair with endless frozen drinks being delivered, and a big bucket of fries. Anyone else?
In all seriousness, managing stress is important for so many reasons. Our mental health depends on it, and our skin, digestion, and mood. Even if you can't take a tropical vacation everyday, you can get the next best thing — a delicious, calming frozen drink.
When it comes to beverages, I don't mess around. Today I'm sharing my go-to "I feel like I'm on an island" frozen sips, the Frozen Pink Tea Latte. It's rich, it's refreshing, and it's the ultimate chill pill in a cup.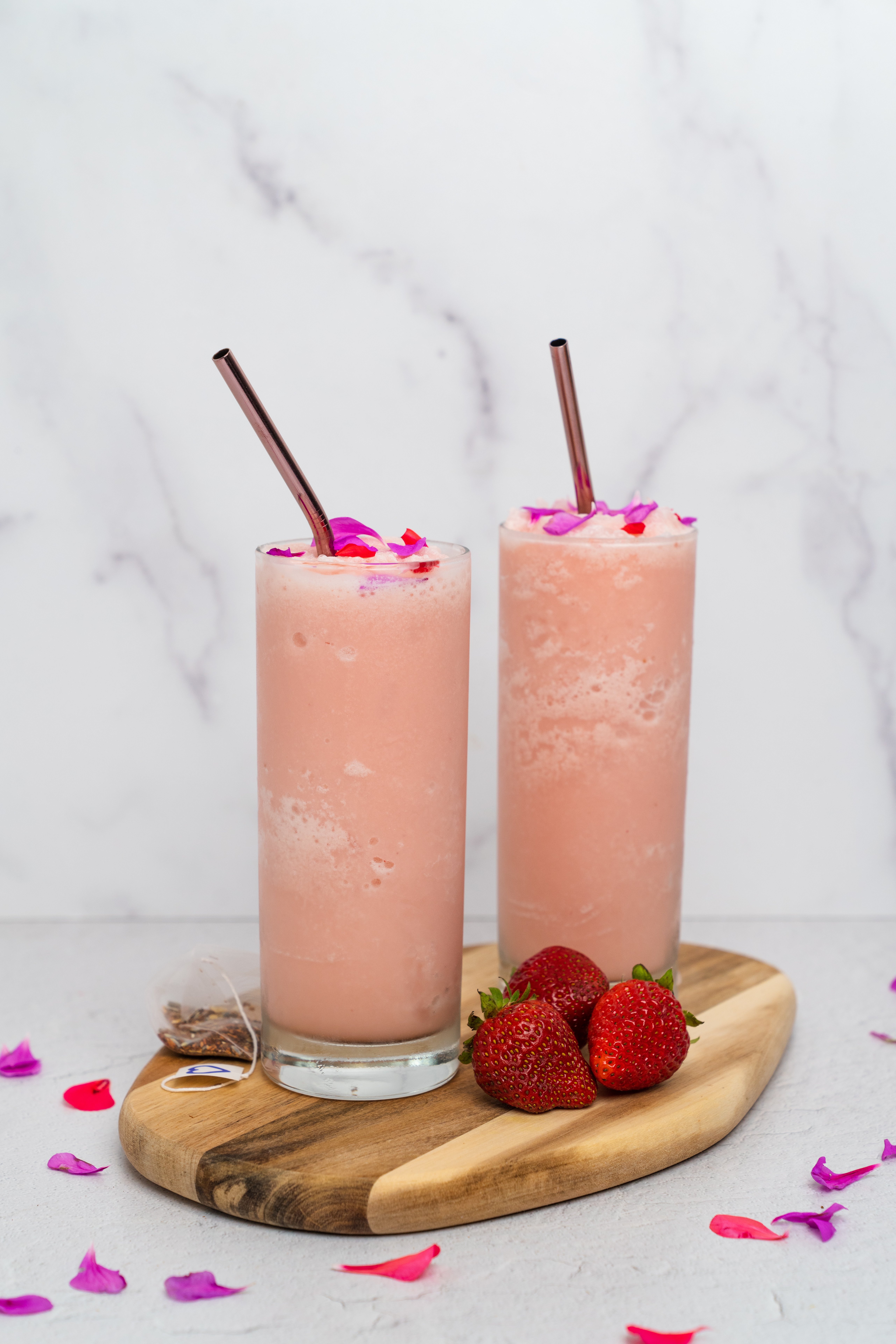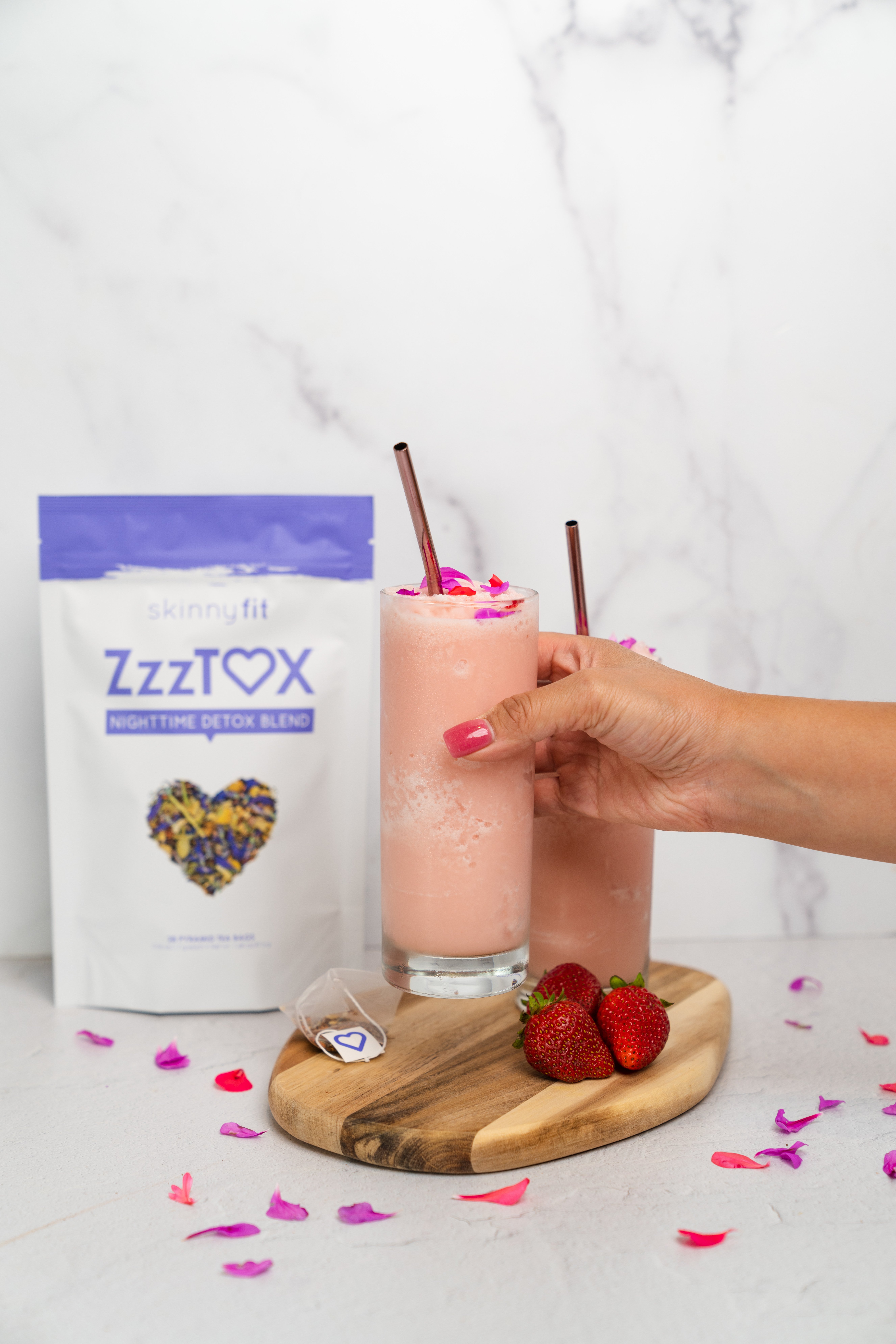 WEIGHT LOSS BENEFITS
When it comes to recipes, you know I need to healthify them. I can't just make frozen drinks for fun, they have to have some pizazz! This pink tea latte is no exception. I included two bags of ZzzTox tea into this recipe for maximum stress relief. Detox tea benefits of ZzzTox include better rest and deeper sleep, which is key for avoiding stress. When we don't get proper recovery, our body feels more stressed out than we realize. ZzzTox also helps fend off harmful oxidative stress and free radicals. In other words, Detox tea can help fight stress-related weight gain, bloating, and toxins.
Can you see why this frozen latte is my favorite? Besides being delicious, it absolutely crushes stress in its tracks. I can literally feel my muscles relax from just one sip. With such simple ingredients, you may not even need to go to the store to make it. If possible, enjoy this Frozen Pink Tea Latte in a calming state. Throw on a comfy outfit, play some soothing music, light a candle, even dim the lights. I promise you're going to feel totally refreshed after this delicious frozen beverage. Enjoy!
Mentioned In This Post
SkinnyFit ZzzTox Tea
Stress less, sleep tight, and detox 24/7 with caffeine-free SkinnyFit ZzzTox! Our all-natural nighttime tea helps you slim down while enhancing your quality of sleep.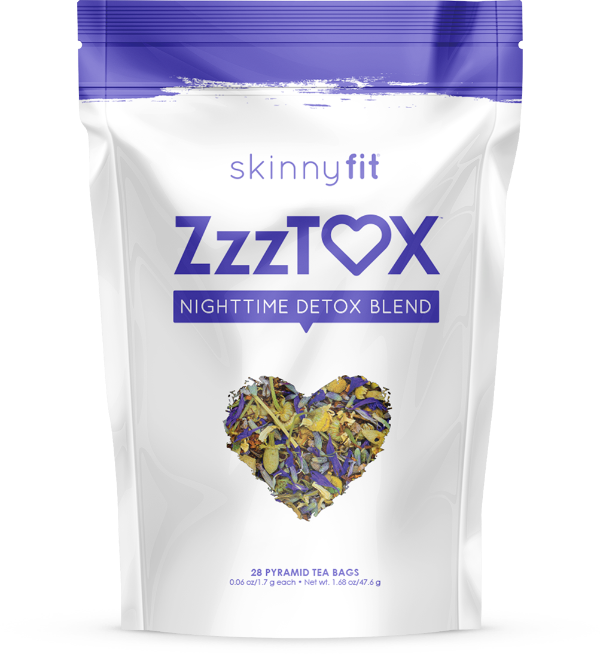 Frozen Pink Tea Latte
Prep Time: 10 minutes
Cook Time: 5 minutes
Total Time: 15 minutes
Serving Size: 2 servings
Ingredients
4 cups ice
1 ½ cup water
1 ½ cup strawberries, diced
¼ cup heavy cream
2 teaspoons green tea
2 bags ZzzTox tea
2 tablespoons edible rose buds (optional)
Steps
Puree diced strawberries and water. 
Pour puree into a saucepan and bring to a boil, then lower heat to simmer.
Infuse green tea, and ZzzTox tea bags into the strawberry syrup. Let it simmer then turn off heat and let cool.
Strain out solids and discard. Cool down the mixture then place in refrigerator to chill.
Blend strawberry mixture, heavy cream, and ice in a blender. 
Pour frozen drink into cups.
Optional: top with whipped cream and garnish with rose petals. Beautiful!