Jump To Recipe
Drinking smoothies, like enjoying iced coffee, is an all year thing for me. It doesn't matter if there's snow on the ground or sunscreen on my face, I like things cold. Can you relate?
Unfortunately, even the most healthy smoothie recipe isn't always the right choice with the change of seasons. To help my body digest cold things year-round, I started adding this one ingredient – ginger. It helps improve the digestibility of your smoothies, and you'll notice a range of benefits from this small switch. To encourage you to try adding this traditionally spicy root to your sweet smoothies, I'm sharing my favorite winter gingerbread recipe that will help turn you (and your kiddos!) onto ginger smoothies.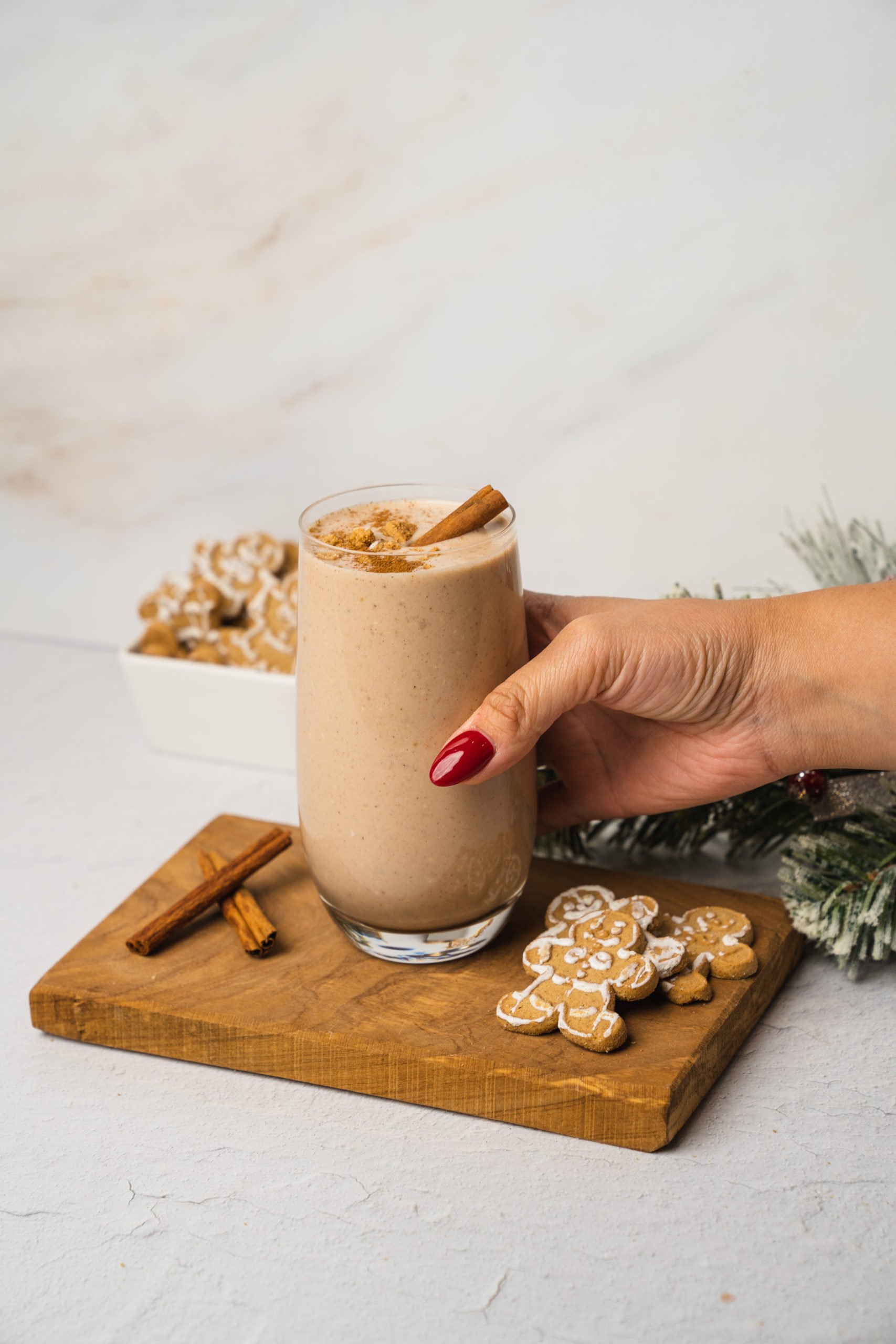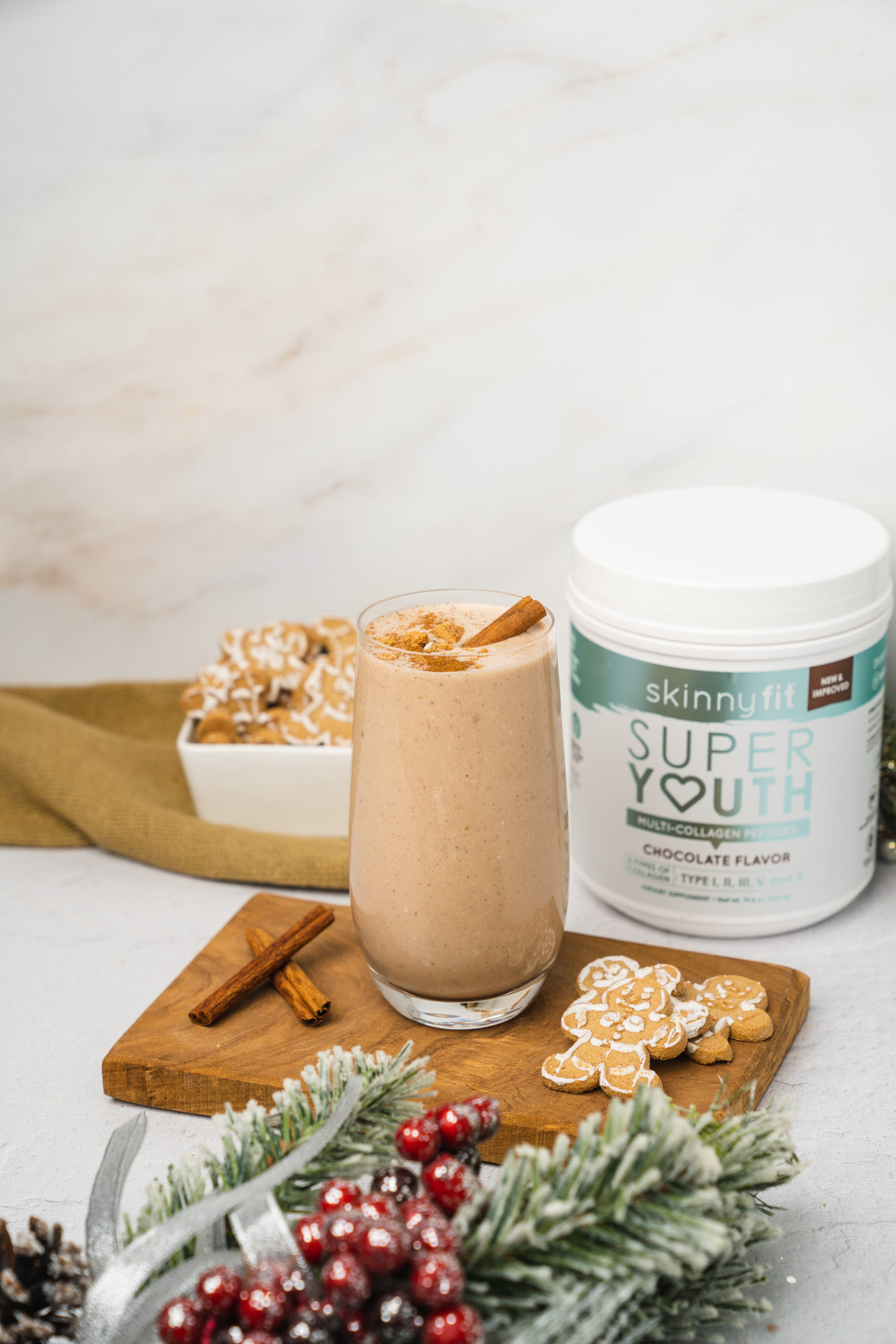 What Makes This A Power Smoothie?
The ginger alone in this healthy smoothie recipe makes it a power smoothie, but I can list a handful of ingredients that contribute to it as well. Most gingerbread recipes contain a ton of sugar, but this smoothie spin-off is full of superfoods.
First up, greek yogurt is great for the gut. Even if you swap it for a coconut yogurt, you'll enjoy a range of digestion-friendly benefits from the fermentation process. The good bacteria found in yogurt can help with antimicrobial and antioxidant activity in the body, which is crucial in the winter time when colds are going around. [1]
This smoothie is made with two of my favorite spices – ginger and cinnamon. Ginger is great for improving digestive fire and Ceylon cinnamon can help improve blood sugar. [2, 3] Together, they help make this healthy smoothie recipe enjoyable all year-round. Plus, these classic holiday spices make everything feel more festive.
Last but not least, this smoothie is made with hydrolyzed collagen. Chocolate Super Youth is my go-to smoothie add-in for protein, digestion help, a boost of skin glowing ingredients, and more. Collagen is a great way to support your joints, muscles, and skin – especially in the winter. I always notice less aches in the morning, less soreness after a workout, and my skin feels more hydrated and plump without changing anything in my routine. It gives this smoothie the deep chocolate flavor without being overly sweet.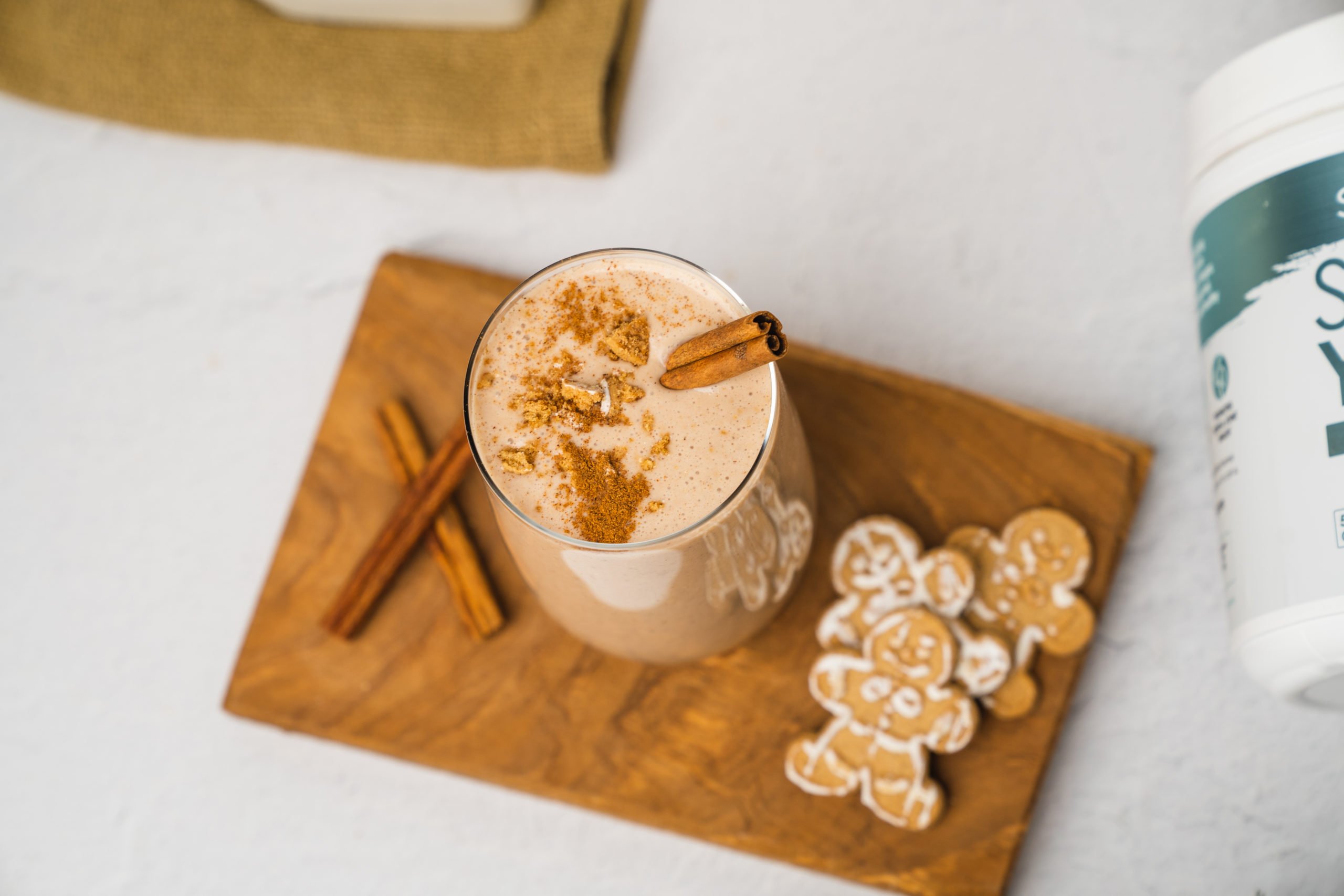 Mentioned In This Post
SkinnyFit Chocolate Collagen
Look and feel younger with Super Youth Chocolate collagen! This scrumptious collagen powder includes 5 collagen types from 4 natural sources to restore youthfulness from the inside out.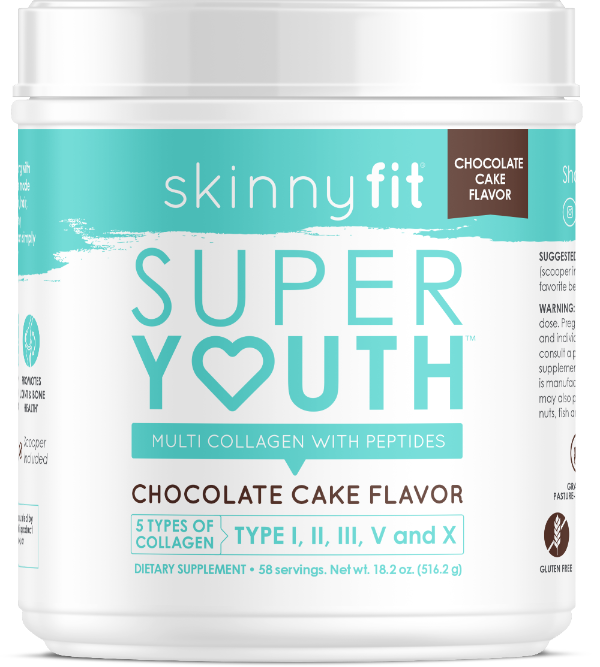 Gingerbread Power Smoothie
Give it a try and let me know what you think!
Prep Time: 4 minutes
Cook Time: 1 minute
Total Time: 5 minutes
Serving Size: 3-4 servings
Ingredients
1 cup milk (dairy or unsweetened alternative)
⅔ cup plain greek yogurt (or coconut yogurt for dairy free)
2 tbsp almond butter
2 dates (pits removed)
¼ cup oatmeal
¼ tsp cinnamon
½ tsp freshly grated ginger
1 large frozen banana
4-6 ice cubes
cinnamon, chocolate chips and oats to top
1 scoop Chocolate SY
Steps
Instructions:
Add all ingredients, leaving out the banana and ice cubes, and mix until smooth and creamy.
Add the banana and ice cubes last, blending until preferred consistency.