Jump To Recipe
Grapefruits have been used as a natural detoxification ingredient for almost a century, making their healing powers particularly intriguing for anyone interested in releasing toxins and improving their health. Rumors surrounding the grapefruit detox reveal that this particular method will accelerate the fat burning process, helping you lose up to 10 pounds in as little as 10 days! Sounds pretty unbelievable, right? Well, that's because it is…(sorry to burst your bubble)
According to Registered Dietician, Nutrition Journalist, and Nutrition Director for WebMD, Kathleen Zelman, MPH, RD, "Sorry, but grapefruit doesn't burn fat. There have been a few studies about grapefruit and weight loss. In one, obese people who ate half a grapefruit before meals for 12 weeks lost more weight than those who didn't eat or drink any grapefruit products. It may be that the water in grapefruit helps you feel full, and then you eat less. But if you're hoping that grapefruit will melt fat, you're going to be disappointed [1]".
The New and Improved Grapefruit Detox
As much as it pains me to say that grapefruits alone won't be enough to reveal a flat tummy or chiseled abs, this is not a means to an end for the grapefruit detox! We've transformed the traditional grapefruit detox recipe, kicked it up a notch, and added a few extra ingredients to help boost the detoxification properties for weight loss. By combining the powerful nutrients found in grapefruit along with the anti-bloat and metabolism-boosting properties of fresh ginger root, mint, lime, and SkinnyFit Detox, we've created an entirely new variation of the traditional grapefruit detox that can be considered the next best anti-bloat detox. So let's break it all down, shall we?
An Anti-Bloat Detox That Actually Works
As I mentioned previously, grapefruits alone do not contain enough fat-burning properties to see a significant change in your appearance, however, the addition of a few other ingredients can help boost metabolism, release toxins, improve the appearance of your skin, and shed excess water weight revealing flat abs!
1. Grapefruit
Although grapefruits don't necessarily burn fat, they do have enough nutrients and health benefits to having earned the title of being one of the world's healthiest foods! (and that says a lot!). Grapefruits are rich in the nutritional powerhouse Vitamin C! Vitamin C helps support the immune system, prevents free radical damage, is an anti-inflammatory that helps reduce conditions such as asthma, osteoporosis, and rheumatoid arthritis.
Grapefruit also contains high levels of limonoids (phytonutrients that boost a detoxifying enzyme called Glutathione-S-Transferase), lycopene (a powerful antioxidant responsible for combating free- radical damage, Vitamin A, Biotin, Vitamin B1, Potassium, Copper, and Fiber! An additional benefit of lycopene is its ability to completely transform your skin and make you a glowing goddess! The antioxidants in lycopene boost collagen production, prevent hyperpigmentation, and helps to cleanse your pores through the production of salicylic acid (a natural ingredient used to fight acne) [2].
2. Ginger
Ginger root, or ginger for short, is a flowering plant that originated in China. There is a powerful oil found in ginger called gingerol, and it is the main bioactive ingredient responsible for its medicinal properties. Ginger has been used to help with digestion, reduce nausea, and help boost immunity. Additionally, ginger can reduce muscle pain and soreness, inflammation, blood sugar, cholesterol levels, menstrual pain, and decreases your risk of heart disease, certain types of cancers, and protects against Alzheimer's Disease [3].
3. SkinnyFit Detox
What truly sets this anti-bloat detox apart from a traditional grapefruit detox is the use of SkinnyFit Detox. SkinnyFit Detox is a natural blend of 13 powerful superfoods that fight off belly bloat, boost metabolism, and release harmful toxins that prevent your body from functioning properly and potentially preventing you from losing weight.
A combination of sencha green tea, milk thistle, nettle leaf, dandelion leaf, goji berries, yerba mate, oolong tea, lemongrass, guarana, ginseng, matcha green tea, stevia leaf, and natural peach flavoring was scientifically formulated with the unique metabolic needs of women in mind with absolutely no laxatives, making it safe, effective, and easy!
Order SkinnyFit Detox to reduce bloating, boost metabolism, and to make this anti-bloat detox for flat abs!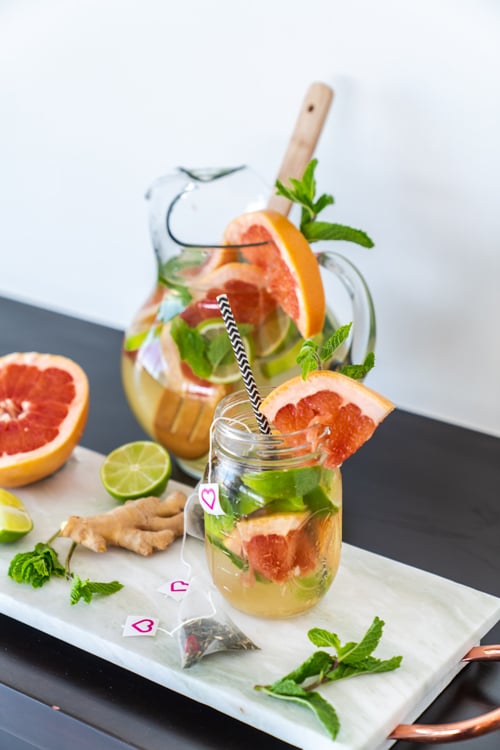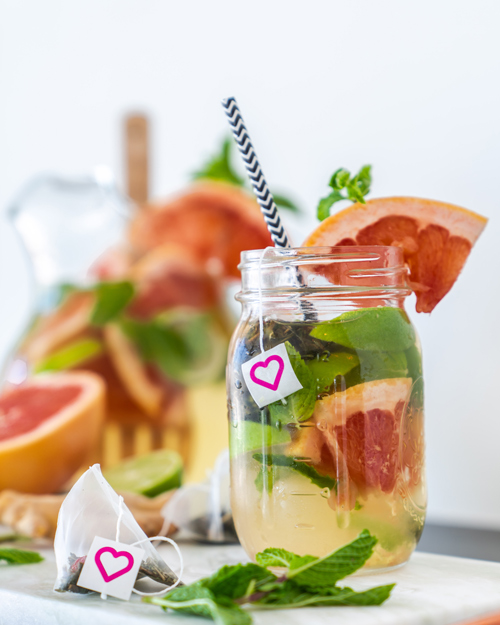 Ginger Grapefruit Detox Recipe
This brand new and supercharged rendition of a traditional grapefruit detox will completely change the way you think about weight loss! Try this anti-bloat ginger grapefruit detox recipe for flat abs!
Prep Time: 5 minutes
Cook Time: -
Total Time: 10 minutes
Serving Size: 1 Detox
Ingredients
1 cup SkinnyFit Detox
1 grapefruit
1 tsp grated ginger
½ lime (sliced)
3-5 mint leaves
Steps
Brew 1 cup of SkinnyFit Detox and cool completely.
Pour the Detox into a large glass and fill with ice
Slice the grapefruit in half and squeeze ½ of the juice into the Detox. Cut the remaining half of the grapefruit into slices and place into the Detox glass.
Using a grater, grate 1 tsp of fresh ginger into the glass, add a few lime slices and the mint leaves.
Stir the mixture with a spoon and garnish with a lime wedge or grapefruit wedge and mint leaf!