Jump To Recipe
Greek cucumber cups are probably one of my favorite decadent, yet easy, low carb snacks. If you love greek food–greek salads in particular–you're going to love these. They're the perfect party snack, and are sure to please all your girlfriends. This is one of those low carb recipes that everyone is going to ask the recipe for, so prepare to share!
What Are Greek Cucumber Cups
Greek cucumber cups are cucumbers cut and spooned out to create a well for salad to sit in. In the case of these greek cucumber cups, we're adding a spin-off of greek salad! The combination of greek inspired ingredients–olive oil, kalamata olives, crumbled feta, garlic and cherry tomatoes-make it one of the most delicious, low carb snacks around!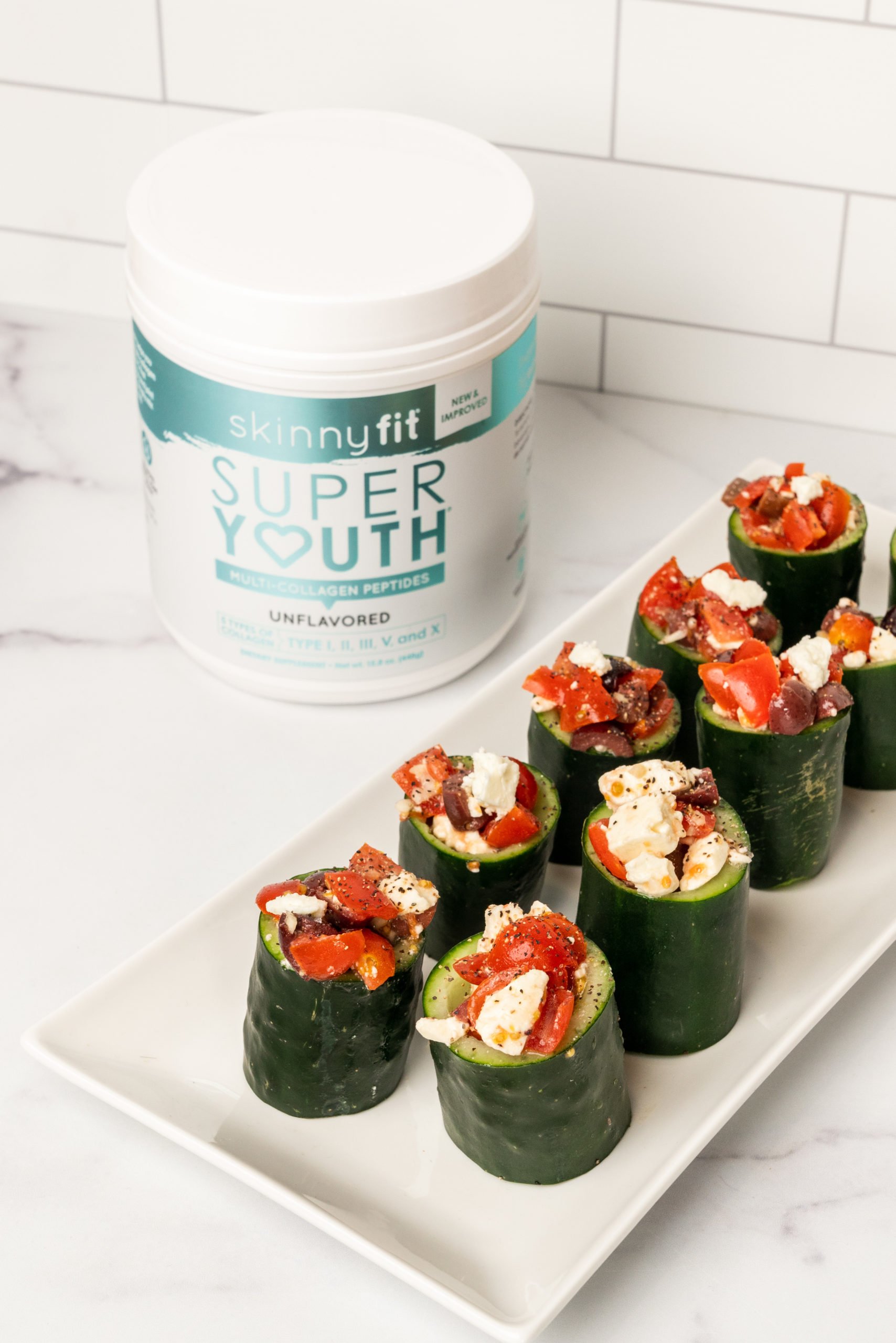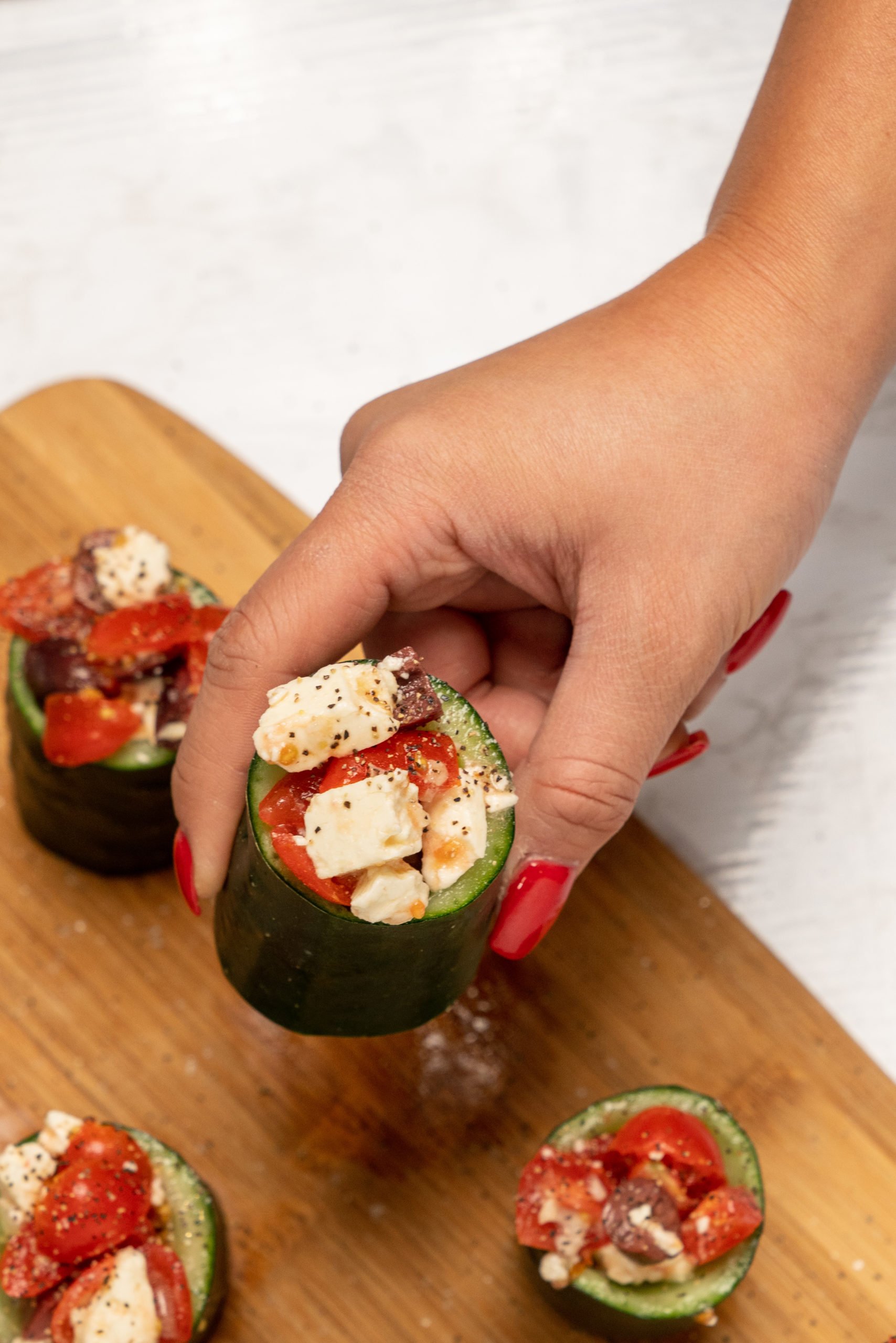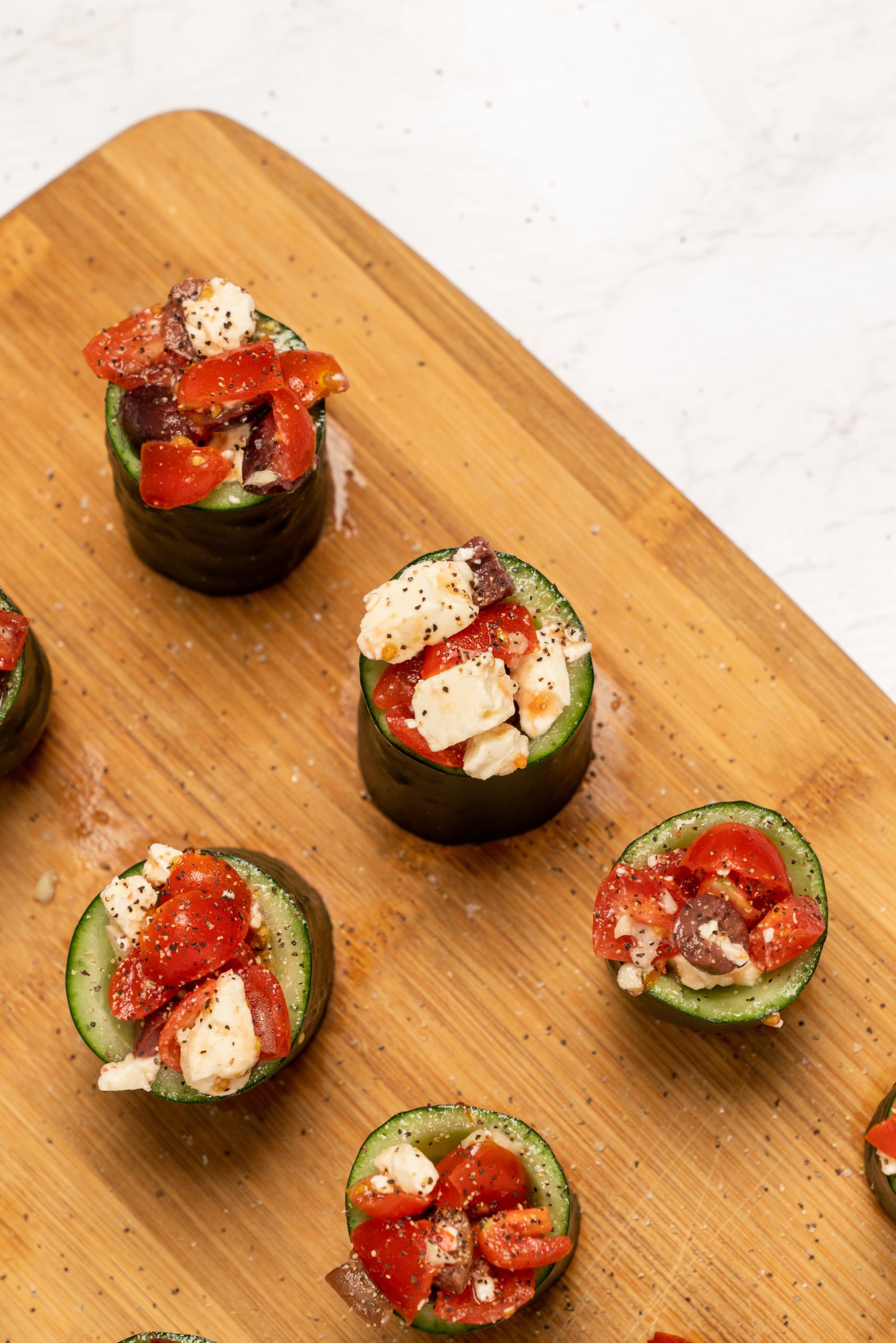 Are Cucumber Cups Healthy?
These greek cucumber cups are one of my favorite low carb recipes, and they're super healthy! This recipe is gluten free, grain free, and can easily be made dairy free by omitting the crumbled feta and opting for a dairy alternative, or even some hemp seeds for added protein and texture. Plus, these cucumber cups include the secret ingredient, Super Youth! This unflavored collagen goes completely unnoticed in this recipe, and packs in a ton of benefits. Not only does it add protein to this snack, but it also provides anti-aging and recovery benefits, too! They're the perfect post-workout snack, or even mid-day treat that you never have to feel guilty about.
The best thing about low carb snacks like these is that they both satisfy you and keep you feeling full. Little known fun fact–low carb recipes that include a variety of vegetables and spices are more likely to curb cravings than single ingredient snacks. Win-win!
How To Serve Greek Cucumber Cups
Cucumber cups are great low carb snacks that can be served at so many different occasions. They're gorgeous enough to serve at dinner and cocktail parties, and easy enough to handle to serve for kiddos! The reason low carb recipes like this never get old is because they're so versatile! You can make them simpler for kids, with just some tomatoes and sea salt, or make them fancier with some fresh thyme, or rosemary. 
I hope you love making this recipe as much as you enjoy serving and eating them!
Low-Carb Greek Cucumber Cups
Low carb, maximum joy!
Prep Time: 20 min
Cook Time: 0 min
Total Time: 20 min
Serving Size:
Ingredients
4 large cucumbers
1 pt. cherry tomatoes, quartered
1-2 scoops Super Youth Unflavored
½ c kalamata olives, chopped
½ c crumbled feta
Juice of 1 lemon
1 clove garlic, minced
1 tbsp. Extra-virgin olive oil
Salt and pepper to taste
Steps
Cut cucumbers into 3" pieces. Using a melon baller or spoon, create a well in each cucumber.
In a small bowl, combine lemon juice, olive oil, and Super Youth Unflavored until thoroughly mixed.
In a large bowl, combine tomatoes, olives, and feta, stir until combined then season with salt and pepper. Add lemon juice mixture to a large bowl and combine all ingredients.
Spoon salad mixture into cucumbers.