Jump To Recipe
This delicious and creamy green goddess dip is the perfect way to elevate any dish! It's packed with nutrients and even contains a secret ingredient that makes your skin glow like a goddess!
It's almost ritualistic for me to throw a tub or two of hummus during my trips to the grocery store. But once I realized how to make my own creamy, smooth hummus I couldn't go back to store-bought! This green goddess dip is delicious on anything and everything, and the best thing about this stunningly gorgeous hummus? Its bright herby flavor! 
Trust me, this recipe will elevate your wraps, salad, dipping spread, and sandwiches to the next level. It's the easiest, healthiest, and most delicious green goddess hummus recipe out there. Plus, it's vegan!
The dip only takes about 5 minutes to make and can be prepared the day before. In fact, making green goddess dip the night before helps it thicken up and is absolutely incredible when served cold!  
What Is Green Goddess Dip?

You may have seen a version of it bottled in a grocery store as a topping at your favorite deli. Green goddess dip is a fun and flavorful hummus made with fresh green herbs like cilantro, parsley, and green onions. It's light but adds a burst of flavor to transform any dish. My personal favorite pairings are using it for veggie dipping, pita bread smearin', and even on top of a meat dish or marinade. 
Is Green Goddess Dip Healthy?

Just so we're on the same page, let's break down what goes into hummus. Yes, green goddess dip is the definition of healthy! Made with nature's healthiest ingredients, this green hummus dip will have everyone asking for a bite of your lunch or seconds at dinner! 
Chickpeas: An excellent source of fiber, minerals, folate, and protein! Chickpeas help reduce inflammation and help you maintain a healthy weight while snacking on a green goddess hummus. [1]
Tahini: Tahini is a thick paste made from sesame seeds. Tahini is packed with protein, B vitamins, vitamin E, iron, and calcium. [2]
Fresh green herbs: Sprinkling in fresh green herbs like parsley and cilantro not only adds flavor but increases the nutritional value of the dip!
Lemon juice: Lemons are full of vitamin C and antioxidants. Lemons help support your immune system and improve digestion.  [3]
Olive oil: Olive oil promotes a healthy heart. Consuming this oil can help protect your heart and even prevent a stroke! [4]
Collagen: Collagen is the most abundant protein in the body, and taking a collagen supplement helps improve skin elasticity, erase wrinkles, improve joints, and keep the body strong and mobile. [5] The best collagen for adding to any recipe is hands down, SkinnyFit Super Youth. Not only is it packed with nutrients and benefits from 5 different types of collagen, but it's also odorless and flavorless, making it the perfect addition to any of your favorite foods or hot beverages. 
Pics or it didn't happen! When you whip up this green hummus recipe, post it on Instagram or Facebook and tag SkinnyFit so we can like and reshare it!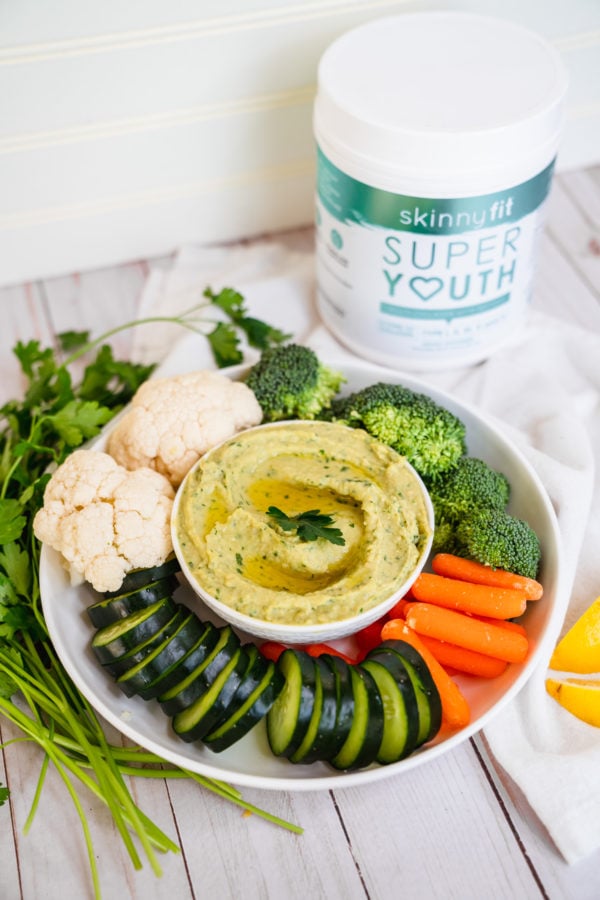 Green Goddess Hummus Nutrition Facts
Nutrition facts for ¼ cup:
Total Calories: 260 calories
Protein: 14g
Carbs: 34g
Fat: 9g
Fiber: 7g
Sugar: 6g (natural)
How To Make Green Goddess Hummus

If you're ready to roll up your goddess sleeves and get to making some delicious hummus… then let's get started!
Whether you're a pro at making hummus or this is your first go at recreating a homemade creamy, smooth dip, this recipe walks you through the process step by step. There's actually no real cooking involved. You'll need a food processor, roughly 5 minutes, and of course… fresh ingredients!
Consider this a warning: Once you realize how easy this recipe is to make there's no way you'll ever go back to store-bought hummus. Not to mention just how much better homemade hummus tastes!
Green Goddess Dip Recipe
This delicious and creamy green goddess dip is the perfect way to elevate any dish! It's packed with nutrients and even contains a secret ingredient that makes your skin glow like a goddess!
Prep Time: 5 minutes
Cook Time: -
Total Time: 5 minutes
Serving Size: Serving size ¼ cup (Yields 8 servings)
Ingredients
1 can (15 oz.) chickpeas (garbanzo beans), drained and rinsed
¼ cup tahini
¼ cup fresh lemon juice (about 1 large lemon)
2 tbsp olive oil, plus more for serving
½ cup parsley, roughly chopped
¼ cup fresh cilantro, roughly chopped
2 to 3 tbsp roughly chopped fresh green onion
1 large garlic clove, roughly chopped
½ teaspoon salt, more to taste
2 scoops Super Youth Collagen Peptides, Unflavored
1 to 2 tbsp leftover chickpea juice from canned chickpeas
Garnish with extra olive oil
Steps
Strain the juice from the canned chickpeas, reserving the juice.
In a food processor, combine the chickpeas, tahini, lemon juice, olive oil, parsley, green onion, garlic, salt, and Super Youth Collagen for about 1 ½ minutes, pausing to scrape down the sides of the bowl as necessary.
If the green hummus is too thick, run the food processor while drizzling in 1 to 2 tbsp of the reserve chickpea juice until it reaches your desired consistency.
Scrape the hummus into a small serving bowl and drizzle with 1 tbsp of olive oil.
Serve with desired toppings. Store in an airtight container and refrigerate for up to one week.