Jump To Recipe
Homer Simpson's favorite food with a healthy twist we simply can't get over! Ladies & gentlemen… Healthy baked donuts!
If it weren't for weight gain, cardiovascular disease, cavities, and the expense of replacing all my clothes, I'd go full-on Homer Simpson with donuts. That's how much I love them, and that's no exaggeration. The good news is healthy donuts do exist, and they're super easy to make at home without buying any new appliances. They're called baked donuts, and they're awesome. 
I'm excited to share my new healthy donut recipe with you. Baking isn't my forte, but these healthy donuts are so easy, I nailed it on my very first attempt! They're super fun to make, and feature a unique, unexpected, and super-healthy organic ingredient: zucchini! You read that correctly! But zucchini is just one of the beneficial ingredients in this healthy donut recipe.

Trust me on this: you'll want to make these baked donuts a house staple whether you're totally new to kitchen wizardry or have won The Great British Bake Off. 👩‍🍳
But first…  
Let's just say it like it is: Donuts are basically cake. Only diehard Dunkin' fans ("Hi, Mom!") would say otherwise. And, incidentally, zucchinis aren't vegetables—even though they're always in the veggie section. In reality, they're fruit. So, technically, these delicious little healthy donuts are actually fruitcakes. But we're just going to ignore that, because a donut sounds good right now. Don'it? 🍩
All that's to say that it's actually very possible to have your donut and eat it, too—without guilt. And the best way to do that is by whipping up this delicious healthy donut recipe.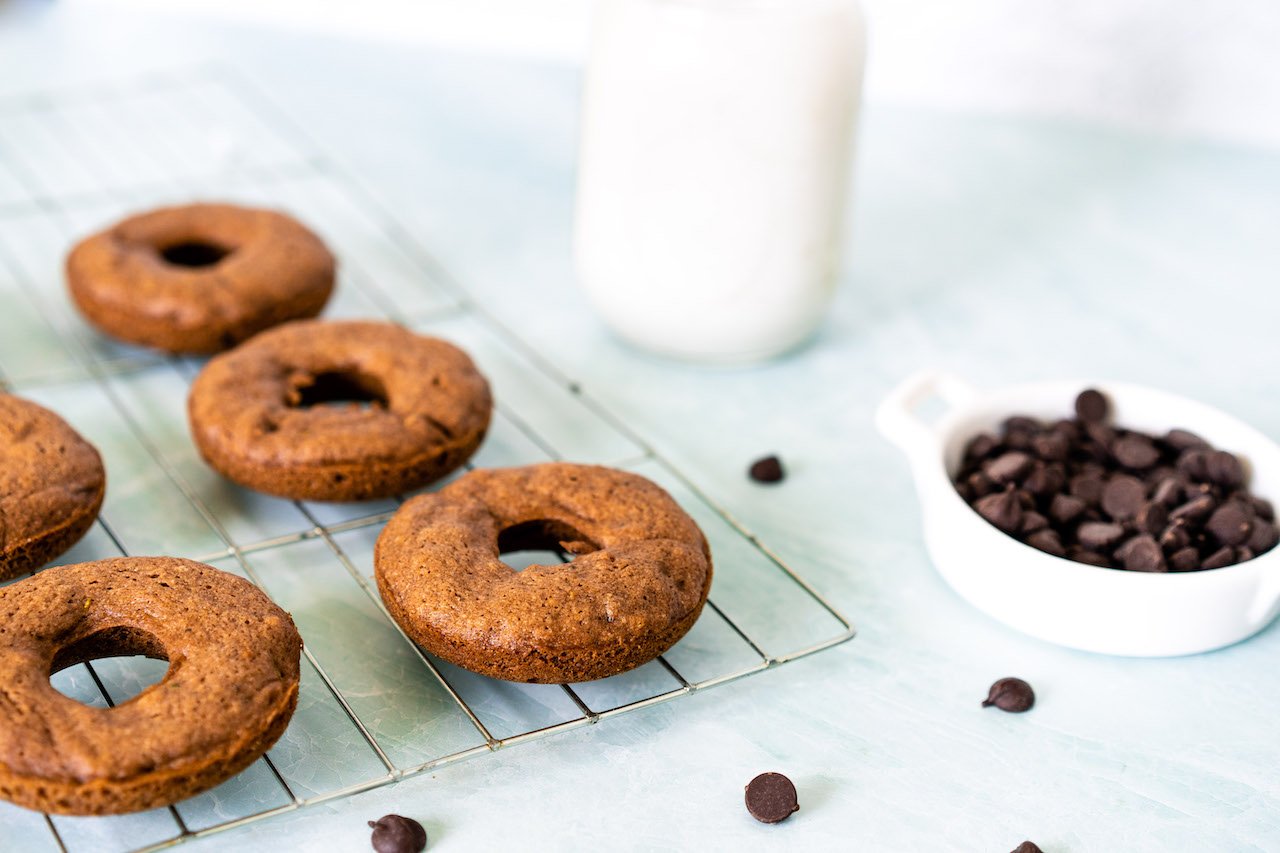 How To Make Donuts Healthier
The secret to making healthy donuts is by looking at what makes traditional donuts unhealthy, and finding healthy alternatives to their gluttonous guile. Let's look at tips for making healthy donuts.
Try baking instead of deep frying. Saturated and trans-saturated fats are bad news when it comes to health. Unfortunately, this is what most donuts are deep fried in. Opting for homemade baked donuts will instantly cut out heavy amounts of unhealthy oils that get absorbed during the deep frying process. 
Add zucchini & cut back on oil. Zucchini is known for being a great ingredient in baking to boost moisture & gives a great texture. Because it retains lots of water, baking zucchini donuts means you don't have to use as much oil to keep them moist during cooking. Zucchini has a mild flavor and is rich in nutrients and is comparable to using applesauce or bananas for healthier alternatives to traditional baking ingredients.
Use chocolate collagen instead of cocoa powder. Healthy alternative sweeteners are out there, but taste is the extent of their benefit. This healthy donut recipe substitutes half the usual cocoa powder with SkinnyFit's Super Youth Chocolate Cake Collagen powder. Super Youth is an all-natural, premium collagen peptide blend that has an incredible, real chocolate taste, without the calories and sugar of chocolate. What's more, collagen helps reverse the most noticeable signs of aging, such as wrinkles, joint point, thinning hair, and more. [1, 2, 3]
Benefits Of Baked Donuts
It's not too often you hear someone touting up the "benefits of donuts" sans sarcasm. Except, of course, "Benefits of donuts include winter insulation, and therapy-eating a half-dozen of Krispy Kreme's finest in a mini mall parking lot after a breakup, insisting to passers by that the dry white flakes under your eyes is glazed sugar, not tears." In which case, yes, donuts have benefits. 
This recipe, however, proves that healthy donuts are a thing. By opting for baked donuts over fried, they will blow your mind but not your belly.
Fewer calories—These baked donuts have around 200 FEWER calories than the typical chocolate glazed donut. [8] Which means you don't have to feel as self-conscious having one with your morning coffee—and your coworkers will love-you-hate-you less, and love-you-love-you more. (True story.) 
Less saturated fat—Because we're baking these in an oven, not deep-frying them in saturated and trans-fat laden oil, you're also doing your cardiovascular system some service. [4, 5] 
Lots of nutrients—Thanks to zucchini, this healthy donut recipe brings a noticeable amount of nutrients to the table, literally. Zucchini are great sources of [6]:

Vitamin C (35% RDI)
Vitamin B6 (14% RDI)
Manganese (11% RDI)
Potassium (9% RDI)
Vitamin K (8% RDI)
On top of that, zucchinis are carotenoids, meaning they have protective antioxidants that defend against the likes of cancer, cardiovascular disease, and photosensitivity disorders (skin issues attributed to UV exposure). [7]
Fight the signs of aging—As mentioned, this healthy donut recipe calls for adding chocolate collagen to your baked donuts. Collagen is the most prominent protein in our bodies. The thing is, we stop producing collagen around our 30s. You know, that ubiquitous point of physical decline. Well, replenishing your body with collagen helps slow the degenerative process, so we look and feel healthier, longer. And we're doing so by eating donuts! People, this is a breakthrough!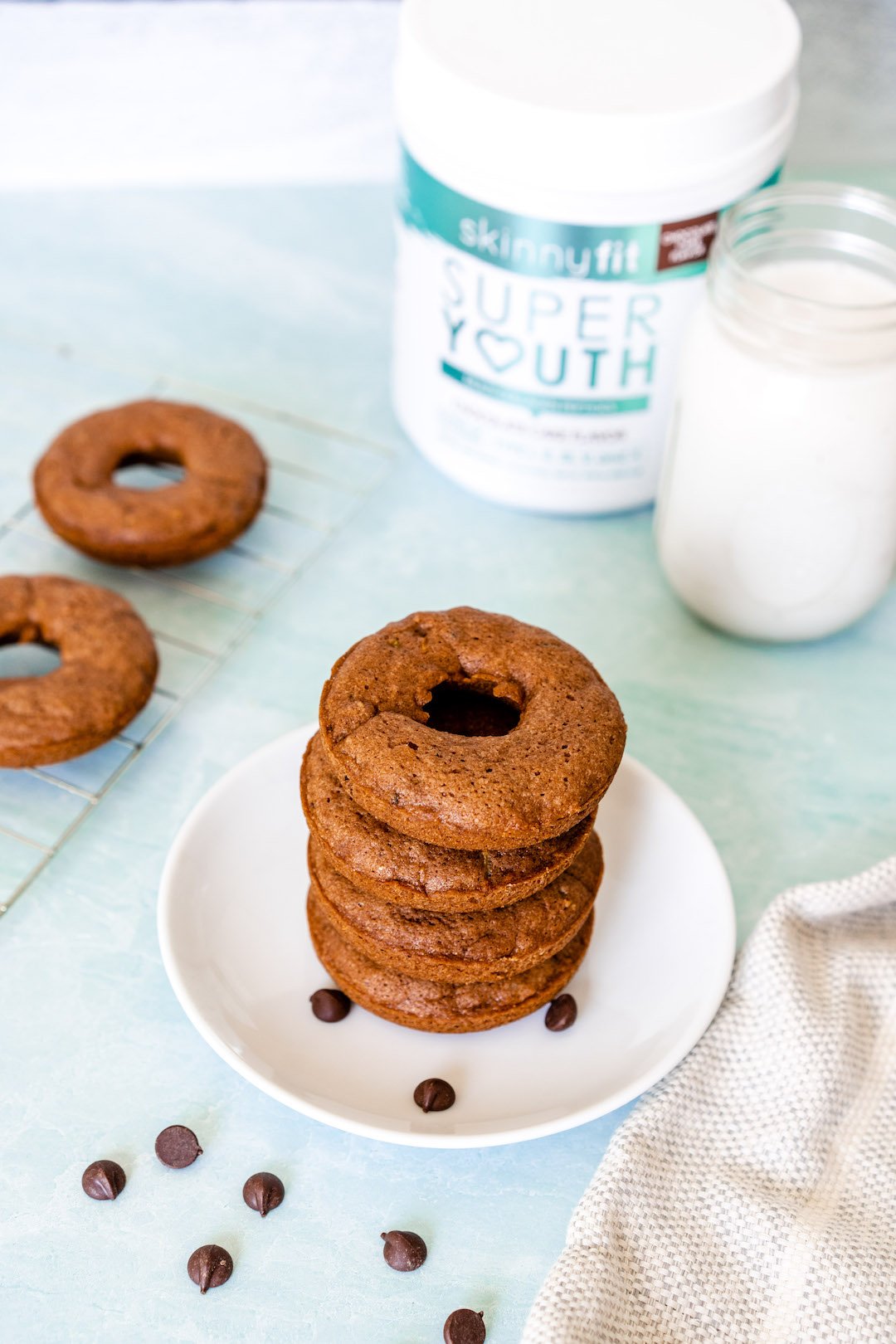 How To Make Zucchini Donuts
Making zucchini donuts is easy. All you need is a handful of common ingredients, an oven, a bowl, cooking spoon, and 10 minutes. 
The recipe is divided into wet ingredients (like zucchini, eggs, vanilla extract, etc.) and dry ingredients (collagen, baking powder, cinnamon…). Whisk separately, then combine into your donut pan and plop 'em in the oven. It's that easy.
Doh!
Mentioned In This Post
SkinnyFit Chocolate Cake Collagen
Look and feel younger with Super Youth Chocolate Cake! This scrumptious collagen powder includes 5 collagen types from 4 natural sources to restore youthfulness from the inside out.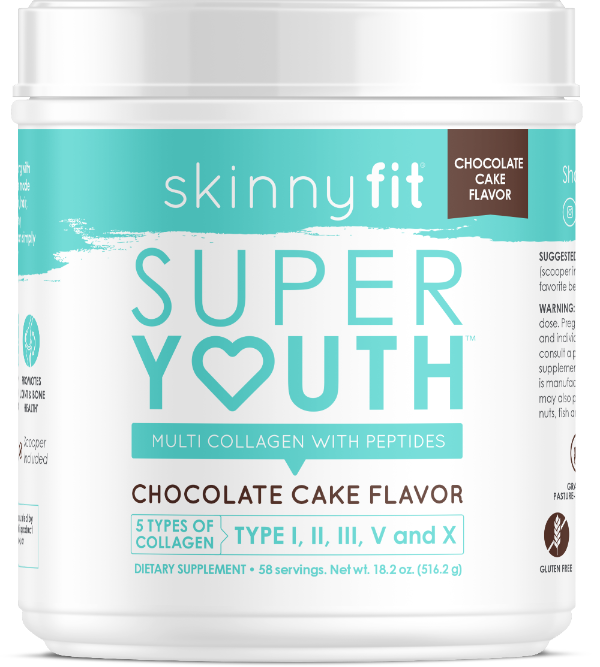 Healthy Baked Donuts Recipe
Go ahead, have another! These zucchini-based baked donuts have all the taste of regular donuts, without the calories. Plus, they support a youthful appearance!
Prep Time: 10 minutes
Cook Time: 10 minutes
Total Time: 20 minutes
Serving Size: 18 donuts
Ingredients
2 eggs
1 cup sugar
½ cup + 2 tbsp vegetable oil
1 ¾ tbsp unsweetened cocoa powder
1 scoop Super Youth Chocolate Cake collagen
¾ tsp vanilla extract
1 cup grated zucchini
1 ½ cups all purpose flour
½ tsp baking soda
¼ tsp baking powder
½ tsp salt
⅛ tsp ground cinnamon
Optional mini chocolate chips
Steps
Preheat the oven to 350 degrees and coat a non-stick donut pan with non-stick spray.
In a medium sized bowl, beat the eggs, sugar, oil, and vanilla. Fold in the zucchini.
In another bowl, add the flour, cocoa, Super Youth collagen, baking powder, baking soda, salt, and cinnamon. Combine the wet ingredients with the dry.
Spoon the batter into the greased donut pan filling ⅔ of the way. Sprinkle the optional mini chocolate chips on top.
Bake at 350 degrees for 9-11 minutes. 
Let the donuts cool in the pan for about 10 minutes, then turn the pan over onto a cookie sheet and gently tap to remove donuts. Enjoy!
Total Calories: 146
Carbs: 19g
Fats: 7g
Protein: 2.5g
Sugar: 11g
Fiber: <1g