Jump To Recipe
FACT: We could all get more natural fruit in our daily diets. But, let's be honest, it can be inconvenient, if not downright uninspiring, to chow down on berries, bananas, apples, etc. all day long. 
The thing is, we know that beyond being naturally low in calories and high in immune-boosting vitamins, fruits are rightfully celebrated for antioxidant properties that have lasting benefits on our overall health and wellbeing. 
That's why today we're going to combine the creamy probiotic goodness of a Greek yogurt fruit dip with the sweet, rich, and addictively delicious taste of a chocolate fruit dip. 
But don't go searching for that Melting Pot gift card Aunt Shirley mailed you in lieu of a real holiday gift last year—we're going to make a healthy fruit dip to be enjoyed on the couch, by the fire, or wherever you love to indulge in DIY comfort food.   
For my skeptics out there wondering how healthy fruit dip can be, just consider that this recipe is packed with nutrients that help support your immune system, muscle growth, digestion, and lifestyle in general. 
6 (Awesome) Benefits Of Greek Yogurt Fruit Dip

1. Excellent source of immune-boosting nutrients – Some of our favorite dipping fruits are also full of important nutrients, including vitamins, fiber, and antioxidants, which fend off cancer-causing free radicals. [1] Because this is both a yogurt and chocolate fruit dip, you're going to want to choose fruits that complement both palates. I recommend avoiding particularly sour or tart fruits, such as citrus. But do go wild with:
🍌 Bananas (for their potassium)
🍓 Strawberries (for powerful antioxidants)
🍍 Pineapples (for the anti-inflammatory properties)
🍏 Apple (to help control overeating) [2]
🍈 Cantaloupe (to bring on the vitamin C!)
2. Low in calories! – Calories are energy. But if you don't burn off more than you consume, you'll only put on pounds. One of the reasons this is such a healthy fruit dip recipe is that it's only 160 calories per serving! Just remember that fruit has calories too, so be sure to factor that in if you're counting.
3. Full of protein – From growing hair to growing muscle, protein plays a crucial role in literally every cell in your body. Protein is also essential for healthy bones. [3] Plain Greek yogurt contains 17g of protein for every 1 cup. But this chocolate fruit dip has a secret ingredient which adds an additional 7g of protein for a grand total of 24g per serving—already nearly half the recommended daily intake for women!
4. Guilt-free – Low in calories, high in nutrients means that this Greek yogurt fruit dip lets you satisfy your sweet tooth without the guilt. That's because it's so rich in chocolate flavor without the chocolate fat and sugar! (I'll let you in on the secret in just a sec.)
5. Makes for a great post-workout snack – There's so much focus on healthy exercising at every age, that we should all take part in some form of physical exertion regularly each week. The thing about working out is that our bodies need both time and nutrients to effectively recover. This recipe's high protein level helps your muscles rebound out a good gym sesh. 
6. It's super easy to make – Seriously, what's the point in a complicated fruit dip, amiright? It doesn't get easier to satiate your sweet tooth than this! All you need is 4 ingredients, a bowl, a spoon, and your choice in dipping fruit. 
What Makes This Healthy Fruit Dip So Healthy?

Now that you know the benefits of this fruit dip recipe, it's worth understanding what separates this recipe from others out there. Here are two key bar-raiser ingredients.
Greek yogurt

Unlike regular yogurt, Greek yogurt has been strained to remove whey, the liquid byproduct left over after milk undergoes the curdling process. This gives it a thicker, creamier texture while also removing a good portion of sugar and sweetness. (Which is why we'll be chocolifying this fruit dip with our secret ingredient.) With its significant protein levels and low fat and sugar content, Greek yogurt is not just healthy for dieters, it's healthy for everyone (dairy allergies and intolerances aside).
Collagen

Collagen is an often misunderstood buzzword circulating health stores and diet magazines. But it's building a reputation for good reason. Collagen is the most abundant protein in our bodies and works wonders on joint health, hair growth, and skin elasticity (meaning it helps keep skin youthful and tight). Because of this, it's growing in popularity as a dietary supplement. The thing is, while there are many different types of collagen, and our bodies need each of them for the different functions they serve, most supplements provide just one type.

The best collagen powder for this particular recipe, in my opinion, is Super Youth Multi Collagen Peptides powder. As the name suggests, it combines a variety of diverse yet complementary collagen types. In fact, there are five types of collagen from a variety of sources found in Super Youth! Super Youth collagen helps grow and strengthen hair and nails, smooths wrinkles and cellulite, and supports lean muscle. It also has digestive properties to restore healthy gut function and ease prevalent gut issues. 
What's even better is that Super Youth comes in a variety of delicious flavors, one of which is Chocolate Cake—perfect for this chocolate fruit dip recipe! But you can't talk about Super Youth Chocolate Cake Collagen without talking about it's deliciously rich chocolate taste, sans sugar and excessive calories. It has enough flavor to give your fruit dip a delectable taste that's OK to crave—no cheating needed!  
Chocolate Fruit Dip Nutrition Facts
Total calories: 162 calories
Carbs: 10g
Protein: 31g
Fat: 1g
Sugar: 7g
Fiber: 2g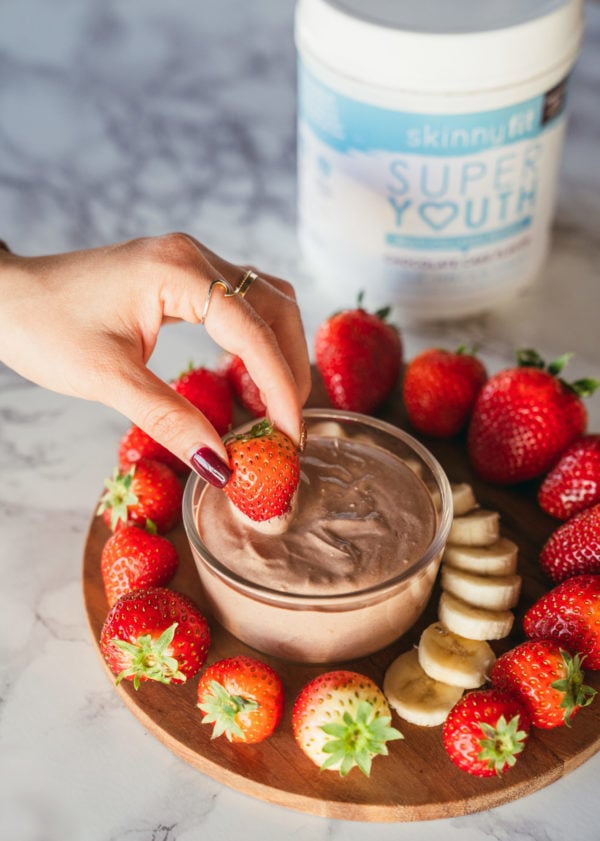 Healthy Fruit Dip Recipe
Get your health on while satisfying your sweet tooth with this healthy fruit dip recipe! It's creamy, chocolatey, and packed with protein to keep you feeling full for hours!
Prep Time: 5 minutes
Cook Time: -
Total Time: 5 minutes
Serving Size: 1 serving
Ingredients
1 cup plain Greek yogurt
1 scoop Super Youth Chocolate Cake collagen
1 tbsp cocoa powder
½ tsp vanilla
Stevia, to taste (optional)
Fruit for dipping (strawberries & bananas)
Steps
Place all ingredients in a medium-sized bowl. Using a spatula or large spoon, fold the ingredients into the yogurt and mix until it's well blended. Now you can start dipping your favorite fruits!
Total Calories: 162
Carbs: 10g
Fats: 1g
Protein: 31g
Sugar: 7g
Fiber: 2g