Jump To Recipe
I don't have the stats to back this up, but guacamole has got to be at least a zillion times more popular than any other party dip or dish. The creamy texture makes it perfect for almost any dipping snack—from pita chips to veggie cutlets, and of course tortilla chips. But what makes guacamole really shine is its surprisingly high nutritional value. It's absolutely loaded with incredible nutrients. So today, I'll be showing you how to make guacamole and what makes this one in particular a uniquely healthy guacamole recipe. 
We'll breeze through pro tips and secret ingredients, cover some fun guac facts, and I'll even sprinkle in a few puns for good taste. In a few short minutes you'll have an easy guacamole recipe that's sure to impress guests and may even make you feel years younger!
Okay, that's enough rambling from me. Let's dive in before this gets guacward. 😏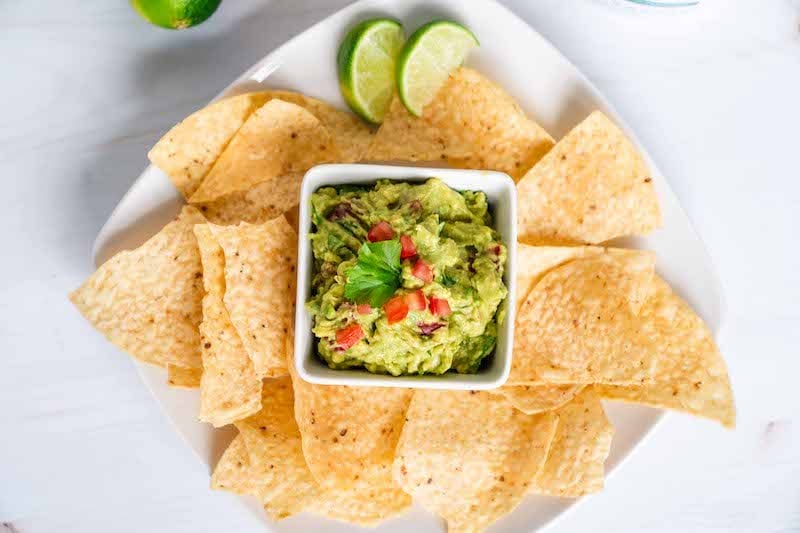 What Makes Guacamole Healthy?

What makes guacamole healthy is what makes guacamole, guacamole!
Avocados are extremely healthy. In fact, despite their high calorie and fat content, avocados are perfect for health and weight loss journeys. They are a healthy monounsaturated fat, which is shown to prolong satiation (content fullness) after meals, more so even than high-carb dishes. [1]
Avocados are also packed with super-healthy vitamins such as vitamins C, E, K, B-6, niacin, and folate. They're even a great go-to for hard-to-get minerals such as magnesium, manganese, and potassium. [2]
This healthy guacamole recipe calls for cilantro and tomato, both of which have been shown to help lower the risk and metastasis of breast and prostate cancer cells. Cilantro's antioxidants provide powerful cancer-fighting properties in each bite. [3] And the lycopene in tomatoes plays a modest yet notable role in prostate cancer prevention and reduction. [4]
Okay, that should be some good inspiration! Let's see how easy an easy guacamole recipe can be!
FUN GUAC FACT: Billy Gibbons, guitarist for ZZ Top is reputed to have a healthy guacamole recipe as face-melting as his blues guitar 🤘 🥑

How To Make Guacamole

Tip 1: Mash the avocados before mixing other ingredients

One of the secrets to a great guacamole is texture. You want to mash down the avocado to your desired consistency first. Slightly chunky is usually preferred. (Any other dads out there happy to hear that?! 🙌)
Tip 2: Add collagen & spices before other ingredients

Add collagen and powdered spices and seasoning into the mix first. This helps keep your tomatoes from getting over stirred and becoming watery.
Why collagen? We start losing our collagen supply after about age 30, so I always recommend adding a scoop or two into certain recipes to keep joints in good health and preserve skin elasticity. [5]
But the type of collagen you choose matters too! Most collagen powders on the market will leave your guacamole with a slightly grainy or chalky taste. I can't recommend SkinnyFit Super Youth unflavored collagen enough because it dissolves perfectly after stirring and has a completely undetectable taste.
Tip 3: Keep it simple

Simplicity is often one of the best ingredients! To keep this an easy guacamole recipe, refrain from going overboard with every tasty option in your fridge or spice rack. Sticking to a few choice ingredients allows natural avocado flavors to really pop. Not to mention, the fewer the ingredients, the fewer the calories. This also helps keep it a more healthy guacamole recipe. 
Tip 4: Use a molcajete 

To make a truly authentic guacamole, and to get the perfect texture, this recipe calls for a molcajete (mohl-kah-heh-te), which is a large stone bowl and pestle/masher. It's easy to use, but watch your fingers—you don't want to find them between a guac and a hard spot!
Dad jokes aside, this guacamole recipe is a tasteful balance between trendy and traditional, with ample health benefits and incredible taste. Lean on it for anything from game nights to Cinco De Mayo parties to an afternoon snack. 
FUN GUAC FACT: Avocado cultivation began in Mexico some 10,000 years or so ago. Guacamole has been a thing since the Aztecs invented what they called "āhuacatl", literally translating to avocado sauce.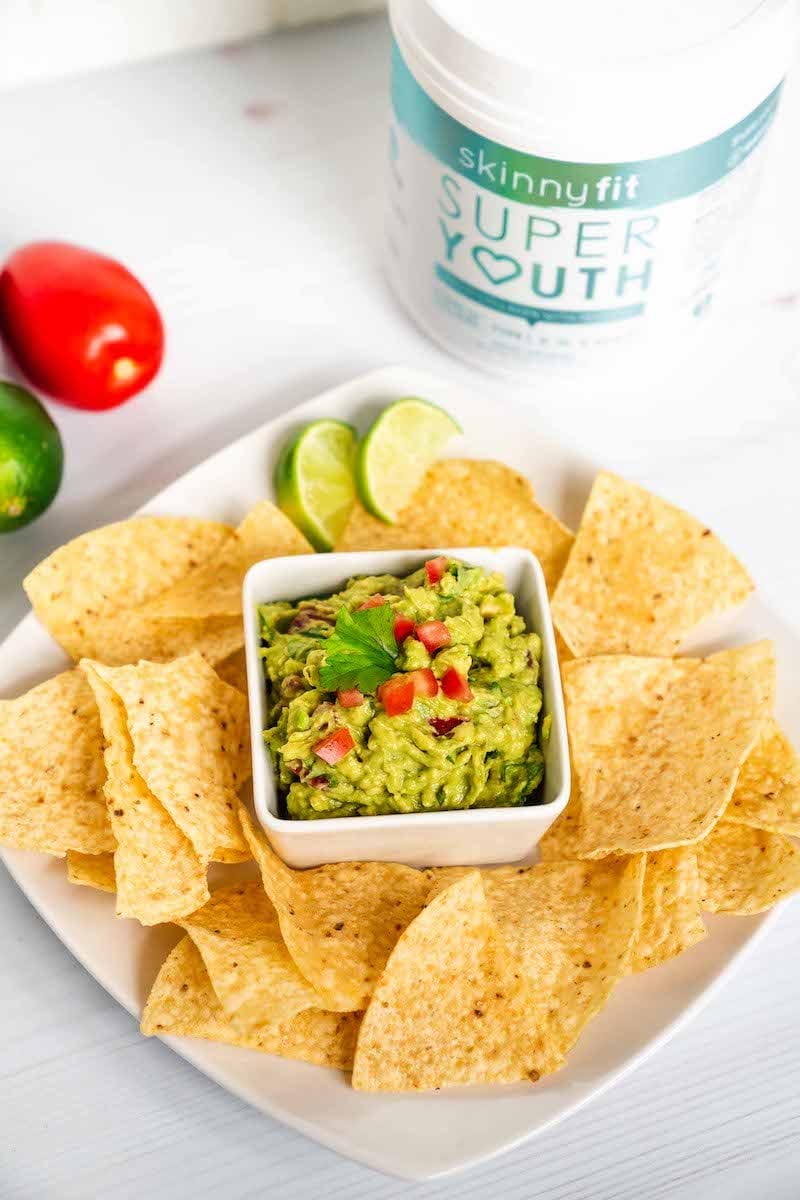 How To Keep Guacamole From Turning Brown

Okay, great! Now that you know how to make guacamole like a world-famous chef, it's time to store it without it turning brown. Even with such an easy guacamole recipe to follow, letting it go bad quickly would be a shame. Follow these steps to keep guacamole fresh:
To keep guacamole from turning brown, seal it in an airtight container when finished and place into the refrigerator as soon as possible. 
Put guacamole into a container and gently flatten it down
Pour a small amount of water over it to help protect from air
Seal the container with an airtight lid, or cover with plastic wrap and pat to eliminate air bubbles.
Place in the fridge.
That's it! When it's time to dip again, just remove the liquid and you're good to go!
How Long Is Guacamole Good For?

You already know this healthy guacamole recipe is good for you, but how long is it good for? 
If you seal it off in a good airtight container, you should be able to enjoy your guacamole for another 2 days. Putting it in the freezer will help it stay good for up to 3 months, and it defrosts perfectly. 
FUN GUAC FACT: If you want people to really *sing* praises about your guac, consider buying your avocados from Jason Mraz. The groovy SoCal singer/songwriter also owns an organic farm with avocados as their star produce.
Healthy Guacamole Recipe
This healthy guacamole recipe is healthy and perfect for game nights, dinner parties, and Taco Tuesdays! Plus, our secret ingredient makes it even healthier!
Prep Time: 5 minutes
Cook Time: 5 minutes
Total Time: 10 minutes
Serving Size: 10 minutes
Ingredients
3 medium-sized, ripe avocados
2 scoops of Super Youth Unflavored Collagen Peptides
½ tsp ground cumin
½ tsp garlic powder
½ tsp onion powder
½ - 1 tsp sea salt
¼ tsp freshly ground black pepper
1-2 tbsp lime juice
2 tbsp chopped fresh cilantro
2 small tomatoes, diced
Steps
Cut open avocados lengthwise, remove the pit, and use a spoon to scoop out the flesh into a medium-sized mixing bowl.
Use a molcajete to mix mash the avocado. If you don't have a molcajete, use a potato masher or fork and gently mash the avocado, leaving it a little bit chunky at this point.
Add Super Youth collagen, cumin, garlic powder, onion powder, ½ tsp salt, pepper, and 1 tbsp lime juice.