Jump To Recipe
Making a healthy pasta sauce from scratch can feel pretty intimidating if you've never made it before. In theory, pasta sauce sounds like it would be complicated, but the truth is that homemade pasta sauce is actually pretty easy to make! This simple pasta sauce recipe only requires 5-ingredients (plus one bonus ingredient) to make the healthiest, low-calorie pasta out there!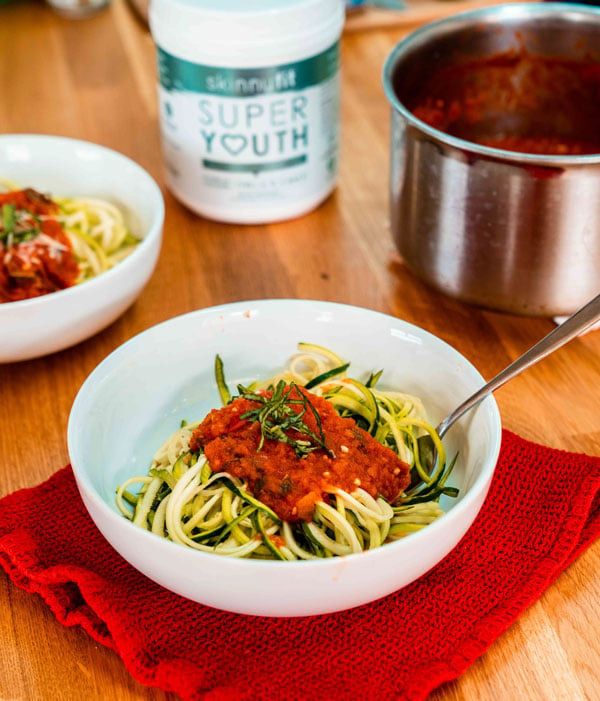 A Simple Pasta Sauce For Busy Nights
Busy weeknights can be detrimental to a diet. Why? Because when you're short on time convenience tends to take priority, meaning, it's pre-made pasta noodles and sauce from a jar—not that there's anything wrong with it, it's just not the healthiest option.
This simple pasta sauce is only 5-ingredients and they are ingredients you most likely have around the house already, score!
Low-Calorie Pasta FTW!
This healthy pasta sauce recipe also calls for a noodle swap. As you most likely know, pre-made pasta noodles aren't the healthiest type of carbs when you're trying to lose weight, which is why we're giving you a special low-calorie pasta noodle replacement instead.
Ever heard of zucchini noodles before? It's basically noodles made out of zucchini! You'd be surprised at how simple it is to make zucchini noodles, too. All you need is a spiralizer! Simply send the zucchini squash through the spiralizer and voila, zucchini noodles! This is a great alternative to regular pasta noodles because they are carb-free, gluten-free, and most importantly, makes this a low-calorie pasta recipe you will actually enjoy eating.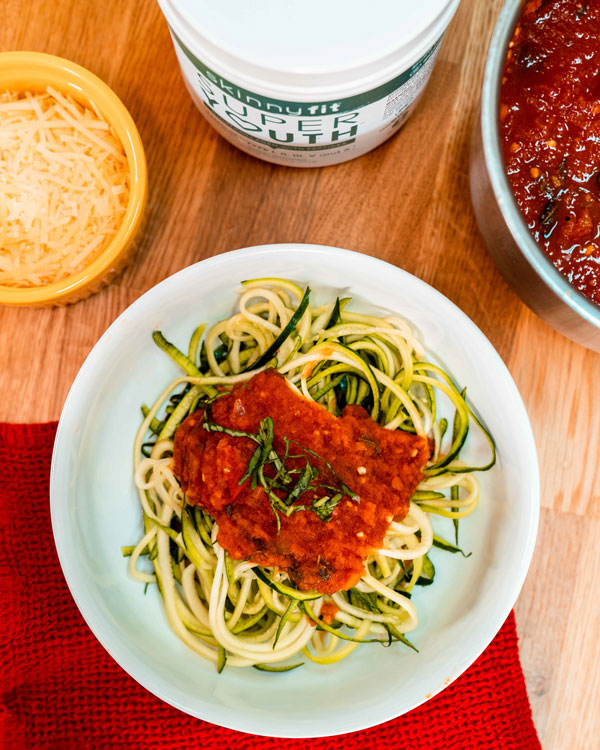 What's In This Healthy Pasta Sauce?
Did you know that most pasta sauce recipes are actually pretty unhealthy? Believe it or not, sugar is found in most store-bought pasta sauces and is a more common ingredient than you might think! Even the ones you think are healthy, like the simple marinara ones, can actually be packed with sugar! In fact, the average jar of pasta sauce contains 9g of sugar per serving—wowza!
Sugar has been named the primary culprit of our nation's obesity epidemic over the last decade, and for good reason. Sugar spikes your insulin levels and is digested as glucose in your body (a type of carbohydrate). The only problem is that your body can only process so much glucose at any given time and when excess glucose is digested, it's stored as fat—and the chances of this happening only increases when you pair it with an already carb-heavy meal, like pasta. 
But this healthy pasta sauce recipe is different. We've stripped it down to only include the essentials, plus one special ingredient, SkinnyFit Super Youth.
We include SkinnyFit Super Youth to the recipe for a few reasons… SkinnyFit Super Youth is a multi-collagen peptide blend that replenishes your body with the collagen you naturally lose as you age. By adding it to this healthy pasta sauce recipe you can actually smooth fine lines and wrinkles, improve joint and bone health, and even accelerate fat loss!
SkinnyFit Super Youth is also flavorless and odorless which makes it a great addition to any recipe! Now you can make this healthy pasta sauce recipe even healthier!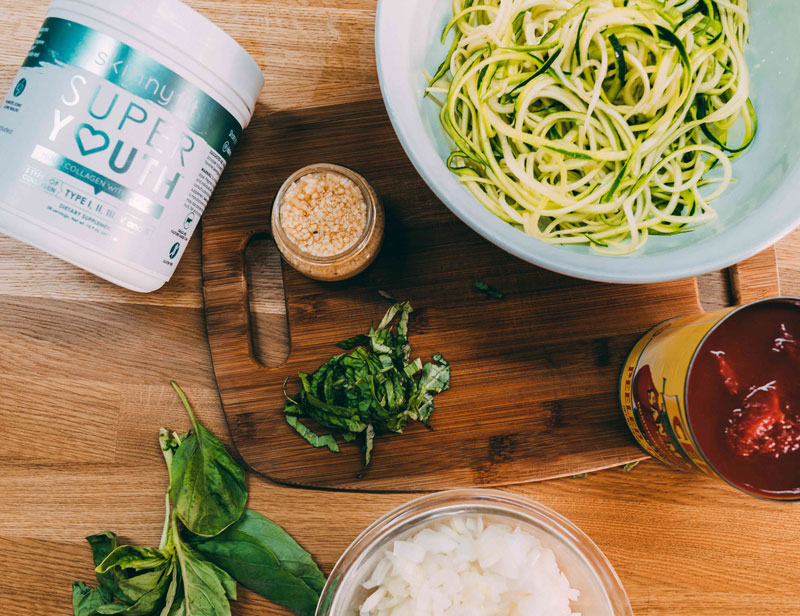 Healthy Pasta Sauce With Zucchini Noodles
If time is of the essence in your kitchen, this healthy pasta sauce and zucchini noodle recipe is a must try! It's only 5-ingredients and the best low-calorie pasta sauce out there.
Prep Time: 10 minutes
Cook Time: 30 minutes
Total Time: 40 minutes
Serving Size: 4 servings
Ingredients
1 medium yellow onion, chopped
2 garlic cloves, minced
2 tbs olive oil
1 can whole peeled tomatoes, 28 oz.
¼ tbs chili flakes
2 scoops SkinnyFit Super Youth
4 large zucchini squash
Salt & pepper to taste
Fresh basil for topping (optional)
Steps
Heat 1 tbs olive oil in a medium skillet over medium-low heat. While the skillet is heating up, puree the onion in a food processor with the remaining olive oil. Add to the skillet and saute, stirring frequently, until softened and translucent, not browned. About 8 minutes.
While the onion is cooking, puree the tomatoes (without their juice) in a food processor. Set aside.
Add the garlic and chili flakes and saute until fragrant, about 1 minute. Pour in the tomato puree and then using a sieve or strainer, strain the remaining tomato juice into the pan. Add Super Youth and pinch of salt and pepper.
Simmer gently until it becomes thick and the flavors have some time to meld together. About 20 minutes.
While sauce is simmering, heat up 1 tbs of olive oil on a pan on medium-high heat and spiral the zucchini using a spiralizer.
Once the pan is hot, place the zucchini noodles on the pan and sautee for 2-3 minutes until the zucchini is warm.
Scoop sauce over zucchini noodles and top with fresh basil and freshly grated parmesan cheese.