Jump To Recipe
If you order iced coffee all year, we'd get along. I don't care if it's 100℉ or 10℉, I like my drinks cold. That means I enjoy smoothies all year, too. I don't get sick of them, nor does the temperature bother me. Plus, I have so many smoothie recipes that I need a whole year to enjoy them all!
Just because the temperature of my drinks doesn't change, doesn't mean the flavors don't. As soon as fall hits, I blend up my Pumpkin Spice Smoothie. There's no pumpkin spice recipe that compares, not even the beloved latte. Yes, I said it!
With National Pumpkin Spice Day around the corner (October 1st!) I thought it was only fitting for me to share one of my fall favorite smoothie recipes. It's pumpkin-y and full of fall spices, without being overpowering. One sip of my Pumpkin Spice Smoothie, and you'll be hooked!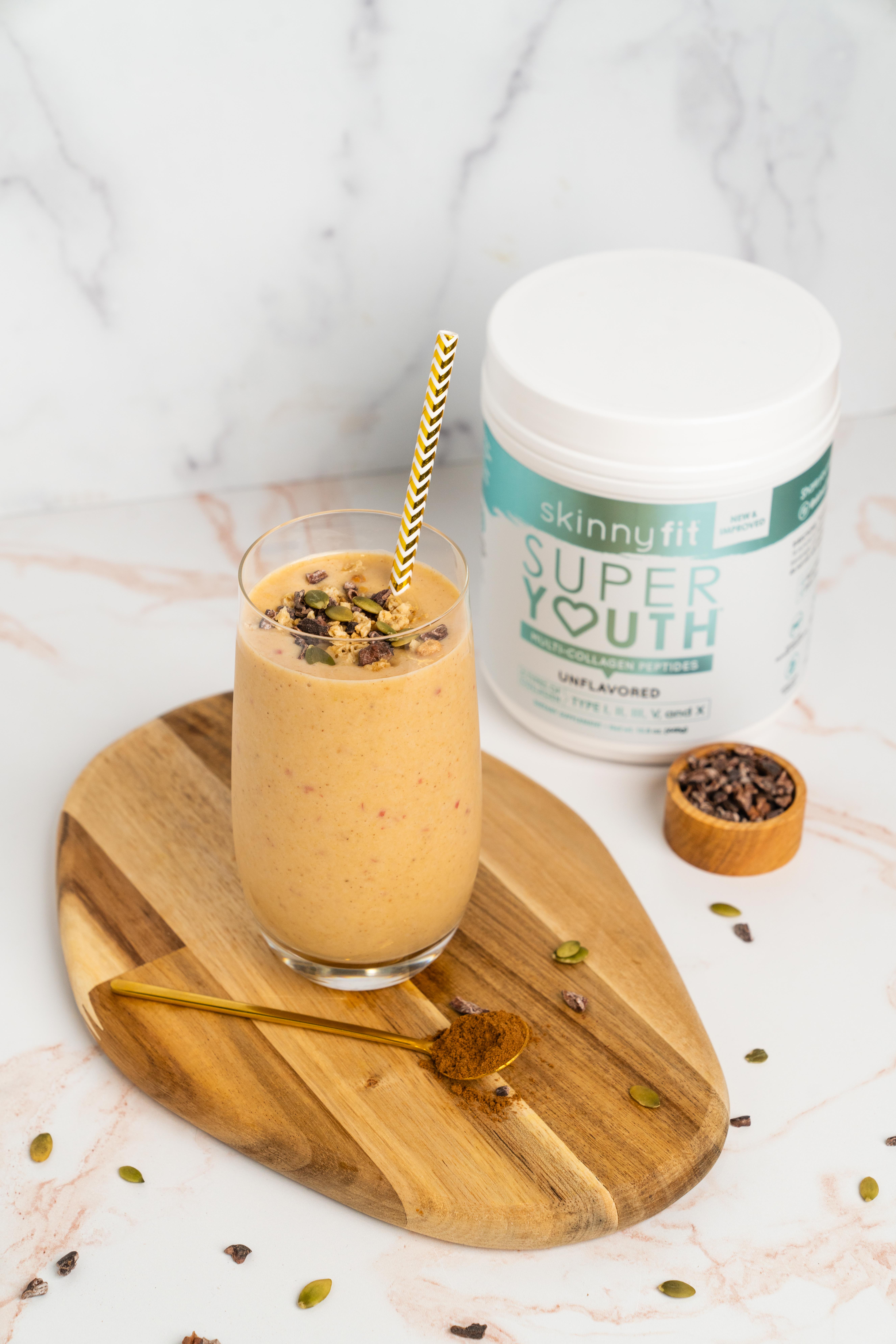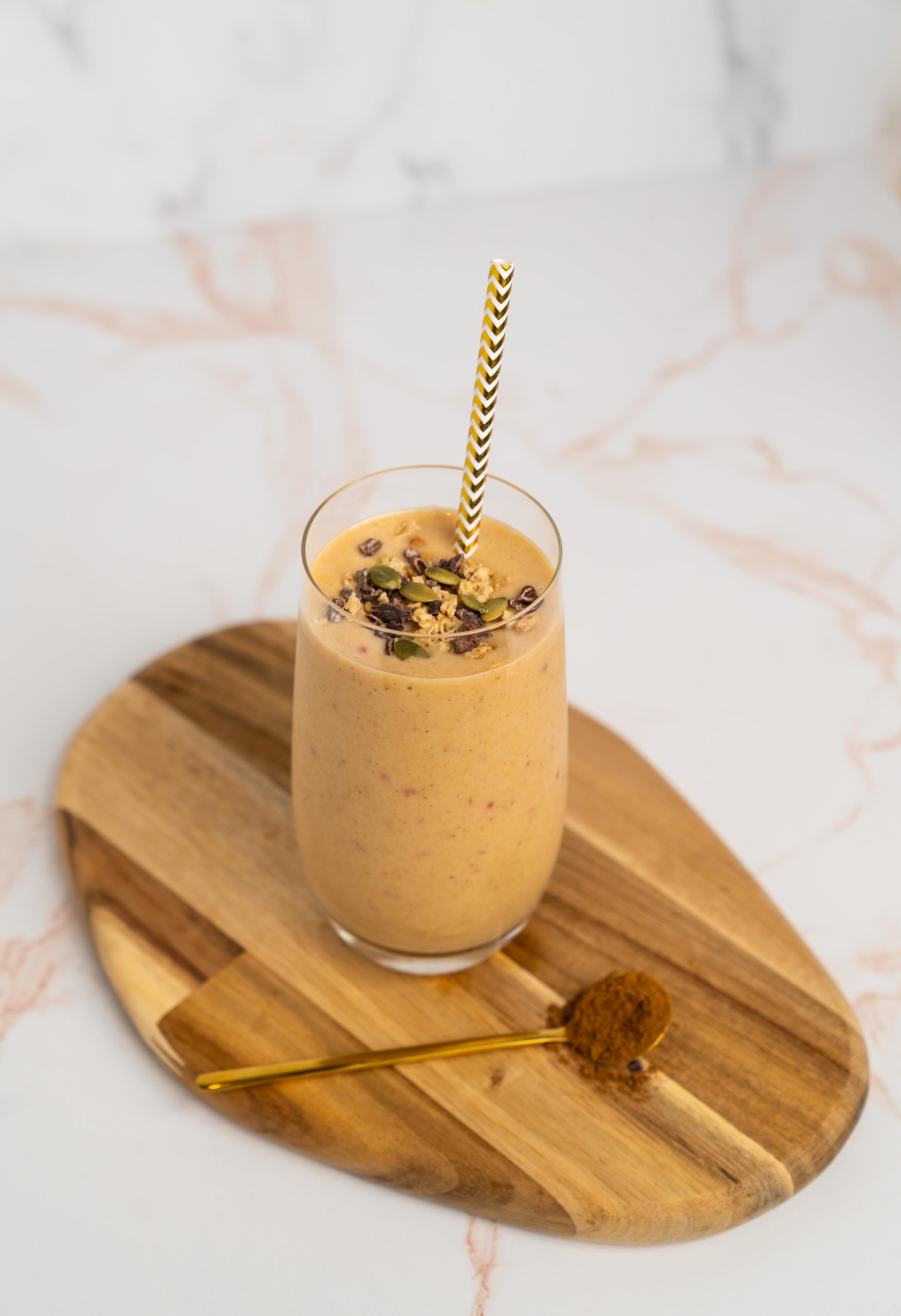 Pumpkin Spice Smoothie Health Benefits
Smoothies are just healthy milkshakes, right? I would say so, and this pumpkin spice recipe is no exception. There are a few main ingredients in this recipe that make it so healthy. In my opinion, all great smoothie recipes include bananas. They're a great source of potassium, they add a great texture to the smoothie, and they can aid in digestion. [1] The most important base ingredient in this recipe is, of course, pumpkin! This seasonal vegetable is a great source of vitamins A and C. These vitamins can help boost immune function, and help reduce inflammation in the body. [2] Plus, it's delicious. Next up, my favorite spice of all time — cinnamon! Cinnamon is a delicious addition to any smoothie, but it also comes with a list of benefits. It can help balance blood sugar and acts as an antioxidant. [3] Feel free to measure the cinnamon with your heart!
Last but not least is Unflavored Super Youth collagen. Collagen is a must-have ingredient. First, it goes completely undetected because it doesn't taste like anything. Next, it's incredible for our gut, skin, and joints. [4, 5] I add collagen to just about every recipe I make, and for good reason. 
Mentioned In This Post
SkinnyFit Unflavored Collagen
Look and feel younger with Super Youth Multi-Collagen Peptides! This versatile collagen powder includes 5 collagen types from 4 natural sources to restore youthfulness from the inside out.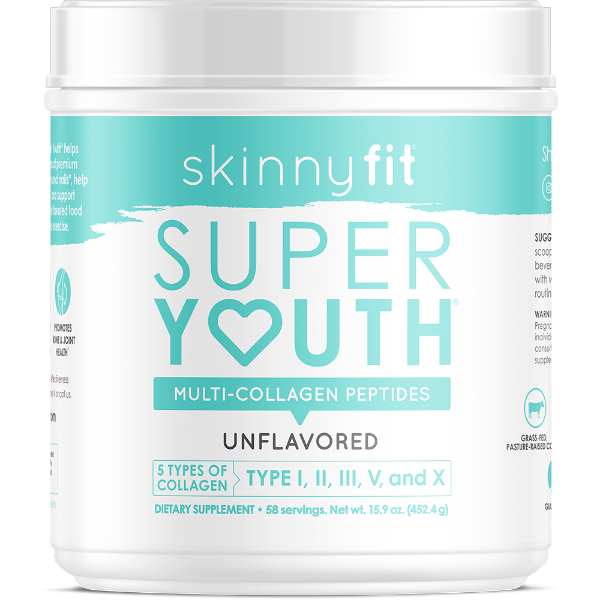 Healthy Pumpkin Spice Smoothie For Fall
This recipe is so simple, and so delicious, I can't wait for you to make it. Enjoy!
Prep Time: 5 mins
Cook Time: n/a
Total Time: 5 mins
Serving Size: 2 servings
Ingredients
1/2 cup pumpkin purée
1 frozen ripe banana
1 cup apple chunks
1/2 cup plain Greek yogurt
1/3 cup almond milk (or milk of choice)
1 tbsp maple syrup
1 tsp vanilla
1/2 tsp pumpkin pie spice
1/4 tsp cinnamon
1/2 cup ice
2 scoops Unflavored Super Youth
Steps
Add all prepped ingredients to a blender or processor and mix until smooth and creamy, or until desired consistency.  
Serve and top with a scoop of granola, chopped nuts, cacao nibs or simply enjoy all on its own for a delicious breakfast, snack or dessert!