Jump To Recipe
With so many people posting about St. Patrick's day desserts, I thought it would be a great idea to introduce a healthier treat to the mix. Artificially colored drink recipes do not excite me. Which is why I created this all-natural, delicious shamrock shake recipe. Instead of making unnaturally bright cocktails and cookies this year, you can enjoy a yummy, guilt-free shake.
It's the perfect celebratory green, full of good-for-you ingredients, and will help you feel alert and ready for the day.
Festive & Full of Benefits!
One look at the ingredients and you may think this is a prank drink. Before you write off this delicious shamrock shake recipe, let me explain. First, the avocado goes completely unnoticed. All it does is add a creamy, smooth texture. Second, frozen spinach tastes like water. Trust me, I use frozen spinach in almost all of my smoothies and you'd never know it's in there. If I had to describe this shake in one sentence, I would say it's refreshing and minty. Because it is!
Most low calorie desserts are bland or teeny tiny. When I'm in charge of making something healthy, I make low calorie desserts that are bursting with flavor and protein – two things that make you feel more satisfied. This shamrock shake recipe is no exception. It's so tasty and perfect for celebrating St. Patricks' Day without overloading on sugar.
What I love most about this recipe (besides the flavor) is that it contains 14 grams of protein without altering the taste at all. Most protein powders leave a gritty taste in my shakes and smoothies. Super Youth Unflavored is a hydrolyzed collagen, so it dissolves easily and goes completely undetected. This makes adding protein to just about anything – sauces, dressings, shakes – so simple. 
This is the perfect recipe to surprise your girlfriends with this St. Patrick's Day. Even if you end up on the town later for a few green cocktails, you'll feel good knowing you started the day with a healthy, protein-packed drink.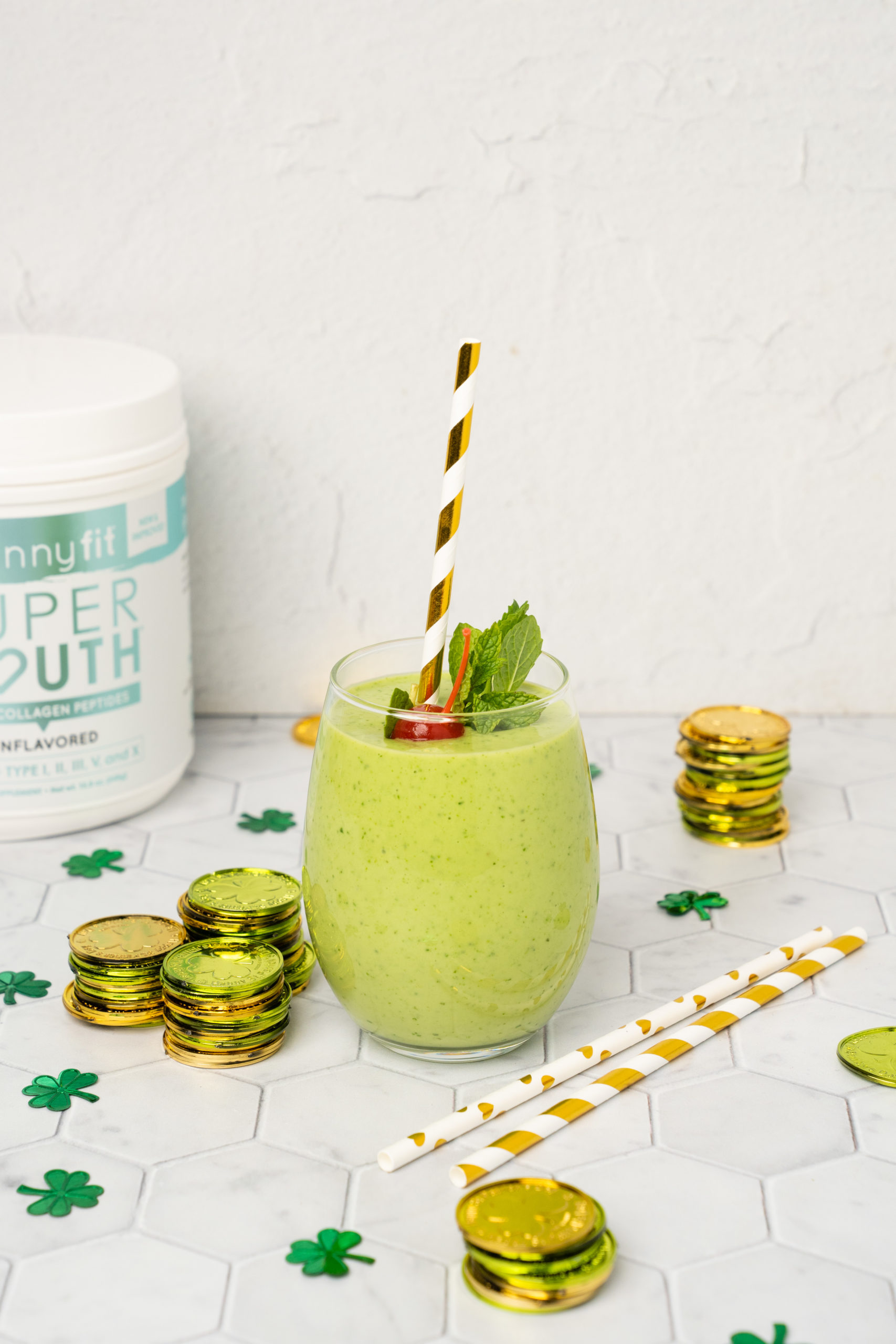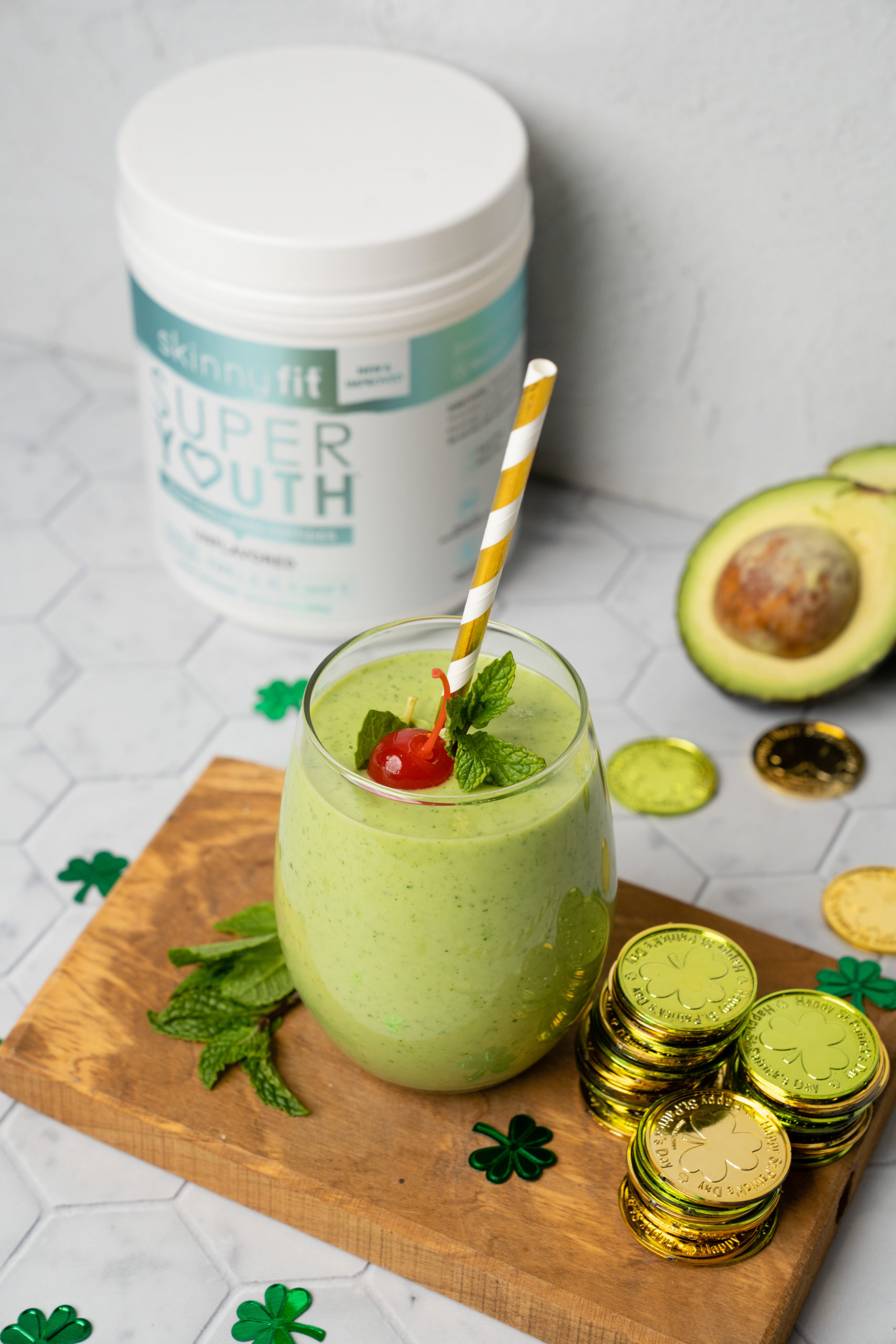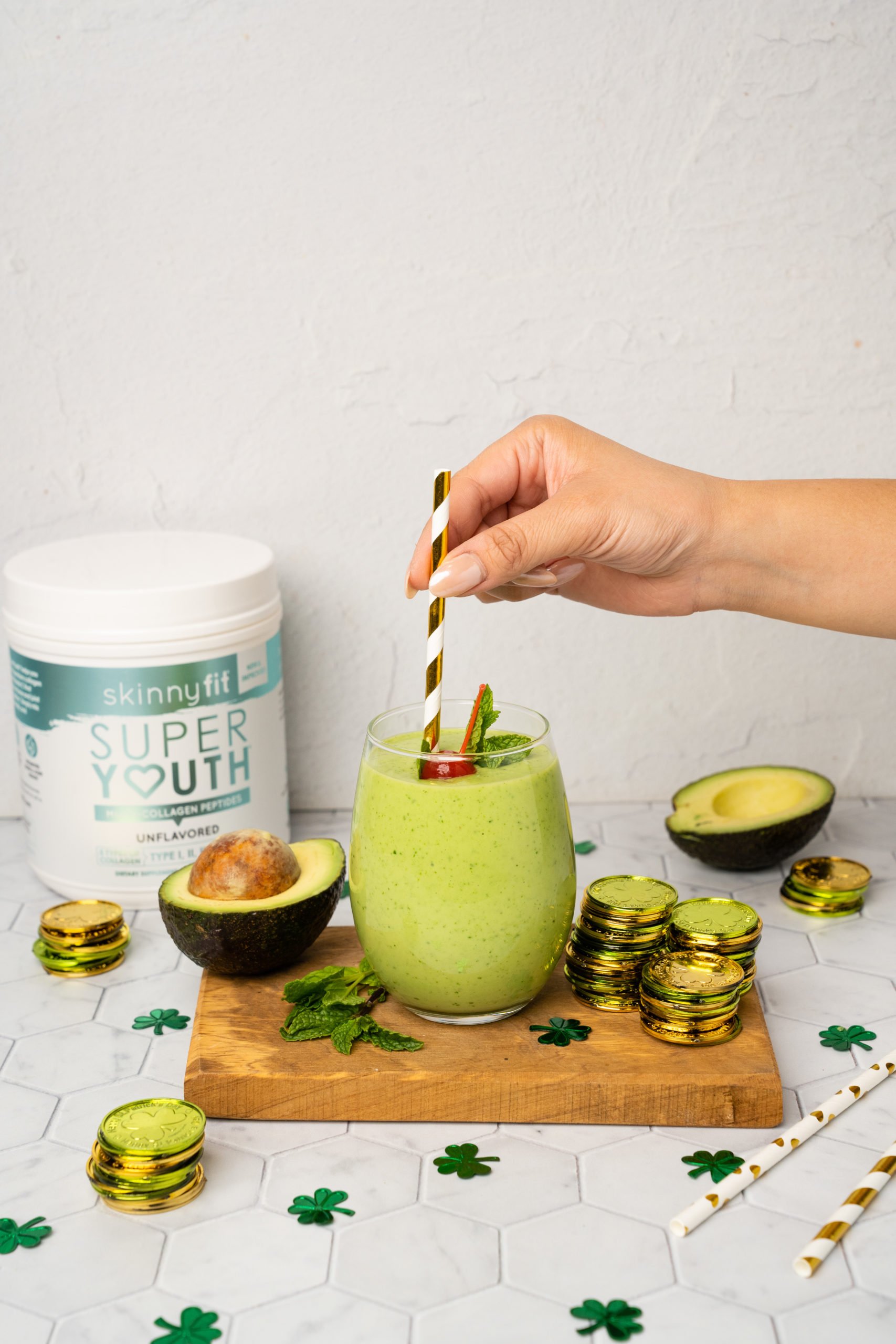 Mentioned In This Post
SkinnyFit Unflavored Collagen
Look and feel younger with Super Youth Multi-Collagen Peptides! This versatile collagen powder includes 5 collagen types from 4 natural sources to restore youthfulness from the inside out.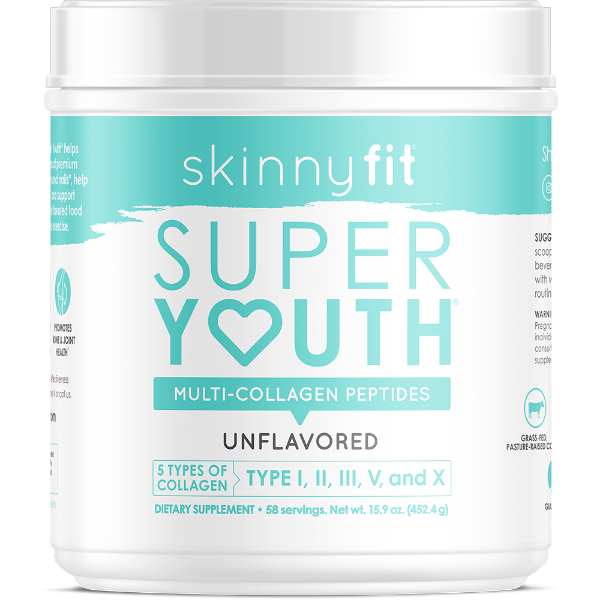 Healthy Shamrock Shake
Prep Time: 5 minutes
Cook Time:
Total Time: 5 minutes
Serving Size: 2 servings
Ingredients
2 Scoops Super Youth Unflavored
¾ cup milk
½ cup vanilla Greek yogurt
1 avocado
½ tsp pure vanilla extract
1 cup frozen spinach
10-15 fresh mint leaves, washed
2 tbsp honey
½-1 cup ice (optional)
Steps
Instructions:
Add ingredients to blender in the order listed
Blend, starting on low speed, then increasing until mixture is smooth
Pour and serve, topped with whipped cream or chocolate shavings!