Jump To Recipe
Savor the flavor without the calories! This is the most delicious healthy spinach artichoke dip you'll ever have!
I am transported to my happy place when a giant string of cheese stretches from my plate to my mouth. 🤑 My go-to dish for achieving this wondrous moment for my eyes, taste buds, and tummy? Healthy spinach artichoke dip. 
Who says being cheesy can't be healthy, too? I've had my fair share of artichoke dips, and the majority of them, while delicious, often contain ingredients that my diet would shun me for. And far too often these so-called "healthy artichoke dips" are dripping in grease—no thank you!
Today, I present to you a healthy spinach artichoke dip, cue drum roll please…that's actually healthy! 🙌
Ready for the recipe? Let's break down this healthy spinach dip and find out what our bodies are in for!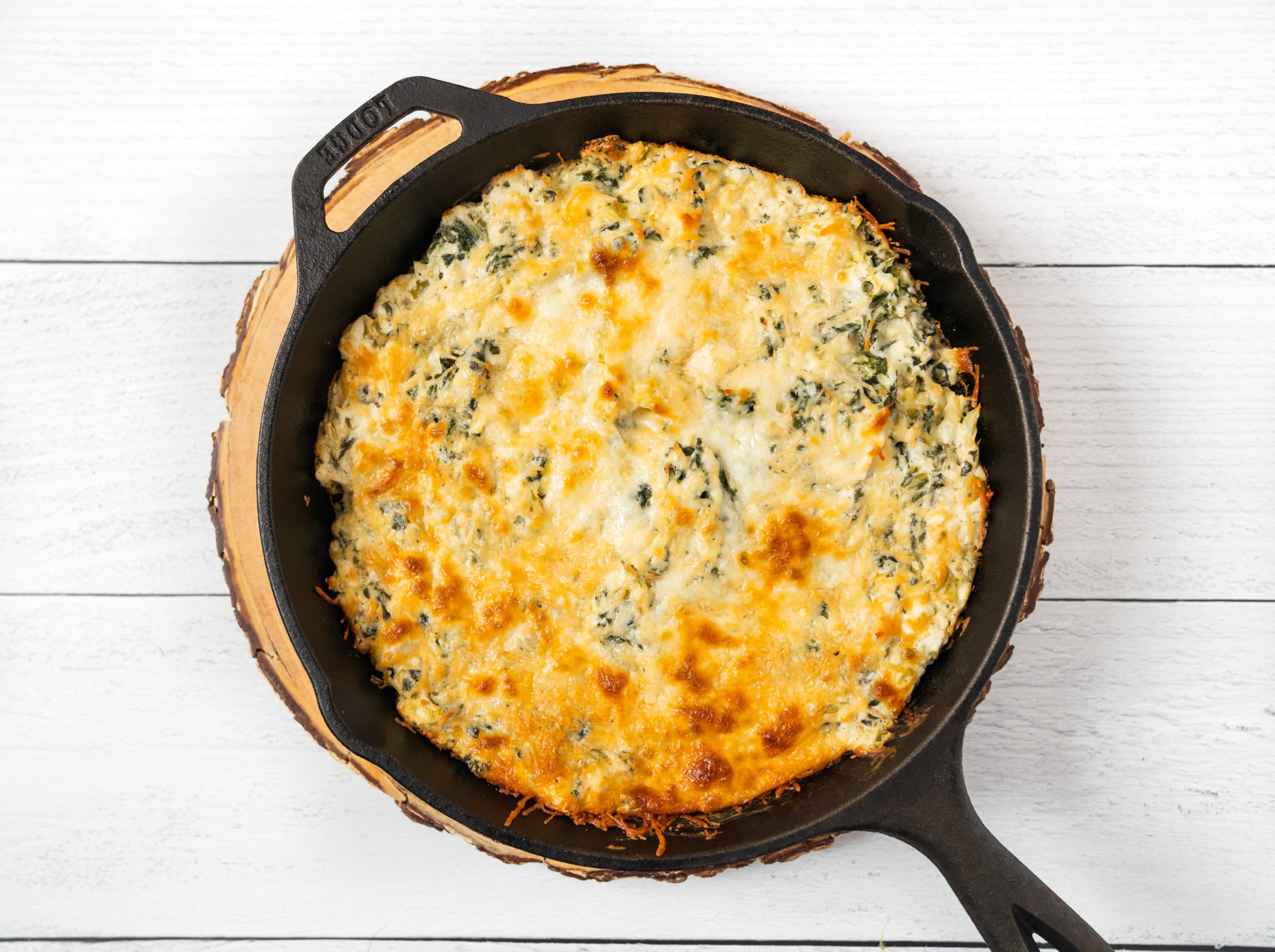 What's In This Healthy Artichoke Dip?
Spinach
Leave it to a cartoon character to put spinach on the map. Kudos to you, Popeye the Sailor Man, because spinach is now associated with impressive, healthy physiques, and for good reason! Spinach is jam-packed with nutrients and antioxidants, and, if I do say so myself, and I do, it's one of the most delicious of the greens. Spinach contains fiber, which leaves your digestive system feeling calm, cool, and collected—and not constipated! Yay! These lovely leaves also contain important vitamins and minerals, including vitamin A, vitamin C, folic acid, and iron, and calcium. Spinach is also great for eye health because it contains zeaxanthin and lutein. Zeaxanthin and lutein are found in high amounts in the human eye, because they protect your eyes from damage caused by the sun (1). I could go on and on about spinach, like how it can also help with blood pressure, or how it helps fight oxidative stress, but I think you get the picture. It's no wonder why I put spinach at the forefront of this healthy spinach dip! 
Artichoke
Okay spinach, you've had your moment, let's talk about artichoke for a minute, the second star of this healthy artichoke dip. Okay, I want you to brace yourself, I'm about to change everything you thought you knew about the world. No I'm just kidding, just about artichokes, but seriously, this is kind of crazy. Artichoke is actually not a vegetable. I'll give you a moment to let that sink in…
…okay I'm back, how are you feeling? Contrary to popular belief, artichokes are actually not a veggie, they are a type of thistle. Think of them as a plant vegetable, if you will. If I'm the only one who was blown away by this information, please disregard my previous paragraph so I'm not embarrassed. 🤣 Artichokes are loaded with nutrients, including vitamin C, vitamin K, folate, potassium, and zinc, just to name a few. Artichokes also improve digestive health, may improve liver health, and most importantly, taste insanely delicious (2). Add it to your healthy spinach artichoke dip and you've a recipe for health success!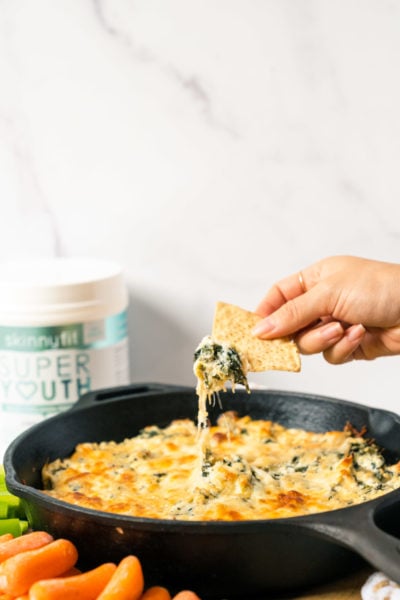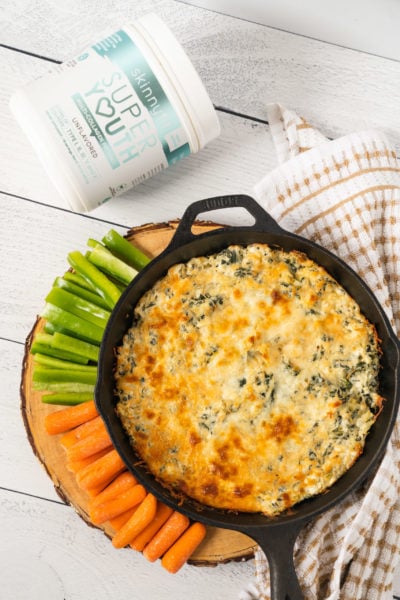 What Makes This Healthy Spinach Dip Different?
I'm glad you asked. You can go to any ol' restaurant and find a (probably frozen) healthy artichoke dip. But is that healthy spinach dip you just ordered actually healthy? Chances are, it probably isn't, and chances are even higher that they don't have my secret ingredient…Super Youth collagen! 
Who knew that a healthy spinach artichoke dip could hold anti-aging powers too?! Super Youth collagen works wonders for the skin. Whether your skin has signs of aging already, or if you're using it for preventative measures, the undetectable powder in this healthy artichoke dip is universally beneficial. It helps smooth out stubborn lines and wrinkles, can firm your skin, reducing the appearance of cellulite, and increases skin flexibility and hydration. Talk about a recipe for youth! 
Super Youth is also amazing for bones and joints. It helps improve their strength and can even alleviate joint pain and stiffness. By improving your flexibility, your daily movements become pain-free! That's one healthy spinach dip, if I do say so myself! 
The secret Super Youth ingredient in this healthy spinach artichoke dip also strengthens and helps grow healthy hair and nails that can become weak and damaged as we age. Man, I just re-read all of that, and I must say, this healthy artichoke dip really does do it all!
Okay okay, I'll stop talking now and leave you gorgeous cooks to cookin' your new favorite healthy spinach artichoke dip, enjoy! 
Mentioned In This Post
SkinnyFit Unflavored Collagen
Look and feel younger with Super Youth Multi-Collagen Peptides! This versatile collagen powder includes 5 collagen types from 4 natural sources to restore youthfulness from the inside out.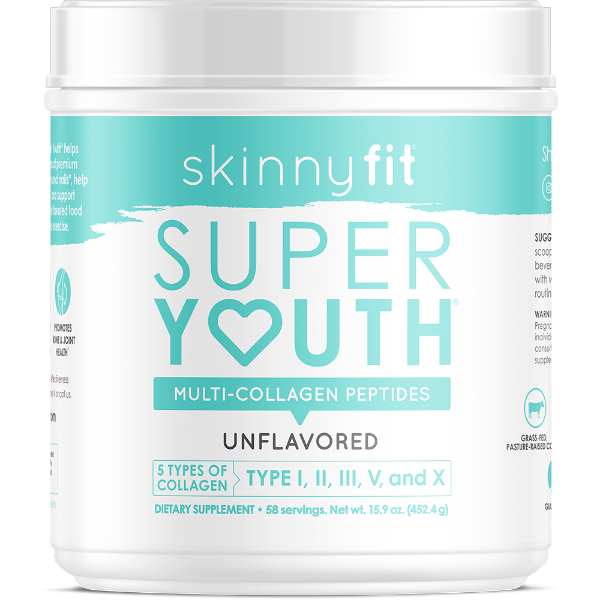 Healthy Spinach Artichoke Dip Recipe
Savor the flavor without the calories! This is the most delicious healthy spinach artichoke dip you'll ever have!
Prep Time: 10 minutes
Cook Time: 25 minutes
Total Time: 35 minutes
Serving Size: 1 serving dish
Ingredients
1 package reduced fat cream cheese (8 oz)
1 cup plain Greek yogurt
2 cloves garlic, minced
¼ tsp salt
¼ tsp black pepper
½ teaspoon onion powder
1 can artichokes (14 oz), drained & chopped
1 package frozen chopped spinach )10oz), thawed, squeezed to drain of excess liquid
1 ¼ cups mozzarella cheese
½ cup parmesan cheese
1-2 scoops Super Youth unflavored collagen
1 can mild, diced chiles (4 oz)
¼ tsp red pepper flakes
Steps
Preheat the oven to 400 degrees.
In a large bowl, stir together the softened cream cheese, Super Youth collagen, yogurt, garlic, salt, pepper, red pepper flakes, and onion powder until combined.  Add the artichoke hearts, spinach, 1 cup of the mozzarella cheese, and green chilies and stir well.
Transfer the dip mixture into a 1.5-2 quart baking dish and sprinkle with the Parmesan cheese and remaining ¼ cup of mozzarella cheese.  
Bake for 25-30 minutes, until hot and bubbly. Serve with chips, crackers, chunks of crusty bread, or veggies.