Jump To Recipe
T'is the season of feasting! Here are our top 5 favorite recipes to help make the holidays way healthier!
Can you feel it? That tremor in your stomach? It's not the growing excitement for the holidays—oh, no… no no no. It's your diet freaking out about the upcoming centuries-old excuse to stuff your face, which we've come to nostalgically regard as Thanksgiving, the caloric apex of the American calendar. And if you think enduring your relatives' unrelatable political views is going to be your biggest challenge, clearly you've forgotten how hard it is to find healthy Thanksgiving sides on November 25th. 
Well, I'm happy to say that I'm sharing five of my all-time favorite healthy Thanksgiving recipes that will help ensure the season's diet doesn't set you back on your health goals, but doesn't disappoint your tastebuds either.
What makes each of these Thanksgiving side dish recipes unique, even among the most healthy Thanksgiving sides, is that they each call for Super Youth Collagen peptides, an unparalleled high-quality multi-collagen blend that helps strengthen joints, tighten, protect and hydrate skin, and thicken and brighten hair. Between the mental and dietary stress of the holidays, this boost of anti-aging support will be your best friend, from Thanksgiving through New Year's, and well beyond. [1, 2, 3]
Cauliflower Mashed Potatoes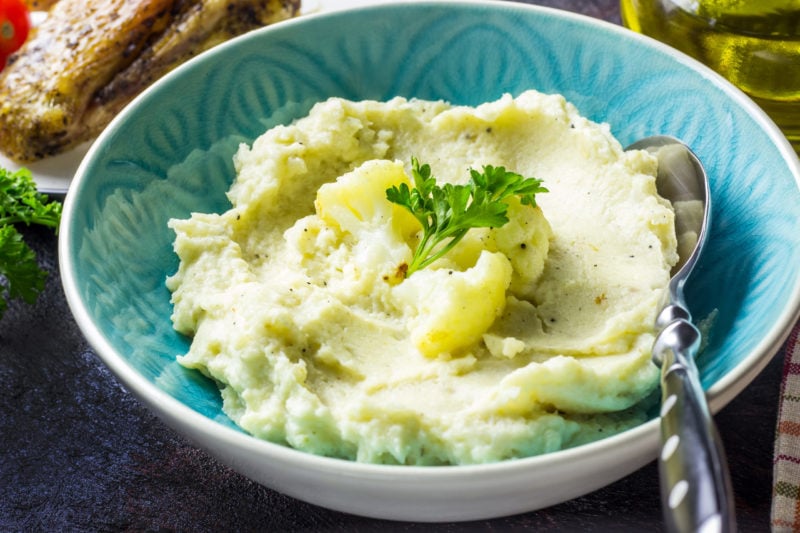 Looking for healthy Thanksgiving sides that will please everyone at the table? Cauliflower mashed potatoes are your magic ticket. Traditional mash potatoes are one of the most popular Thanksgiving side dish recipes. They're also super caloric and packed with heavy starches and butter to boot. Substituting potatoes with cauliflower dramatically reduces both calories and carbohydrates, while maintaining taste and providing heaps of important vitamins, minerals, and micronutrients [4]. The inclusion of Super Youth Collagen peptides provides anti-aging benefits. This is why it's one of my favorite healthy Thanksgiving side dish recipes.
Prep Time: 10 min
Cook Time: 20 min
Total Time: 30 min
Servings: 6-8 servings
Ingredients:
2 ½ lbs Cauliflower (~3 heads)
2 cups water
3 tablespoons salted butter (2 melted and 1 for garnish)
1 ¼ tsp salt
½ tsp pepper
¼ tsp garlic powder
¼ tsp onion powder
1 tbsp chopped chives
2 scoops Super Youth Collagen (Unflavored)
Instructions:
Wash the head of cauliflower. Then remove the leaves and stem, and cut it into florets.
Add a steamer insert to a large soup pot. Add 2 cups of water, cover, and bring the water to a boil over high heat. Add the cauliflower and steam until it's fork tender (about 13-15 minutes for 1-2 heads, or 17 minutes if you are using 3 heads).
Remove the cauliflower from the pot and let it cool enough to handle. Discard the steaming liquid leftover.
Add the steamed cauliflower florets to a cheesecloth or thin towel and squeeze to remove the excess liquid.
Add the cauliflower to a food processor then pulse and puree until nice and smooth.
Add the melted butter, salt, pepper, garlic powder, Super Youth collagen, and onion powder and blend until well combined, scraping the sides and bottom of the food processor as needed.
Stir in the chopped chives and add a pat of butter on top. Serve immediately.
Vegan Mushroom Gravy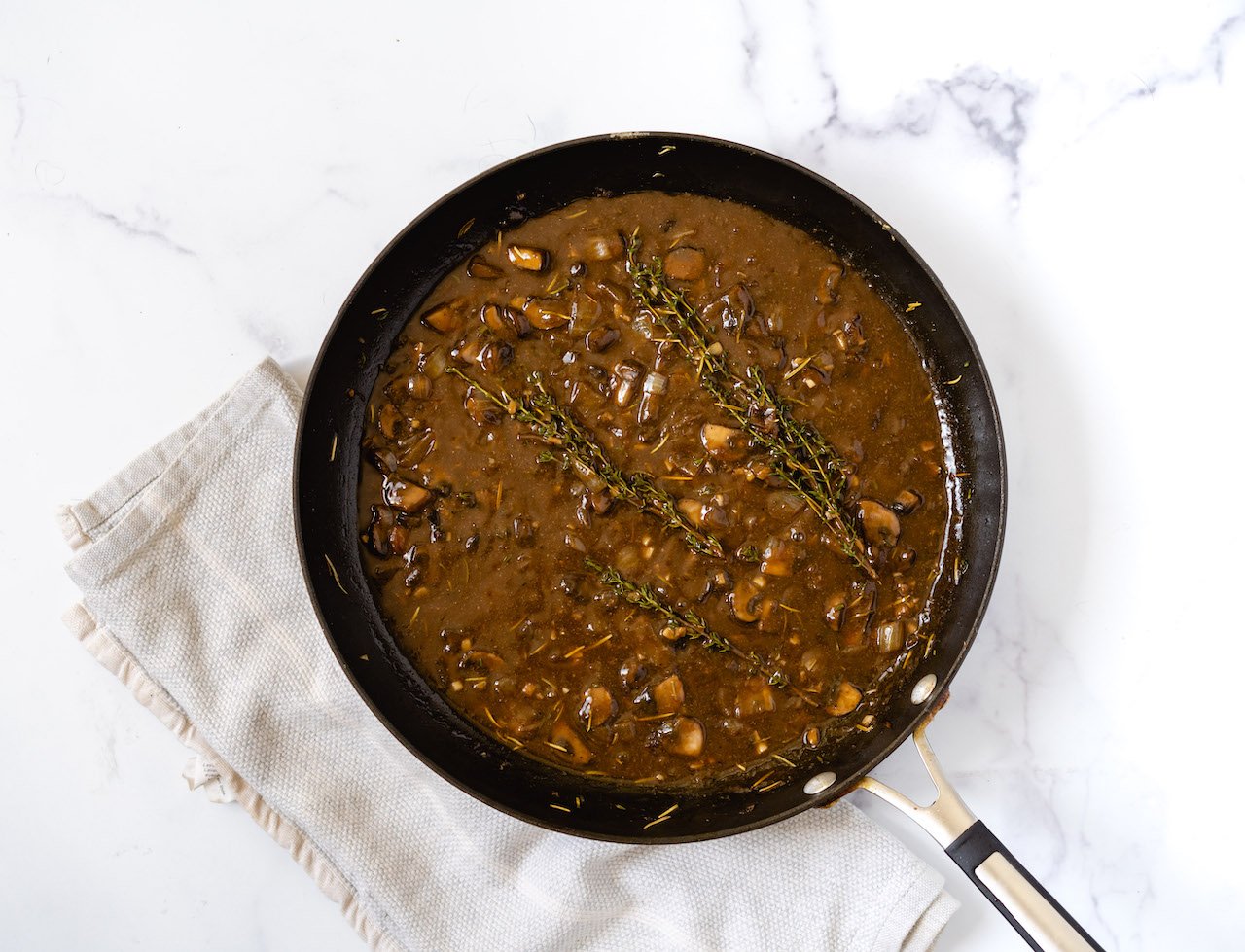 Mash potatoes & gravy are two Thanksgiving side dish recipes often made together. Just like you can health-ify mashed potatoes, you can make healthy gravy, and it turns out it's a hit among healthy Thanksgiving sides. It's loaded with micronutrients from onions, garlic, mushrooms (and flavonoids from red wine 😉) Put this at the top of your list for healthy Thanksgiving recipes—it's a guaranteed hit!
Prep Time: 5 min
Cook Time: 20 min
Total Time: 25 min
Serving: 8-10 servings
Ingredients:
2 ¼ cups low-sodium vegetable broth, divided
1 cup white onion, chopped
4 cloves garlic, finely chopped
8 oz mushrooms (portobello, cremini or shiitake), trimmed and chopped
2 tbsp finely chopped fresh thyme
1 tbsp finely chopped fresh rosemary
¼ cup merlot or other fruity red wine
2 tbsp reduced-sodium tamari (or soy sauce)
2 tbsp nutritional yeast
2 tbsp cornstarch
¼ tsp ground black pepper
2 scoops Super Youth collagen (unflavored)
Instructions:
In a large skillet over medium-high heat, add onion and cook for 3 to 4 minutes or until translucent.
Add ¼ cup of the broth to the pan to prevent the onion from burning.
Add mushrooms and cook for 10-12 minutes or until tender.
Stir in garlic, rosemary, and thyme and continue to cook for 1 minute until fragrant.
Add wine and cook for 1 minute, stirring constantly.
Stir in remaining 2 cups of broth and bring to a simmer. Add Super Youth collagen and mix it has dissolved.
Meanwhile, in a small bowl, whisk together tamari, yeast, and cornstarch to form a thick paste.
Add mixture to the skillet, whisking constantly to make sure paste dissolves.
Bring mixture to a boil and cook for 1 minute, stirring constantly. Add pepper and serve gravy hot. Pairs perfectly with the cauliflower mashed potatoes. 
Glazed Sweet Potatoes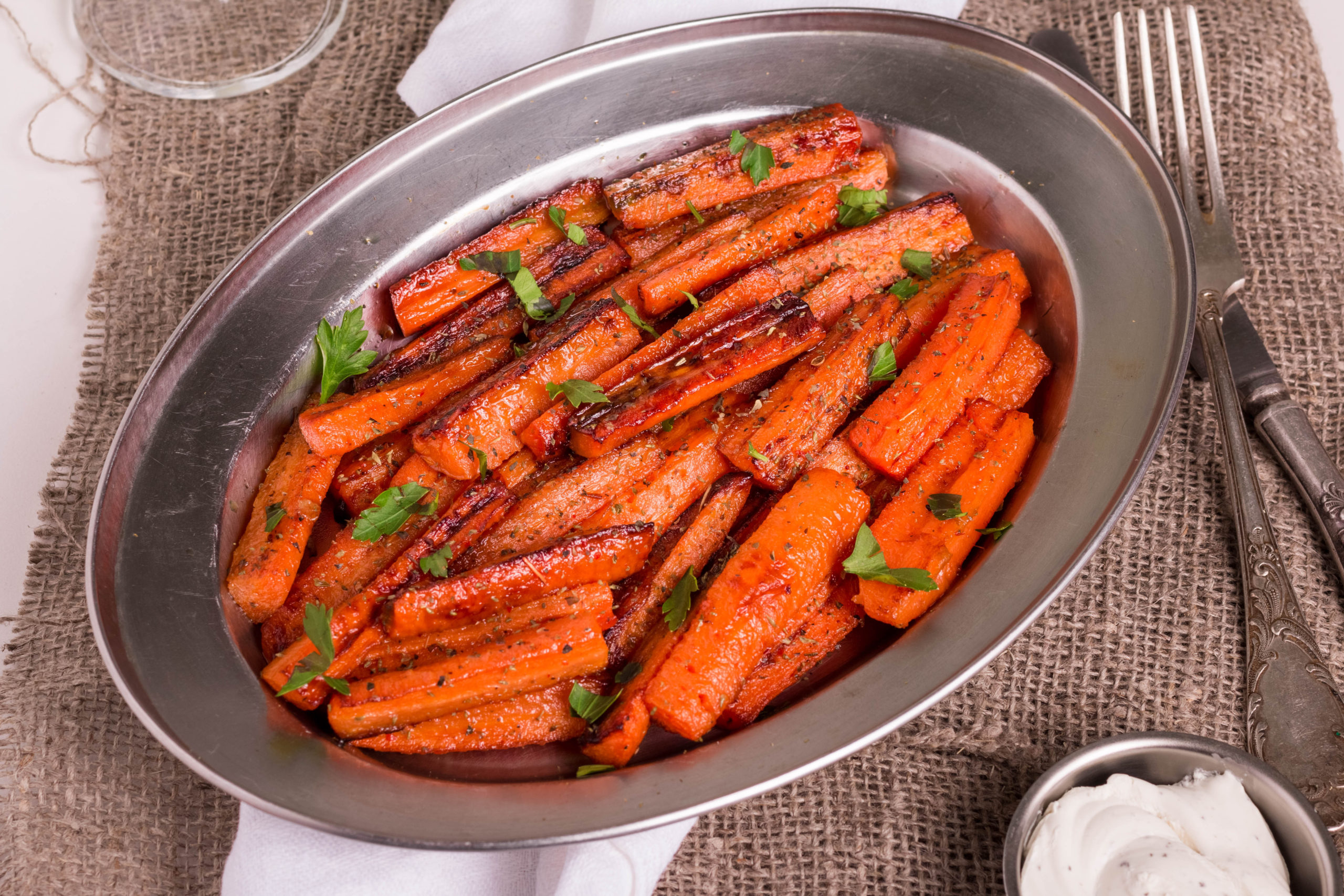 Sweet potatoes are hands down my favorite healthy Thanksgiving sides. But they're still not that healthy, at least when my Aunt Cheryl adds three cups of butter, cream cheese, brown sugar, and marshmallows. Here's a nutritious alternative for sweet potato casserole to add to your list of healthy Thanksgiving recipes.
Prep Time: 10 min
Cook Time: 1 hour 
Total Time: 1 hour 10 min
Serving: 6-8 servings
Ingredients:
3 lbs sweet potatoes, cut to your liking (cubed, sliced, or in strips) 
¼ cup honey or maple syrup
2 tbsp olive oil
1 tsp salt 
¼ tsp pepper
2 tbsp butter 
2 tsp thyme
1-2 scoops Super Youth collagen (unflavored)
Instructions:
Preheat oven to 425. In a large bowl, toss sweet potatoes with olive oil, salt, and pepper until potatoes are fully coated.
Line a rimmed baking sheet with foil, and spray with nonstick cooking spray.
Arrange potatoes in a single layer on the baking sheet and cover tightly with foil.
Roast for 30 minutes on the middle rack. While potatoes are roasting, prepare the glaze.
In a small bowl, whisk together the maple syrup, melted butter, Super Youth collagen, and thyme.
Take the potatoes out the oven and remove the foil and continue roasting, uncovered, until the edges of the potatoes are golden brown. Return pan to oven, and roast potatoes, uncovered, until the bottom edges are golden brown. (~5-10 minutes or so).
Using a pastry brush, brush the potato slices with the glaze. Flip the potatoes over and baste the other side.
Return potatoes to the oven one final time and continue to roast an additional 15 minutes or so. Let cool for 10 minutes, and serve.
Autumn Harvest Stuffing (With Butternut Squash, Apples, & Sausage)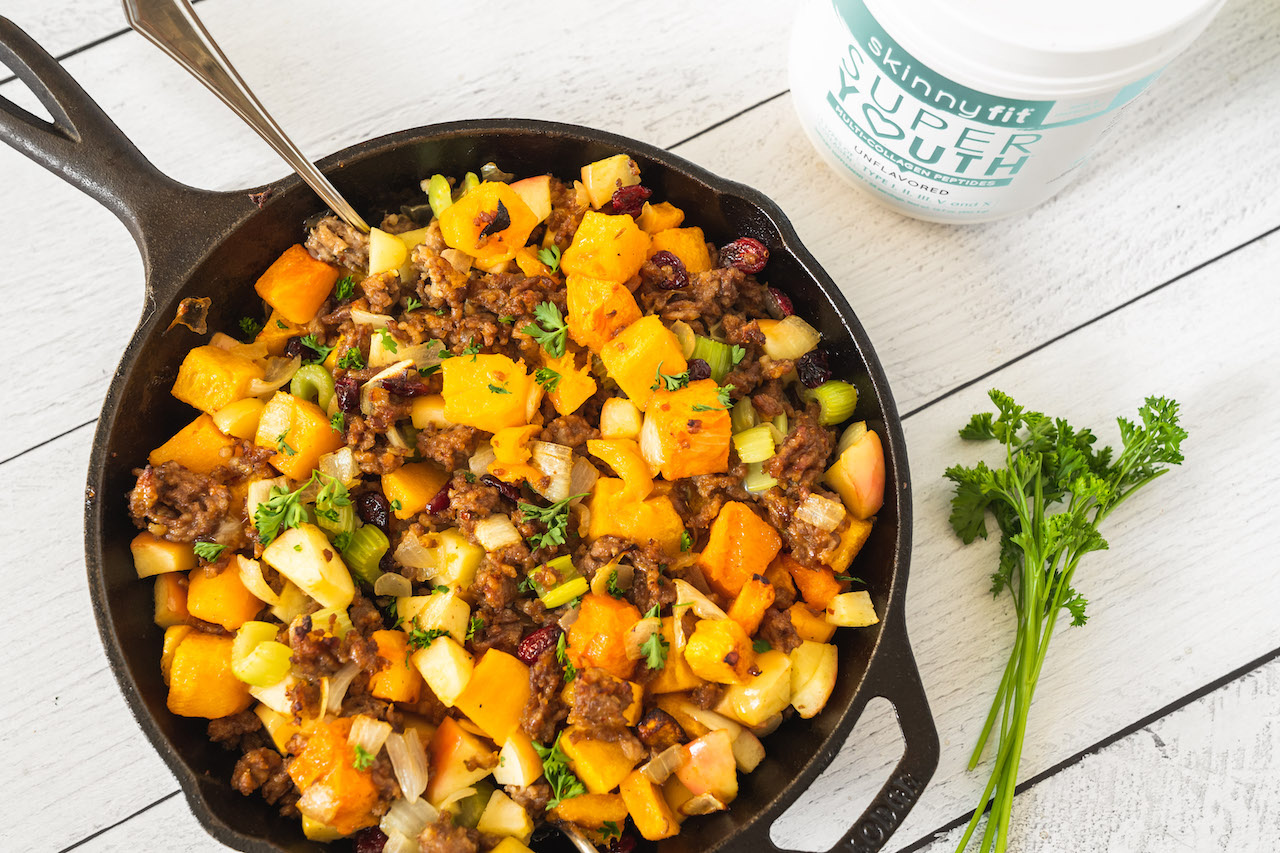 Okay. Get ready for a treat. Autumn harvest stuffing might be the most nutritious dish on this list of healthy Thanksgiving recipes. Butternut squash is uniquely packed with important nutrients. On top of two scoops of age-defying Super Youth Collagen, it's got a low glycemic load and a heroic amount of Vitamin A, plus Omega-3 fatty acids and lots of other vitamins. [2] It's also got lots of antioxidants thanks to cranberries and apples, as well as protein from sausage and egg!
Prep Time: 15 min
Cook Time: 55 min
Total Time: 1 hour 10 min
Serving: 6-8 servings
Ingredients: 
1 large butternut squash, peeled and cut into ½ inch cubes (about 5 ½ to 6 cups)
1 ½ tbsp olive oil
¼ tsp salt
2 tbsp butter (may also use ghee or coconut oil)
1 small onion, chopped
3 celery stalks, chopped
1 lb pork sausage (may also use turkey or chicken)
1 large apple or 2 small, cored and chopped
¾ cup dried cranberries
1 egg whisked (optional)
Fresh parsley for garnish
2 scoops Super Youth collagen unflavored
Instructions:
Preheat the oven to 425 degrees. Toss the butternut squash with some of the olive oil and salt and spread onto a large baking sheet lined with parchment paper.
Roast for 30-40 minutes, tossing halfway through for even browning. Squash should be soft and toasted.
While the squash is roasting, get your other ingredients chopped and ready.
Heat a large skillet over medium-high heat and add a bit of olive oil. Add onions and celery and saute for about 3-5 minutes, until soft.
Add the sausage to the skillet and cook with the onions and celery until browned, lower heat to medium.
Add the chopped apples and cook for a couple of minutes until just softened. Add the salt, poultry seasoning, and collagen. Lower the heat and stir to combine. Simmer for 2 more minutes, remove from heat and set aside.
Once the butternut squash is roasted, add it to the sausage mixture along with the dried cranberries and toss to combine. Add the whisked egg to the mixture and toss/mix to incorporate.
Lower the oven heat to 375 degrees in an oven-safe pan or dish and bake for 30 minutes (cook less, if omitting egg); Garnish with fresh parsley and serve immediately.
Healthier Green Bean Casserole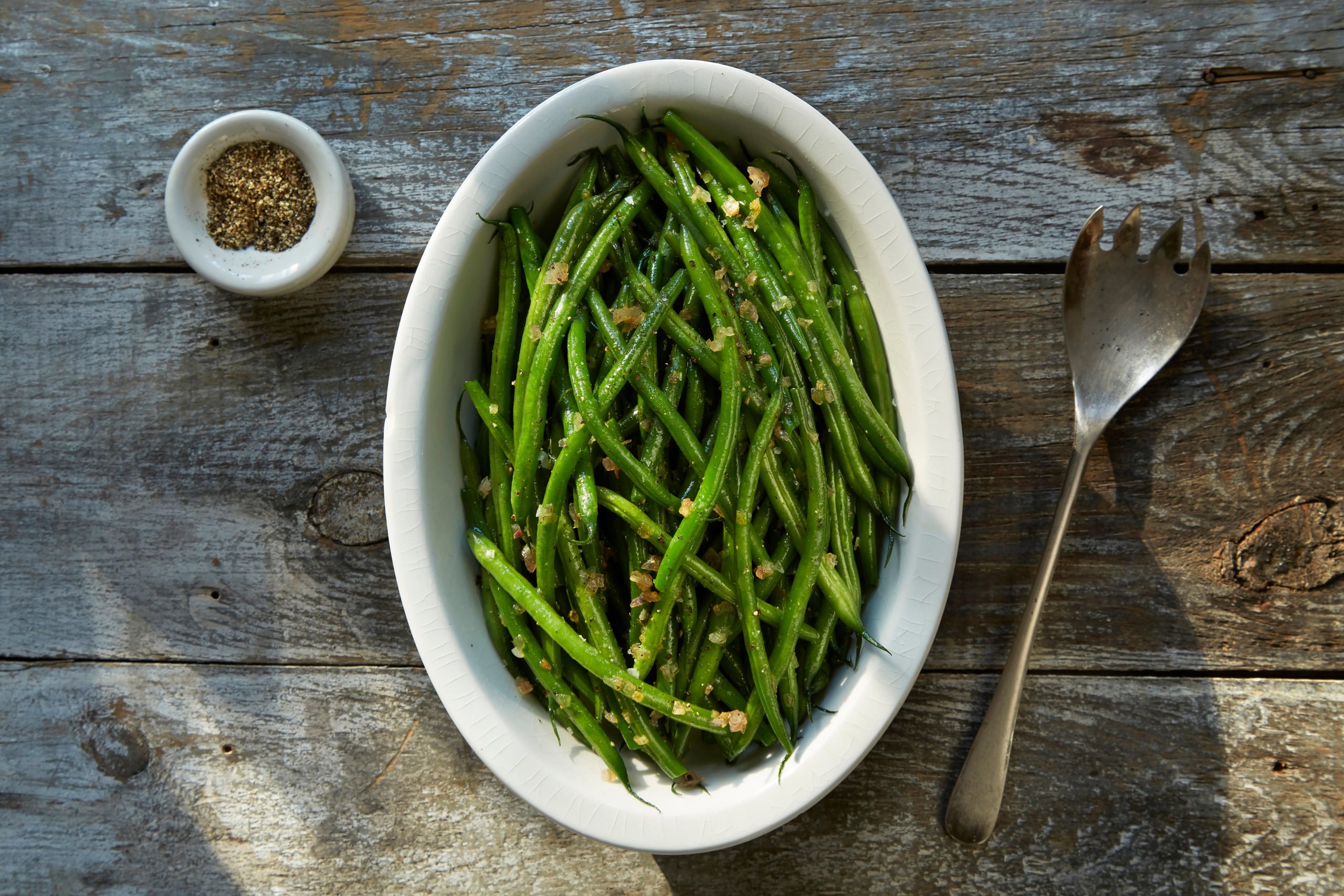 Casseroles are my weakness during the holidays. Traditionally, they're not that great for you. But this green bean casserole creatively substitutes common unhealthy ingredients with healthier alternatives. This may be a better choice among Thanksgiving side dish recipes, but it's definitely last on our list of Healthy Thanksgiving sides. (Hence "healthier.") That said, it's BOMB and totally worth making. Just, you know, maybe don't eat four helpings… like I do. 
Prep Time: 10 min
Cook Time: 20 min
Total Time: 20 min
Serving: 4-6 servings
Ingredients:
8 cups string beans, blanched
3 tbsp olive oil
1 cup white button mushrooms, quartered
2 cloves garlic, peeled and minced
1 tbsp whole wheat flour
½ cup low-sodium chicken broth
1 cup organic whole milk, or nut milk of choice
4 tbsp parmesan cheese, grated
1 cup white onion, thinly sliced
¾ cup whole wheat panko breadcrumbs
¼ cup fresh parsley chopped
2 scoops Super Youth collagen (unflavored)
Instructions:
Preheat oven to 375 and spray a large casserole dish with nonstick cooking spray. Set aside.
Heat 1 tbsp oil in a large skillet over medium-high heat, add mushrooms and garlic, cook for 5-8 minutes, or until mushrooms are tender, stirring occasionally.
Meanwhile, combine the flour, Super Youth collagen and broth in a separate bowl and whisk together.
Once mushrooms are tender, reduce the heat to medium, and add broth mixture to the skillet. Whisk the mushroom broth and cook for about 2 minutes.
Slowly add milk to the skillet, stirring continuously.
Reduce the heat to medium-low and cook the mushroom sauce for approximately 3-5 minutes, or until the sauce begins to thicken. Stir in 2 tbsp parmesan, mix well and remove from heat.
Mix the blanched green beans and mushroom sauce together, ensuring that the beans are equally covered in mushroom sauce. Transfer to a casserole dish and set aside.
Spray the same skillet you used for the mushroom sauce with nonstick cooking spray and place over medium-high heat. Add the thinly sliced onions, and cook for 8-10 minutes, until the onions are soft and begin to brown, stirring frequently. Remove from heat. 
In a separate bowl, combine onions, panko crumbs, remaining 2 tbsp parmesan, parsley and remaining 2 tbsp olive oil. Stir well and sprinkle the onion mixture across the green beans. Cook for 25-30 minutes.Serve immediately.
A Thoughtful, Final Note:
I've talked a lot about "the holidays" in this post. Typically, that refers to the period of celebration beginning in late November and coming to close in early January. But I'd like to take a closing minute to draw attention to today, Veteran's Day, often overlooked by the excitement ahead. While many of us are excused from work, it's far more than just an excuse to sleep in. It's a holiday that transcends religious belief or political stance. It requires no gift giving nor awkward family dinners. It may not be "the holidays," but all it's the perfect opportunity to thank someone you know who at some point or another stepped up for you, and the sanctity and unity we celebrate year round. For me, personally, I'd like to thank my dad, my Uncle Dan, and my neighbor Sean. #ThankYouVeterans
Mentioned In This Post
SkinnyFit Unflavored Collagen
Look and feel younger with Super Youth Multi-Collagen Peptides! This versatile collagen powder includes 5 collagen types from 4 natural sources to restore youthfulness from the inside out.