Jump To Recipe
Cozy up with this hypnotizing charcoal latte that is equally delicious & nutritious!
From whitening teeth to preventing hangovers, a charcoal latte has an array of surprising and versatile benefits. Not only does this activated charcoal latte provide some unexpected perks, but it has a surprising ingredient for a swirling, wondrous concoction of health! You'll LOVE the way this iced charcoal latte recipe tastes, but better yet, you'll love what it can do for your body.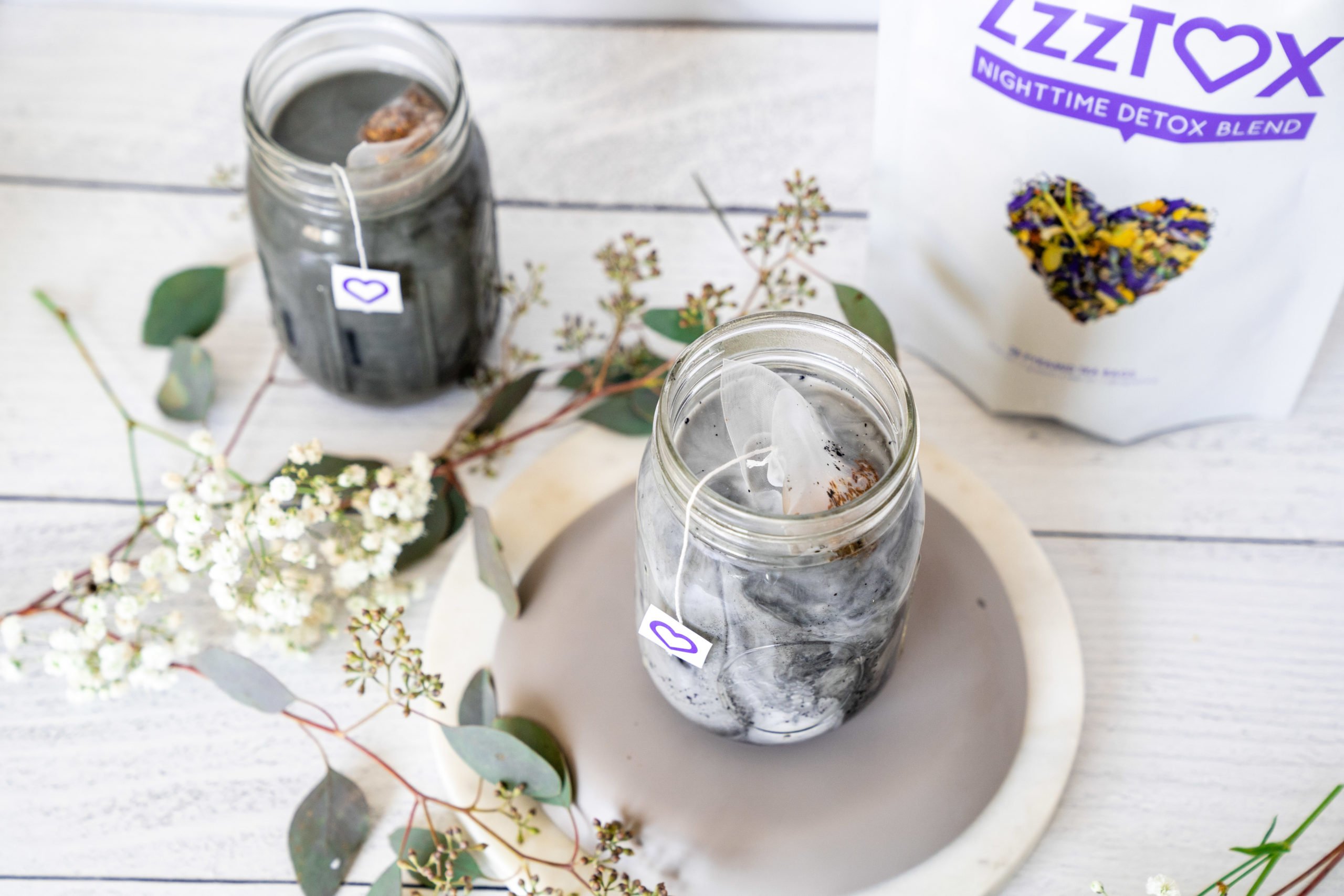 What Is An Activated Charcoal Latte?
What is a charcoal latte? Well, just check out that picture! Need I say more?! I'm just kidding, I'll explain what it is, but wow, that picture certainly is worth a thousands words. 😉 Because of the way it looks, charcoal lattes have been called a goth-lovers dream, but this recipe is anything but dreary!
An activated charcoal latte contains, you guessed it, activated charcoal! Activated charcoal is a fine, extremely absorbent black powder. It is made by heating carbon-rich materials such as coconut shells or bone char at very high temperatures. The high temperatures reduce the size of its pores and increases its surface area, making it more porous than regular charcoal (1). This dark and stormy iced charcoal latte is a detoxifying dream because charcoal itself is  designed to remove toxins from your body. 
Charcoal is used for a wide array of things, and is even used in emergency rooms when patients get their stomachs pumped. From reducing gas to being used as an emergency poison treatment (2), it's no wonder charcoal lattes are a trending hot health beverage across social media! Did I mention how cool this recipe looks? 🤣
Charcoal Latte Benefits
Traps toxins & chemicals—Activated charcoal works wonders for your gut. It traps unwanted toxins and chemicals and prevents  absorption due to its porous texture. It also traps gas, which of course, helps reduce discomfort and painful bloating. I'll take a glass of THAT! 🙋‍♀️
Supports kidney health—Activated charcoal, like the one in this activated charcoal latte, can help improve kidney function by filtering out toxins. People with chronic kidney disease may benefit from this because their kidneys may not be able to properly filter out waste products. 
Releases toxins—You're getting double the detox benefits from this iced charcoal latte because the secret ingredient I mentioned earlier is designed to do just that!  SkinnyFit ZzzTox tea is a powerful blend of the best stress-fighting teas nature can offer. This ZzzTox infused charcoal latte is even caffeine-free which is perfect for getting cozy and those much needed "me time" moments. Sipping on one cup of ZzzTox before bed releases harmful toxins from the body which helps prevent stress-related weight gain, reduces inflammation and improves skin health. Talk about an amazing all-in-one bedtime elixir!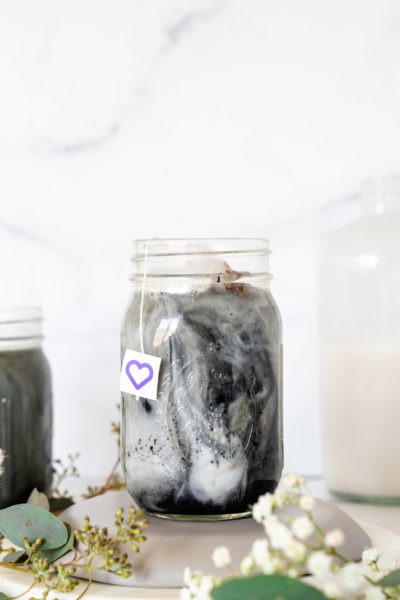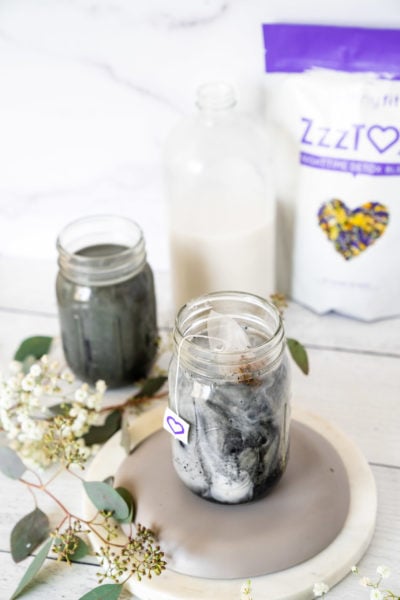 How To Make An Iced Charcoal Latte
While the benefits of drinking a charcoal latte are enticing, sometimes the taste of charcoal alone is not. That's where this latte recipe comes in. 
ZzzTox tea has a delightfully soothing vanilla-lavender flavor that creates a relaxing aroma that can calm any nerve. And with the pinch of maple syrup and vanilla extract in this iced charcoal latte recipe, your taste buds will be anything but disappointed. 
This iced charcoal latte recipe takes just a few minutes to whip up, making it the easiest charcoal latte around! Simply brew your ZzzTox tea, add the ingredients to your blender, pour over ice, and you've got a delicious activated charcoal latte you'll want to make again and again.
And if you've seen a charcoal latte coffee, or an iced charcoal latte on the menu at your favorite cafe, you'll be glad to know that you're saving some serious $$$ by making this activated charcoal latte at home!
Mentioned In This Post
SkinnyFit ZzzTox Tea
Stress less, sleep tight, and detox 24/7 with caffeine-free SkinnyFit ZzzTox! Our all-natural nighttime tea helps you slim down while enhancing your quality of sleep.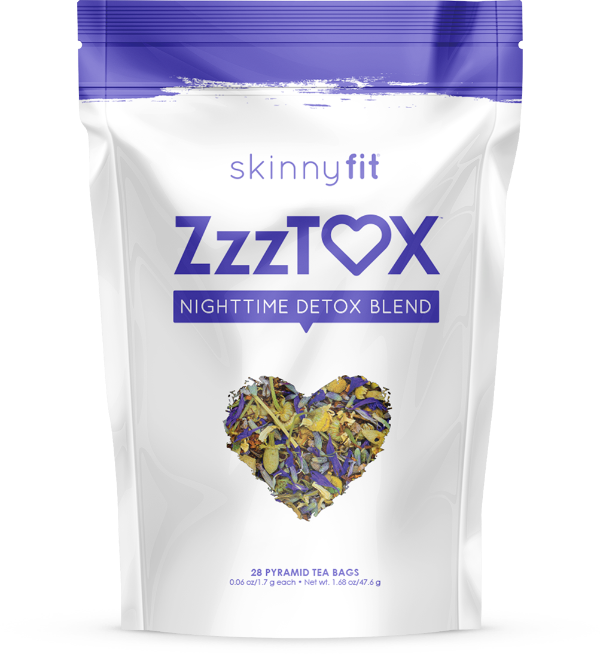 Iced Charcoal Latte Recipe
Looking for a soothing way to relax and decompress? Cozy up with this detoxifying charcoal latte recipe designed to release harmful toxins from your body that cause stress!
Prep Time: 5
Cook Time: 5
Total Time: 10
Serving Size: 1 latte
Ingredients
500mg activated charcoal (or ½ tsp loose powder)
¼ cup ZzzTox tea, brewed and chilled
1 tsp maple syrup
1 tsp vanilla extract
Pinch of salt
1 ½ cups almond milk (divided ½ cup and 1 cup)
Steps
In a blender blend together the activated charcoal powder, ZzzTox tea, maple syrup, salt, vanilla extract and ½ cup of almond milk. 
Pour over ice
Top with an extra cup of almond milk and enjoy!