Jump To Recipe
Don't waste money on expensive coffee shop lattes! Here's how to make a skinny iced mocha latte at home instead to save you money, calories, and time!
There was a Starbucks right next to my high school growing up, and you better believe I stopped by every morning! Not only was it the cool thing to show up to school with, but it was addicting. I'd get a vanilla frappuccino and pumpkin bread. Until I learned how many calories I was consuming on a weekly basis. Then I switched to an iced mocha latte. Until I heard about a skinny mocha latte. Then I was sure that was my last stop until I decided to like black coffee, which I never have.
The tough thing about ordering coffee out is that it's packed with sugar and calories that you'd never know about, because you're focused on how delicious it is! Plus, there's a myth that coffee keeps your metabolism active, so no need to worry about what you put in it. So wrong!!
Just because you switch to a skinny mocha, doesn't mean you're ordering a healthy latte. Trust me, I've tried all sorts of coffee orders. The best iced mocha is the one you can make right at home. Not only is it the best tasting, but the healthiest!

How Many Calories Are In An Iced Mocha Latte?
Ordering an iced mocha latte out can cost you upwards of 500 calories! (And that's in a small!) That's because they pack in various types of sugar, chocolate, and presweetened milk! It's a disaster in a cup, really. The best way to have a good-for-you, not-so-high-in-calories latte is to make one right at home. It's not hard, either. When you buy coffee out, you're paying partially for convenience, and mostly for a sugar fix. People don't realize how much sugar they're consuming on a daily or weekly basis from coffee. Coffee shops rarely use high quality ingredients, and everything is hiding sugar in it. Even skinny mocha lattes!
How To Make A Skinny Iced Mocha Latte 
The best, healthy skinny mocha can be made right in your very own kitchen. All you need is chilled coffee, half and half (or milk of choice), the best chocolate collagen ever (Super Youth), ice and sugar of choice. I like coconut sugar for the added bit of fiber. Simply mix your coffee and Super Youth collagen until combined, add ice, half and half, sugar to taste, and blend! It's so tasty you'll never buy another coffee from a coffee shop again. Plus, you get all of the amazing anti-aging benefits of collagen in this version. 99% of coffee shops don't offer collagen as an add-in. Not only does Super Youth have a ton of anti-aging benefits like reduced wrinkles, reduced cellulite, brighter, smoother skin, and more, but it's also so convenient! You can bring it with you anywhere and stir it into just about anything. Water, milk, add it to coffee, you have so many options. The icing on the cake (no pun intended) is that it tastes incredible. It's become a favorite in my household that I rarely even have to keep chocolate in the house anymore. Super Youth Chocolate Cake is a win-win. No sugar, and tons of delicious benefits!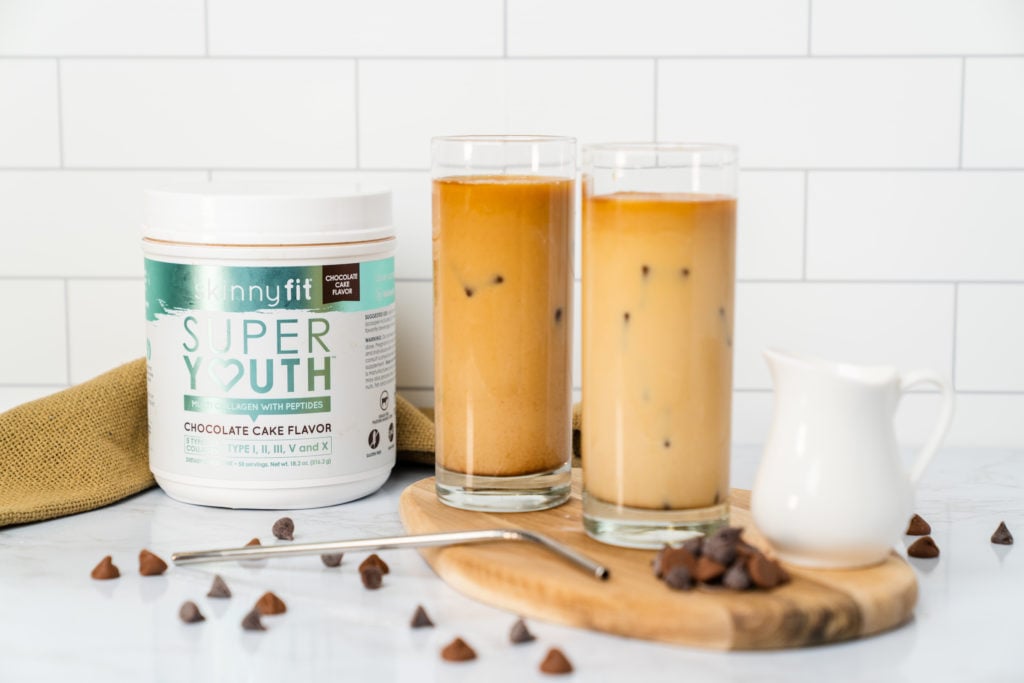 Iced Mocha Latte
Don't waste money on expensive coffee shop lattes! Here's how to make a skinny iced mocha latte at home instead to save you money, calories, and time!
Prep Time: 5 minutes
Cook Time: 0 minutes
Total Time: 5 minutes
Serving Size: 1 serving
Ingredients
1 cup strong brewed coffee, chilled
1 cup half and half, or milk
1-2 scoops Super Youth Chocolate Cake Collagen
1 cup ice
sugar, to taste
Chocolate sauce, optional
Steps
In a tall glass, combine chilled coffee and Chocolate Cake collagen; blend using the SkinnyFit mini mixer until it's well combined. Add a second scoop of collagen if you prefer a stronger chocolate flavor. 
Add ice cubes and then pour in the half and half.
Taste and add sugar, if desired; blend to combine. Serve immediately.