Jump To Recipe
Pizza is, by far, one of the most popular guilty pleasures and cheat meals out there, and it's easy to see, and taste, why! In fact, Americans consume over 100 acres of pizza ever single day—that's over 3 billion pizzas every single year [1]! 🍕 There is no denying that pizza is delicious and holds a special place in our hearts (and our tummies), but pizza doesn't exactly have the best reputation for being a healthy or nutritious meal option (which can be a real drag if you're trying to lose weight).
But, we believe that everyone deserves to enjoy a slice of drool-worthy pizza without feeling guilty about it—which led us to create this healthy keto cauliflower pizza crust recipe!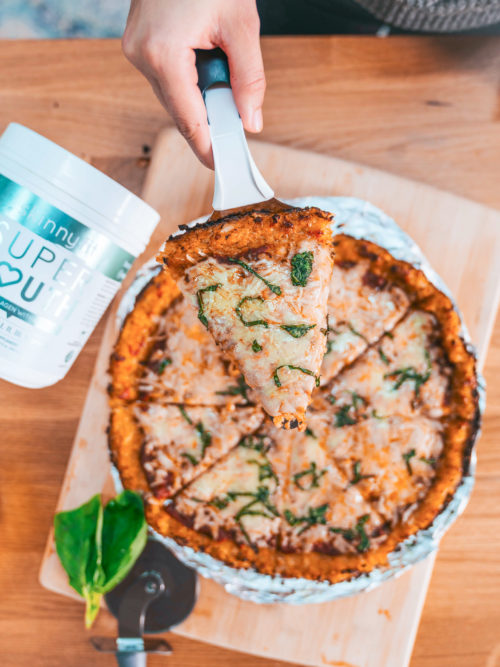 What Is Keto Cauliflower Pizza Crust?
To put things simply, keto cauliflower pizza crust is a low-carb version of traditional pizza crust and offers significantly fewer calories. It's grain-free, gluten-free, and most importantly, it's keto-friendly.
What is Keto?
A ketogenic diet, or "keto" for short, is typically a low-carb, high-fat type of diet that forces your body to produce more ketones in the liver through a process called ketosis. It is suggested that by putting your body in ketosis you are able to use fat calories as energy instead of carbohydrates. In other words, your body uses fat for fuel instead of carbs resulting in fat burning.
A traditional pizza would not be allowed on a keto diet (due to the excess carbs) but our recipe for cauliflower pizza crust is a perfect replacement for anyone who loves pizza but wants to stick to a keto diet.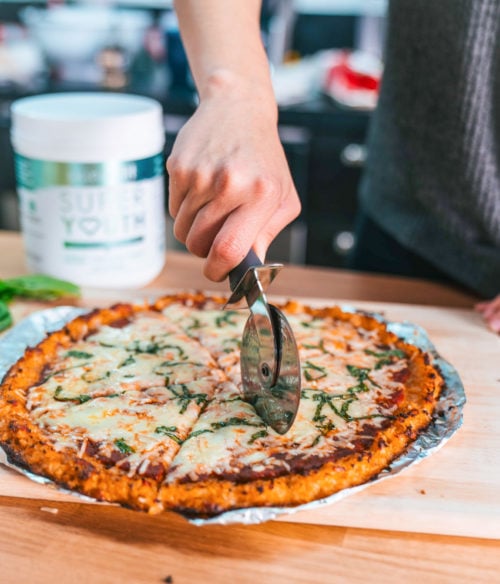 A Healthier Cauliflower Pizza Crust Recipe
I don't know about you, but when it comes to pizza there is no such thing as having just one slice. To be honest, I show no mercy and my health goals go right out the window 🙈 (although I really don't think i'm alone in that one!) This is where things tend to go downhill because just one slice of a traditional margherita pizza is almost 300 calories! Now imagine eating 2, 3, or even 4 slices of pizza in one sitting! Those calories will add up to more than half of the average caloric intake for an entire day! 😱
So, if you are like me, then a healthier pizza option is always on your radar! Our keto cauliflower pizza crust recipe is under 475 calories for the ENTIRE PIZZA (12") and serves up to 4 people! You can even eat the entire pizza by yourself because it won't put a dent in your daily calories!
Here are the nutrition facts this cauliflower pizza crust recipe:
Calories: ~475 calories for one 12" pizza
Fat: 16g
Carbs: 19g
Protein: 64g
Recipe For Cauliflower Pizza Crust
This easy recipe for cauliflower pizza crust is so simple to make, it's almost laughable we didn't think to try it sooner! It only requires, get this, 5-ingredients to make and is ready to go in about 30 minutes. Shocked? So were we!
Since discovering the healthiest and most nutritious cauliflower pizza crust recipe is of the utmost importance, we thought, what better way to make this recipe even healthier than to add SkinnyFit Super Youth, our premiere collagen peptide blend.
SkinnyFit Super Youth is a simple and effective way to boost any of your favorite foods or beverages with the benefits of collagen because it has no flavor and no taste at all. Collagen is known to reduce the physical signs of aging, like wrinkles, sagging skin, cellulite, achy joints, dry and brittle hair and nails, and even reduce weight gain! By adding Super Youth to your daily routine, you can look and feel years younger with virtually no downtime! Simply add Super Youth to your favorite food or drink, and you're good to go! To learn more about Super Youth and how it can completely transform your day-to-day life, click here.
This collagen-infused keto cauliflower pizza crust is not only delicious, but it will satisfy your pizza cravings without all the guilt.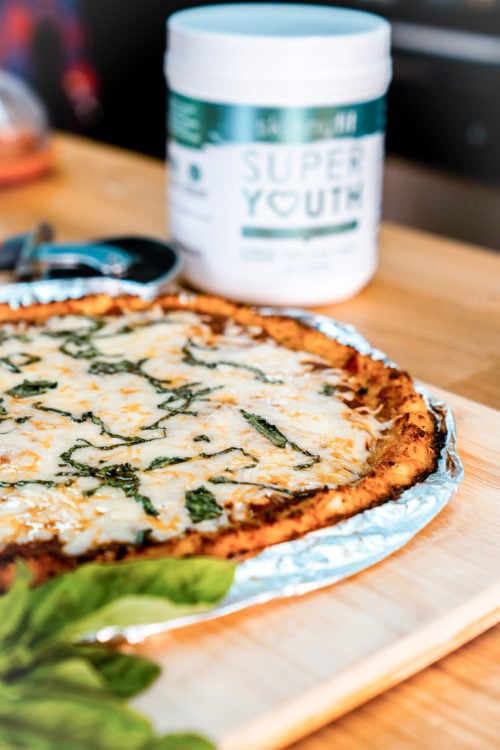 Keto Cauliflower Pizza Crust Recipe
Looking for a healthy pizza recipe you won't feel guilty about eating? This keto cauliflower pizza crust recipe is low-carb, gluten-free, grain-free, and the whole pizza is under 475 calories!
Prep Time: 15 minutes
Cook Time: 20 minutes
Total Time: 35 minutes
Serving Size: 1 Pizza
Ingredients
10 ounces cauliflower rice or 4 cups florets (1 cauliflower head)
1 cup light parmesan cheese, grated
1/4 tsp onion powder
1/4 tsp garlic powder
1 egg large
1 scoop Super Youth
Toppings: Pizza Sauce, Mozzarella Cheese, Fresh Basil, Roma Tomato
Steps
Preheat the oven to 400 degrees F.
Place cauliflower in a food processor and pulse until crumbly and rice like.
Heat the cauliflower rice in a dry skillet over medium high heat, stirring often to remove as much moisture as possible, about 10 minutes. Once it looks somewhat dry, add parmesan cheese and seasonings.
Continue to cook on medium heat until the parmesan is melted.
Remove from the heat and stir in the egg and Super Youth.
Use parchment on a 12 inch round pizza pan and spray with olive oil cooking spray. Spread out the "dough" and flatten as best you can. use another piece of parchment paper on top if it's too sticky for your hands to spread and make the edges slightly higher to form a crust.
Bake for 20 minutes flipping halfway through (feel free to bake longer if you prefer a crispier crust).
Add your favorite toppings and bake another 10 minutes. Cut into 8 large slices and serve!
Total Calories: ~475 calories for one 12" pizza
Carbs: 19g
Fats: 16g
Protein: 64g
Sugar:
Fiber: