Jump To Recipe
In an effort to be healthier, but also enjoy delicious recipes, I recreated my favorite green juice recipe into a smoothie! I'm a big fan of green anything. Smoothies, juice, tea, veggies, they're all packed with essential nutrients that make you glow from the inside, out! There are definitely more and less enjoyable ways to consume them, though. This green detox smoothie I'm going to share today is high on the list of delicious tasting green recipes.
Especially if you're someone who just can't seem to choke down even the best green juice recipe, you're going to love this green smoothie recipe. It contains all of the healthy ingredients of a green juice, but with much more flavor and even more benefits!
What Is A Lean Green Detox Smoothie?
A lean green detox smoothie is a smoothie made with ingredients to help support weight loss, glowing gorgeous skin, and reduce cravings. It's essentially a green juice recipe, but in smoothie form. This lean green smoothie is full of flavor, and you won't even know it's packed with greens! The goal of a green smoothie is to feel full, reduce bloat, and get in essential vitamins and minerals. Plus, the smoothie recipe I'm sharing today contains two secret ingredients that most smoothies miss out on!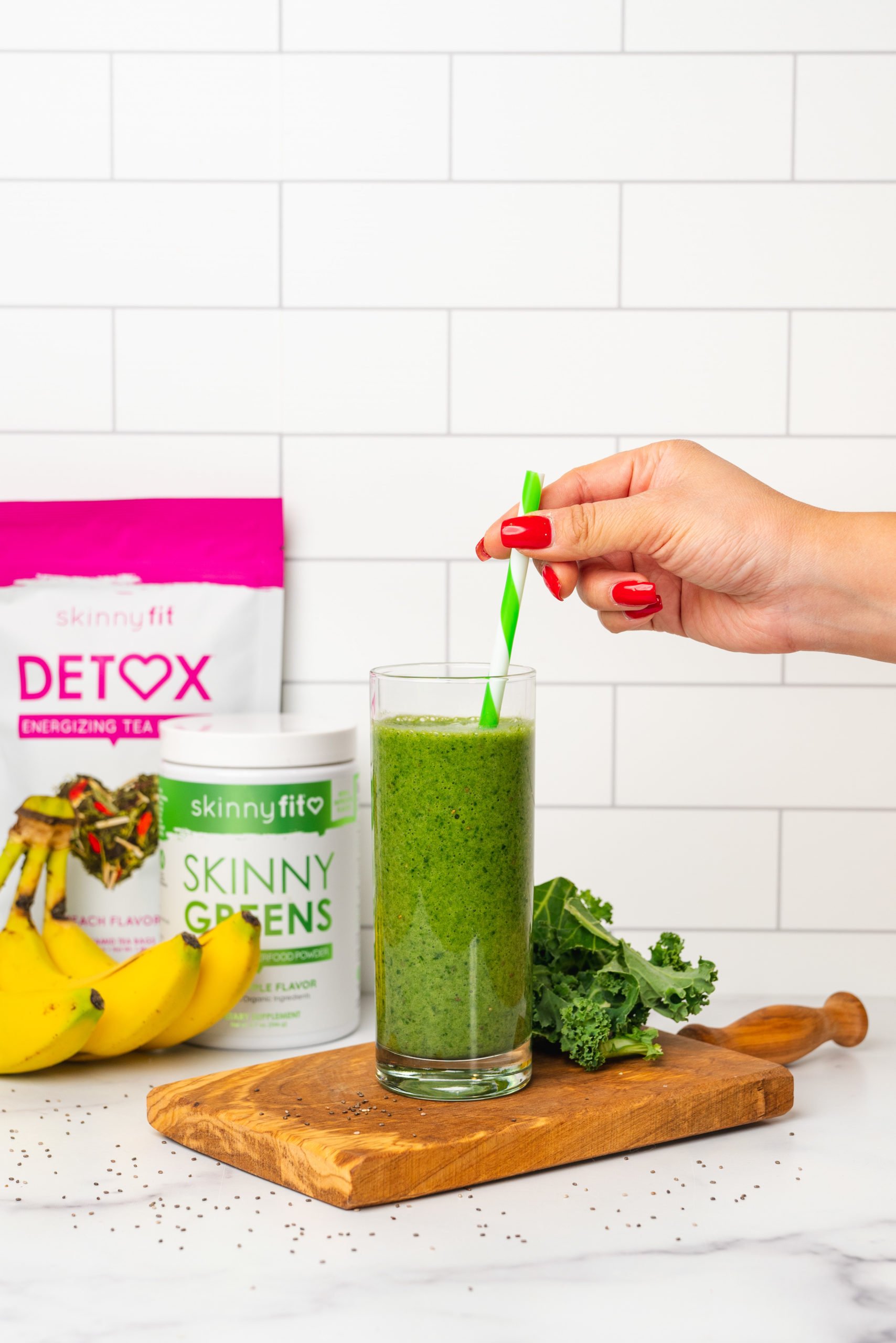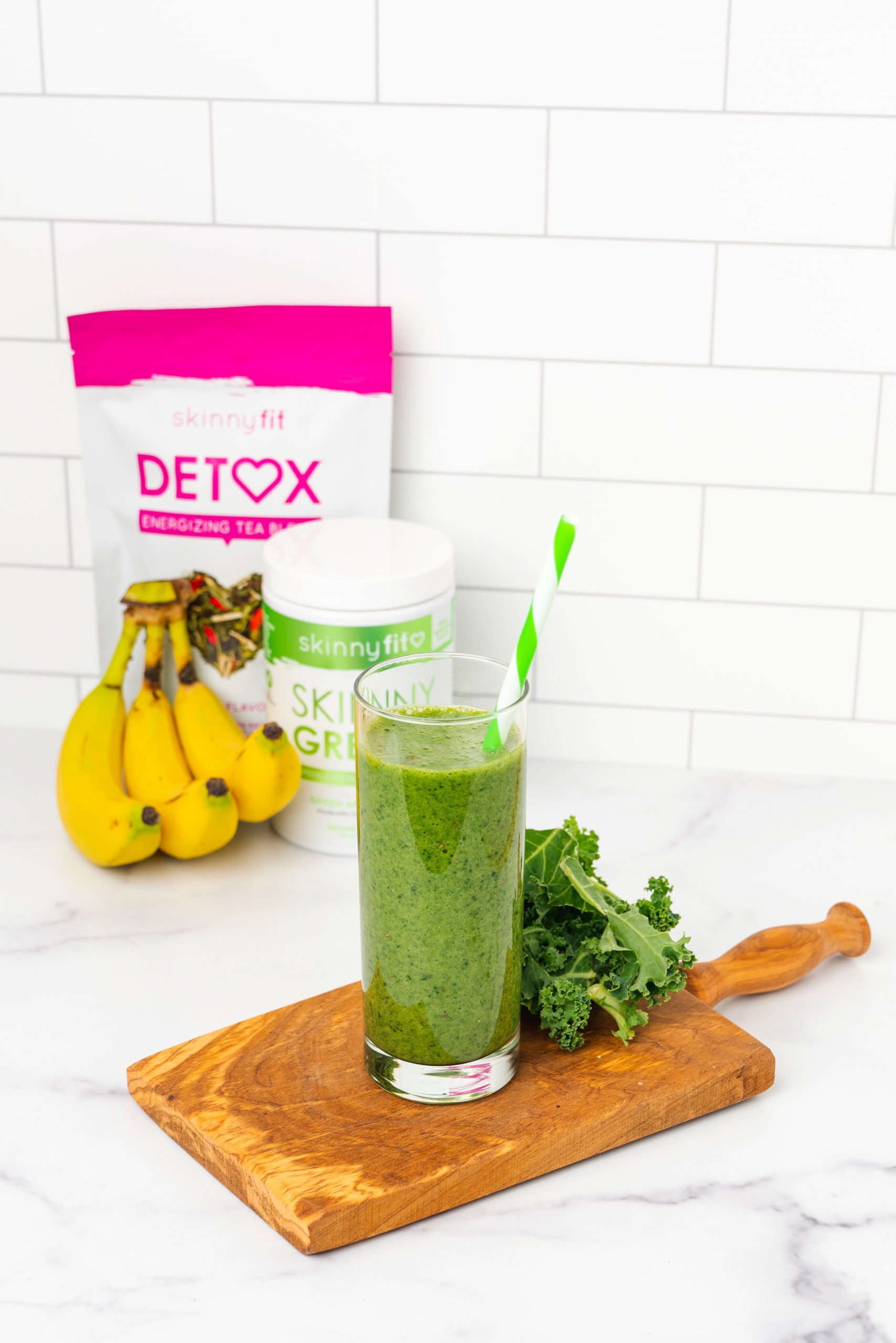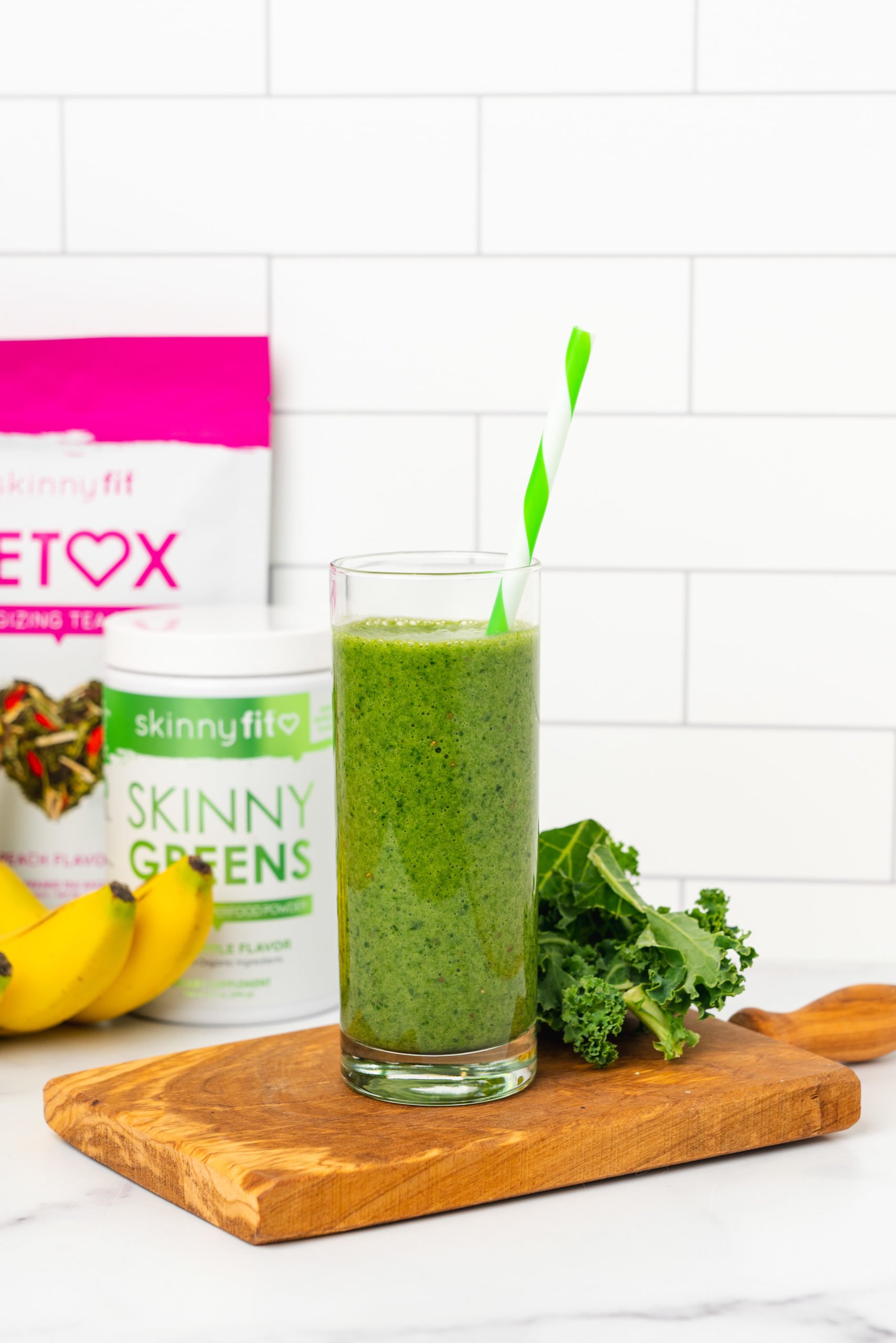 What Are The Benefits Of A Green Detox Smoothie?
Most detox juice recipes for weight loss aren't very appetizing. I don't know about you, but I definitely prefer a thick, creamy smoothie over a tart, bitter juice. The detox juice recipes for weight loss that I've had were effective, but not enjoyable. Which, in my opinion, is a very unsustainable path for weight loss! The biggest benefits of the green detox smoothie I'm sharing is that it tastes delicious, which means you're more likely to make it every day!
Besides that, this smoothie is nutrient-dense from the variety of fruits, vegetables, and superfoods. The standout ingredients, though, are Detox tea and Skinny Greens. They both pack a punch of unique benefits, like less bloat, more energy, better skin, and they even help to  improve digestion. Plus, the superfoods work together to help reduce stress, fight toxins, and support the immune system. Talk about a win-win!
This is the perfect smoothie to wake up to, and make a part of your daily routine. Not only is it packed with antioxidants and belly fat-reducing superfoods, but it also tastes so, so good! I promise after just one sip, you'll look forward to making this every single day.
Lean Green Detox Smoothie
Prep Time: 2 min
Cook Time: 0 min
Total Time: 2 min
Serving Size: 1 smoothie
Ingredients
2 cups baby spinach
2 cups baby kale
2 celery ribs, chopped
1 cup frozen sliced banana
1 scoop Skinny Greens
⅔ cups brewed Detox Tea
1 tablespoon honey
1 tablespoon chia seeds (optional)
Steps
Combine all ingredients into a blender until smooth
Enjoy!