Jump To Recipe
The ultimate fat burning detox drink, specifically designed to help you hit your weight loss goals for a confidant 2021!
The New Year is the perfect time for setting new goals, getting motivated, and finally hitting that number on the scale you've been aiming for for the past three New Years…
Reaching these aspirational weight loss goals can be challenging when the holiday season never seems to end, and if you're looking for a goal crushing solution to your New Year's resolution (that actually works), you've come to the right place! This lemon ginger detox drink has everything you need to step up on that scale and smile this 2021!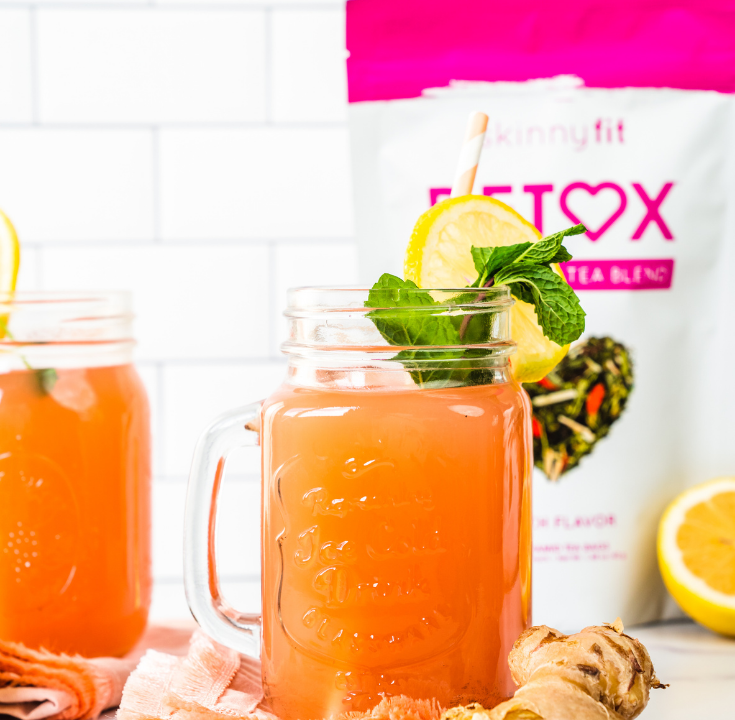 Ingredients In A Ginger Detox Drink
This ginger detox drink is packed with healthy, body-loving ingredients, and will quickly become one of your new favorite weight loss warrior beverages. Check out the ingredients below and you'll see why you need this ginger detox in your life now!
Fresh ginger—Ginger is one of my favorite spices. It's unique flavor makes it unlike any other, and besides being my favorite sushi sidekick, it also has some amazing health benefits that make it the perfect addition to this lemon ginger detox. Ginger is great for the digestive system and can help with chronic indigestion and nausea. (1) Ginger has also been shown to help reduce body weight, along with improving the waist-to-hip ratio in those who are overweight or obese. (2) 
Lemon juice—Lemons are high in vitamin C, which is great for keeping your heart healthy. (3) Research also suggests that the plant compounds in lemons may help prevent or reduce weight gain. (4) This particular ginger detox contains both lemon and water which is a powerful combination for helping you feel fuller for longer. 
SkinnyFit Detox—The holy grail of healthy weight loss. SkinnyFit Detox tea packs the final punch in this lemon ginger detox. Packed with 13 powerful superfoods that help burn fat, reduce bloating, and naturally increase energy. 
Mint—Besides giving your breath a makeover, mint is loaded with nutrients like fiber, vitamin A, iron, and folate. It is also great for your tummy, by helping to relieve indigestion and an upset stomach. (5)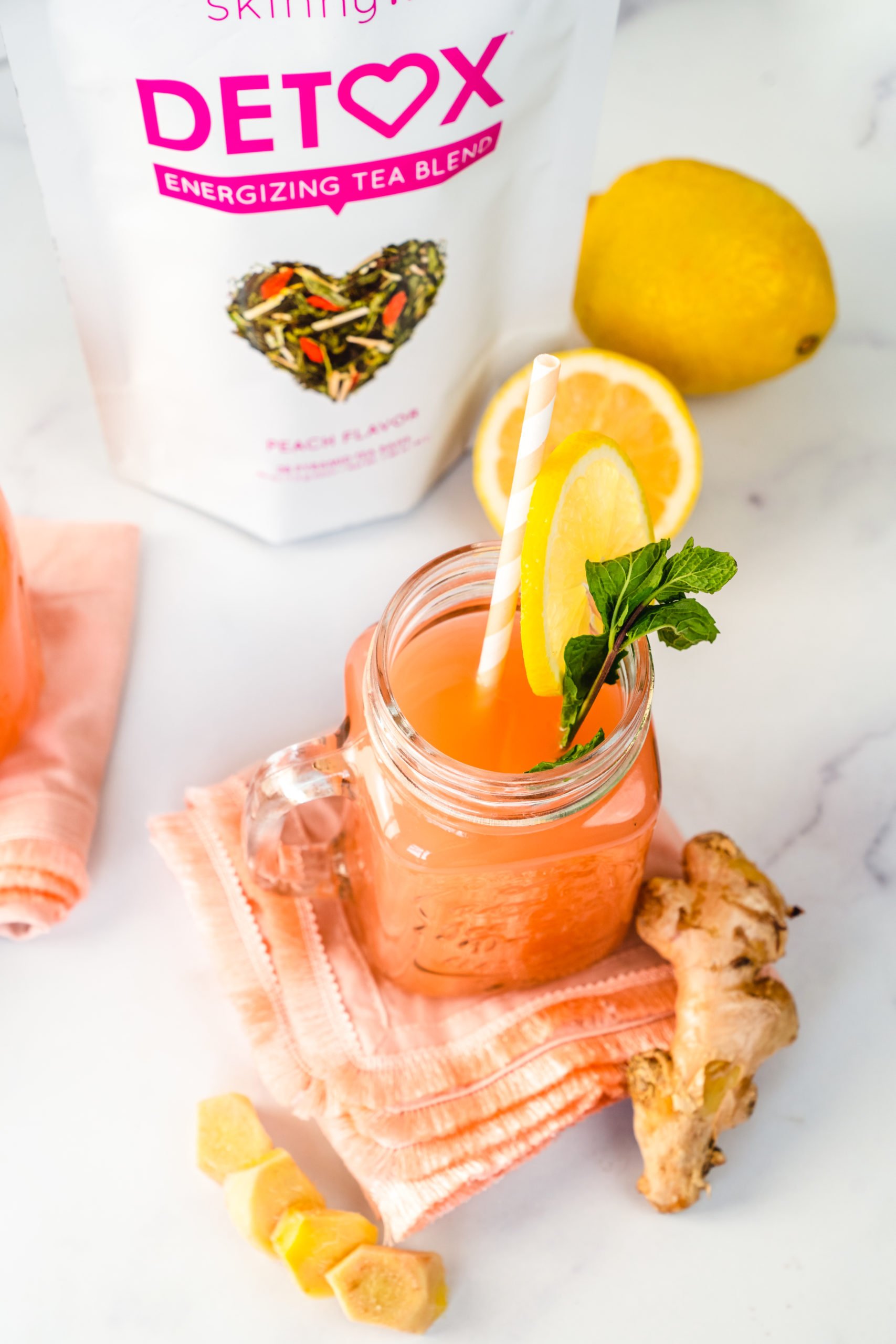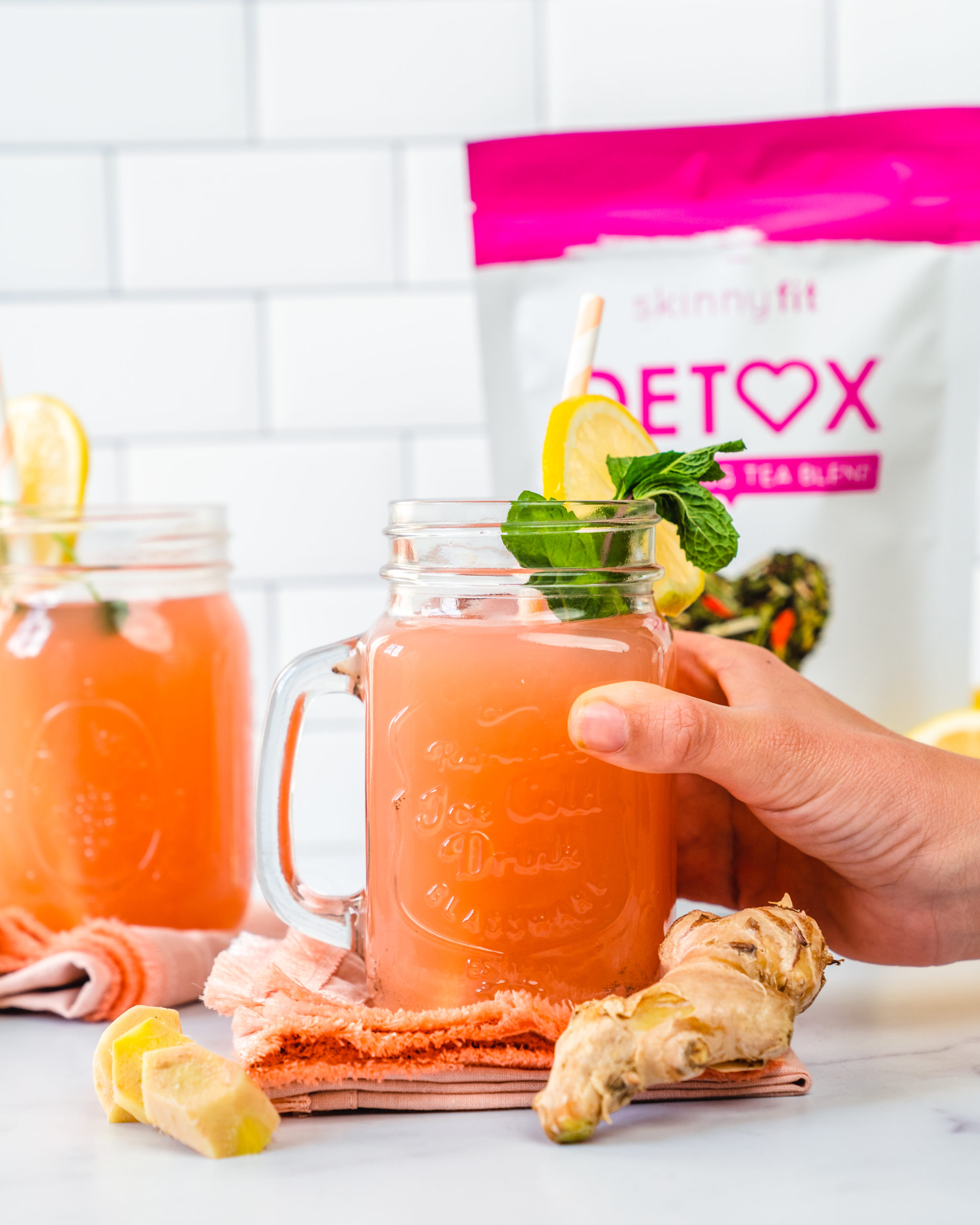 Lemon Ginger Detox Benefits
As mentioned above, there are many healthy benefits of each and every ingredient in this lemon ginger detox, but I'm going to focus on the real reason you're here. Weight loss. Each of these ingredients combined in this ginger detox drink make it your 2021 skinny solution. Sip up to slim down, and look forward to a healthy year ahead! 
But if you're curious what other benefits, here's what you can expect when you drink this lemon ginger detox regularly:
Weight loss
Increased energy levels
Decreased bloating
Fat burning
Clear skin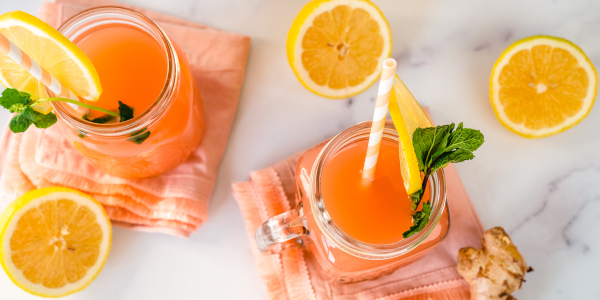 How To Make A Ginger Detox
This lemon ginger detox takes just 10 minutes to make, and you can even make it in large batches so it's ready and waiting for your busy week ahead. Made with only fresh, healthy ingredients, you'll look forward to whipping up this ginger detox, keeping you on track to hit your weight loss goals once and for all! Enjoy!
Mentioned In This Post
SkinnyFit Detox Tea
Slim down, soothe bloating, and boost your energy naturally! Unlike other detoxes, SkinnyFit Detox has NO laxatives and is made with 13 metabolism-boosting superfoods.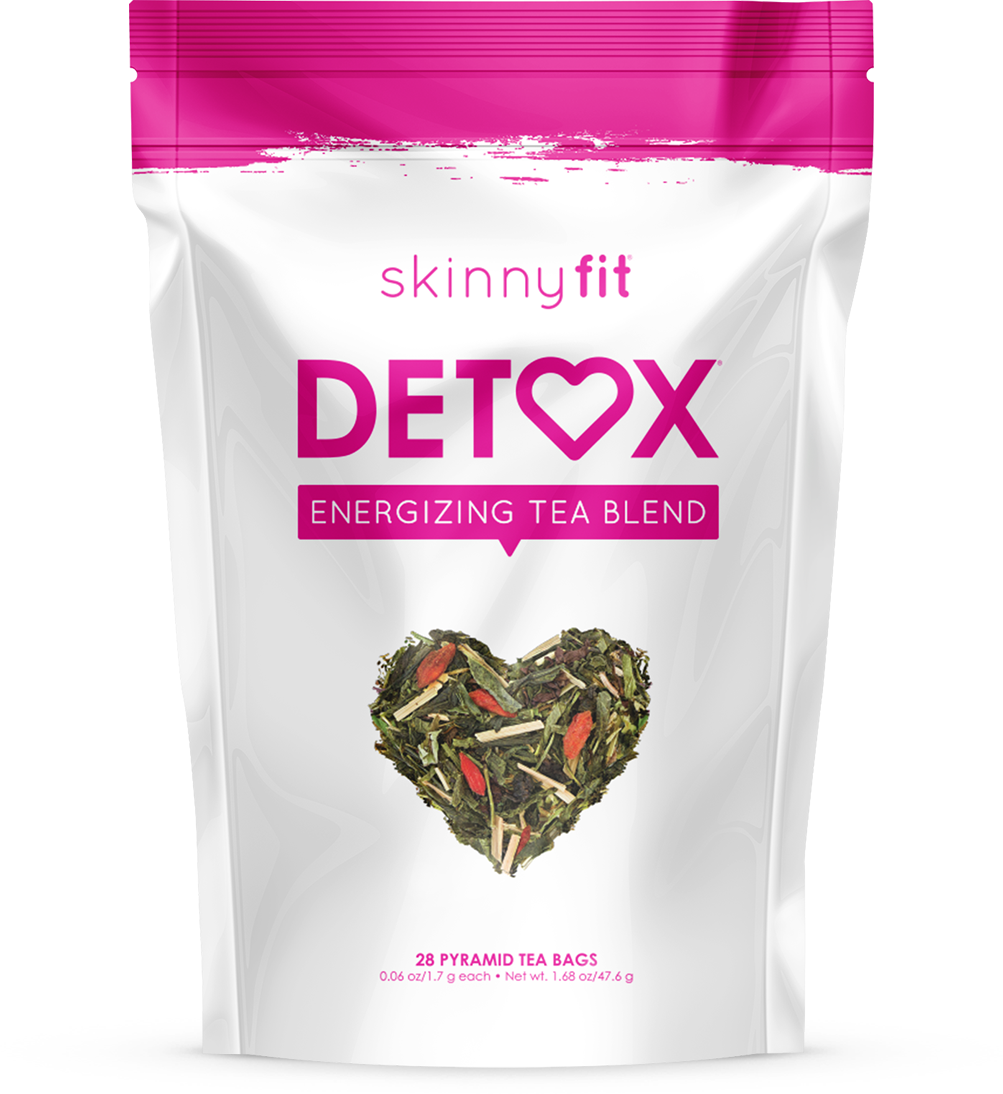 Lemon Ginger Detox
Easy-to-make & oh-so-delicious, you'll love the slimming results of this fat burning detox!
Prep Time: 5 min
Cook Time: 5 min
Total Time: 10 min
Serving Size: 1 serving
Ingredients
4 ounce fresh ginger root
¼ cup mint leaves, packed
5-6 cups water (adjust to desired strength, with more or less)
2 large lemons, juiced
3 tea bags of SkinnyFit Detox
¼ cup honey, or more to desired sweetness
Steps
Peel ginger using a knife or spoon to remove skin. Chop the ginger into rough chunks, small enough to easily blend in a blender or food processor. An alternative method would be to use a microplane or fine edge of a grater. Do not cut ginger in chunks if using a grater to grate the ginger. 
Crush mint in a small bowl using a small pestle and set aside.
Bring about 6 cups of water to a boil in a pot. Once boiling, turn off heat and let 3 Detox tea bags steep.
While water is heating up, place ginger into a blender, cover with 1 cup water, and blend until ginger is thick and pasty.
Put cheesecloth over a large bowl. Add the ginger paste, mint, and boiled Detox.
Sieve the ginger using a cheesecloth. Squeeze out the juice and let it fall into the bowl. Discard the remaining paste.
Stir in lemon juice and honey until everything is mixed. 
Serve hot or iced and top with a mint leaf for garnish.