Jump To Recipe
If there's one thing I will never give up, it's pasta. I can go without bread or sugar or soda for as long as I want, but there's something about rich Italian noodles that I just can't get enough of. Also, I can whip up some of my favorite creamy pasta recipes in less than thirty minutes. Now that's a win-win.
The recipe I'm sharing today is one of my go-to easy pasta dishes for satisfying your hearty cravings without feeling guilty–Pasta Primavera. It's packed with veggies, protein, and a delicious mix of cheese and spices. Make it ASAP and thank me later.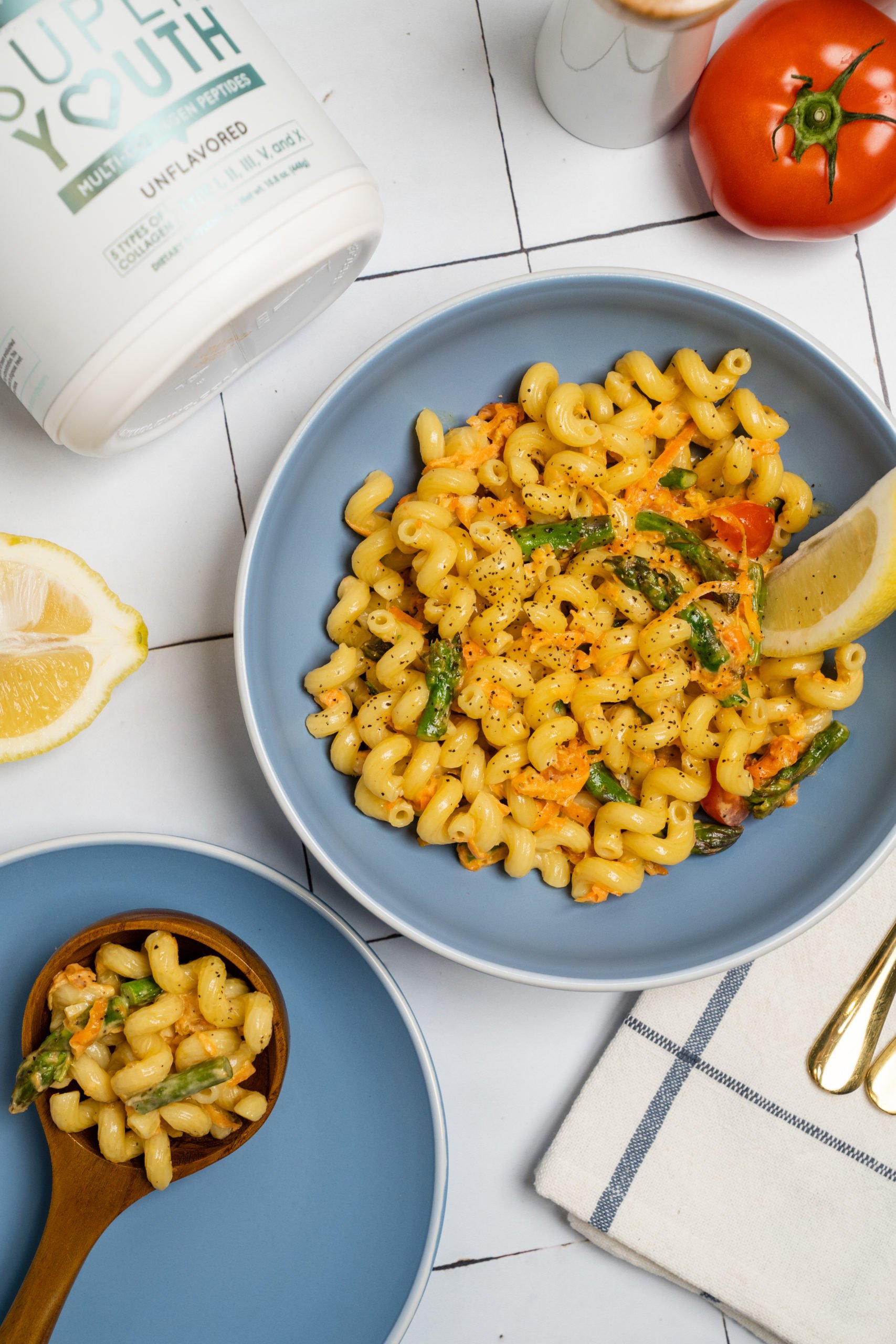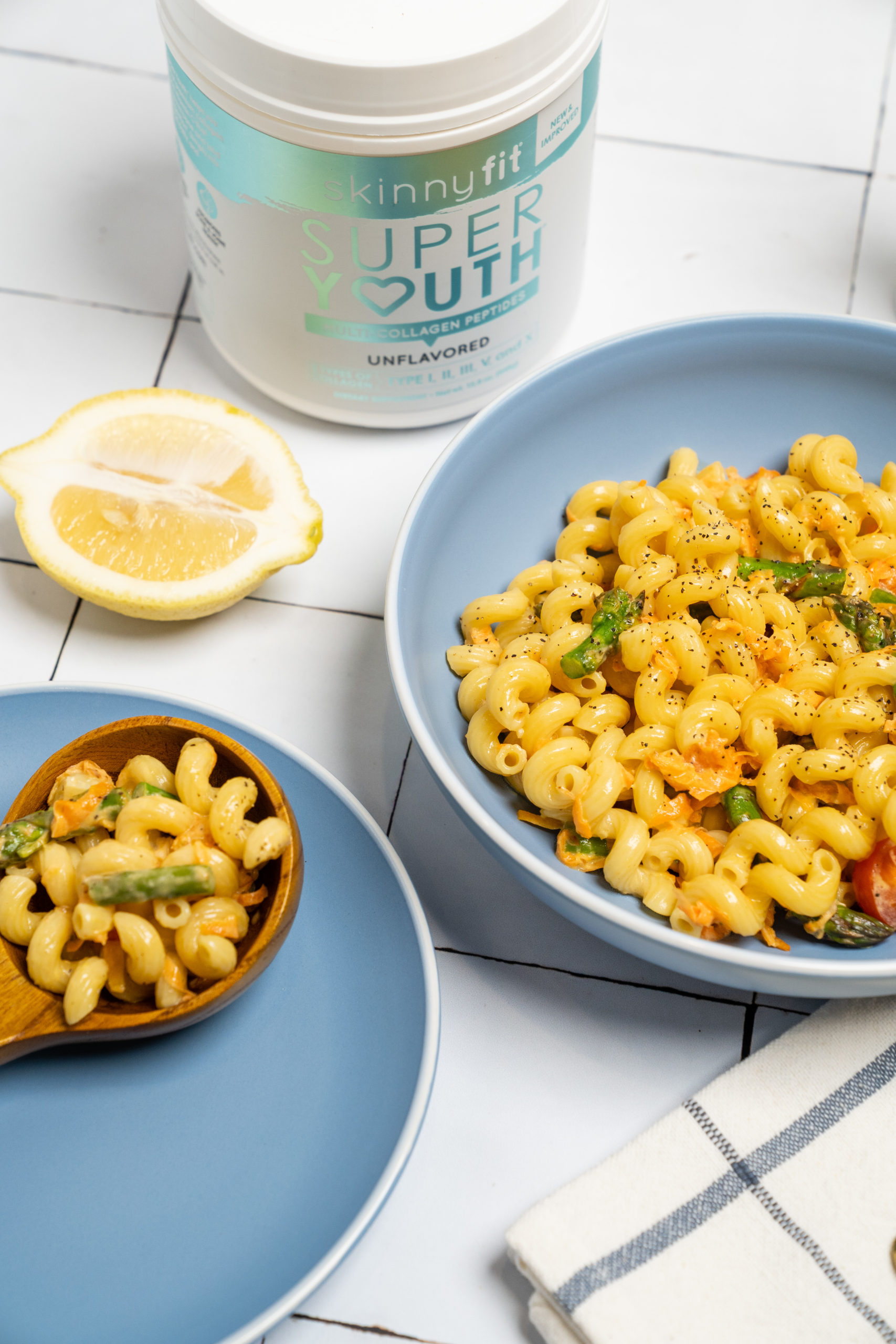 Your Taste Buds, Gut & Skin Will Thank You!
Creamy pasta recipes might not be at the top of your healthy dinner recipes list, but this one might change your mind. I'm a fan of sneaking vegetables into anything I can – rice, soup, even pasta. There's over five cups of mixed carrots, tomatoes, and asparagus in this recipe, which is more than twice the recommended servings per day! Adding a variety of vegetables to your diet is a great way to support your gut microbiome. The polyphenols found in produce contain antioxidants, which are said to help fight disease. [1] 
Another way I like to support gut health is with hydrolyzed collagen. Super Youth Unflavored is my favorite ingredient for just about any recipe. It dissolves easily, has zero flavor, and adds 14 grams of protein to your dish. Studies on collagen suggest that it can help reduce bloat and other digestive problems. [2] Since using it, I've noticed a major improvement in my stomach issues. I mix two scoops into my smoothies in the morning, and one into whatever recipe I make for dinner – including easy pasta dishes like this one.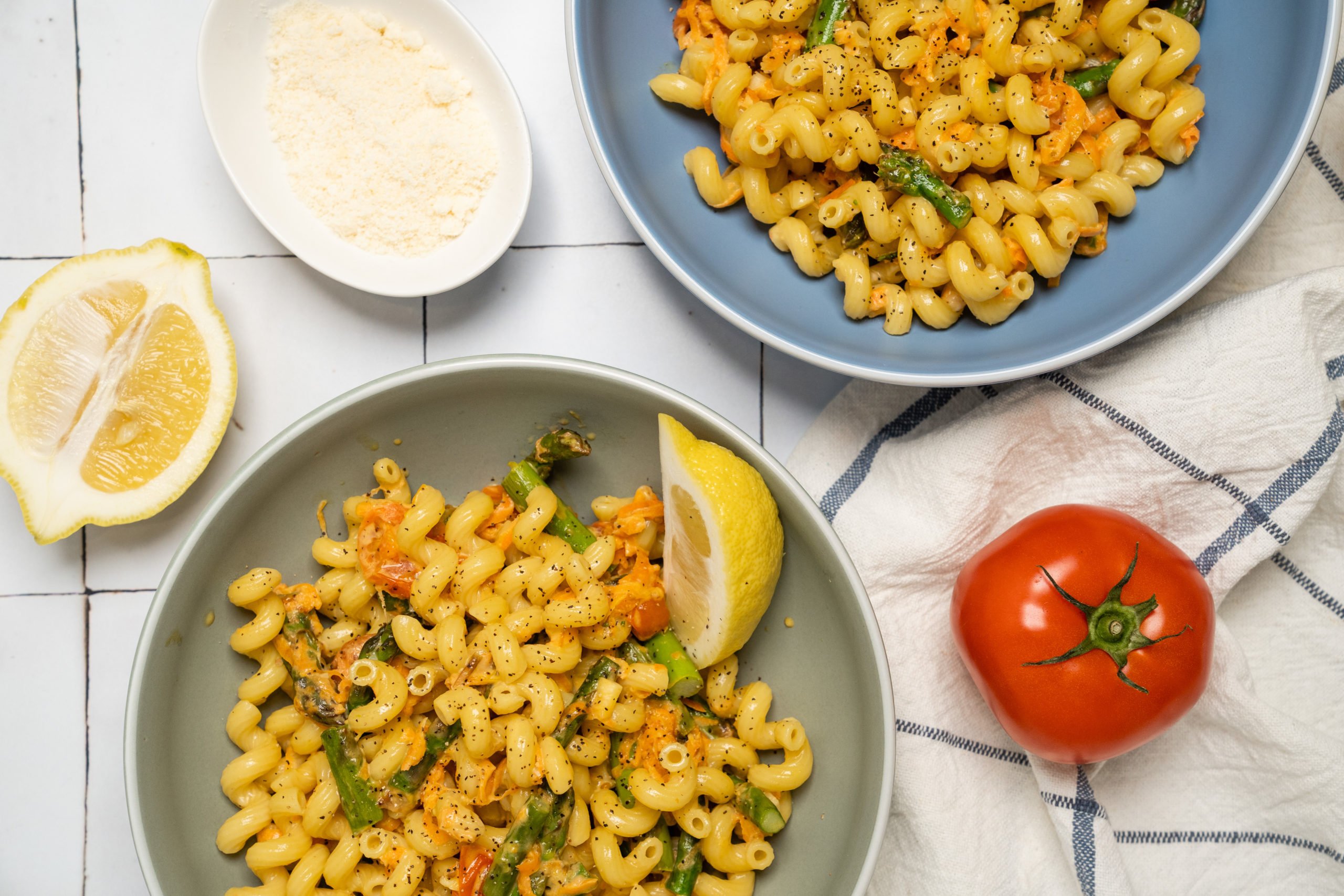 Next time you're craving creamy pasta recipes and also want to have a healthy meal, consider this Pasta Primavera. It's light yet satisfying, and full of gut-healthy ingredients. Be sure to double the batch to have some prepped and ready to eat for late nights or last-minute lunches. 
Mentioned In This Post
SkinnyFit Unflavored Collagen
Look and feel younger with Super Youth Multi-Collagen Peptides! This versatile collagen powder includes 5 collagen types from 4 natural sources to restore youthfulness from the inside out.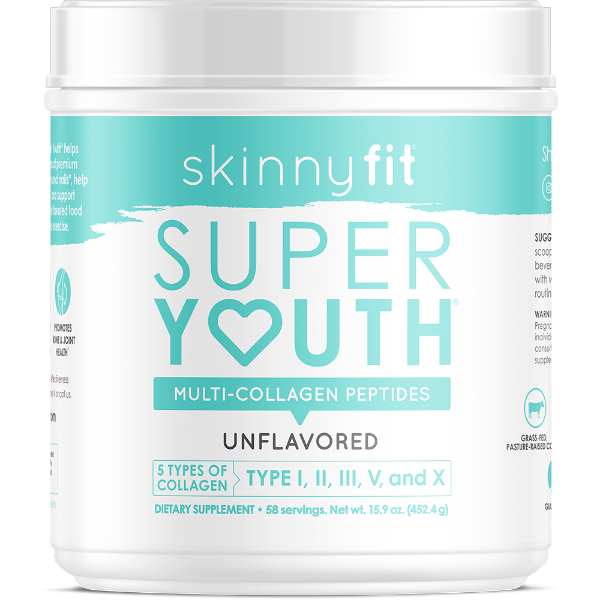 Light & Creamy Pasta Primavera
Prep Time: 10 minutes
Cook Time: 20 minutes
Total Time: 30 minutes
Serving Size: 6 servings
Ingredients
2 scoops SY Unflavored
2 cups uncooked gemelli or spiral pasta
1 lb fresh asparagus, trimmed & cut into 2-inch pieces
3 medium carrots, shredded
2 tsp extra virgin olive oil
2 cups cherry tomatoes, halved
1 garlic clove, minced
½ cup grated parmesan cheese
½ cup heavy whipping cream
¼ tsp pepper
Steps
Cook pasta according to package directions. Then, in a large skillet over medium-high heat, saute asparagus and carrots in oil until crisp-tender. Add tomatoes and garlic, cook 1 minute longer
Stir in the cheese, cream, SY Unflavored, and pepper. Drain pasta, then toss with asparagus mixture