Jump To Recipe
Chocolate hearts, soppy Hallmark cards, and an exciting spike in engagement ring sales. The excitement from Valentine's Day must be in the air!
Though its origins lie in the ancient Roman festival of Lupercalia, Valentine's Day has been celebrated since the 5th century, and rejoiced as a day of romance from the 1300s onward. Not a bad tidbit to know in case you find yourself quelling any indignant arguments that Valentine's Day was invented by greedy corporations hungry for post-Holidays sales. 
But I digress…   
With the day of love rooted in ancient Roman culture, it's no wonder Valentine's is often celebrated with fine wine and other tasty intoxicants. It's also fitting. After all, 8-25% of you started out your relationship over some beverage or another. [1]
So to celebrate, I wanted to share my healthy, detoxifying twist on the famous Love Potion cocktail that you can sip and enjoy all year long!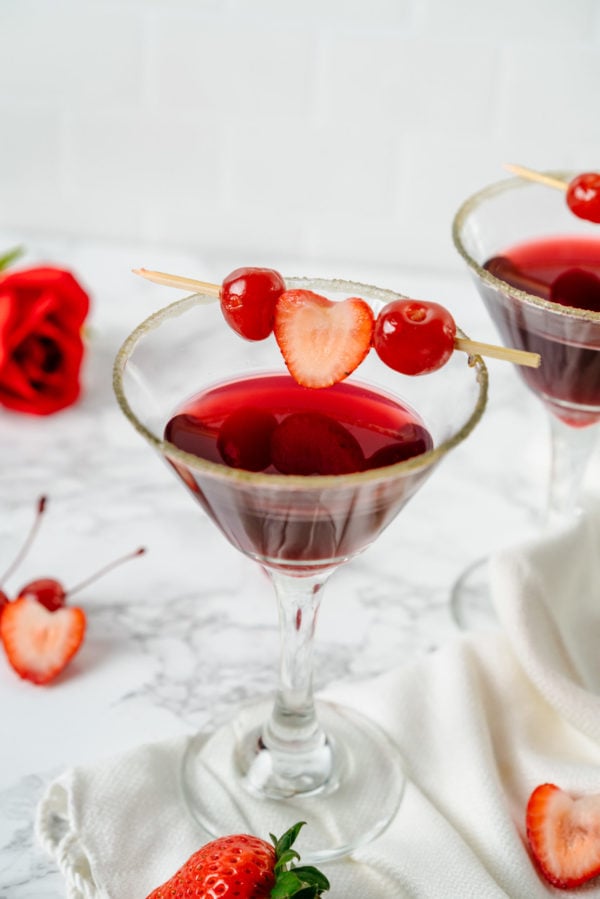 What's In A Love Potion Cocktail?

Now, there are countless variations out there, but this particular Love Potion drink is rare in its simplicity and elegance. To retain its… je ne sais quoi, I suggest serving in a martini glass to show off the deep pink hue and subtle fruits of this festive drink. 
Not much of a mixologist? Relax, another reason I love this Love Potion cocktail recipe is that it's deceptively simple to make, yet tastes like you've spent years paying your dues behind a craft cocktail bar. 
But the charm of this particular Valentine's Day cocktail recipe is that it's rich in detoxifying nutrients that help restore your body's vital functions. 
Unfortunately, toxins easily build up in our bodies due to constant exposure from a variety of environmental hazards, ranging from the food we eat to the air we breathe to the materials we have around our homes. These toxins affect our bodies in both the short and long term. While we've developed natural detoxification methods, modern-day life confronts us with new toxins on the daily, so it's crucial to help your body out.
The good news is, this recipe is loaded with natural detox ingredients that help give your immune system the boost it needs to expel all this dangerous buildup. 
Hey, I'll drink to that!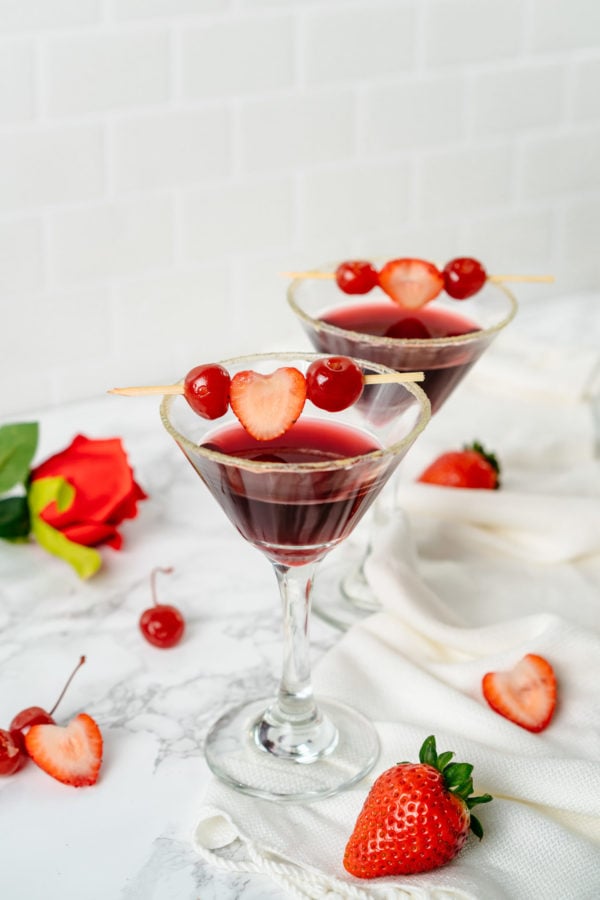 Okay, that's enough of the behind-the-scenes. Let's dive into the ingredients… 
Vodka — Because it's not overpowering, vodka is perfect for concoctions with light, bright flavors. Remember, this is your base, so I suggest reaching above the bottom shelf. Get a mid-range or nicer bottle that's distilled to your liking.
Peach liqueur — Mixologists love unleashing the cognac undertones of peach liqueur in summery libations. But it also has a kiss of sweetness perfect for any Valentine's Day cocktail recipe
Pomegranate juice — Besides its delicious tart taste and deep ruby color, pomegranate juice is full of antioxidants derived from polyphenols, which help to fight off free radicals and reduce inflammation. [2] And that's just for starters. Pomegranate is also an abundant source of important vitamins, including C, E, K, folate, and potassium. What's more, is pomegranate is known to decrease infertility in women and increase testosterone in men. [3], [4] Needless to say, it's a vital(ity) ingredient in Love Potion.
SkinnyFit Detox Tea — This is the secret ingredient that makes Love Potion drink with a seductively delicious flavor while providing an extra boost of detoxifying nutrients to flush out harmful environmental exposures. SkinnyFit Detox Tea works exceptionally well to boost your immune system, elevate your energy and help you lose weight, thanks to 13 metabolism-boosting superfoods. Bye toxins, bye tummy, hello Love Potion cocktail!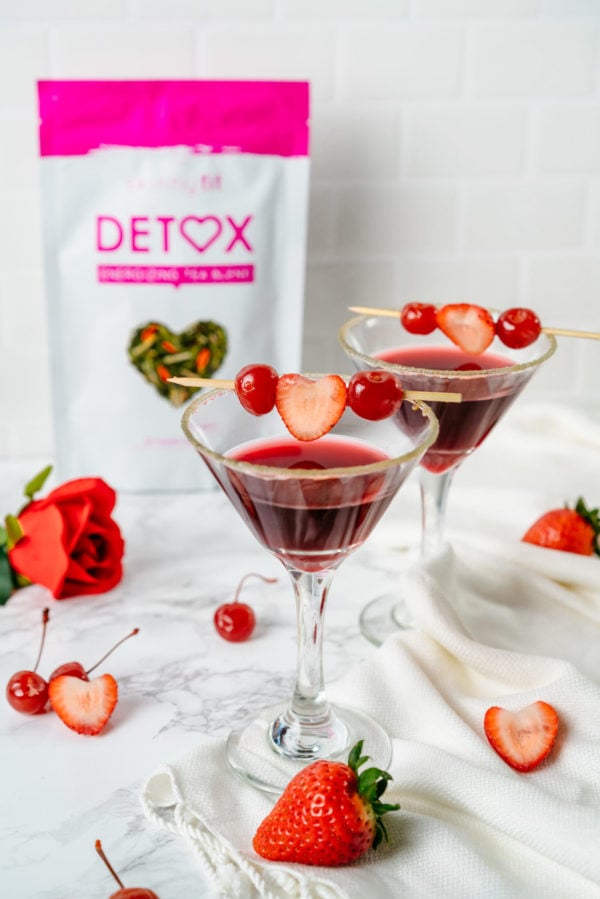 Love Potion Cocktail Recipe
This slimming, belly-soothing, detox Love Potion cocktail is better than any Valentine's Day cocktail recipe you'll have this year! Enjoy 13 delicious and powerful superfoods in every sip.
Prep Time: 5 minutes
Cook Time: -
Total Time: 5 minutes
Serving Size: 2 cocktails
Ingredients
⅓ cup vodka
4 oz. SkinnyFit Detox
¼ cup peach Schnapps (or peach liqueur)
1 cup ruby red pomegranate juice (or any red juice with cherry or raspberry in it)
Steps
Add all ingredients to a cocktail shaker filled with ice. Place the top onto the shaker and shake until chilled. Optional step: Add a sugar rim to the glasses if desired.
Pour mixture into martini glasses and garnish with maraschino cherries or strawberries.
Enjoy with dessert and Barry Manilow's greatest hits. *Just remember that this Love Potion drink is by nature alcoholic, so please drink responsibly.