Jump To Recipe
Learn how to make a beautiful and delicious matcha smoothie bowl in just a few minutes! It's not just pretty to look at either, it's also packed with health benefits!
Not to brag, but I'm kind of the matcha queen. My grandmother is Japanese, and I've been drinking it and learning about it long before it became a coffee shop staple. I knew the difference between matcha and green tea from a young age, and it helped form the palate I have–one that loves sweet, earthy flavors.
The one matcha trend I wasn't early to was the matcha smoothie bowl trend, and it's a good one! If you love the tart, earthiness of an acai bowl, and the sweetness of a tropical juice, you're going to love this matcha smoothie bowl recipe. The only difference between an awesome matcha smoothie and this matcha smoothie bowl is that it's much thicker, and you eat it with a spoon. To get you excited about this delicious matcha smoothie bowl recipe, I'm going to share a little bit more about what matcha is, and the benefits of this bright green powdered tea.
What Is Matcha?
Matcha is a type of green tea, mostly grown, harvested and ground in Japan. Unlike traditional green tea, matcha is grown under bamboo shading halfway through its harvest. This is what helps make your matcha smoothie bowl so green! Once matcha is harvested, it's then stone-ground in a stone mill. This produces the familiar, bright green powdered tea going into this delicious matcha smoothie bowl recipe!

 
Matcha Benefits 
Matcha is known for being one of the healthiest green teas out there. Here are the primary health benefits you can expect with matcha powder:
Brain Power—Matcha contains the amino acid, L-Theanine, which can cross the blood-brain barrier. This helps support mental clarity [1]
Focus & Energy—The combination of L-theanine and the caffeine content in matcha (which is much lower than coffee) helps to support a clean source of energy. No jitters, no crash. [1]
Immune Boost—The antioxidants and vitamin C in matcha help to improve immune function. [2]
Reduced Inflammation—The shade-growing process makes the tea leaves work extra hard to absorb the little sunlight they receive, making matcha rich in chlorophyll. Chlorophyll has amazing anti-inflammatory effects, which can help reduce swelling, bloat, and redness. [1]
How To Make A Matcha Smoothie Bowl
Perfecting a matcha smoothie bowl recipe is like hitting the lotto. Ok, maybe not the same, but it feels like it some days! You want it to be perfectly smooth and creamy, with a sorbet-like texture. It needs to be sweet but not too sweet, and earthy but not too earthy. This recipe nails all of the above. \
The best part about this matcha smoothie bowl recipe is that it only requires 6 ingredients. You'll start by adding frozen banana slices, frozen mango chunks, and frozen spinach (fresh is fine, too!) to a powerful blender. Next, add your matcha. Top with almond milk (or milk of choice), and a scoop of Super Youth Unflavored Collagen. Don't skip this step! The collagen adds a boost of protein, and you won't taste it at all. My favorite part about collagen is that you get all of the benefits without the grainy taste most protein powders leave behind. Collagen is also an anti-aging powerhouse. It can help reduce wrinkles, fine lines, and even signs of cellulite. To say this matcha smoothie bowl is delicious is one thing, but once you learn about the benefits it speaks for itself! You'll blend all of these ingredients until thick and smooth, and then scoop into your favorite bowl. I like to top my smoothie bowl with blueberries, coconut flakes, and even pumpkin seeds. You can add more or leave them out altogether. No matter how you dress it up or down, you're going to love this matcha smoothie bowl recipe.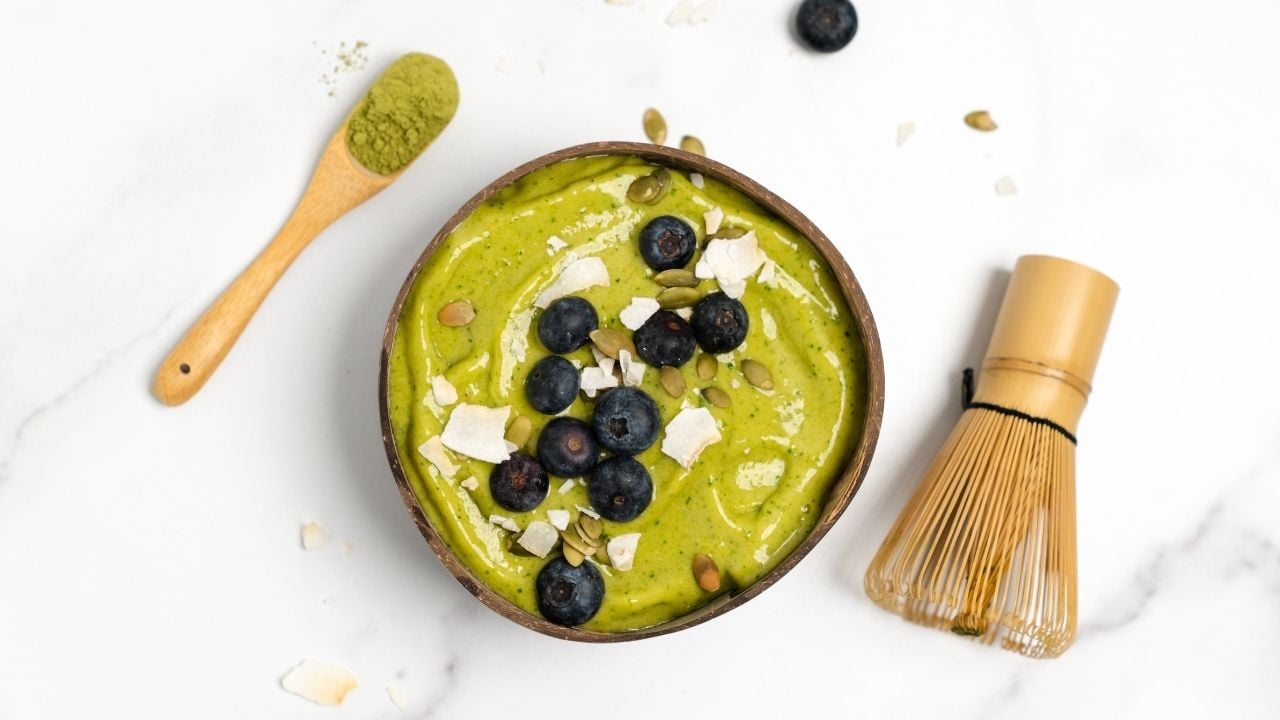 Matcha Smoothie Bowl
Learn how to make a beautiful and delicious matcha smoothie bowl in just a few minutes! It's not just pretty to look at either, it's also packed with health benefits!
Prep Time: 5 minutes
Cook Time: 0 minutes
Total Time: 5 minutes
Serving Size: 1 serving
Ingredients
1 frozen banana, sliced into 6-8 chunks
1 cup frozen mango chunks
½ tsp matcha green tea powder
1 scoop Super Youth Unflavored Collagen
Hand full of fresh spinach
¼ cup almond milk, or dairy-free milk of choice
Optional Toppings (Coconut flakes, blueberries, pepitas)
Steps
Add the frozen banana, frozen mango and spinach to a high speed blender.
In a small bowl, dissolve the matcha powder in 2 tbsp of warm water. Add to the blender along with the collagen.
Add about half of the almond milk to the blender and blend your smoothie bowl. If the smoothie is not blending, use a spatula to carefully shift the fruit around the blade. If it is still not blending, add more almond milk and blend again.
Once your smoothie is thick and smooth, transfer it to a bowl and add your favorite toppings.