Jump To Recipe
As summer approaches, my taste buds begin their annual yearning for a chilled and deliciously sweet treat that makes me say "ahh" after each sip. Now, you could opt for the traditional summertime favorites, like a peach iced tea or strawberry lemonade, but nothing quite compares to that of the often overlooked orange creamsicle.
An orange creamsicle smoothie is creamy, dreamy, and without a doubt, tasty, but if you've ever had one from a juice or smoothie shop, then you know the calorie and sugar amounts on these bad boys can be diet no-gos. That's where I come in. This soon-to-be-favorite orange smoothie recipe contains a limited number of ingredients to reduce unwanted calories, and is just as mouth-watering (if not more) as any orange juice smoothie you'll find at an expensive store. 
What's An Orange Creamsicle Smoothie?
An orange creamsicle smoothie is just like, you guessed it, an Orange Julius. If you've been to pretty much any mall ever, then you've no doubt seen one of these juice stands around. The creaminess in an orange juice smoothie primarily comes from bananas. Not just for the added texture but for softening the bold citrus flavors of the orange and bringing in a soft and, well, creamy, flavor to it. An orange juice smoothie is a perfectly satisfying summertime treat that your kiddos will go bananas over, and will even bring back some childhood memories for yourself! 🍊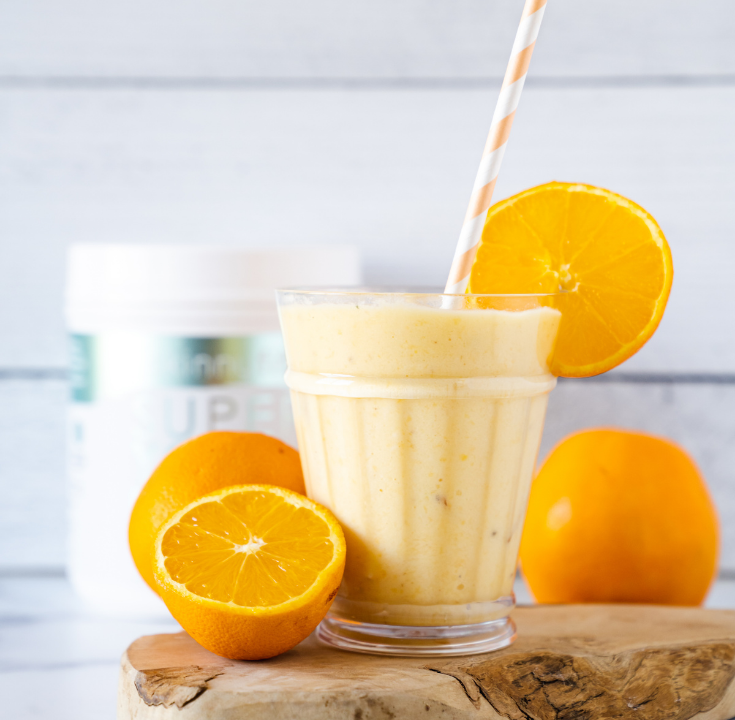 Orange Smoothie Health Benefits
Even though this orange creamsicle smoothie is made with just a few ingredients, the few ingredients it does have, come with some pretty awesome perks. Here are some of the benefits you can expect when you whip up this creamy dream machine! 
I chose SkinnyFit Peach Mango collagen flavor for this particular recipe, but you can also opt for Super Youth unflavored collagen as well if you prefer a more "toned down" taste. On the other hand, if you're feelin' saucy, add 1 scoop of Super Youth Peach Mango, and 1 scoop of Super Youth Unflavored to your smoothie for double the youth-activating power! Talk about a smoothie that does it all!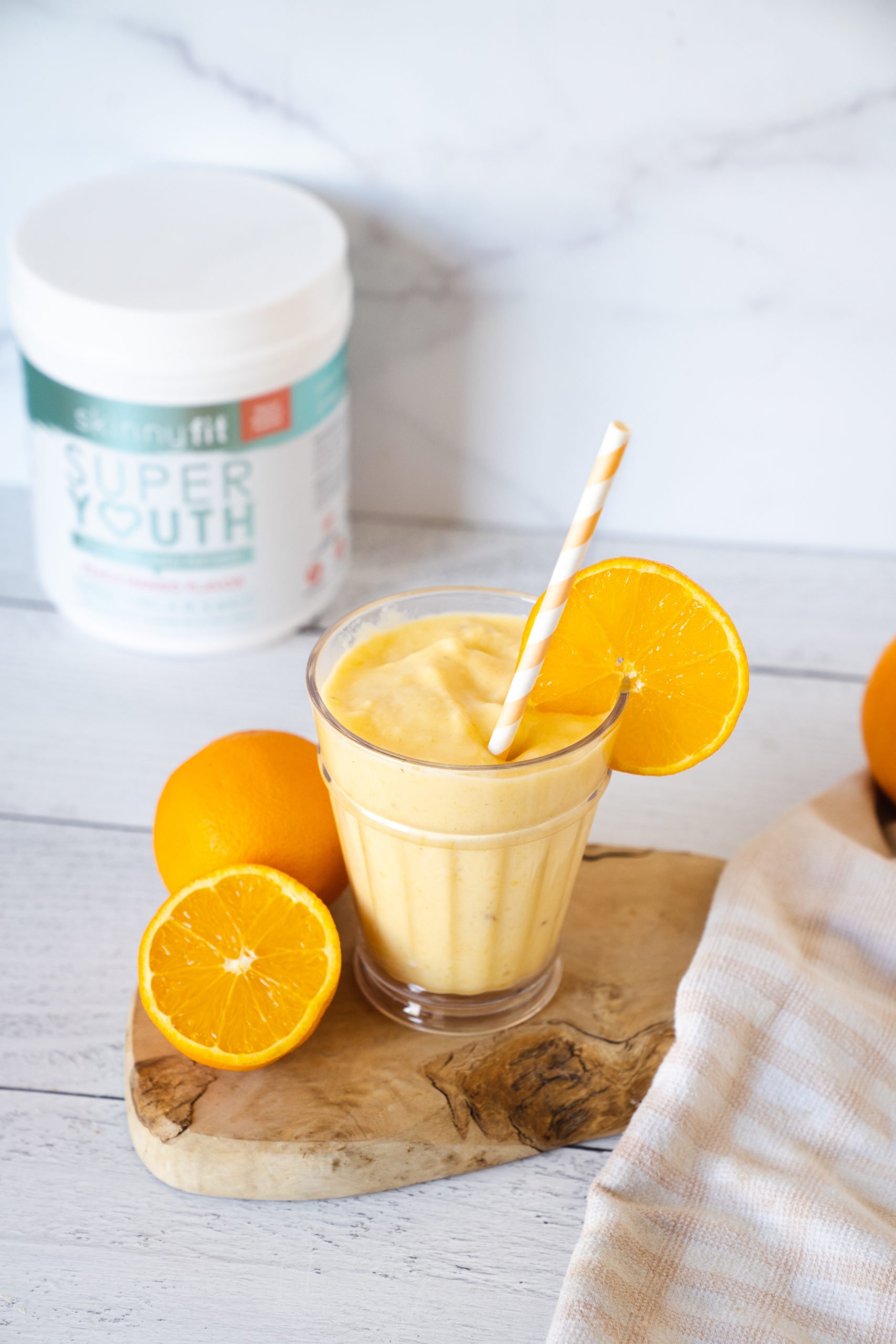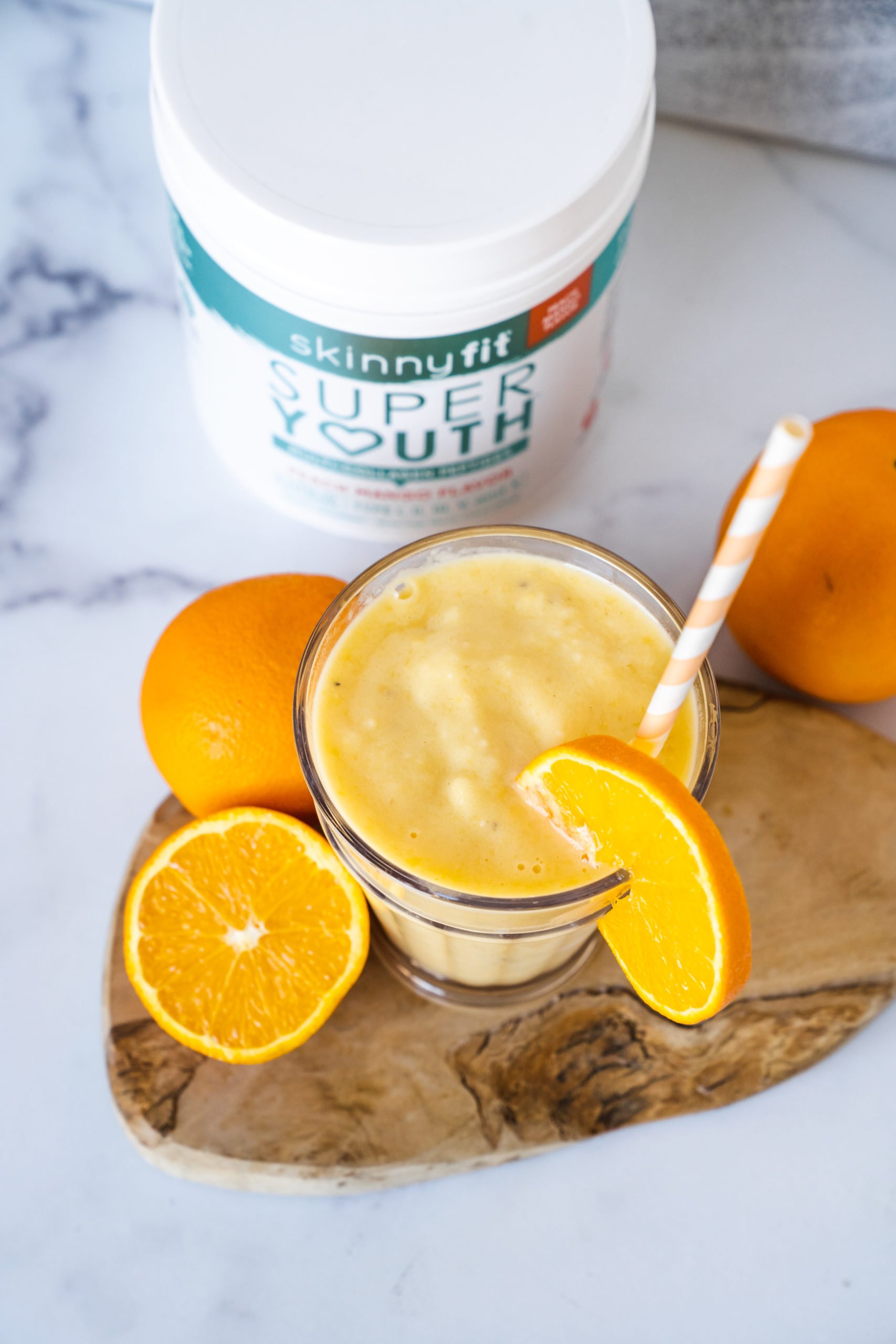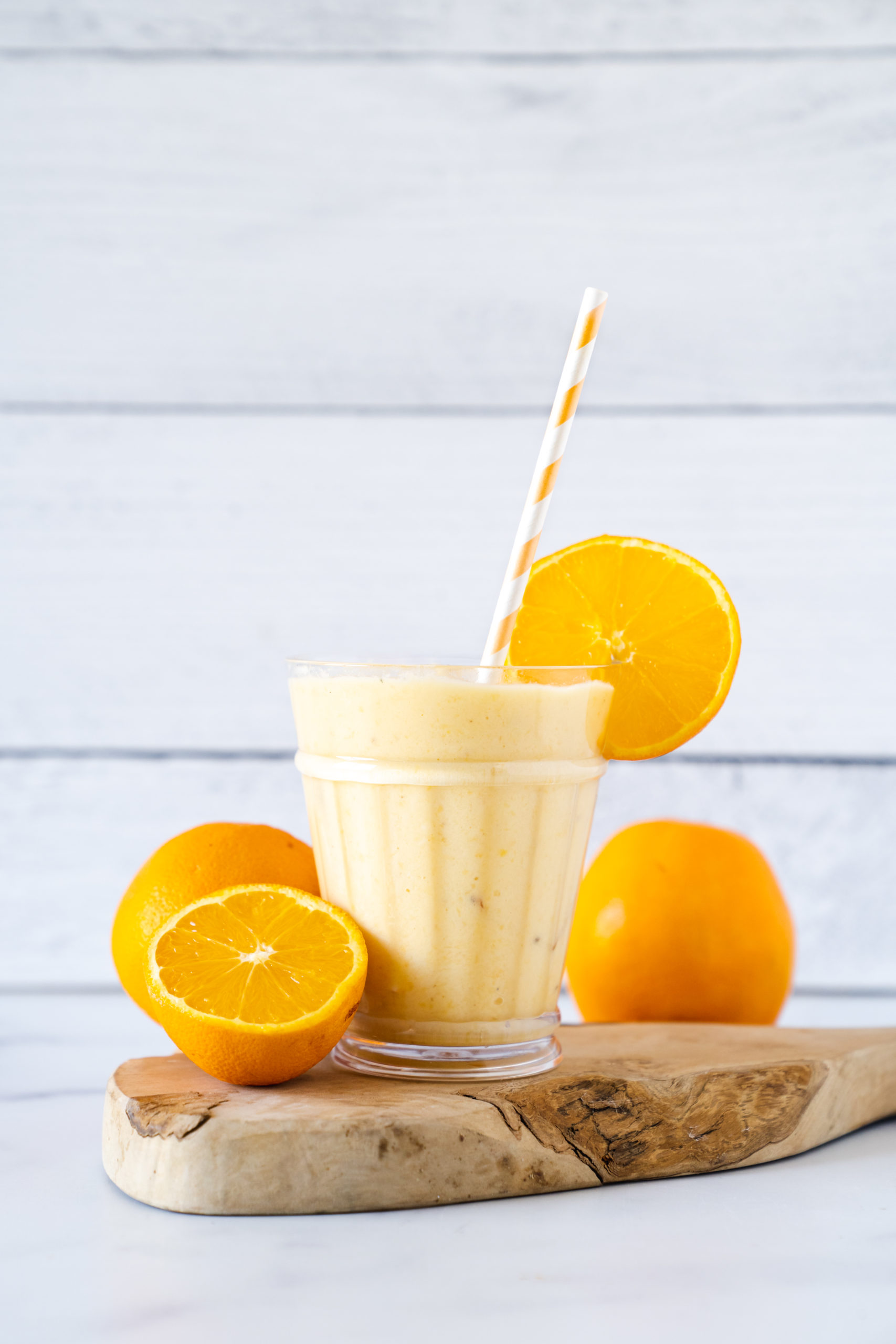 How To Make An Orange Creamsicle Smoothie
Ready in just 5 minutes, an orange creamsicle smoothie is super simple to make, and you can double up this recipe so that it's ready in your fridge for whenever your sweet tooth is calling out. 
Just combine your orange juice, banana, mango, Super Youth Peach Mango collagen, Greek yogurt, and vanilla into a blender and mix. Seriously, that's it!
Hosting a little summer soiree with your girls? Add a little vodka or rum to this recipe to make it a boozy orange creamsicle smoothie that your friends will go ga-ga over! 🍹Feel free to get creative with this recipe, too! Top it off with some cool whip for added creaminess, or garnish it with your favorite fruits. No matter what you decide, this crowd-pleaser of a smoothie is sure to check off all your summertime craving boxes! 
Orange Creamsicle Smoothie Recipe
Deliciously creamy and taste-bud dreamy!
Prep Time: 5 min
Cook Time: 0 min
Total Time: 5 min
Serving Size: 2 smoothies
Ingredients
1 cup orange juice
1 frozen banana
1 cup frozen mango
1 scoop Super Youth Peach Mango collagen
½ cup vanilla Greek yogurt
½ tsp vanilla
Steps
Combine all ingredients in a blender and mix until creamy. Serve immediately.