Jump To Recipe
Whether you're from the South or not, a good ol' fashioned peach cobbler is a tasty treat everyone enjoys! But, let's be honest..who really has the time to make this delicious dessert as often as we'd like? And even if we did, it's admittedly not the healthiest choice around. We do have some good news though…
What if we told you that you can still have your peach cobbler, only now it will take you a total of  5 minutes to make…plus our version is actually good for you! You might think we're crazy…and perhaps we are…because we've done the impossible! We've created the most perfect healthy peach cobbler—in smoothie form! Now you can whip it up and drink it on the go!
A Healthy Peach Cobbler Smoothie In 5 Minutes!
The thought of a peach cobbler actually being good for you is, well, almost unbelievable… But when you add our famous Super Youth Multi-Collagen and SkinnyFit Detox, you've got a recipe for health success!
Here at SkinnyFit, we often get asked if Super Youth and Detox can be mixed together, and while they're amazing on their own, we get the whole "kill two birds with one stone" thing. The answer is yes! Super Youth and Detox complement each other perfectly if you'd prefer to enjoy them together.
This peach cobbler smoothie recipe actually combines our age-defying Super Youth collagen that restores youthful skin, promotes gut health, and strengthens bones and joints, with our fat-fighting Detox tea that helps you lose weight and keep it off! And because our peach cobbler smoothie is actually good for you, this is one recipe you can indulge in whenever you want—without the guilt!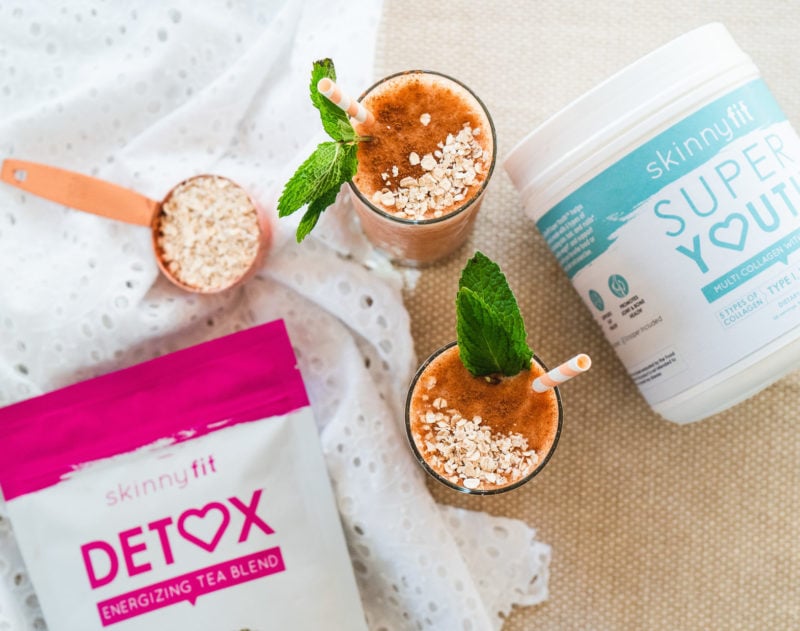 An Undeniably Scrumptious Peach Cobbler Smoothie Recipe To Keep You Young & Healthy!

Don't be mistaken, this healthy peach cobbler smoothie recipe is not just for dessert! Whip up this delicious 5-minute meal replacement for breakfast, lunch, dinner, or anytime you need a sweet treat that will fill you up and hold you over until your next meal.
SO, if you're ready for a powerful combo of anti-aging and slimming ingredients in one yummy, drinkable meal, then this peach cobbler smoothie is sure to be your new go-to!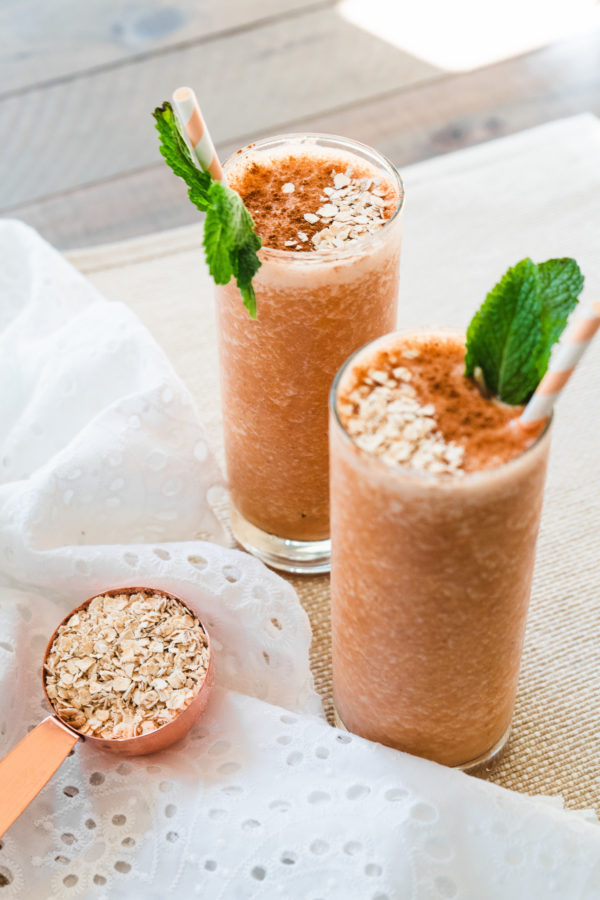 Southern Peach Cobbler Smoothie
Whether you're from the South or not, a good ol' fashioned peach cobbler is a tasty treat everyone enjoys! This peach cobbler smoothie recipe is a quick and healthy alternative to drink on the go!
Prep Time: 5 minutes
Cook Time: -
Total Time: 5 minutes
Serving Size: 1-2 smoothies
Ingredients
2 cups frozen peach slices
1 banana
1 cup SkinnyFit Detox, brewed & chilled
½ cup almond milk
1 scoop Super Youth
1 tsp cinnamon
1 tsp nutmeg
1 tsp vanilla
3 tbsp old fashioned oats
1-2 tbsp honey for sweetness (optional)
Steps
Add all ingredients into a blender and blend until smooth. Add additional almond milk as needed to reach desired consistency. Enjoy!