Jump To Recipe
Get ready for the most delicious, healthiest, and gorgeous margaritas recipe ever. If you love tropical, zesty frozen margaritas, allow me to introduce you to the best margarita recipe of the year. It's my take on a peachy skinny margarita recipe, and I guarantee you're going to be making it on repeat all summer long!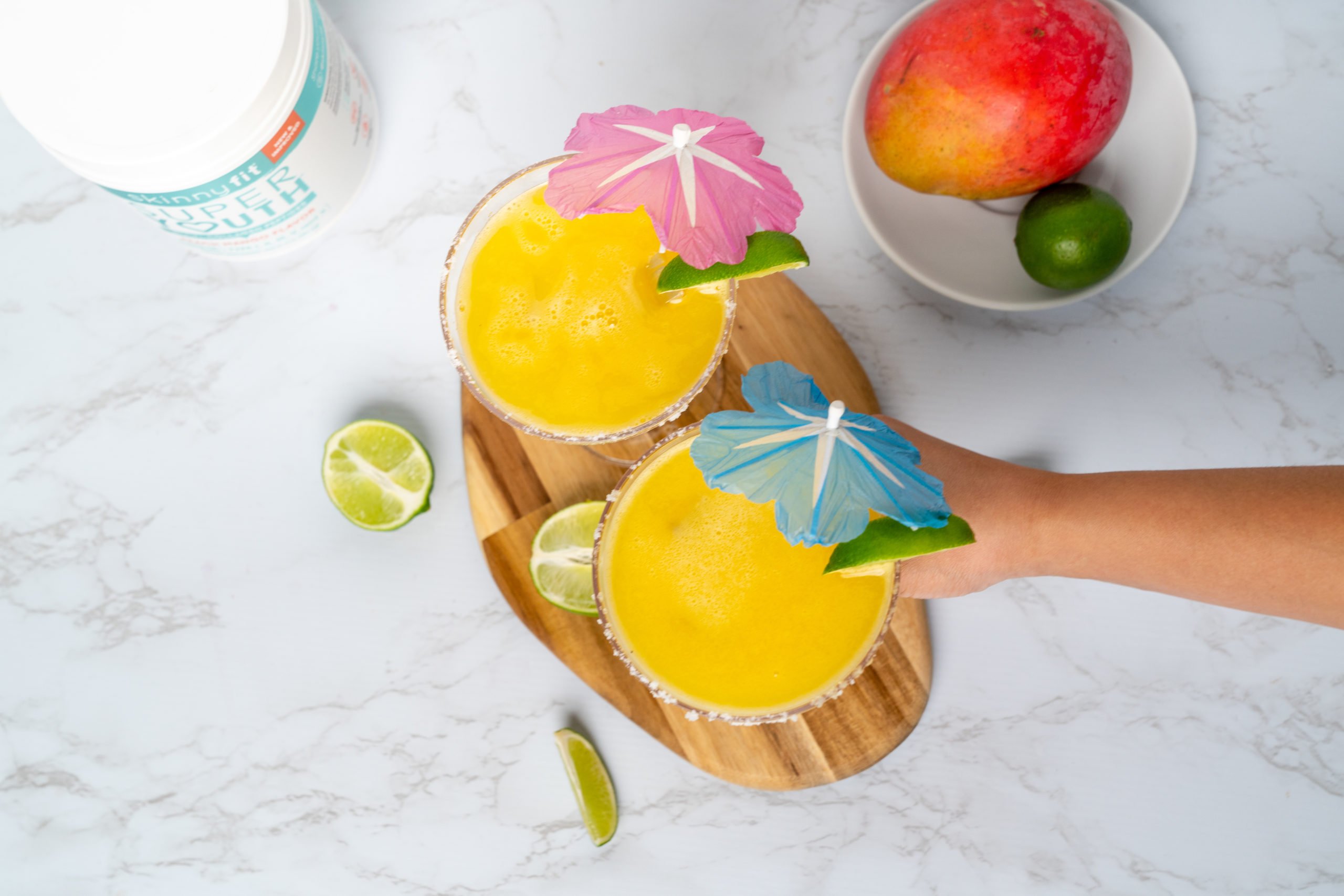 How To Make A Peach Mango Margarita
Making this margaritas recipe is so simple. All you have to do is gather all your ingredients. You'll need fresh mango, fresh orange juice, fresh lime juice, your favorite tequila (I like blancos), any type of orange liqueur, salt for the rim, and of course, a secret ingredient. For this skinny margarita recipe you're going to need a heaping scoop of Peach Mango Super Youth collagen. It's the secret sauce of this recipe, and what helps deem it the best margarita recipe of the year!
Once you have all of your ingredients, prep your margarita station. You'll need a high speed blender, a small plate if making a salt rim, and your favorite glasses. Start by slicing your lime into wedges, and then rub one of the wedges along the rim of your glasses. Pour some salt onto a plate, and one by one, rub the lime-rimmed glasses in the salt. Set aside.
Next, add all of your remaining ingredients to your blender, and blend on medium until smooth, and no chunks of mango remain. Add ice to each glass, and pour your margaritas in! Give it a stir, and enjoy!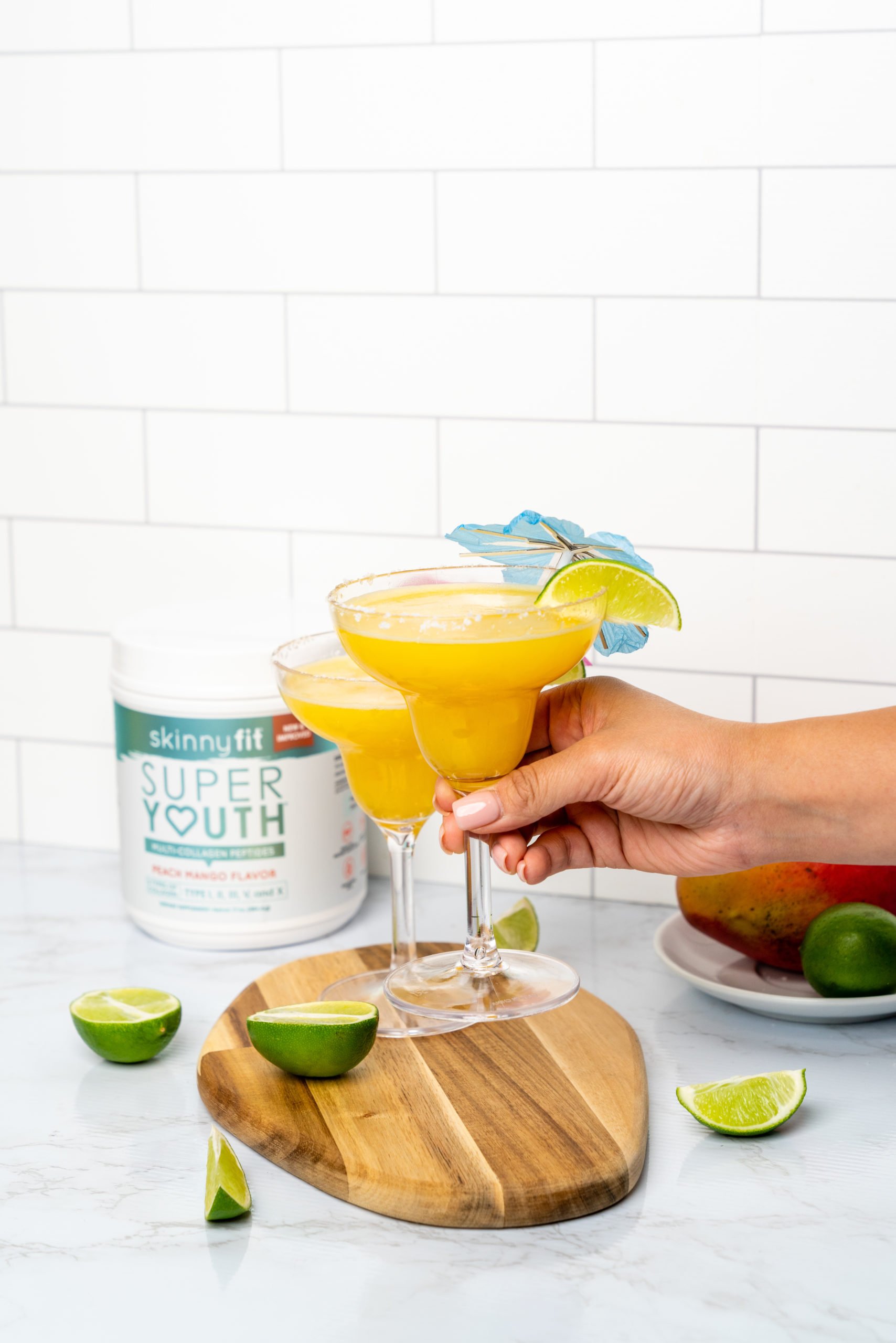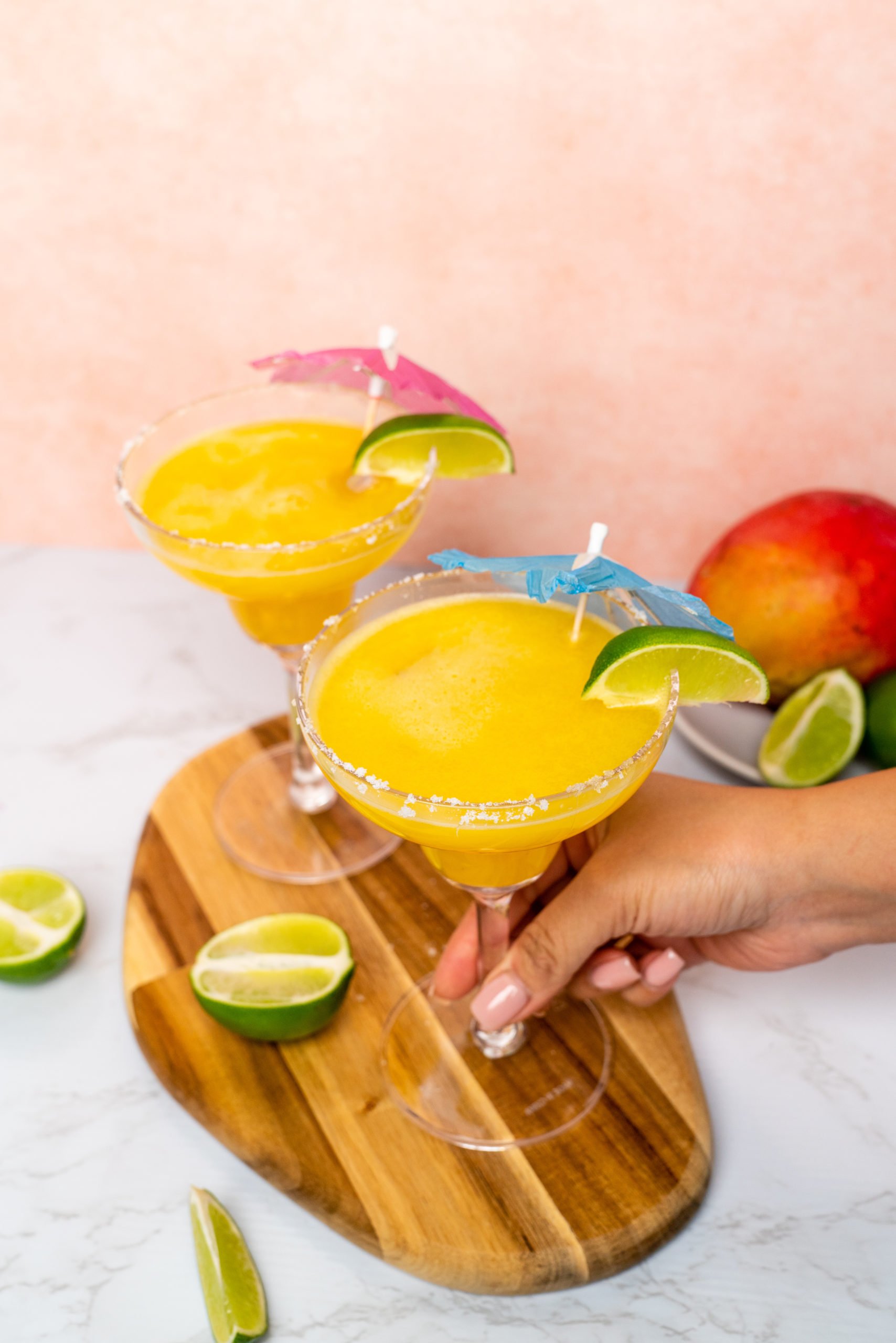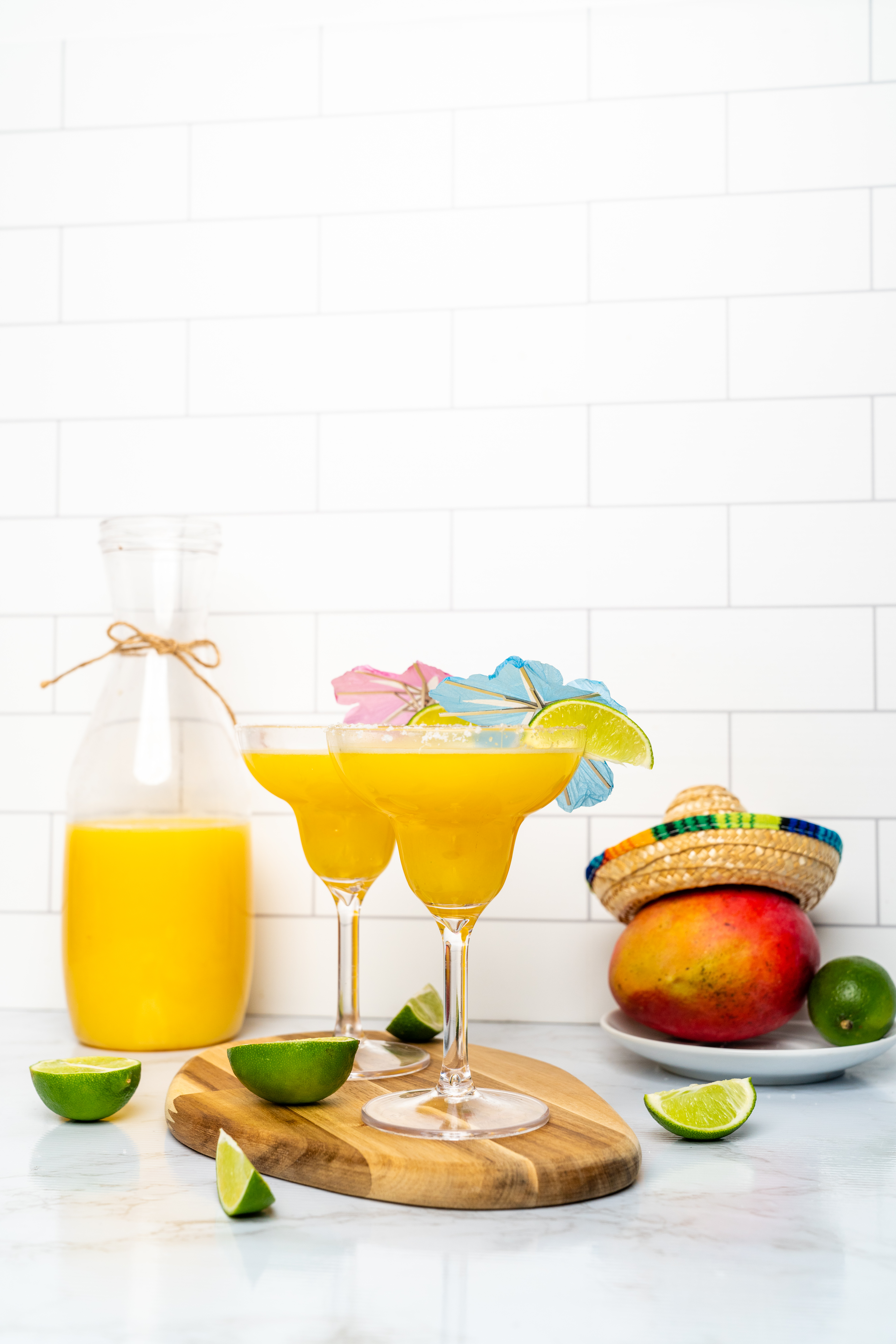 Benefits Of A Peach Mango Margarita
This is no ordinary margaritas recipe. This peach mango margarita contains fresh citrus, mango, and of course, anti-aging collagen powder. Mango and orange juice contain high amounts of vitamin C, and mango is packed with healthy fiber. The real star of this margaritas recipe is the collagen, though. Very few cocktails contain collagen, and I don't understand why! You can't taste it at all, and it adds so many amazing benefits.
We need collagen, it's the most abundant protein in the body! It's what keeps our skin looking young and glowing, it helps our muscles stay lean and strong, and even helps keep our joints healthy and mobile. [1] By adding just one scoop of Peach Mango Super Youth to this margaritas recipe, you get all of these benefits! 
Skinny Peach Mango Margaritas
Enjoy this delicious, healthy peach mango margarita, perfect for summer!
Prep Time: 5 min
Cook Time: 0 min
Total Time: 5 min
Serving Size: 2 margaritas
Ingredients
1 scoop Peach Mango Super Youth
1 large mango
½ cup fresh orange juice
½ cup fresh lime juice
1 cup tequila
⅓ cup orange liqueur, Cointreau or similar
Salt for rim (optional)
Ice
Steps
Add the diced mango, Super Youth, orange juice, lime juice, tequila and orange liqueur to a blender. Blend until smooth.
Slice a lime into wedges and rub one wedge on the rim of a glass. Dip the glass upside down in the salt.
Fill the glass full of ice and pour the mango margarita on top. Give it a stir, garnish with a lime wedge and enjoy.