Jump To Recipe
Forget bacon and eggs.
Forget pancakes or parfait. There's little I love more in this world than a rich, creamy, nutrient-dense smoothie to kickstart my morning. Quick and easy, it's the perfect way to pack a whole meal's worth of goodness into a couple sips and slurps.
But here's the thing—most of us spend at least five mornings a week hastily racing out the door, just trying to make it to work on time. For once. So we can't afford to blend up decadent and delicious smoothies.
Or can we? 
My secret go-to peanut butter banana smoothie takes little in the way of thought and even less in the way of preparation. And… 
It.  🍹
Looks.
Amazing. 🤩
But it tastes even better. All the ingredients swirl together in such harmony you won't be able to help yourself from slurping up every last drop. But don't be embarrassed—loudly slurping the last sips of this "PB&B" delight simply tells others around you, "Hey, I totally just killed the best smoothie ever… Hope your biscuit is good."
And, unlike most peanut butter banana smoothie recipes out there, it's also ridiculously healthy. 
With benefits from your heart to your hair, this easy-to-make, incredibly delicious, surprisingly healthy smoothie is one you're going to want to add to your morning routine at least a few days each week. 
Let's check it out…
3 Benefits Of This Peanut Butter and Banana Smoothie
This is a healthy peanut butter banana smoothie for many reasons, but the roughly 46 grams of protein packed into each serving is definitely one of the best. Protein plays an important role in literally every single cell in our bodies and acts as the main component in the repair, replenishment, and growth of muscle 💪 . 
Here's the breakdown of primary protein sources in this peanut butter and banana smoothie recipe:
Peanut Butter: 7 grams
Greek Yogurt: 17 grams
Instant Oats: 6 grams
Dairy Milk: 9 grams (dairy substitute suggestions below)
Secret ingredient: 7 grams
I love to drink my peanut butter banana smoothie in the morning, but all that protein makes it great for your post-workout refuel as well.
Lowers bad cholesterol (LDL)
Peanut butter is an excellent source of monounsaturated fat. Relax, this is the fat you commonly hear referred to as "good fat." Sure, that sounds a bit like a backhanded compliment; but it's true. Monounsaturated fats help reduce harmful LDL cholesterol and, in doing so, reduce the chances of heart disease. [1] 
Also helping to lower high cholesterol are cellular fibers known as beta-glucans, found in oats—an important ingredient in this healthy peanut butter banana smoothie. When incorporated into fruit drinks (like, you know… smoothies), they have proven very effective at lowering LDL cholesterol. [2]
The secret ingredient: collagen
Collagen is the secret ingredient in this peanut butter and banana smoothie, but it's also the secret ingredient in LIFE. It's the most abundant protein in our bodies (in fact, it's the most abundant protein in all mammals) and is responsible for an array of bodily functions that ultimately help us look, feel, and stay more youthful and healthy.

I'll drink (a smoothie) to that.
Multi-Collagen Peptides
For this recipe, we're using SkinnyFit's Super Youth Unflavored Multi-Collagen Peptides because it's the only collagen powder that uses 5 different types of collagen from 4 high-quality sources that also dissolves perfectly into our smoothie for added thickness without affecting taste. 
Collagen is known as our body's building block, and is responsible for keeping our connective tissue strong and healthy. 
The problem is, our bodies begin to slow collagen production around our mid-twenties. And by our thirties, collagen production begins to drop off rapidly. That's why you start noticing things like wrinkles, thinner hair, aching joints, and digestive issues as you age. Thanks biology…  
The good news is that the 5 different collagen types found in Super Youth help manage—and in some cases reverse—the effects of collagen decline, helping you look and feel younger and healthier.
Here's why… 
Type I collagen makes up our hair, skin, bones, and teeth. This is the collagen type that helps thicken hair, reduce hair loss, and improves skin elasticity to fight wrinkles and keep you looking youthful.
Type II collagen is crucial for strengthening the cartilage in our joints and reducing that discomforting clicking in our knees. 
Type III collagen is responsible for connective tissue support in our organs. It also helps balance gut health and improve our skin. 
SkinnyFit includes Type V collagen in their peptides powder because it's essential for the formation of collagen Types I and III, and for optimal tissue quality.
Type X collagen helps our bodies create more cartilage, helping to prevent daily degrading in our joints.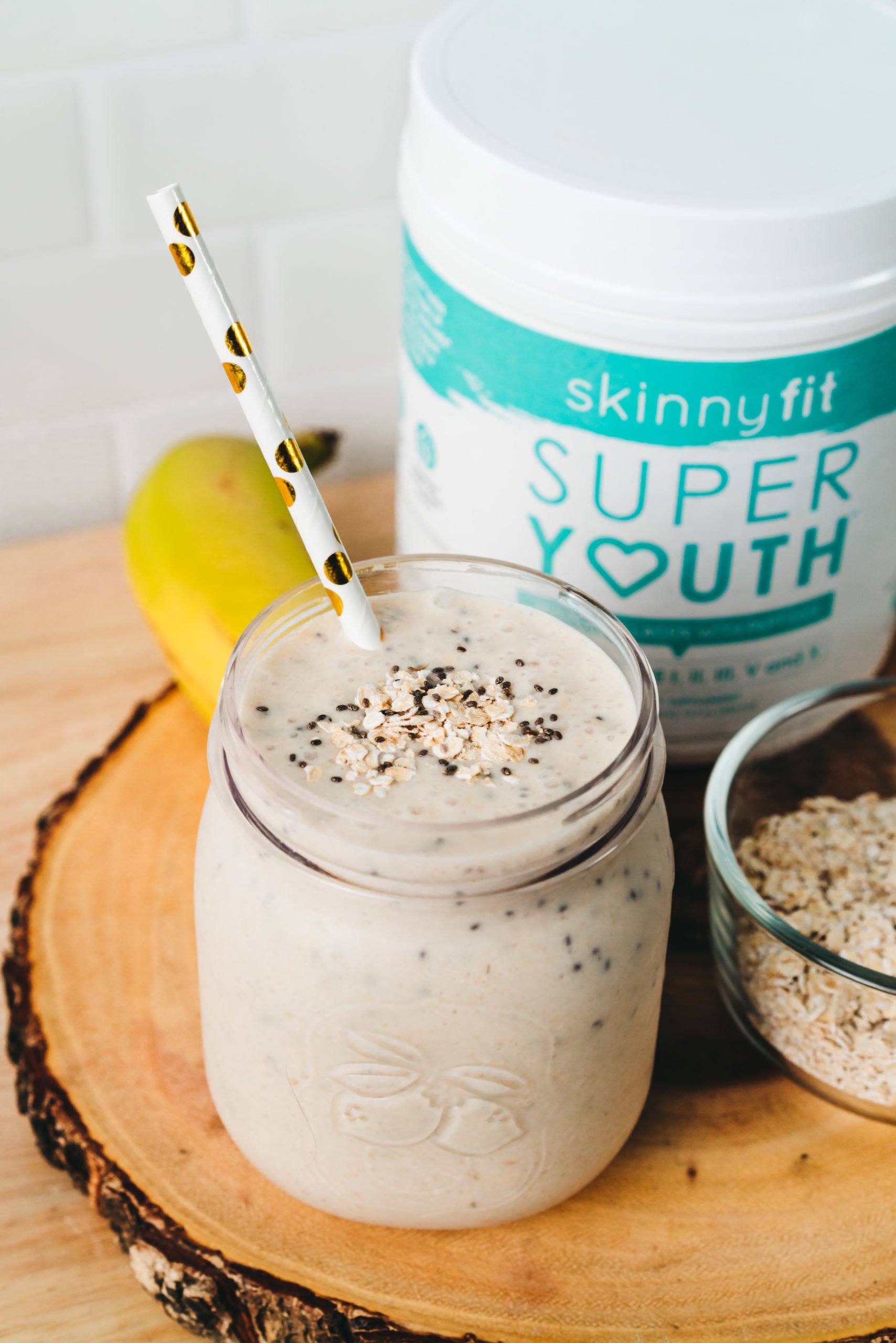 Healthy Ingredient Additions & Substitutes:
Looking for other ways to health-ify your peanut butter banana smoothie? Here are some ideas. But it's good to note that every additional ingredient adds more calories to an already energy-rich meal replacement. So keep that in mind if you're drinking this smoothie to lose weight. 
Healthy Additions
Chia seeds, flax seeds, stevia for nutrients and texture
Avocado for creaminess and healthy fats
Granola for crunchiness, fiber and nutrients (top or stirred in, don't blend)
Protein powder for extra post-workout muscle recovery
Diet Substitutes
Peanut Butter: Use almond butter, cashew butter, pecan butter, even or sunflower butter
Dairy Milk: Use almond milk, cashew milk, coconut milk, or soy milk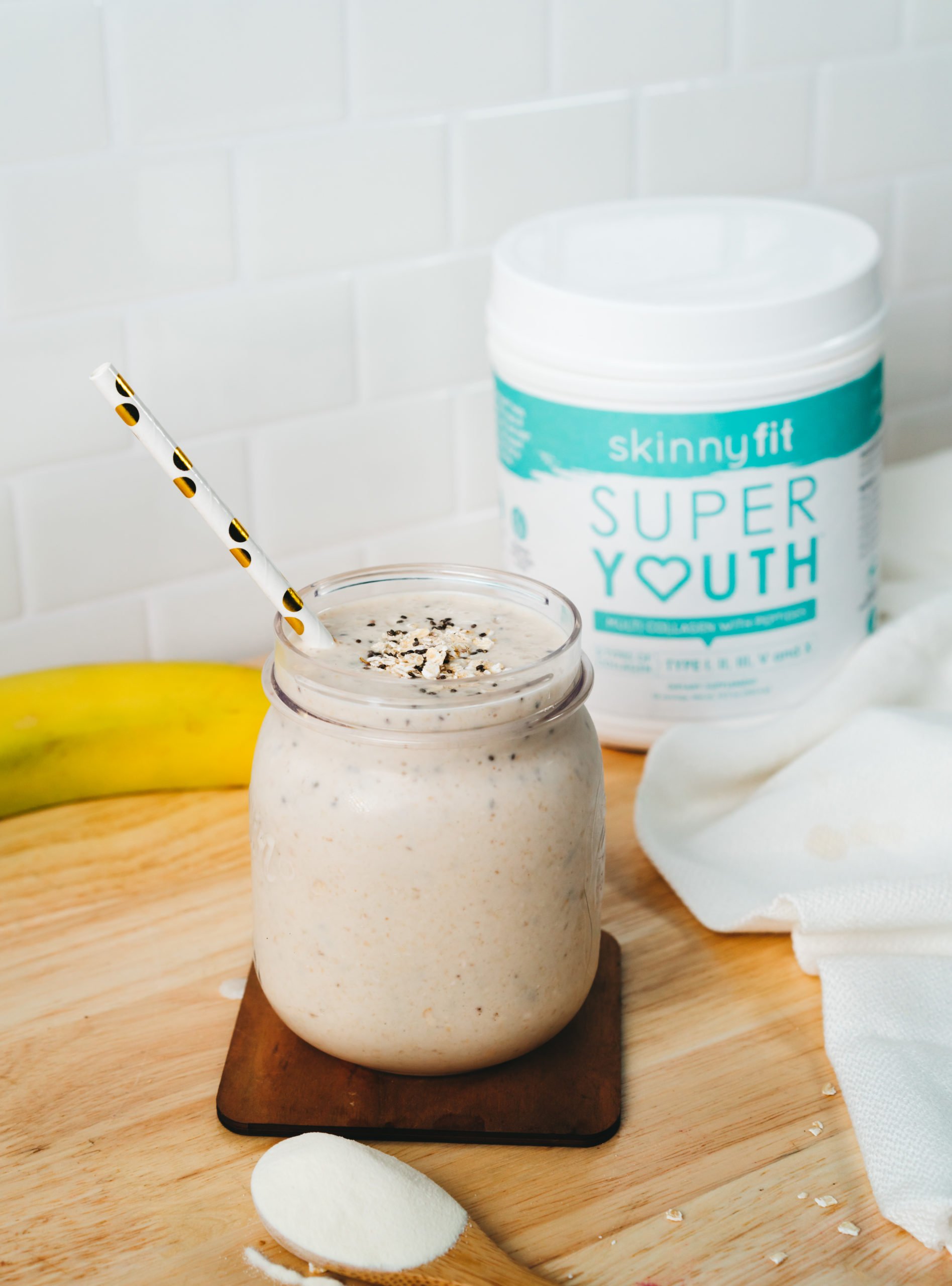 Peanut Butter Banana Smoothie Recipe
This peanut butter banana smoothie gives you all day energy and has a secret age-defying ingredient that helps hide wrinkles, renew glowing skin, strengthen hair and nails, and support joints!
Prep Time: 5
Cook Time: -
Total Time: 5 minutes
Serving Size: 1 smoothie
Ingredients
1 scoop Super Youth Collagen, unflavored
2 tbsp peanut butter
1 frozen banana
¼ cup Greek yogurt
½ cup oats
½ cup milk
Steps
Combine all ingredients in a blender and serve. (See… easy!)
Pro Tip #1: Using frozen bananas instead of ice allows you to get your smoothie nice and chilled without watering it down.
Pro Tip #2: Whether using ice or frozen fruits, use milk and greek yogurt as your base so your blender chops easily and avoids chunks. The collagen and other powders go in last to avoid clogging.