Jump To Recipe
I'm really exposing myself and my family here, but does anyone else plan meals and holidays around the alcohol? Don't be shy, I know I can't be the only one! I've been the designated bartender for years at every family reunion, and I wouldn't have it any other way. Known for my generosity with pouring, my drinks are strong and pretty. Like all the women in the SkinnyFit community!
The one cocktail I'm especially remembered for, and that everyone always brings up, is this Peeps cocktail. It's sweet, delicious, festive, and so adorable. My cousins love serving them to the macho dudes in our family to watch them sip on them for giggles. 
If you love Peeps as much as I do, you are going to fall in love with this cocktail, too. It's everything you love about Peeps, but with a special marshmallow vodka twist!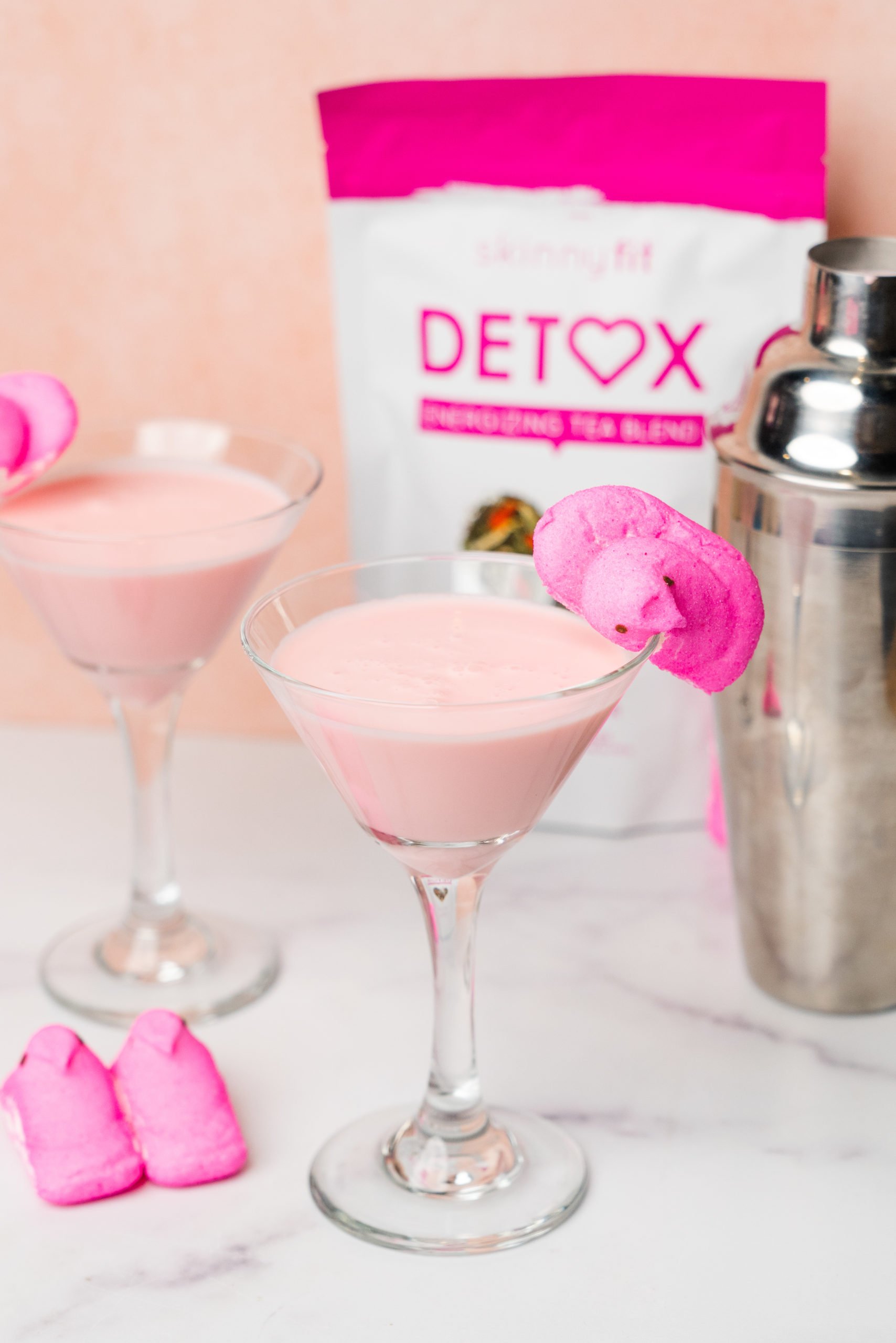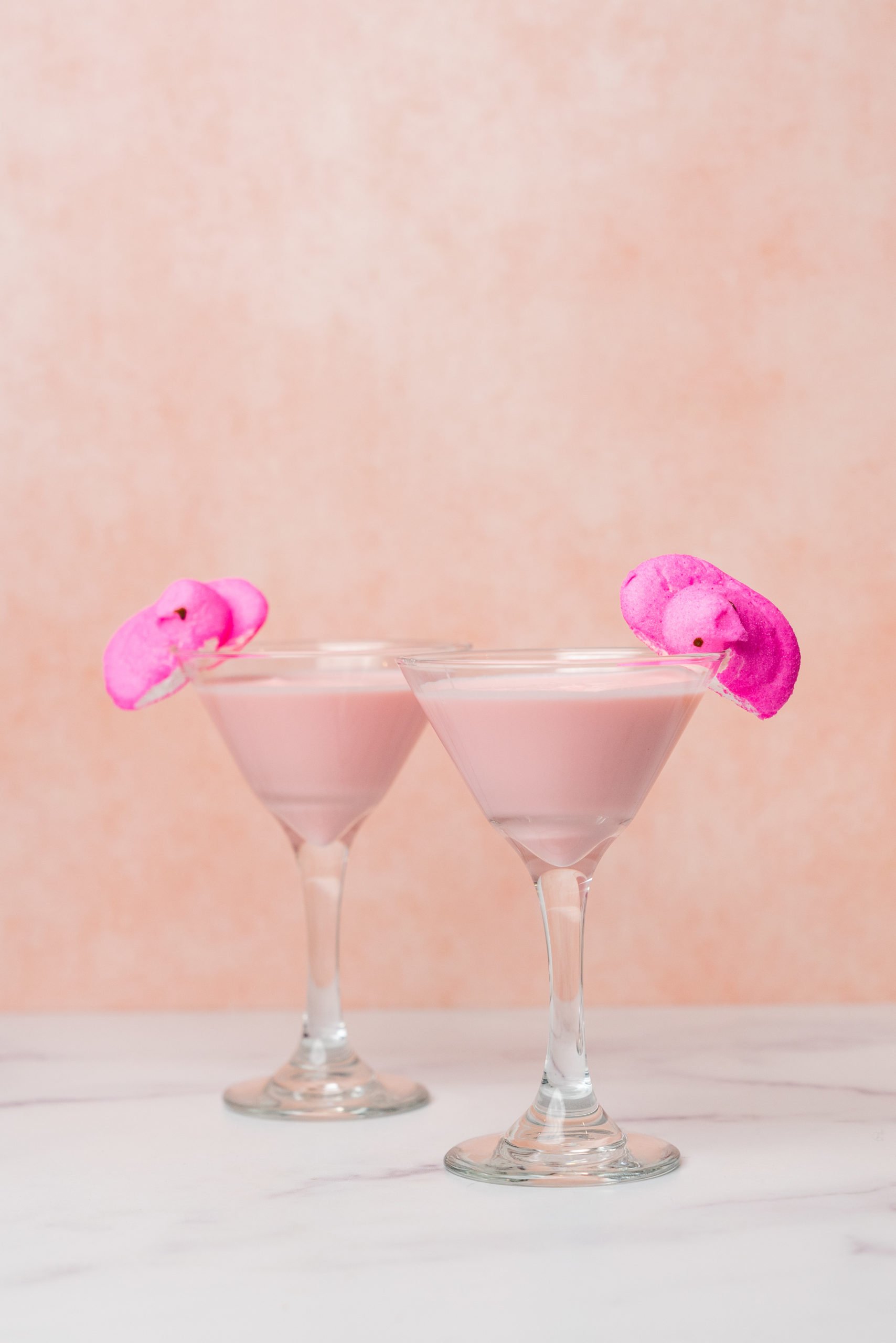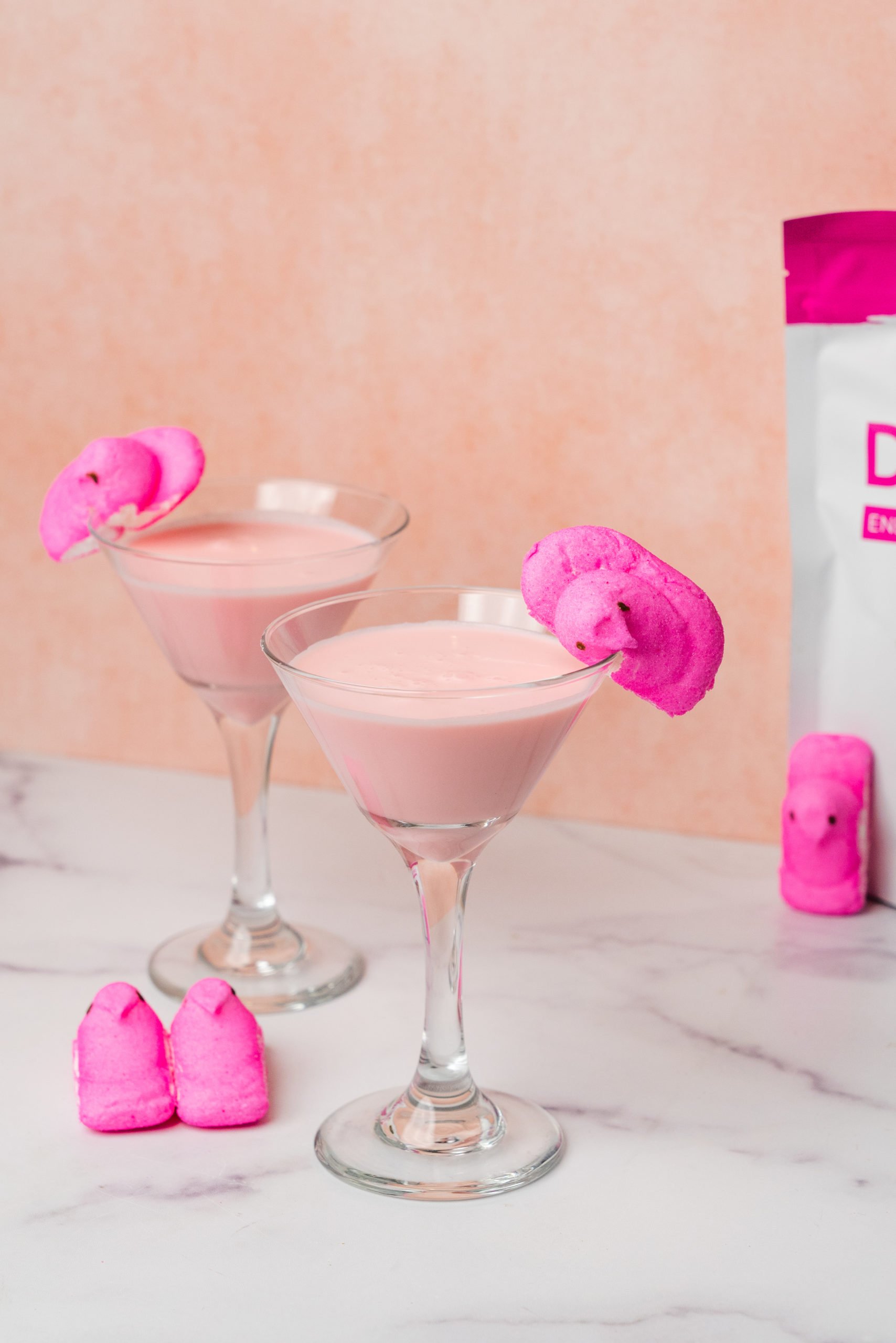 What Is A Peeps Cocktail? 
A peeps cocktail is simply a cocktail that's made to resemble a marshmallow Peep in flavor and color. It's a fun, holiday cocktail that's especially perfect for Easter brunch, and anytime Peeps are available in stores! Out of all the holiday vodka cocktails, this one is the most Easter-specific, and comes out so cute in photos!
If you don't know what Peeps are, they're an Easter bunny-shaped marshmallow coated in decorative sugar. They come in all different pastel colors, and are almost exclusively available during Easter. I'm sure there's some candy black market you can get them on during other seasons, but I know them for their April appearances! You can find them at most grocers and convenience stores. This cocktail takes on the marshmallow flavor and beautiful coloring of those beloved marshmallow Peeps.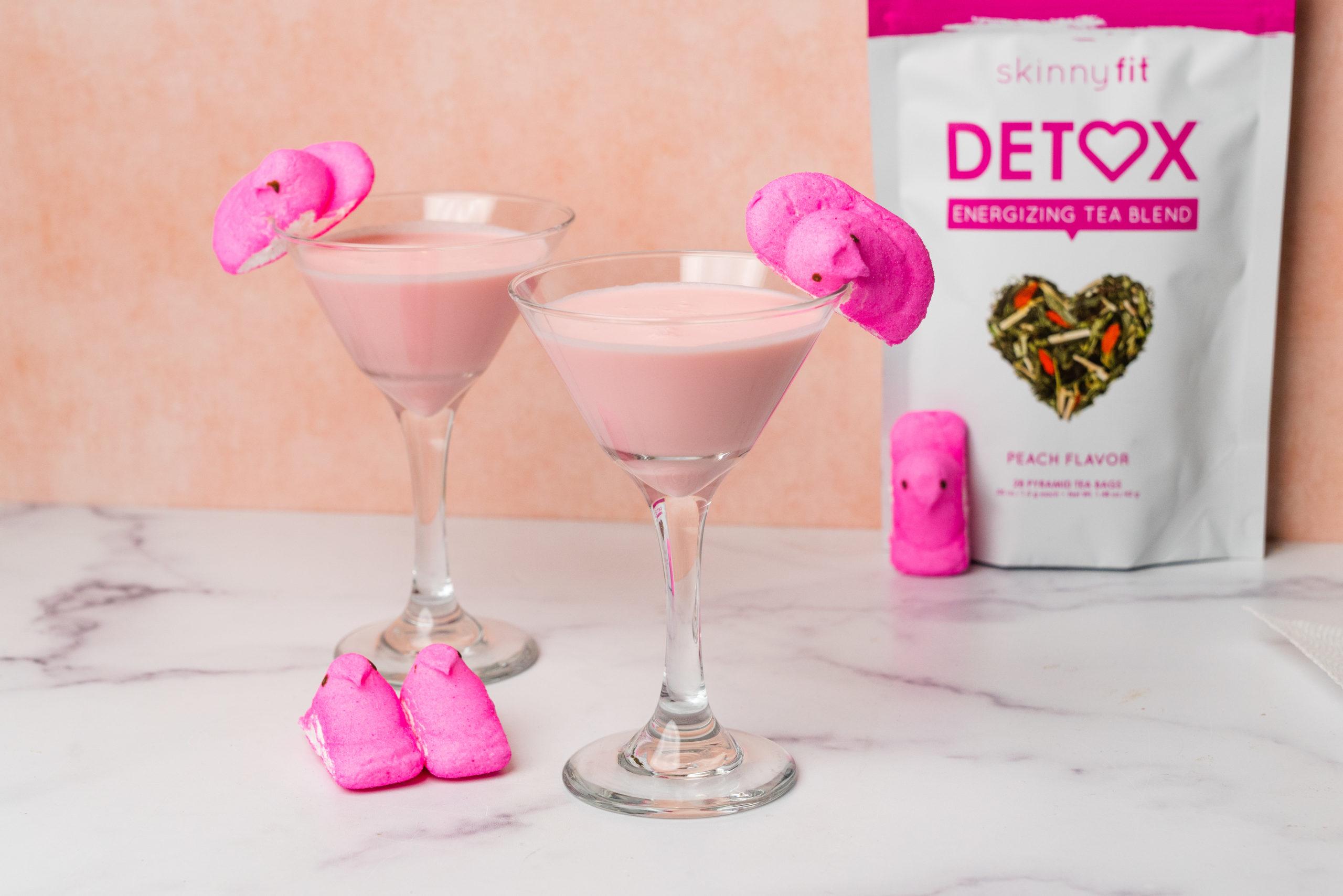 How To Make A Peeps Cocktail
Making a Peeps cocktail is so fun and simple, especially after you make the first few! You want to start by making your Detox tea. This cravings-busting tea is packed with antioxidants to help keep you satisfied and gorgeous, from the inside out! The best vodka cocktails included at least one healthy ingredient, and for this recipe, Detox tea is it! To incorporate Detox tea into our Peeps cocktail, you want to make sure to brew it with enough time for it to cool. Brew it according to the package and leave in the fridge for at least 30 minutes, or overnight if you plan ahead!
Next, you'll want to gather all your ingredients and add them into a chilled shaker. That's the fancy way, at least. You are more than welcome to measure them all out and add to a red solo cup filled with ice. I don't judge! Add your chilled Detox tea to the remaining ingredients, and give it a good shake. Strain into your favorite cocktail glasses (bonus points if they're pastel colored!) and garnish with a Peeps marshmallow before enjoying. Don't forget to take a picture and tag @skinnyfit on all social handles! Happy Easter!
Mentioned In This Post
SkinnyFit Detox Tea
Slim down, soothe bloating, and boost your energy naturally! Unlike other detoxes, SkinnyFit Detox has NO laxatives and is made with 13 metabolism-boosting superfoods.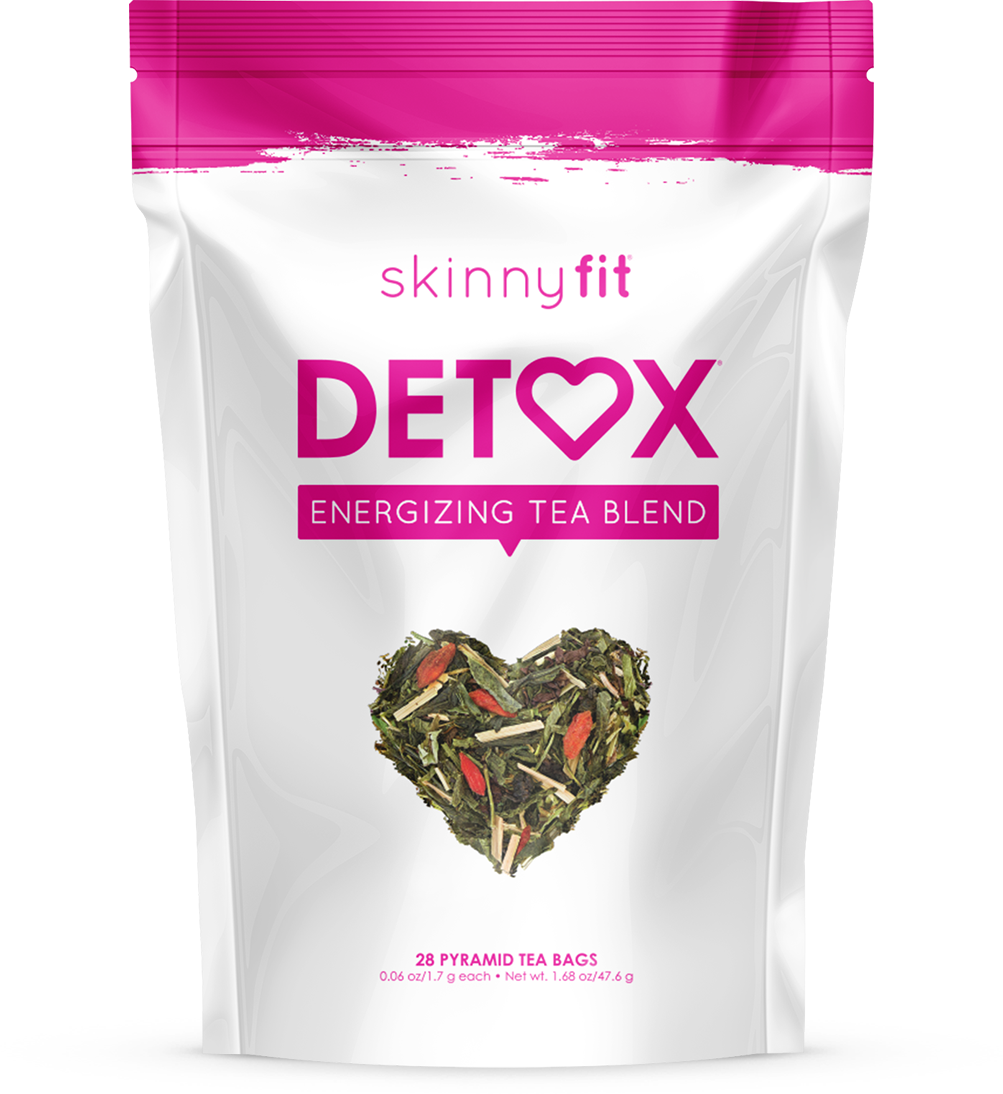 Peeps Cocktail
Prep Time: 5 min
Cook Time: 0 min
Total Time: 5 min
Serving Size: 1-2 cocktails
Ingredients
2 ounces of marshmallow vodka
1 ounce of triple sec
6 ounces of heavy cream
A dash of grenadine
1 drop of hot pink gel food coloring (optional)
1 bag of brewed Detox tea
Marshmallow Peeps for garnish (optional)
Steps
Brew one bag of Detox tea and let cool
Measure out all other ingredients into a measuring cup or shaker, mix well
Add Detox tea to mixture, shake
Serve and enjoy!