Jump To Recipe
Peppermint hot chocolate is one of the most popular and delicious holiday beverages no matter what age you are. Candy canes, peppermint, and warm, melted chocolate—what's not to love? Peppermint hot chocolate is so popular, in fact, that major coffee shops around the country add it to their menu this time of year in order to withstand the growing demand for this scrumptious holiday treat…
With this easy recipe you can skip the line and make this 5-ingredient peppermint hot cocoa at home! It's a twist on a traditional peppermint hot chocolate—a healthy hot chocolate made with collagen! Collagen is the most abundant protein in our bodies and is responsible for keeping our skin, hair, nails, and joints youthful. By taking a collagen supplement, like SkinnyFit Super Youth, daily, you can smooth wrinkles, erase cellulite, get stronger and longer hair and nails, and even reduce joint pain and improve mobility!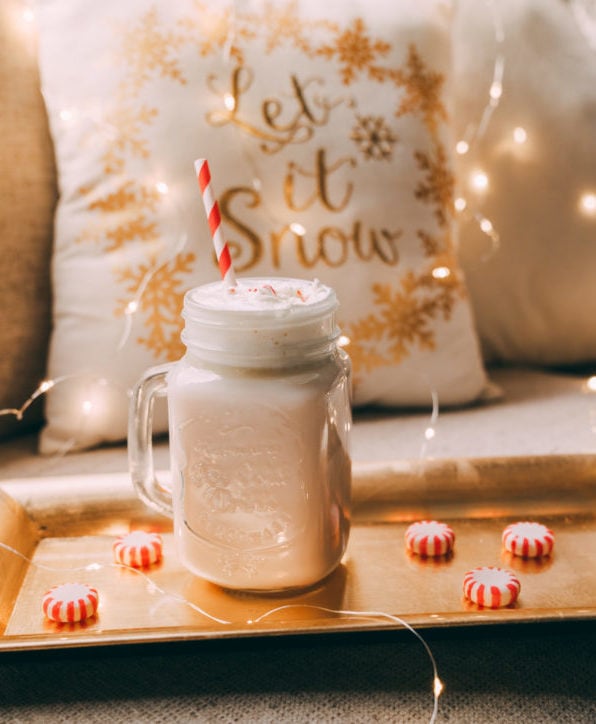 How To Make Healthy Peppermint Hot Chocolate
Simply add 2 scoops of Super Youth to this peppermint hot chocolate recipe (recipe serves two) and start looking and feeling years younger! And what better way to feel young again than to drink a warm peppermint hot cocoa—just like when you were a kid! One thing we can all agree on about the holidays is the nostalgia that comes along with it.
So cozy up on the couch next to the fireplace, put on your favorite holiday movie, and sip on this delicious healthy hot chocolate—completely guilt-free!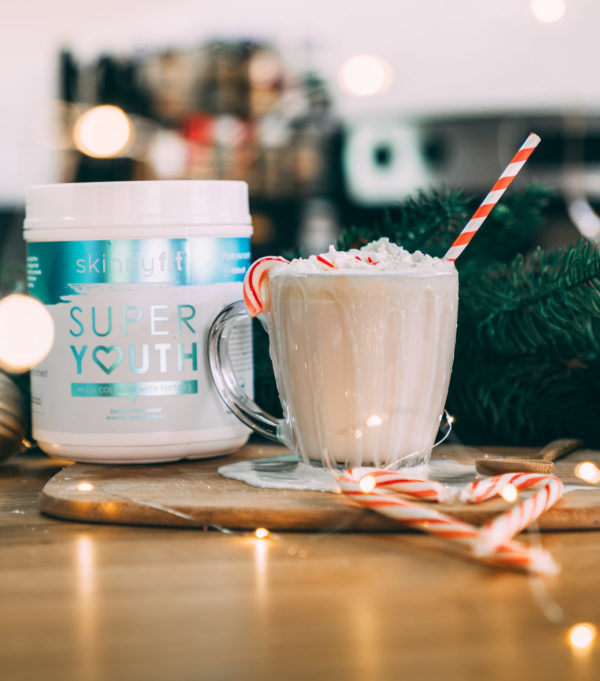 Tips for making the best hot chocolate
If you really want to spruce up the peppermint flavor, you can actually break up a candy cane, place it in the warm milk in the saucepan, and melt it before moving to step two. Sure, your peppermint hot chocolate will have a few extra calories, but it will be bursting with peppermint flavor!
Feel free to also swap out the white chocolate chips for either milk chocolate or dark chocolate chips. It's really up to you! We just love the wintery snowstorm look of this peppermint hot cocoa you get with the white chocolate!
For crushed candy cane topping, place an additional candy cane in a ziplock bag and crush the candies using a rolling pin or meat pounder. Sprinkle the crushed peppermint candies atop some fresh whipped cream!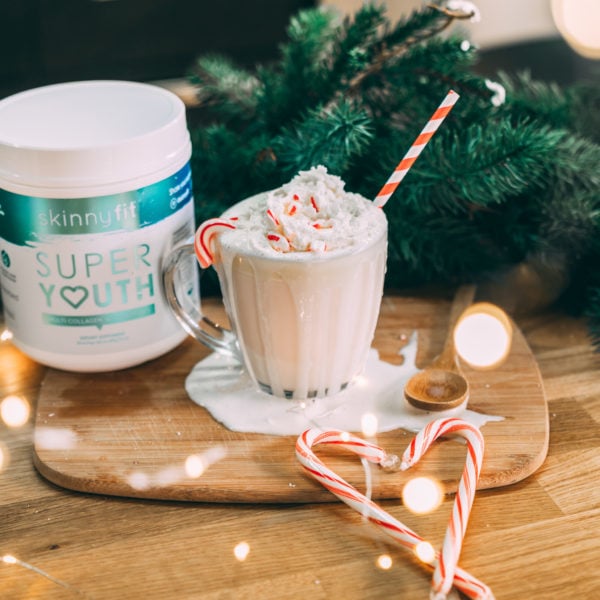 Healthy Peppermint Hot Chocolate Recipe
Cozy up on the couch this holiday season with this guilt-free peppermint hot chocolate made with just 5 ingredients! Get the recipe now!
Prep Time: 5 minutes
Cook Time: 10 minutes
Total Time: 15 minutes
Serving Size: 2 servings
Ingredients
4 cups almond milk
2 scoops Super Youth
½ cup white chocolate chips
2 tsp peppermint extract
1 peppermint candy cane
Whipped cream for topping
Steps
Heat the almond milk in a small saucepan.
Add white chocolate chips, stirring continuously until melted.
Add Super Youth and peppermint extract and stir until Super Youth is fully mixed.
Remove from heat, transfer to cups, and garnish with candy cane (makes 2 hot chocolates).