Jump To Recipe
Eating healthy shouldn't be something you dread, or something you can't afford. It also doesn't mean you have to eat tasteless, boring food, in fact – you shouldn't have to sacrifice at all! If you're on a mission to find healthy recipes that taste more like yummy treats, I've got just the thing for you—a healthy orange pineapple smoothie bowl recipe that is sure to become one of your go-to's this summer! 
What Is A Pineapple Smoothie Bowl?
The headline probably explains the first thought you had when you saw the name of the recipe; what exactly is an orange pineapple smoothie bowl. If you thought something similar to a Dole whip smoothie bowl from Disneyland, you're on the right track! 🤔
Short answer – it is everything! Better answer – it is the most refreshingly delicious bowl of citrusy, smooth proteins and antioxidants you'll ever taste!
Hyperbole? Maybe. But this is one of my personal faves and I know you'll love it too. 
To be clear, a healthy pineapple smoothie bowl is a blend of frozen fruit, fruit juice, almond milk, and collagen powder. There are lots of products out there but my go-to multi-collagen is Super Youth. 
Super Youth is an all-natural multi-collagen powder that comes in a variety of flavors that not only taste delicious with just water, but is also available without any flavor at all and can be added to virtually anything, making it the most versatile collagen out there. Now, you should already be familiar with our popular collagen flavors like Tropical Punch, Chocolate Cake, and Peach Mango from SkinnyFit Super Youth collagen. But, did you know that there's another delicious flavor option from our sister brand? 
If this is news to you or blowing your mind, be sure to read more about our sister brand Super Youth in this blog post here. But if you're already dying to learn what the new flavor of Super Youth collagen there is… drumroll please… 
It's Orange Pineapple! 
Perfect for our recipe, and great as a daily supplement!  But we'll talk more about the benefits of Super Youth later. Let me teach you how to make a super yummy dole whip smoothie bowl at home. 

How To Make A Homemade Dole Whip Smoothie Bowl
There's an old saying where I'm from; "A smoothie artist is only as good as their blender." Ok, that's not actually something anyone says besides me, but I'm sure you understand, you've got to have the right equipment! 
Start by dropping a scoop of Super Youth Orange Pineapple collagen in your blender, then add almond milk and orange juice to the mix. Next, add your frozen fruit; banana, mango, and pineapple. Last, hit the blend button and blend to your heart's content! 
What Makes This Pineapple Smoothie Bowl Healthy?
The obvious: pineapple smoothie bowls taste amazing! But what's not so obvious are the seemingly endless list of health benefits an orange pineapple smoothie bowl provides. For starters, it's great for your immune health – it's packed with enough vitamin-C to fight off an army! 
The pineapple smoothie bowl is also rich in potassium and Fiber. A 2017 review found that people who follow a high fiber diet have a lower risk of cardiovascular disease than those on a low fiber diet. Those who consumed more fiber also had lower levels of low-density lipoprotein (LDL), or "bad" cholesterol. [1]
But it's not just packed full of fiber and antioxidants! Super Youth Orange Pineapple multi-collagen supports a healthy gut, helps strengthen your bones and joints, and promotes healthier hair, skin and nails! I know what you're thinking (that's a thing I do, I read minds), "So where can I get my hands on some of this Super Youth multi-collagen? Read on my friends! 
Where can I find Super Youth Orange Pineapple?
So remember when I mentioned how Super Youth is the less famous sister brand of SkinnyFit? It's true, Super Youth hasn't been around as long, but it's no less powerful when it comes to health benefits – and with new fun and tasty flavors, you can get creative so your nutrition routine is anything but routine. 
Here are just a few of the things you can expect when you meet SkinnyFit's youthful sister:
Scrumptious new flavors of your favorite products
New recipes monthly
Exciting new look & feel
Additional free health, fitness, & beauty tips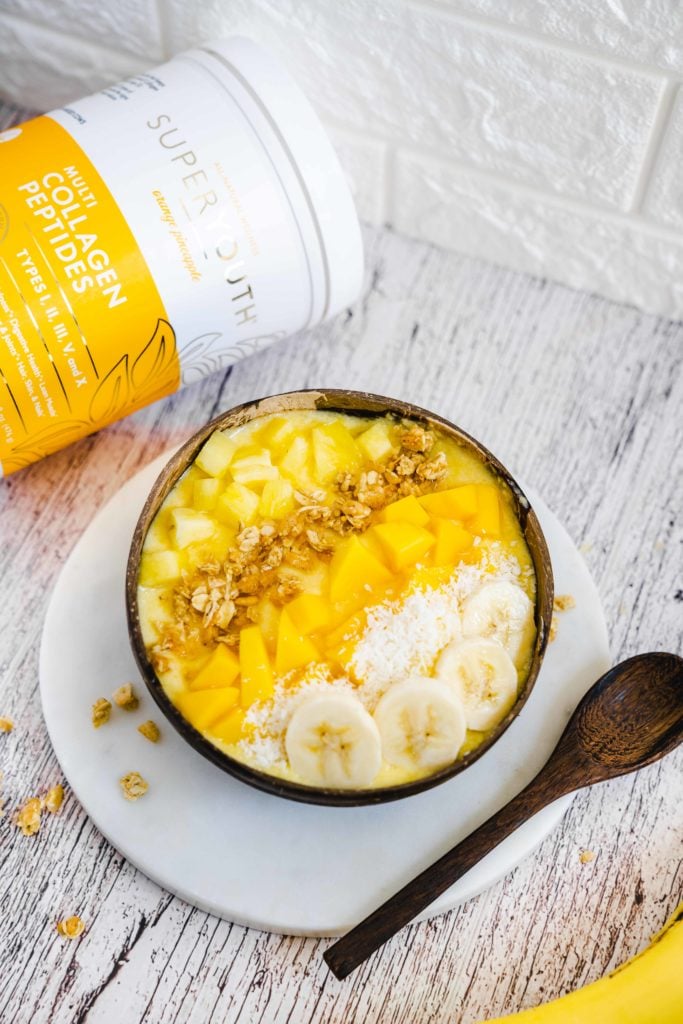 Orange Pineapple Smoothie Bowl Recipe
On a mission to find healthy recipes that taste more like yummy treats? This healthy Orange Pineapple Smoothie Bowl is a game changer!
Prep Time: 5 min
Cook Time: 0 min
Total Time: 5 min
Serving Size: 1 bowl
Ingredients
½ cup almond milk
½ cup orange juice
1 scoop Super Youth Orange Pineapple collagen (linked av
1 frozen banana
1 cup frozen mango
1 cup frozen pineapple
Steps
Mix all ingredients in a powerful blender on low until thick and creamy. Pour into a bowl and add desired toppings. We recommend banana, shredded coconut, dried or fresh pineapple or mango chunks, chia seeds, or even granola!