Jump To Recipe
If you're over the days of avocado toast, don't worry, your secret is safe with me. There are so many ways to dress up toast, you don't need to feel locked in to avocados. With summer in full swing, there's no better way to play with toast ideas for breakfast than with fresh peaches!
Head to any farmers' market or local grocery and you're sure to find the juiciest, most delicious peaches. Today I'm sharing my go-to Pistachio Peach Toast that is so good, you're going to crave it for breakfast, lunch, and dinner!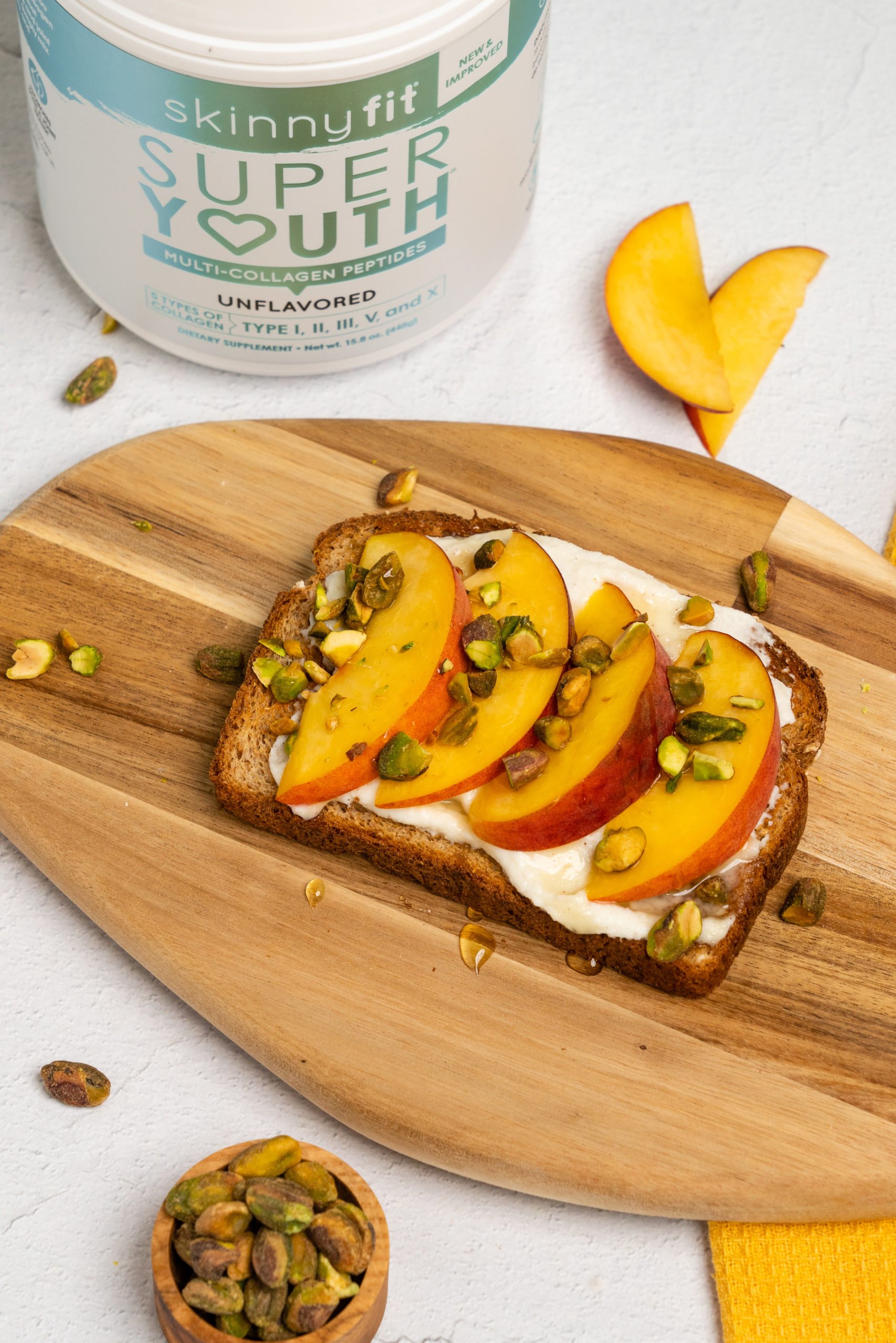 Is Pistachio Peach Toast Healthy?
When thinking of toast ideas for breakfast, it's hard not to wonder which is the healthiest choice. In my book, as long as you're using real, whole food ingredients, you can't go wrong! 
In the Pistachio Peach Toast I'm sharing today, it's made with good-for-you, delicious ingredients. But as you probably know by now, there's not a single recipe that I won't sneak my favorite ingredient into – Super Youth.
Collagen is my #1 beauty secret, and it's whipped into the ricotta base of this toast. It's also one of the healthy ingredients I highlight whenever I share this recipe. Don't leave it out!
How To Make Pistachio Peach Toast
This Pistachio Peach Toast is so simple that I guarantee once you start making it, you'll have it every day afterward until you're sick of it. It's great for snacking, beautiful brunch spreads, and a healthy dessert option.
To make this yummy recipe, start by combining the delicious ricotta cheese with honey, cinnamon, and Super Youth. Spread it on your bread of choice, then top with sliced peaches and pistachio pieces. For the final look, drizzle with some more honey. The toast tastes best when you let it rest for about 10 minutes, but I won't blame you if you can't wait that long!
Scroll to the bottom of the page for the full recipe and step-by-step directions.
Pretty Pistachio Peach Toast
This Pistachio Peach Toast is a summertime must! Perfect for snacking or a healthy dessert option, you'll be eating it on repeat until the season is over.
Prep Time: 10 min
Cook Time: 0 min
Total Time: 10 min
Serving Size: Single-serve
Ingredients
1 tablespoon ricotta cheese
1 teaspoon honey, divided
1 dash of cinnamon
1 slice whole-wheat bread, toasted
½ medium peach, sliced
1 tablespoon chopped pistachios
1 scoop Unflavored Super Youth
Steps
Combine ricotta, ½ teaspoon honey, cinnamon, and Super Youth in a bowl
Spread the ricotta mixture on toast and top with peach and pistachios
Drizzle with the remaining ½ teaspoon honey
Let rest for 10 minutes or longer before serving