Jump To Recipe
Move over pumpkin spiced latte—pumpkin butter is where it's at.
T'is the season for pumpkin everything. Pumpkin bread, pumpkin beer, pumpkin spice lattes (of course), pumpkin-mushroom soup (I can trick my mother into giving me her unbelievably good recipe, I promise I'll share). The list of food and drinks we remix with pumpkin during autumn is literally endless, but my favorite is this pumpkin butter recipe. It's become a staple in my diet throughout fall and well into winter. The taste is purely autumnal and its goodness I can feel right down to my bones, specifically my joints.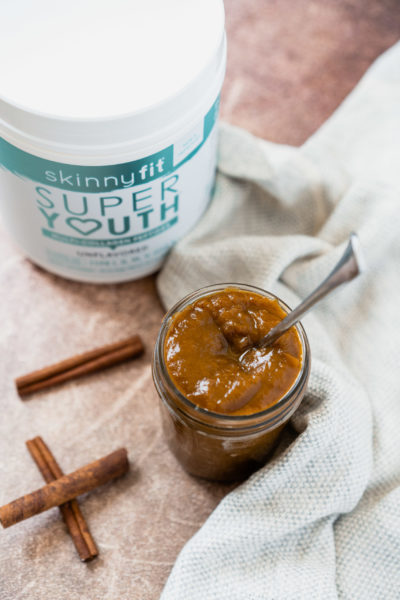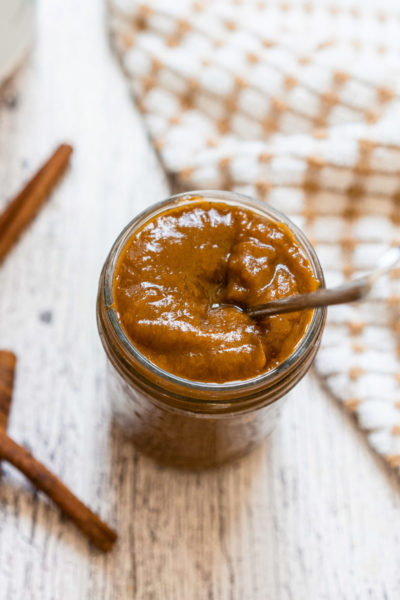 What Is Pumpkin Butter?
Firstly, let's get this straight—pumpkin butter is not pumpkin-flavored butter. I don't think even Trader Joe's would go that far off the pumpkin deep end… and keep in mind they came out with pumpkin samosas and pumpkin empanadas. (Seriously, Trader Joes? I mean, yeah, they're probably good, but, just… why?)
Pumpkin butter is actually more of a pumpkin spread, or thick jam. And it's incredibly versatile, pairing great on, or in treats, such as toast or pumpkin-pecan pie. 
This pumpkin butter recipe also happens to be really healthy for you. It's relatively light on sugar, yet packed with micronutrients your body needs to function optimally. And, unlike other pumpkin butter recipes, this pumpkin spread can help improve the look and elasticity of your skin, fortify your joints from wear and tear, and help improve your digestive balance—which you'll appreciate during a fall and winter of heavy meals. So not only will you have a tasty seasonal treat, you'll help sustain youthfulness inside and out.
Now that you're hyped up, let's look at all the different ways you can use this pumpkin butter recipe.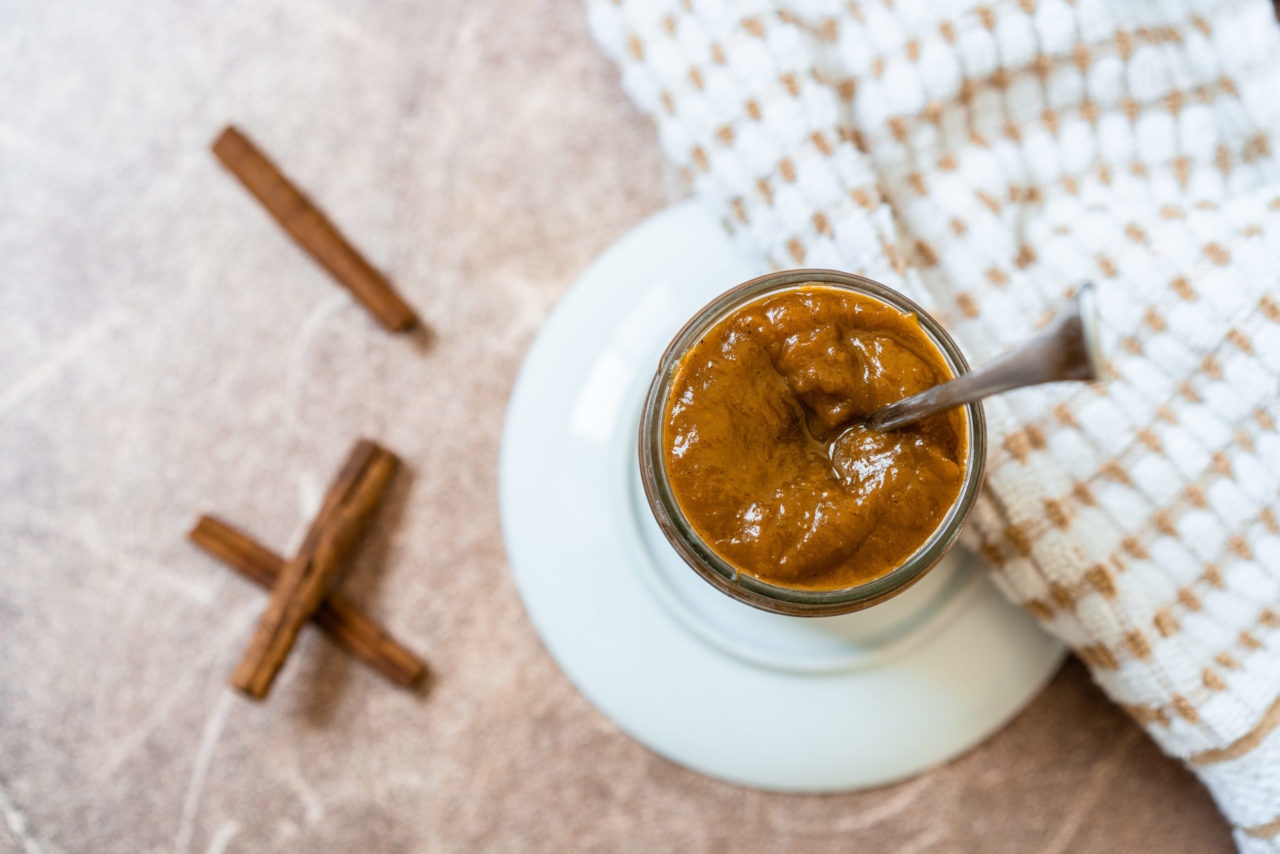 What To Do With Pumpkin Butter
Endless. I'm talking about the ways you can use pumpkin spread, of course. It goes well with so many of your favorite dishes, plus a few you wouldn't have thought of. Here are seven of my favorites.
Pumpkin spread & ricotta cheese on homemade sourdough. Top a thick cut of toasted sourdough with ricotta, and top the ricotta with this pumpkin spread for a fanciful, cafe-quality treat in your own kitchen. 
Pumpkin butter with cheese & crackers. Want pumpkin hors d'oeuvres? Pair this pumpkin butter recipe with a soft cheese, such as brie or goat cheese for the perfect "happetizer" (happy hour + appetizer. You're welcome.)
Spread on waffles or pancakes. The brown sugar and pure maple syrup in this pumpkin butter recipe begs to be swathed across fluffy pancakes and waffles. 
Blended into your smoothie. It goes great with peanut butter and banana smoothies!
Drizzle over Greek yogurt for just the right amount of autumn flavor. (Hint: swap granola for pecans to get super seasonal.) 
Use as a fruit dip. This is the perfect pumpkin butter recipe to use for dipping apples, pears, and other crunchy fruits into. For an added fall bonus, try sticking to seasonal fruits that are harvested throughout the autumn months!
Make a peanut-and-pumpkin butter sandwich for lunch or as an energy-boosting snack on your fall hikes.
How To Make Pumpkin Butter
This seasonal spread is extremely easy to make. In fact, the hardest part about this pumpkin butter recipe is restraining yourself from eating the whole thing in one go. 
It's literally just a matter of bringing all the ingredients to a boil in a saucepan, then let it cook for 20 minutes over low heat, stirring frequently to get the perfect texture. You'll know it's ready when the pumpkin has caramelized.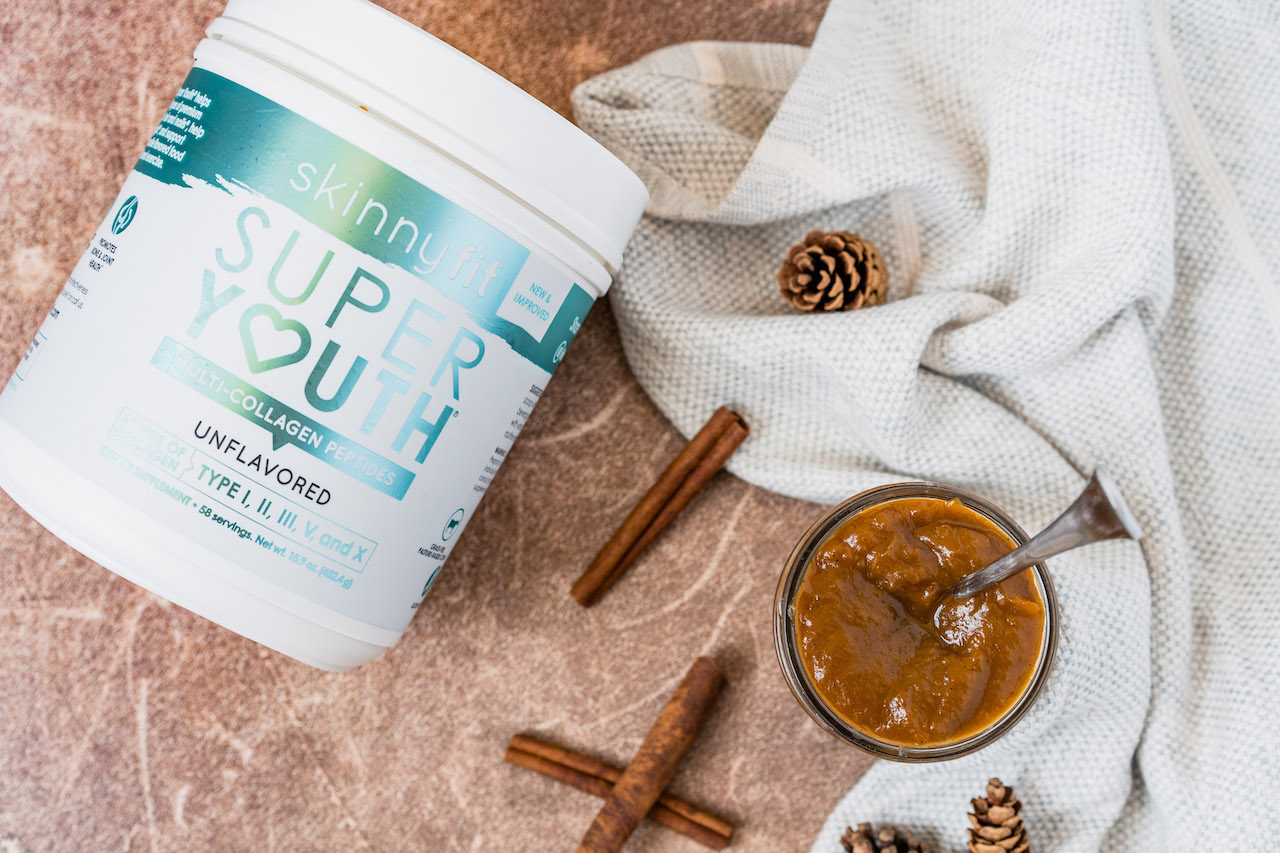 Health Benefits
This pumpkin spread comes with a host of great benefits. 
Cinnamon has widespread, substantiated medical benefits, such as combating inflammation, oxidative stress, and diabetes. [1] 
Cloves have been shown in animal studies to support liver function, stabilize blood sugar levels, and fight chronic illness by reducing oxidative stress [2, 3, 4]
Ginger has been used all across the board for centuries as a powerful natural medicine. It's commonly known as a powerful antioxidant and anti-inflammatory, but it's also been shown to lower LDL levels (the bad cholesterol), treat chronic indigestion by shortening the time food sits in your stomach, and may even help reduce menstrual pain. 5, 6, 7]
Collagen is the most abundant protein found in our bodies, but if you're past your mid-20s, you're losing collagen like crazy. Replenishing your body with high-quality multi-collagen peptides, like SkinnyFit Super Youth, can significantly reduce many effects caused by aging. For instance, it helps thicken hair, reduce wrinkles by improving skin elasticity, strengthens joints, and helps fight osteoporosis. [8, 9, 10, 11] 
This is the healthiest pumpkin butter recipe I've come across, and certainly one of the tastiest!
Mentioned In This Post
SkinnyFit Unflavored Collagen
Look and feel younger with Super Youth Multi-Collagen Peptides! This versatile collagen powder includes 5 collagen types from 4 natural sources to restore youthfulness from the inside out.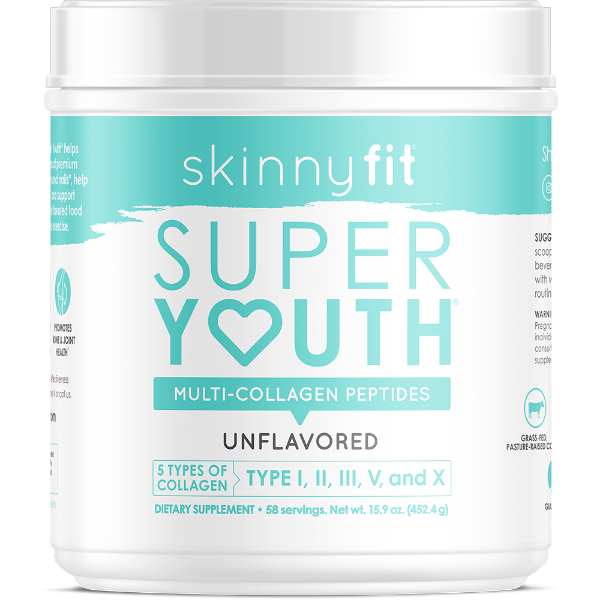 Healthy Pumpkin Butter Recipe
Spiced Pumpkin Butter is simple to make, sweetens up so many everyday dishes, and just might become your new Fall time favorite recipe! (Pssst... jar it for a wonderful gift!)
Prep Time: 5 minutes
Cook Time: 20 minutes
Total Time: 25 minutes
Serving Size: 1 cup (8 servings)
Ingredients
1 cup pumpkin puree
1 scoop Super Youth unflavored collagen
2 tbsp dark brown sugar
2 tbsp pure maple syrup
⅛ tsp cinnamon
Dash ground ginger
Dash ground cloves
Dash ground allspice
6 tbsp water
Steps
Combine all ingredients in a saucepan and bring to a boil. Reduce the heat to low and cook for 20 minutes, stirring often, until the pumpkin has become caramelized and dark brown. It should have a thick and shiny consistency. The pumpkin butter can be stored in the fridge for at least two weeks.
Total Calories: 35
Carbs: 8g
Fats: 0g
Protein: 1g
Sugar: 6g
Fiber: 1g