Jump To Recipe
If there is one thing that makes me think of Independence Day its sparklers, apple pie, sangria, and an explosion of red, white, and blue. So what better way to celebrate America's birthday than combining all of that nostalgia into a treat you can enjoy year round! 🇺🇸 This red, white, and blue sangria is subtly sweet, perfectly fizzy, and detoxifying all in one.
This sparkling sangria recipe is a perfect refreshment to serve if you're hosting a party because this recipe serves up to four people! But if you're a wine-o like me, then let's be realistic… it serves one. 🍷😜  #NoShameInMyGame
Much like a firework display, there is an explosion of flavor in this red, white, and blue sangria. With hints of blueberry, strawberry, raspberry, and apple you'll be seeing stars, literally, and you'll see why!
How To Make Red, White, & Blue Sangria
SkinnyFit Detox is the perfect base for this patriotic sangria and let me tell you why. Our Detox has a blend of 13 different superfoods with a subtle peach flavor that is simply unmatched anywhere else. This premium blend of ingredients help fight unwanted bloating that can often occur when drinking carbonated beverages (which can happen more frequently around the holidays). Additionally, Detox helps boost metabolism and helps you feel pounds lighter which is an obvious bonus in the midst of summer!
Before we get started there are a few additional things you will need for this recipe.
You will also need:
A glass pitcher
A star shaped cookie cutter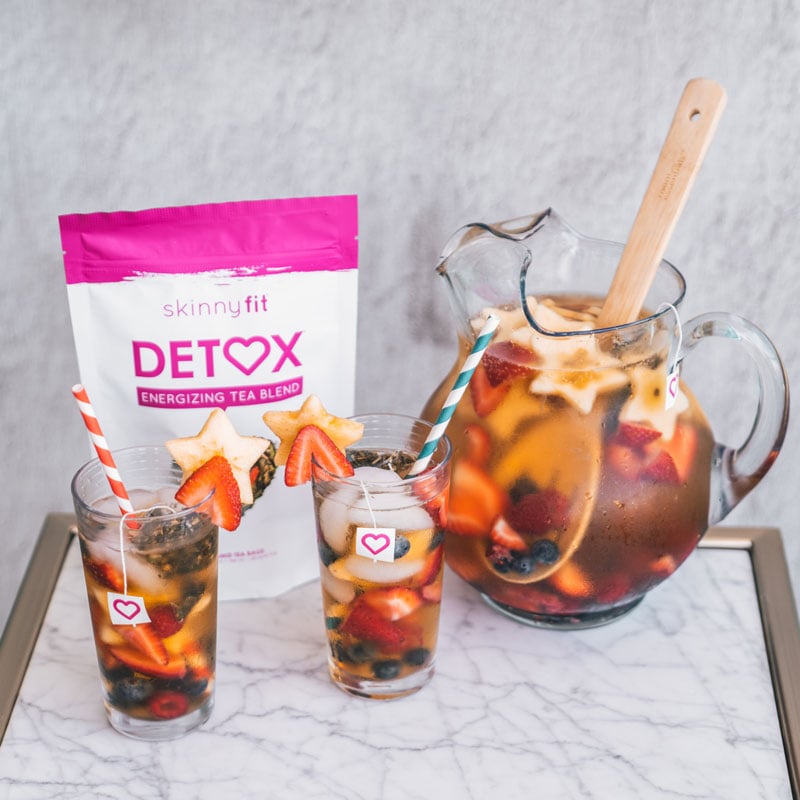 Red, White, & Blue Sangria Apple Stars Tutorial
Okay, are these not the cutest little things you've ever seen? Despite their appearance, they are surprisingly easy to make and a perfect addition to a patriotic sangria! All you need are 3-4 granny smith apples, a cutting knife, and a small star-shaped cookie cutter. Most cooking stores will carry different shaped cookie cutters but if you'd rather skip the hunt, I recommend ordering one from your favorite online superstore.
Place the apple (stem up) on a cutting board
Cut from the top of the apple vertically and make ¼ inch slices (you will see the seeds in the center of the apples but that's okay!)
Squeeze some citrus juice on the apples as you slice them, like lime or lemon juice, to prevent the apples from turning brown
Once all of the apples are sliced into ¼ inch slices, take your cookie cutter and simple stamp out each apple slice, just as you would would cookie dough
Okay, now you're ready to get started on your sparkling sangria recipe! But don't forget your SkinnyFit Detox!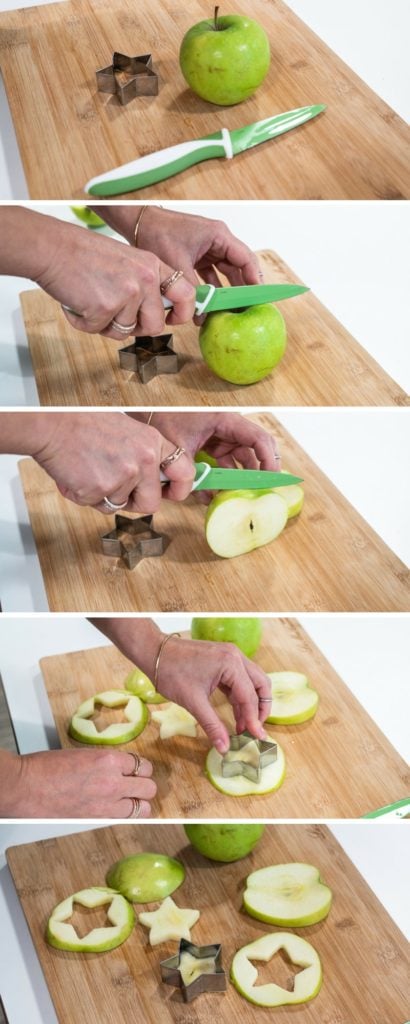 Red, White, & Blue Sangria Recipe
What better way to celebrate this 4th of July than with a treat you can enjoy year round! This red, white, and blue sangria is subtly sweet, fizzy, and perfectly detoxifying.
Prep Time: 10 minutes
Cook Time: 5 minutes
Total Time: 15 minutes
Serving Size: 1 Pitcher
Ingredients
1 cup SkinnyFit Detox
½ bottle dry white wine
1 full bottle sparkling wine
1 cup fresh blueberries
1 cup fresh raspberries
2 cups fresh strawberries, hulled and sliced
3-4 Granny Smith apples, sliced into stars
Ice
Steps
Brew one cup of SkinnyFit Detox and cool completely in refrigerator
Using a cookie cutter, cut your apples into the shape of stars (directions for this above) and prepare any other fruit
Pour all of the blueberries, raspberries, strawberries, and half of the apple stars into the pitcher
Combine SkinnyFit Detox, dry white wine, and stir with a large spoon
Top off with sparkling wine, enjoy!