Jump To Recipe
Cooking in the fall is all about using earthy, grounding flavors. Seasonal recipes are meant to help the body and immune system transition out of summertime and begin a slower, more restful few months ahead. The ingredients we choose to incorporate into our dishes can help support that process. 
In today's recipe, we'll be using aromatic sage and thyme to dress up one of my favorite butternut squash recipes. Plus, it's one of my go-to fall healthy recipes!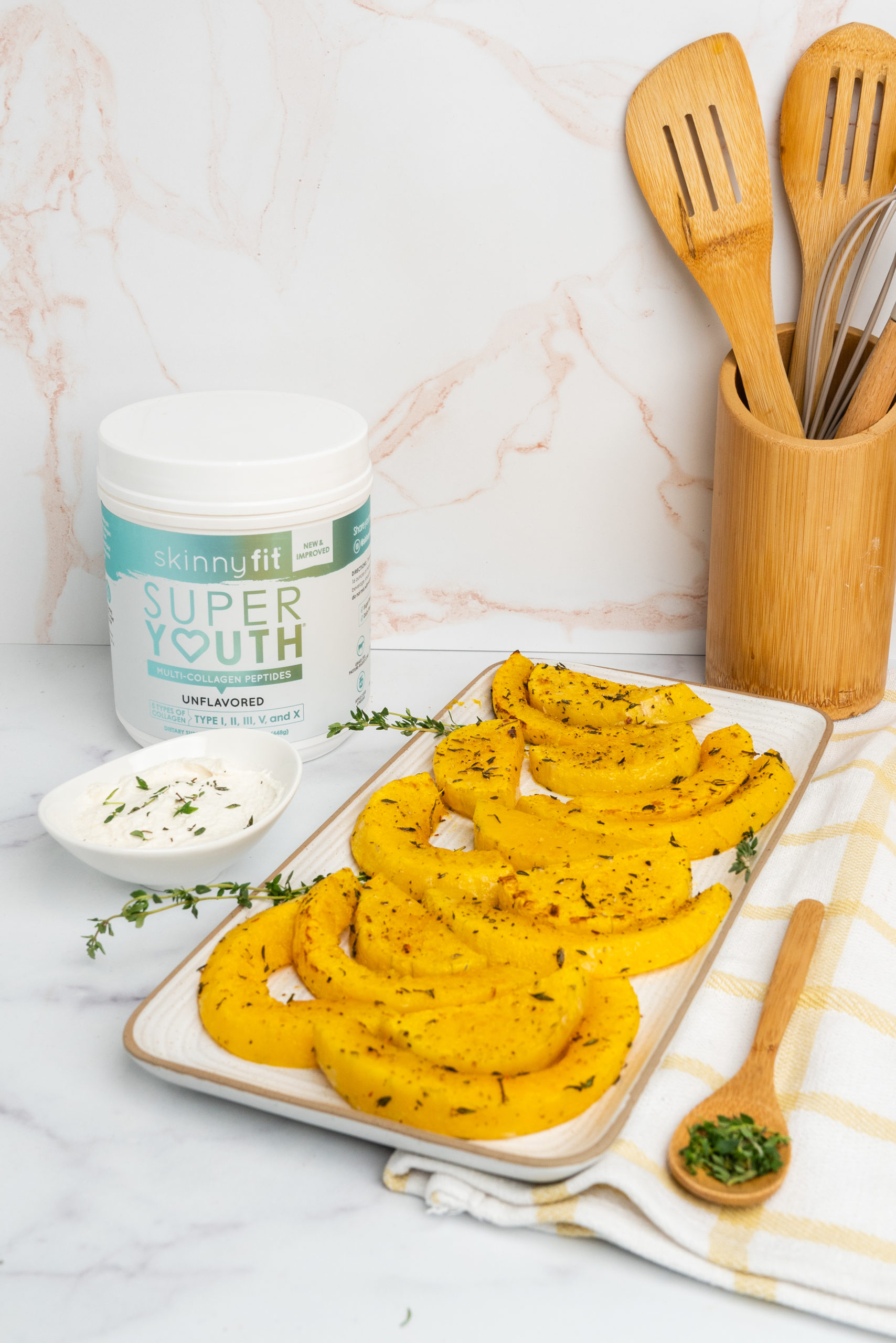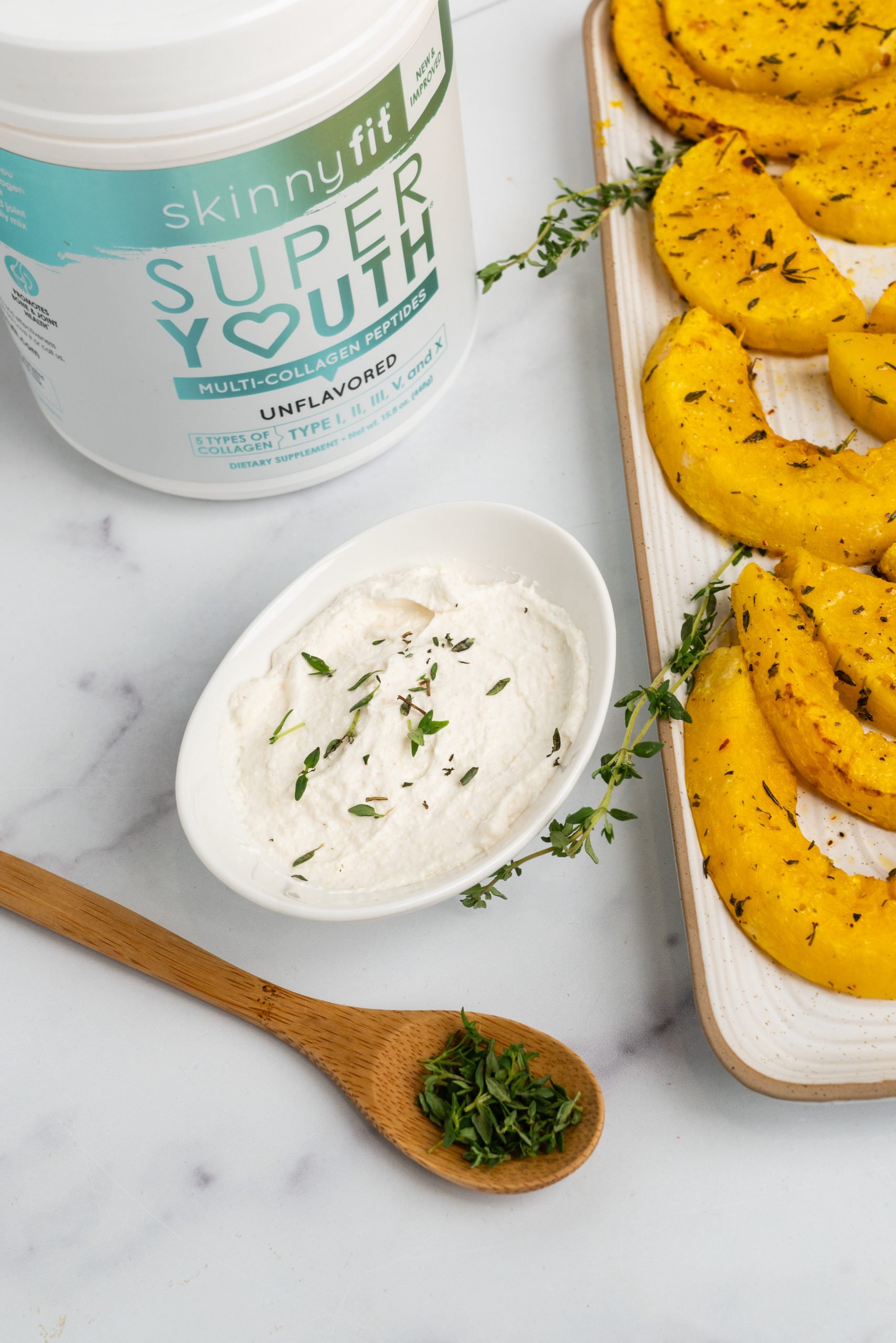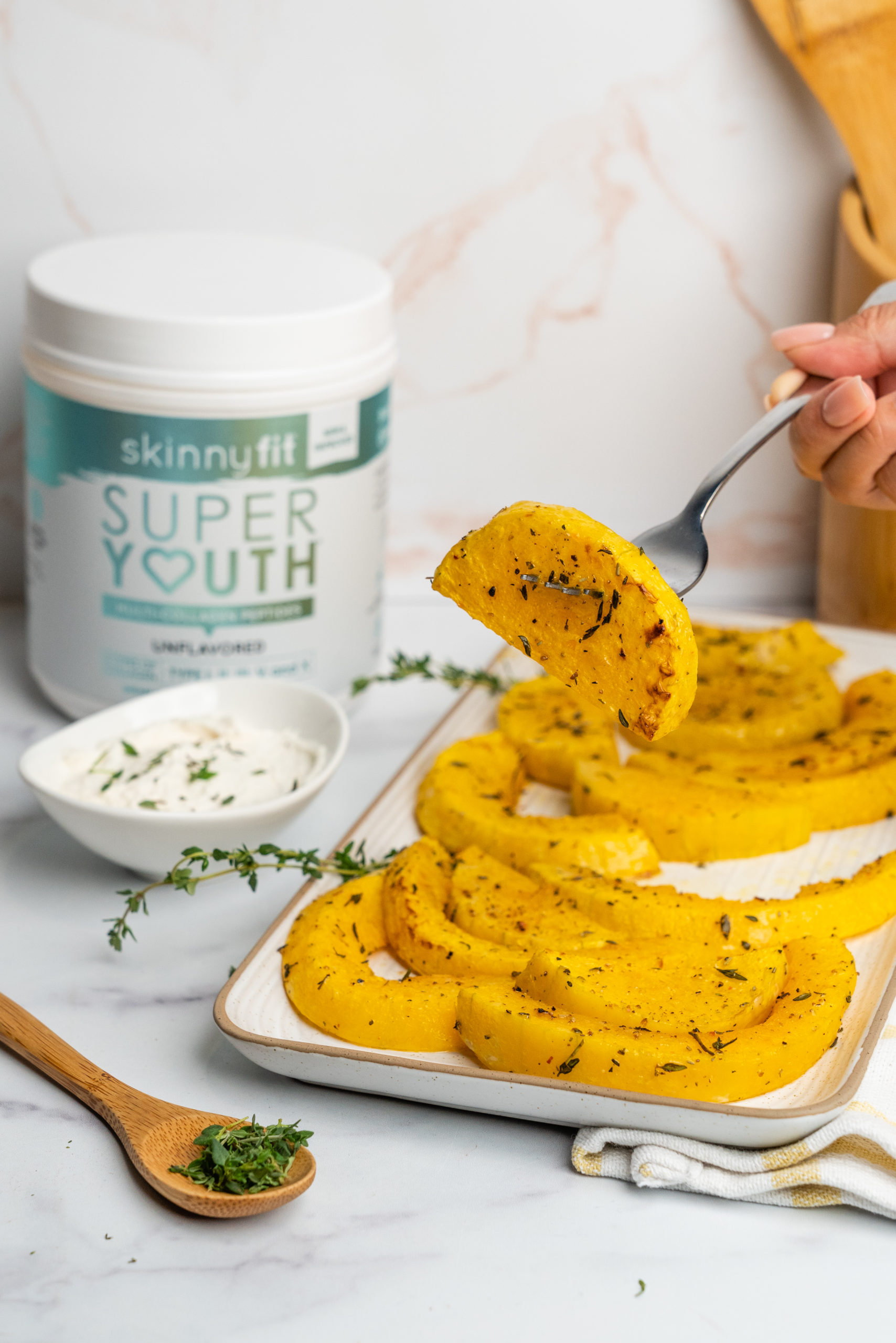 What Ingredients Do I Need?
The ingredients for most butternut squash recipes are fairly simple. Because the squash is so sweet and flavorful itself, the additional spices are just a plus. For this particular recipe, you'll need one butternut squash, olive oil, fresh sage, fresh thyme, and some salt and pepper. That's it! For the garlic aioli, you'll need Greek yogurt, Super Youth Unflavored, garlic powder, and lemon juice.
You can view the full recipe and list of ingredients below.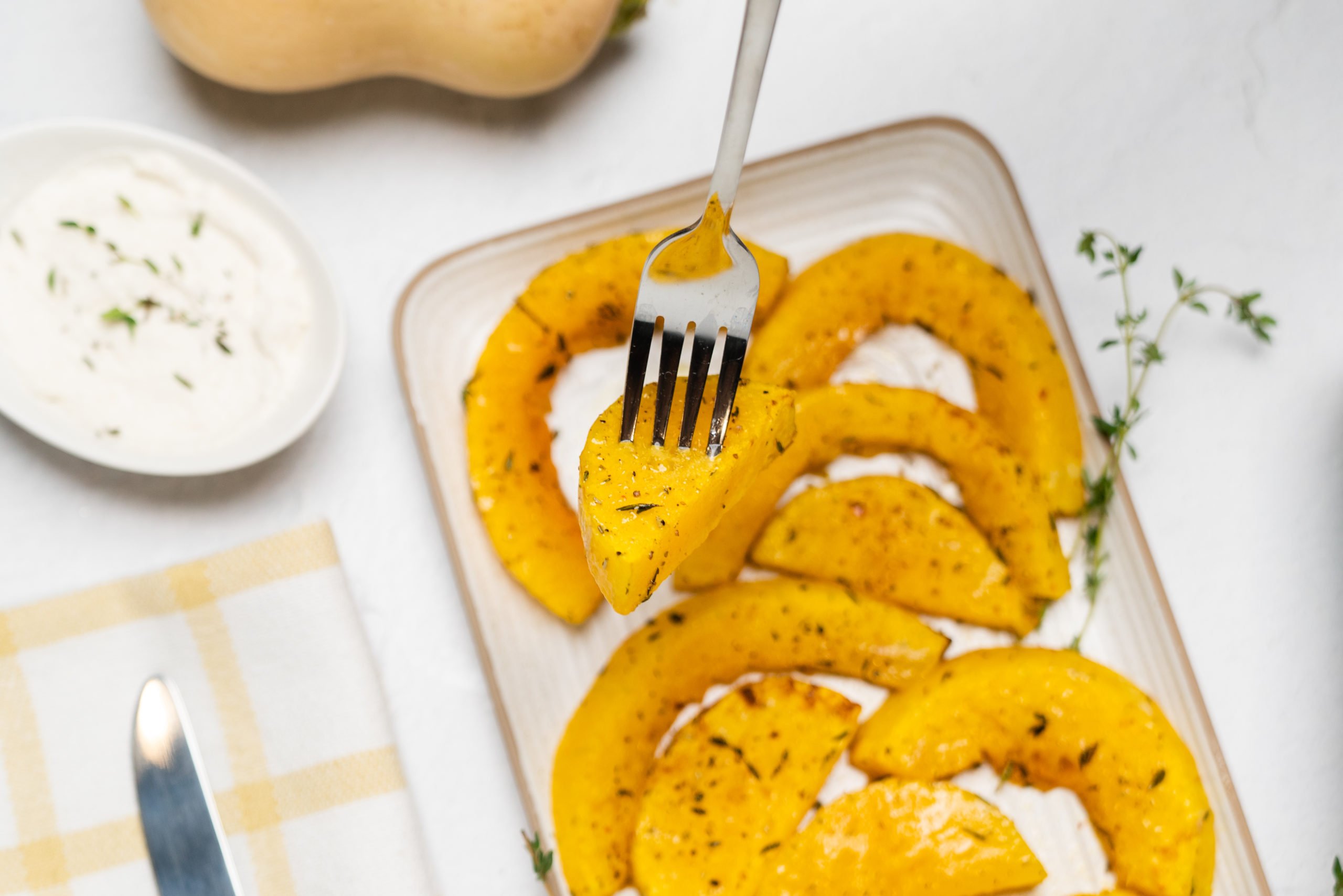 How To Make Roasted Butternut Squash
This recipe is easy and delicious, and it's perfect for meal prepping. I love making a few batches of healthy recipes at the beginning of the week, like this one, and having accessible snacks and sides throughout the week that are ready to be eaten.
To start, you'll need to preheat your oven to 425° F. Then start peeling and seeding your butternut squash, and halve it lengthwise. Next, cut it into slices about ¾-inch thick. Wash and finely chop your sage and thyme. Add the butternut squash pieces to a bowl and toss with the olive oil and spices. Arrange squash on a parchment-lined baking sheet with some space between each piece. Set a timer for 20 minutes.
While the squash is cooking, make your aioli. Butternut squash recipes are so much better with a sauce! Combine all of your ingredients in a small bowl and whisk to combine. So simple, and so tasty.
Mentioned In This Post
SkinnyFit Unflavored Collagen
Look and feel younger with Super Youth Multi-Collagen Peptides! This versatile collagen powder includes 5 collagen types from 4 natural sources to restore youthfulness from the inside out.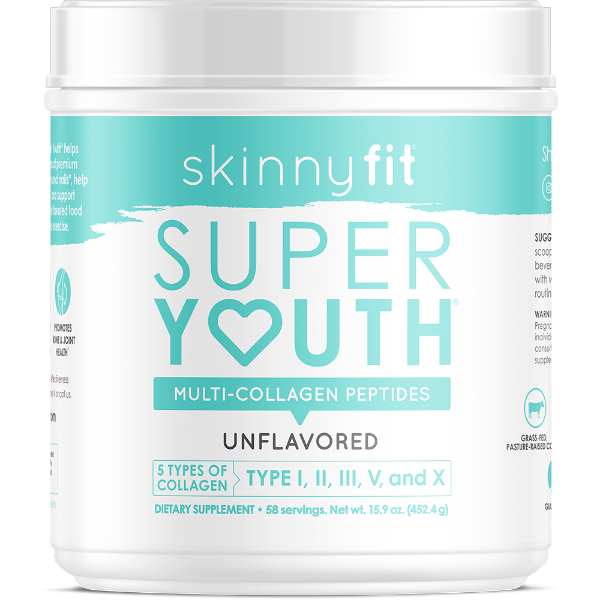 Roasted Butternut w/ Sage & Thyme
Once the squash is ready, remove from the oven and plate. Drizzle with your garlic aioli, and enjoy!
Prep Time: 5 min
Cook Time: 20 min
Total Time: 25 min
Serving Size: 4 servings
Ingredients
1 (2-lb) butternut squash
2 tablespoons olive oil
1 tablespoon chopped fresh sage
1 ½ teaspoons chopped fresh thyme
½ teaspoon kosher salt
¼ teaspoon black pepper
⅓ cup Greek yogurt
1 scoop Super Youth collagen, unflavored
1 tsp garlic powder
1 tsp lemon juice
Steps
Preheat oven to 425 degrees F.
Peel and seed butternut squash; halve lengthwise
Cut crosswise into ¾-in slices, then toss with olive oil, sage, thyme, salt, and pepper
Arrange on baking sheet and bake at 425 degrees for 20 minutes
Add all aoli ingredients to a small bowl, whisk to combine